Chris MacLaughlin, the BBC reporter banned from Ibrox for attempting to tell it like it is, a breach of company policy in itself, presented a report last night that claimed one of Scotlands clubs hasn't had a safety certificate for its stadium for nineteen years.
Nineteen years.
That means its quite likely that you or I have attended a sporting event that took place at a venue that the local authorities have not seen fit to deem suitably safe for such a purpose.
We can rule out Ibrox , of course. The club there has only been in existence for seven years so it cannot possibly be them.
So who is it ?
In fact, a number of questions arise from this revelation.
Firstly, why on a matter of public safety , is a public broadcaster not allowed to say which club it is ?
And who told them not to say it ? And why did they agree to their demand?
It's not enough to say that a stadium isn't fit for purpose, which merely sounds like a piss poor attempt to avoid future litigation in the event of a tragedy, because quite simply a public broadcaster by definition must inform the public of anything that is in their interest.
And i would wager that the possibility of being killed or injured at a sporting event due to a lack of proper safety rules and regulations being adhered to and officially approved would be in the public interest.
Its certainly in mine. Maclaughlin ventured timidly into what is acutally a serious failing on the part of the authorities..
Concerns over the issuing of safety certificates have been raised by the Football Stadium Officers Association (FSOA).
A FSOA spokesperson said: "We identified a lack of consistency among local authorities in the discharge of their responsibilities as to the licensing of stadiums – specifically the issue of safety certificates.
"We have raised these concerns with the Scottish government, Cosla and the relevant football authorities."
Convention of Scottish Local Authorities (Cosla) president Alison Evison said the body takes the licensing of stadiums "very seriously".
She continued: "We have a strong record of safety on football events activity.
"Scotland's councils engage with partners to ensure the protection of our local communities who attend football matches and other events across the country.
"We treat our community safety role with high priority.
"Going forward if there are improvements identified of course local government and Cosla will work positively with partners to find solutions."
May I suggest an alternative solution ?
How about someone telling us which ground isn't safe enough for us to attend ? 
It seems Ms Evison takes the licensing of stadia- I'll help MacLaughlin with his grammar- but not actually the safety of those inside them.
MacLaughlin appears to have an advance copy of the thorough investigation held by Police Scotland into, er policing at football matches.
At the Celtic-"rangers " game last year, the police introduced new entrance and exit points, which appeared to cause confusion among fans..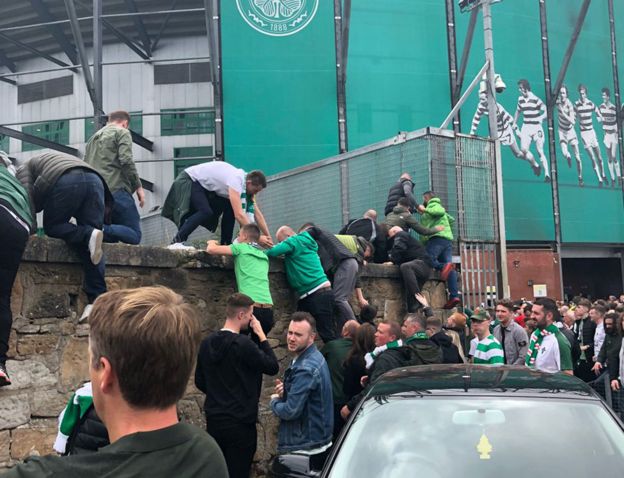 Instead of opting for the traditional and more commonly used technique of using gates to pass between solid objects, supporters were forced to use their own initiative to exit safely, and the police immediately announced they would ask each other why it didn't work.
The report is out later today…but I've got a sneak preview as well… I'll just give you a couple of the key phrases to look for..
"Mistakes were made on all sides "
"Lessons have been learned "
"We will look earnestly into what we can do to prevent a recurrence "
Celtic , of course, commisioned a report onto the Janefield Underpass chaos themselves, which seems to be lost in the post somewhere.
One hopes that they aren't awaiting the outcome of the police report to make sure they've got their story straight..
In the meantime, ring or email your local authority. Ask them for written confirmation that the grounds in your area are up to date with their safety certificates.
They cannot be allowed to sweep this under the carpet. Something is badly wrong with an industry that is knowingly selling a dangerous product, and there's something badly wrong when local authorities and public broadcasters are covering it up.
For nineteen years…
If its not fan safety its sectarianism, the word politicians use to describe any public order or discriminatory act they they can't be arsed doing anything about. In case they are deemed to be, er , sectarian.
Its left to the media and others to offer their usual solutions to a problem that they actually encourage as it sells their rags.
The usual suspects offer the usual answers to questions that they daren't actually ask anyone who could do something about it, largely because they know they won;t get an answer.
High on the list of suggestions is to end what they term "Apartheid Schools ", claiming that separating children from their pals at the age of five fosters the divisions that in later life explode into violence , hatred and intolerance on the streets.
Ignoring the fact that it doesn't happen anywhere else in the Christian world, those who may be deemed perfectly intelligent in their normal day to day lives are convinced that Billy and Declan, who presumably live side by side on one of Scotlands innovative multi cultural housing estates , would have been the bestest of pals had one of them not been forced into religious indoctrination at an early age.
Their solution ?
Close the catholic schools.
Their reasoning ?
Actually, reasoning doesn't come into it. Not in the slightest. Not now, not ever.
The real reason ?
I think you can still buy that t shirt on here somewhere. And I think you should.
And please, let me know if you get arrested for a hate crime.
Probably by someone who didn't go to a catholic school.
Then there's the issue of violence in stadia ( Look, MacLaughlin, the correct plural, but then again, I went to a catholic school.) towards players.
Scott Sinclair has yet to be asked by anyone in the media why he feels he's been a target on sevral occasions of opposing fans..
Sinclair, a family man, happens to be black.
Could that possibly be the reason ?
Are the media afraid to ask him not because they are afraid of the question, but that they are afraid of the answer ?
Sinclair is a family man, married to a tv star. He's a high profile footballer north and south of the border, playing at a high profile football club. He's used to the limelight and the attention, but in Scotland some of that attention has a nasty edge to it..
His homelife and preference for privacy removes the "he brings it on himself " tag…which leaves only one conclusion.
Surely the media are not deflecting from a serious issue here ?
Its a very small jump from "sectarianism "which sells papers, to racism, which doesn't sell anything, and more importantly would see sponsors and tv companies drop Scottish football quicker than an EBT from the club accounts.
When the papers talk about sectarianism, they are hiding a much more serious issue, by simply making up a word for it.
When the police investigate crowd safety, they are investigating their own safety, and their own accountability.
And the clubs ? Well, they don't give a toss..
Hibernian said they're ever so sorry but the tellymonitors at Easter Road are just as fucking useless as the stewards, and so they haven't actually got footage of the person who threw the bottle at Scott Sinclair.
Questions after Hibs cant identify bottle thrower
Can @ScottishFA confirm bottle was noted in Refs report?
Can @ScottishFA confirm any follow up action to be taken for poor stewarding, policing and monitoring
Or do we all just move on nothing to see here… 
That would be "c", and we don;t need to phone a friend.
The football supporter is used by everyone as an excuse to do what they want.
One and a half per cent of the Scottish public attend matches on a regular basis, a higher proportion than anywhere else in Europe.
Yet those who are paid to protect us and to ensure a safe environment repeatedly blame us, the customer, for their own failings.
My hope is that the report commissioned by Celtic into the Janefield Near Tragedy is truthful, and does not shirk from its responsibilities.
Then again, I hope for a lot of things…
It could all be so different…after all, who could be fail to be touched by news such as this ?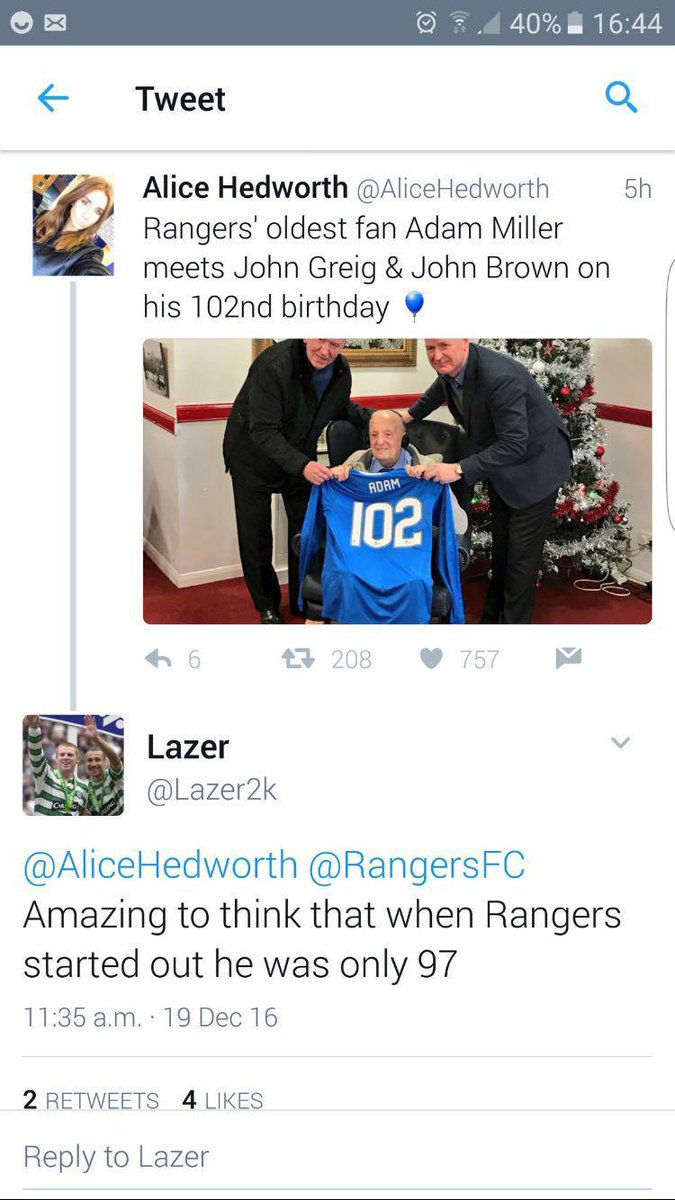 The players have had a wee break, the manager has had a wee look at Bayo, and now has a fair idea of how good he is.
You can't blame Lennon for not including a guy he knows nothing about in the last couple of games.
Bayo is probably a little bit bewildered right now…he's moved across Europe , on the recommendation of two guys who couldn't wait to get out of the door.
More broken promises, and more proof that someone had only his own best interests at heart when he he said he had ours.
Really, does anyone think any of our players are stupid enough to fall for the Rodgers Routine twice ?
Some of you may have recognised this story yesterday..
Derek Crothers initially penned the artcile on here "Inside the World of Scottish Refereeing ", which was subsequently picked up as not being about Resolution 12 and carried forward into the national media.
Derek deserves praise for coming out and saying what all of us have been thinking, and one hopes further debate is taken to a wider stage.
Its another brick taken out of the wall of corruption  that surrounds Scottish football.
Persistance does beat resistance, and we haven't gone away, you know.
We have to go back to Monday for the last caption competition..