Celtic face Hibernian in the Scottish cup at tea time tonight. Whoever had that bright idea will probably go far in the SFA.
For manager Neil Lennon, a visit to Easter road will be relished as its a chance to meet up with old friends such as his former boss, Leanne Dempster.
"There might be a few sub-plots with me going back but the major issue is for me to help negotiate a very difficult cup tie.
"What kind of reception am I expecting? I think I'll get a better one than I got at Tynecastle. It will be a bit surreal going back so early but I'm ready for it and there will be no bitterness, not at all.
"I don't know if I deserve a warm welcome but it would be nice. I had a great relationship with the Hibs public in my 2½ years. We feel we did a good job. Things went a little bit dry for four or five weeks but Paul Heckingbottom has come in and the players are playing well, so we'll be coming up against a very confident team." 
And Dempster ?
He said that he'd be in the dugout, and "her majesty " would be in her box.
Lennon has said that he won't alter things too much as far as the playing style goes, and the promotion of John Kennedy, who himself is turning into a bit of a Sean Fallon, is a sign that a lot of things will stay the same.
Although  we hear the intensity of the training will lessen to help the casualty figures fall to within a manageable range.
The organsiation behind the training though, will remain constant. The former manager did put in a system that is way ahead of anything that existed before his arrival, and those who have taken that over will keep the good bits and quietly lay to rest the bad.
In fact, in years to come the set up might even prove to be the legacy of the former manager, but that still won't mean we'll be able to say his name without the taste of betrayal on our tongues.
One aspect of the paying style that will change is the slow and ponderous piddling about in our own eighteen yard area. Decision making will be delegated to the players and they must choose whether or not to clear their lines or if its safe enough to pass, as opposed to just passing and hoping the opposition don;t see it as a chance to press the defenders back further.
The steelier edge to the midfield should discourage the heavier challenges from opponents, and give players a little more confidence in that those who perhaps don;t relish the physical confrontations will be protected by those who do.
We may see more of Nir Biton in this set up.
Rogic , MacGregor and Christie won't make tonights game, but Dedryck Boyata will be in place.
The team will likely be the same one that started at Tynecastle, although if it isn't it will be different.
Hibs have in in form striker in Marc McNulty, on loan from Reading who will be their main threat, and Paul Hecklebottom , their new manager, has given them a little bit of their confidence back. Which is good, as it gives us something to take away from them.
After the high pressure situation at Tynecastle was dealt with, the Easter road confrontation should be a little less nervous, and Celtic should march into the semi finals.
If there is the added bonus of a few goals and a high tempo high quality performance, then there'll be no need to think that the third consecutive treble is out of reach.
We recorded a podcast last night, now on the site elsewhere, and the one thing that kept me thinking after wards was the thought-yeah, i have them every now and again, that had Neil Lennon not been available immediately, indeed maybe even decided not to take the job after all the hassle it caused him last time, then Celtic would have been entering the business end of the season looking for a manager .
That hadn't occured to me previously because I was well aware he wanted to come back, and knew in his heart of hearts that one day he would, although if you recall in one of his first interviews, he did say that he dodn;t expect it to happen so soon.
Lawwell got a break there, and perhaps that as much as anything explains his little dance at the end of the Hearts game.
No manager of any mark would risk coming to a club where there was everything to lose and nothing to gain, so its likely that John Kennedy and Damien Duff would have been asked to hold the fort.
However, Lennon and Kennedy have proved in the past that they are real Celtic men, though duff maybe has a ways to go yet..
He worked with Celtic's former manager at chelsea, and said..
He was brilliant with me down there. We would obviously talk about Celtic; it's my dream club, it was his dream club then, 
Which brings me neatly to the former manager, who has begun his campaign to seek forgiveness for his betrayal and the manner in which he betrayed us.
But to give us a sense of context and a feeling about the man, we refer to this extract..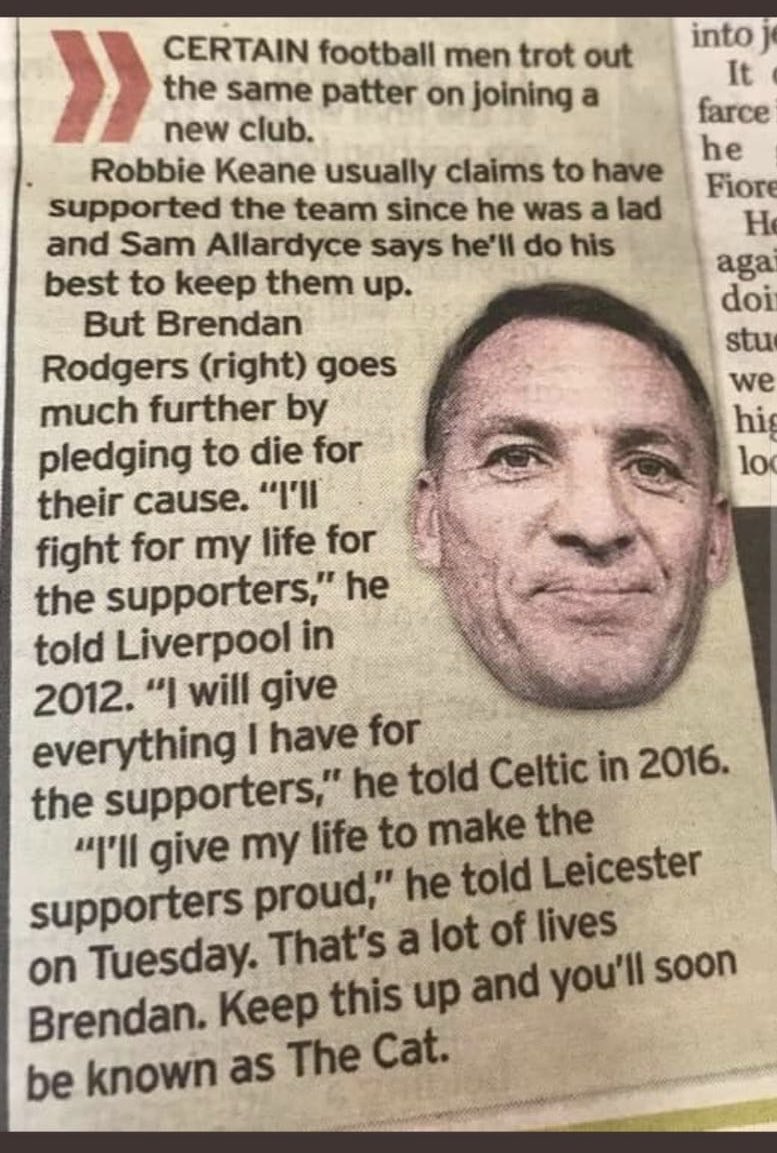 In a full interview with noted PR outlet the Daily Record, he tried to put the record straight..a paper noted for not telling the truth featuring an interview with a man noted for not telling the truth.
The actions of a sociopath, as we discussed on the podcast, include an ability to believe one's own lies.
For example..
Brendan Rodgers stunned by Celtic fans' vitriol and asks 'What the f*** are you doing? I'm one of you'
But a look of horrified incredulity washes across the face of Brendan Rodgers when he's told that his decision to bail out on Celtic has been received by the club's supporters as the biggest single act of betrayal since Maurice Johnston crossed the great divide to sign for Rangers more than 30 years ago.
"Is it that bad?", he says as his eyeballs bulge in sheer disbelief. "So who is fuelling that? Where is it coming from?"
Rodgers appears to be genuinely shaken by this news from up north. 
….this one has knocked him for six.
He's asked what message he would give the Celtic support if given the opportunity to address them as one.
Rodgers pauses for a moment to reflect then says: "I'd ask them, 'What the f*** are you doing?'Bloody hell, I'm one of you!'.
"Okay, I made a career decision. But that doesn't make me any less of a Celt." 
One could argue that it doesn't make him any less of a Celt, simply because he couldn't fucking be any less of a Celt.
You see, he genuinely believes he is a Celt, and is probably having difficulty in coming to terms with realising his own beliefs are based on his own lies.
See what I mean ?
Brendan Rodgers' Celtic revelation as he hopes to return as manager one day
He needs help, I am genuinely concerned for him, as he seems as far detached from reality as its possible to be.
There was one piece that does approach the truth in the paper, and Diary readers will be familiar with the gist of it if not the detail..
Brendan Rodgers suggested to Moussa Dembele he join him at Leicester LAST SUMMER – Duncan Castles
Duncan takes you inside the inner workings of a relationship which crumbled under the weight of false promises. 
Of course, this piece is aimed at making Celtic fans think that the former manager will return waving his cheque book at his former charges, but there is every chance if he does he will discover a new place to put it, which may limit the establishments where he can comfortably pull it out.
Spare a thought though, for Record hack Keith Jackson, who had the big story and tweeted to whet our appetites last night..
Big interview with Brendan Rodgers in tomorrow's @Daily_Record … not to be missed. 
The whole weeks shennangans were summed up in one reply..
Did he finish it or did he fuck off to the Sun half way through? 
Caption competition from yesterday..
Steven R 
Today..
Before I go, happy birthday to perhaps the greatest Celt…