What a hullaballoo.
Kilmarnock have released a statement about the behaviour of Celtic fans at Rugby Park, and its patently obvious from the wording that they're trying to deflect from something else..but what ?
The statement, written in the style of progressive statement maker James Traynor, of Level 5 PR, who handle several accounts for several clubs, said;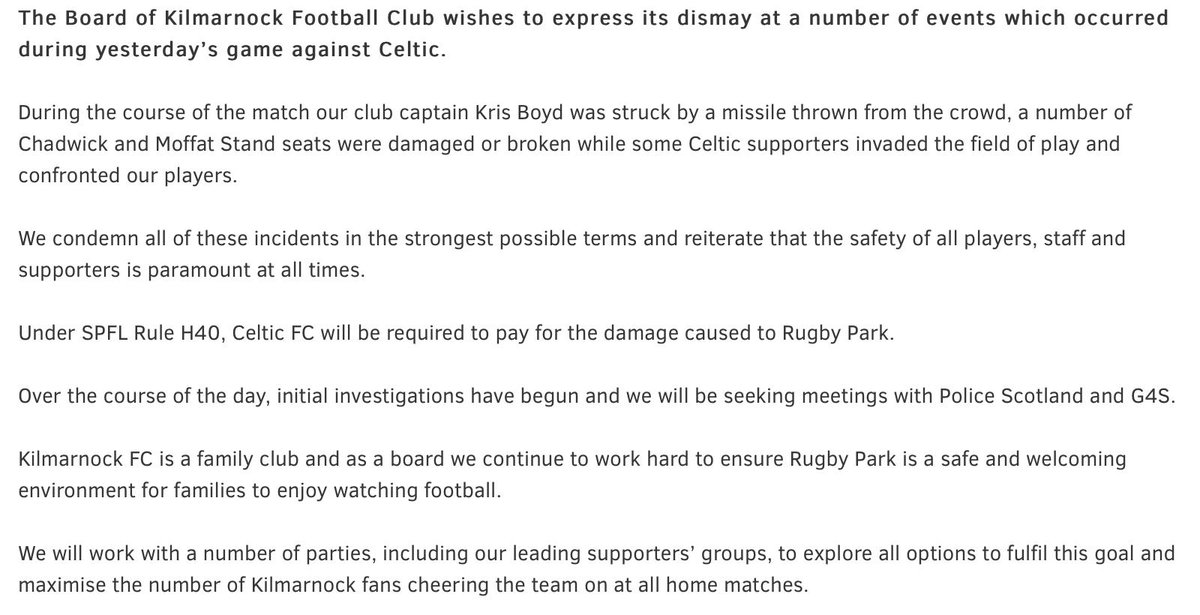 Lets look at the wording..and the evidence to back it up..
I've yet to see any evidence of Celtic supporters confronting Kilmarnock players, and would also point to the use of the word confronting as a cover all. They could have used "threatened " , "intimidated " or even "laughed at ", but chose the vague "confronted ".
I await the video..
Then there's Boyd, who was struck by a coin whilst standing in front of the dug out, which is in front of the stand where the Kilmarnock season book holders sit. If you recall, they had a right moan a few years ago when their club capitalised on a Celtic support desperate to see their club lift the title, and hence moved their own fans out to make a quick buck.
We had that stand.
Now, unless someone has stayed hidden there since that day in order to throw a coin at Boyd, i have my doubts that a Celtic fan threw the coin, as it would have taken a throw of Olympic proportions to reach him from behind the goal, despite his rather portly stature.
Again, I await the security video with the perpetrator visible, indeed, I would imagine Police Scotland are also keen, if only to take the attention away from their inability to find the person-or persons-who threatened the life of john Beaton and his family, with a text message where they presumably his their number.
Note again the wording. There is no accusation a Celtic supporter threw the coin. But, as we have seen in many, many such statements and reports, the implication is there.
That tells me they are fairly sure it wasn't a Celtic fan.
They are also going to maximise the number of Kilmarnock fans at the ground, something that appears to have only occured to them since the weekend.
Unless, of course, Celtic have to travel there three times this season, and there's a chance to secure eight in a row…
As for Boyd, he's tried to make light of the situation, posing with his arm in a sling.. before going on a rant about the Celtic fans singing sectarian songs, highlighting his own selective memories of playing for Rangers, when he got to hear songs of that ilk every week..
And he had a moan about the seats being destroyed, almost as though it was the first time its happened this season..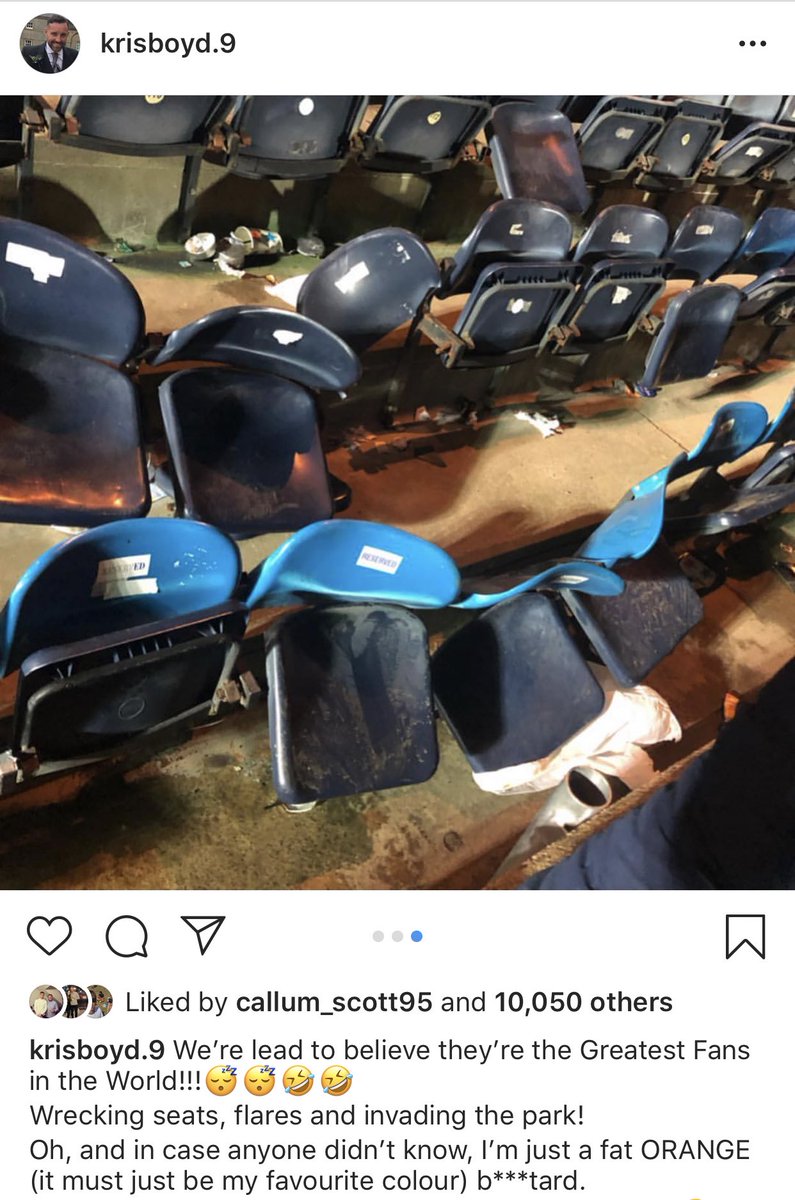 Oops!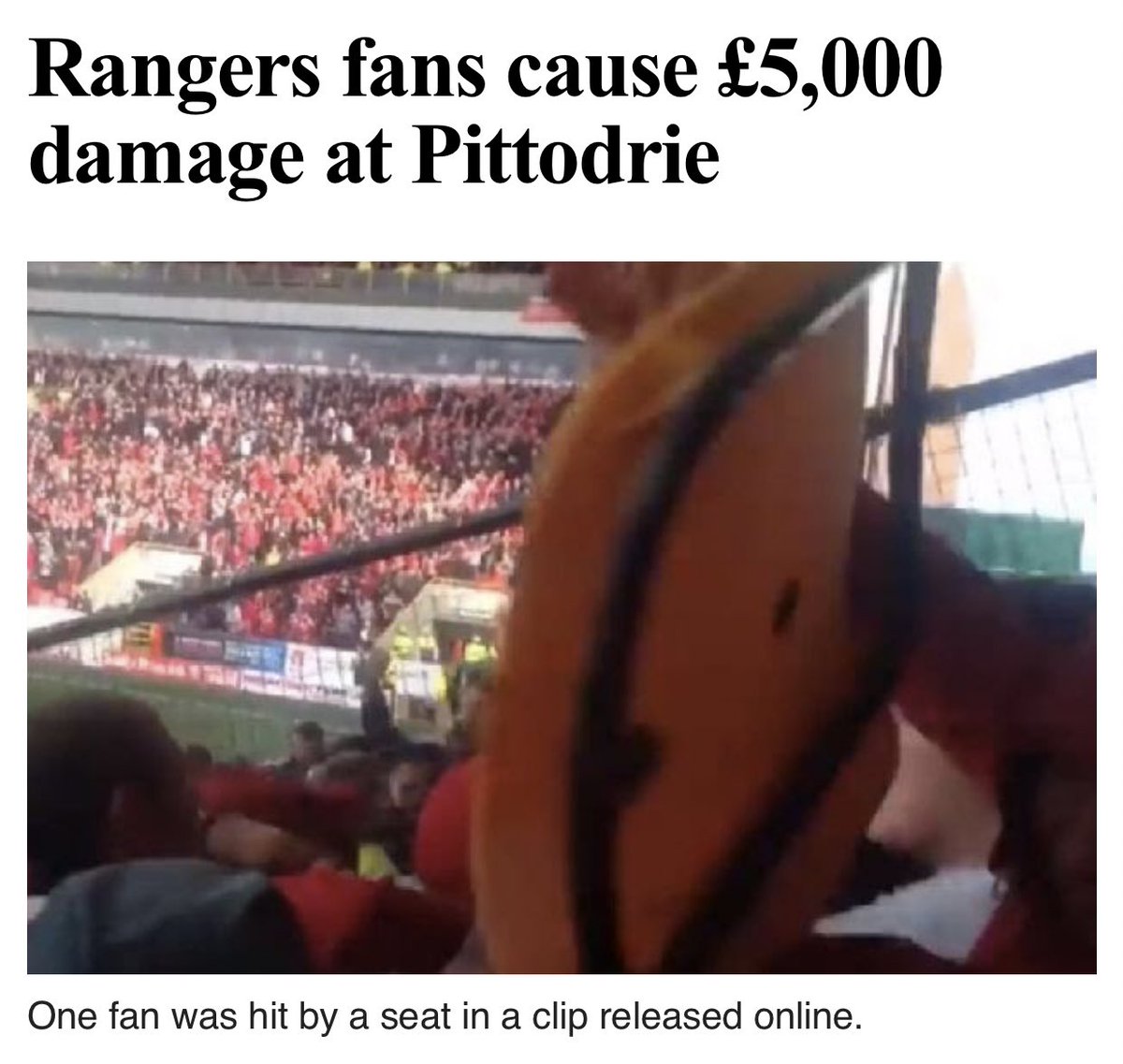 Over on Twitter, chairman LMAO Mua decided to check if Boyd had made similar criticisms of this vandalism..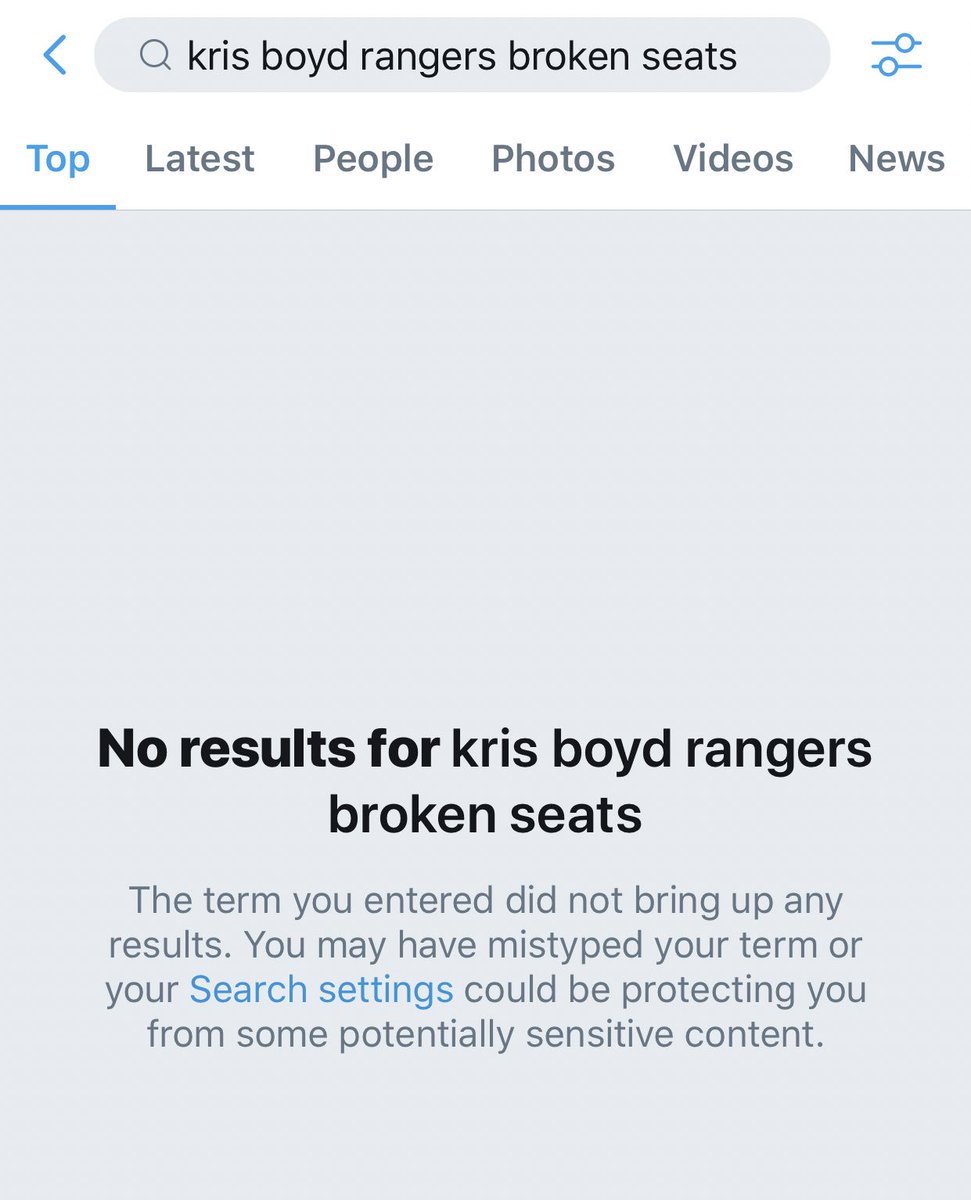 Selective reporting usually means they are trying to hide something else.
It could be they know who the coin thrower is, and are reluctant to say.
It could also be that the lack of space in the stand was a contributory factor to the seats being damaged in the crush. Had the crowd not spilled onto the pitch, or been able to, then there may have been serious injury.
Are they deflecting from a lack of safety provisions and competent stewarding ?
At £27 to rent a seat for a couple of hours, a seat that itself would cost considerably less to buy, it seems like they are intent on making something out of nothing, but is it to prevent others from making something entirely different from the incident ?
Look again..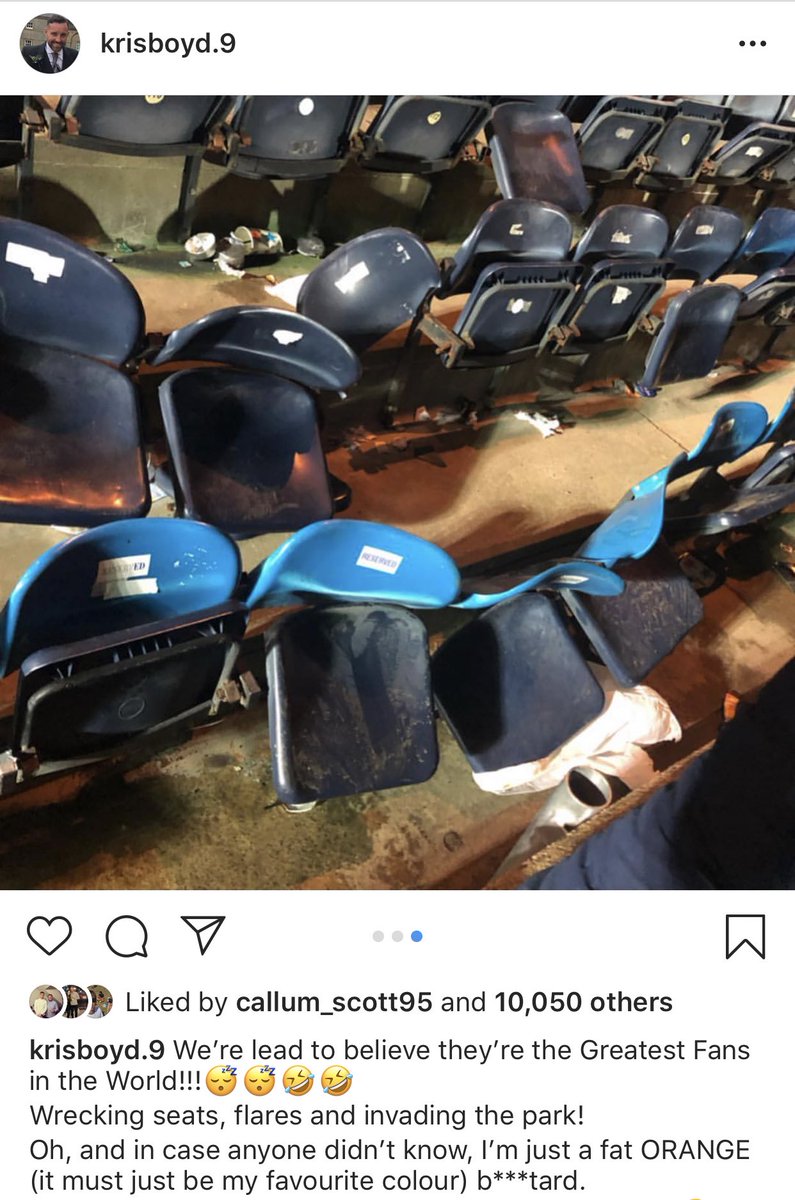 Those seats weren't vandalised, they were bent out of shape by the weight of the support moving forward.
That, in my mind, is a safety issue, and not a behavioural issue.
There is no excuse for a pitch invasion, but there may be a reason for it. Perhaps lost in the general melee, and anyone at the game who was in that area is welcome to support or dismiss my theory in the replies..
Meanwhile, attention turns to the trip to Valencia, and the possibility of causing an upset.
Anything can happen in football, and an early goal for Celtic may just make them nervous. Two goals will make me nervous and a third will have me reaching for the defibrillator.
Caution to the wind ?
We might as well.
Try something different ?
Yeah, lets try it the old fashioned way. Long balls, short balls, dribbling…lets try off the cuff football.
If Valencia beat us in glasgow by learning our game plan and dealing with it, what chance would they have if we didn't have a game plan ?
Piece of piss this management lark.
There's a little bit of good news for Saturday, as the manager says Keiran Tierney might be ready to claim his place back.
Not on the pitch,but on the bus, which is a start, I suppose.
Kilmarnock aren't the only ones chucking their toys out of the pram.
With their season now more or less all about Morelas and the Scottish Cup, Gerrards Gallant Pioneers have resorted to sticking their chairman in front of a camera..
First, he had a go at the BBC..
'The BBC recently asked to come to Ibrox, but only to cover the matches. They would not be interviewing our manager and our players.
'Now, if they are treating us differently in that respect, are there other areas where they are also treating Rangers differently in terms of the incidents which we are seeing being highlighted at the weekend? 
Surely the BBC would end this by simply saying  that they would interview players and managers ?
Robertson is right though, the BBC do treat "rangers " differently, but clearly not as "differently " as he would like.
You only have to look at the Alfredo Morelos incident in the Old Firm game, where they seemed to spend an inordinate amount of time examining Alfredo's actions, but at no time at all did they look at any other actions from that game with the same scrutiny. 
Er, probably because there were quite a few Morelas incidents, though he neglects to use the plural.
And anyway, no one else booted anyone in the knackers, or the chest, or stamped on anyone.
'Morelos was then effectively vilified for three weeks on various BBC platforms. 
and every other platform..
'We had the Ryan Jack incident where we had a banner showing the decapitated head of Ryan used as an image for a discussion on ticketing, I think. 
A decapitated head ? You can have a decapitated body, but a head is "severed "…and this is the first I've heard of this.
'So we have had various incidents with the BBC and it just doesn't seem to be getting any better with them.
'They have actually written to us and told us they are treating us differently from other clubs in the Premiership. 
I have no doubt that letter will be made public..
'It is important the compliance officer isn't influenced unduly by Sportscene given that background. 
Does he mean the video evidence, or the opinions of others watching that evidence?
'It feels as though the incidents, which are being highlighted on the television at the weekend, are the incidents which are being picked up by the compliance officer on a Monday. 
He does know all the games are covered by television, right ?
'I've heard the expression 'Trial by Sportscene' and that really seems to be the way it is going. 
Whatever the faults of the BBC Sportscene programme, and there are many, its hardly fair to criticise them for showing a player kicking, stamping and rampaging his way through a game, especially will the full consent of the officials.
 Then again, perhaps his real gripe is that other sections of the mainstream media don't look to closely at the actions of his club, and its employees, so why should the BBC ?
They really, really, wanted to stop eight in a row.
That looks unlikely now.
They really, really, wanted to win a Cup. The League Cup is already back in the cupboard, and to win the Scottish Cup they have to overcome Kilmarnock and then Aberdeen, and thats just to earn a shot at a rejuvenated Celtic.
Its not surprising they're having a moan.
Meanwhile, we're still smiling..
Caption competition from yesterday…