Celtic Diary Wednesday January 16: Who Do We Believe ?
These days, there is a variety of outlets producing news, views and speculation which, in according to economic theory , should see the most accurate and sensible of them attract the biggest audience.
Some would argue that now information is more readily available its actually becoming more unreliable as news outlets struggle to keep up with the pace set by the modern twenty four hour rolling network.
Thats why so many unchecked stories are released, and why so many of them are elaborated on to try to capture the audience that searches -or tries to search-for more background, more context and more detail.
For example, there is the Pres Association release concerning John Beaton, who if you recall had abusive texts which grew into death threats to his family resulting in him requiring police protection.
The police spent so much time looking after him that they have no resources to actually check who sent the messages, as we note that no arrests have been made, and the story has kind of died down in the hope that we'll all forget that Beaton, in fact, is a cheat who got caught.
A grown up news network that was interested in establishing the truth rather than sensationalising a non story would, by now have interviewed him. They would have at least seen the messages, if not shown them publicly.
They would have asked why he'd received them, when he'd received them, and if it was he alone who had received them.
A wider investigation would have sought information from other referees and match officials, to establish context and perhaps see if a pattern emerged.
It would also have looked into ways that a recurrence of the incident could be avoided.
Such as , for instance, ensuring that no perception of bias could be entertained by making referees declare any allegiances to any particular clubs, and refusing to allocate them to referee that clubs games.
That way no one gets accused of cheating, no one gets any abusive texts and no one gets their windows smashed.
If, of course, the latter two actually happened,
The BBC made a sort of half arsed attempt to justify the current system when they wheeled out Ken Clarke, a former referee and current supervisor on their flagship football programme Sportsound,..
More or less, he said that referees were of an impeccable amd unimpeachable standard, when asked if they should declare any allegiances.
"It is a complete irrelevance," 
"For anyone to suggest that a referee would work for 10 or 15 years to get to the top level of refereeing in Scotland and would then cheat the fans simply in order to give 'his team' an advantage is just nonsensical.
"No-one in their right mind would put in the time and effort, make all the sacrifices they have to do to get to that level and then display bias. I don't accept that it happens." 
I think the phrase "no one in their right mind " is perhaps important here.
The referees met recently to discuss the problems they are having, and Clarke summarised it for the BBC..
"They don't want their reputations being sullied as a result of them making a mistake in a big game. 
If they think they are having their reputations sullied as a result of making mistakes, then clearly they are not in their right minds.
Clarke himself is now on the lucrative after dinner speaking circuit, which means that sometimes he will play to his audience, which in turn adds to the perception that there is more than a hint of an agenda, for whatever reason, when referees make decisions..
Back in December, videocelts showed a video of him doing his stand up routine, which seemed to be written by Bernard Manning or Jim Davidson, apart from the bit where he said he refused to give a penalty to John Hartson, as Hartson had previously had a red card decision by Clark overturned.
I've tried to do a link, and it hasn;t worked, but google Kenny Clark and go to the videocelts link to see Clark indulging in banter…
Are we to believe that Clarke is merely pandering to his audience, or is he hiding the institutional SFA bias in plain sight ?
This tweet, from Bellshill Tim, outlines the problem quite succinctly.
Scottish referees 100% honest, 100% unbiased, 100% nothing to hide or be questioned on
Who do you support? No telling
Are you a member of any associations? No telling
Why did you make that very questionable decision? No telling
How does the appeal system work? No telling, 
This is the current list of SFA referees..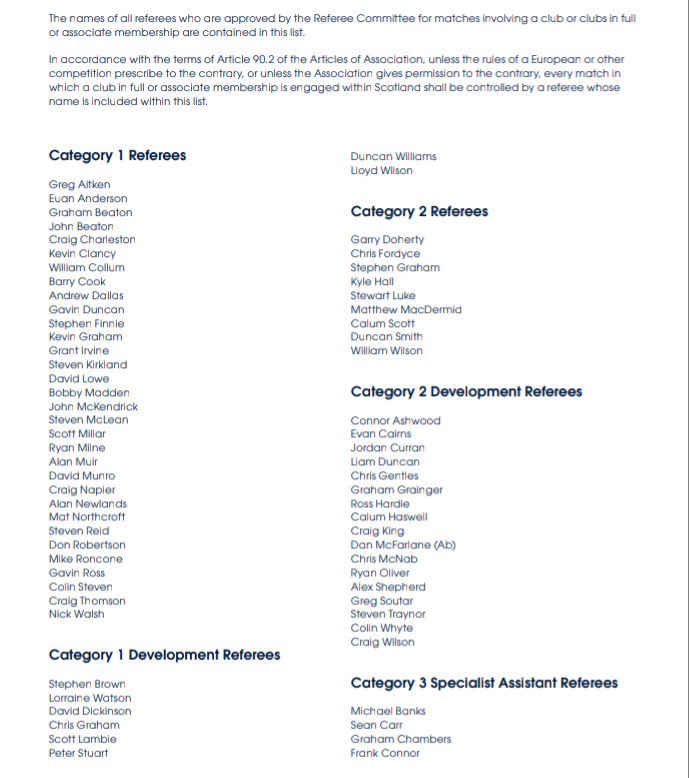 There are quite a lot of them, and they've even got a spare Beaton in case anything does happen to John.
However, if there are so many of them, how come we always seem to get the same ones for Celtic games ?
Are they the  ones who can be relied on to make the correct decisions…
However, allow me to make a leap into the dark here, with an observation that perhaps outlines the recruitment policy at the SFA when it comes to referees, and certainly the advancement of referees.
If you were to obtain a list of thirty to thirty five employees at any department in any company in either Scotland or England, how many Irish surnames would you expect to see ? 
Come to think of it, such a list anywhere else would probably be quite diverse in its ethnicity.
Now have a look at the grade one referee list and see if you notice anything. 
We're still not paranoid enough, and if the club doesn't start to say something, it will bite us in the arse.
Whilst we are on about our clubs Mowbrayic attitude when faced with the media taking our good name in vain, then perhaps there's something else they should do in light of this astonishing and somewhat tenuous link to this story..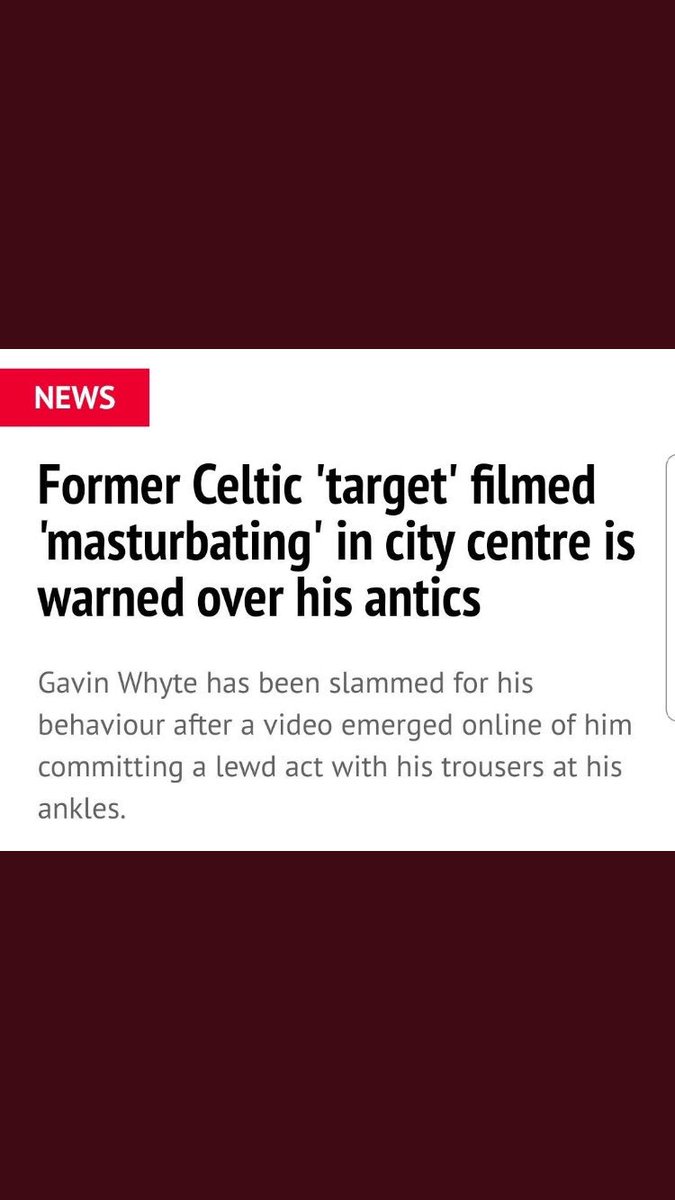 Its the Daily Record again.
The player is at Oxford and has appeared for Northern Ireland, neither of whom are named in the headline, and the paper,  describes the man as a former Celtic target, not doubt from its own archives, which themselves, at best can be described as speculative.
Lawwell should be demanding an apology at the least, or a removal of certain priviliges, such as Record reporters not being beaten up on the car park after the game is finished.
In fact, there are a lot of things Lawwell should be demanding explanations for, not least the refereeing issue outlined above.
Then there's the Janefield underpass crush report. will it be out before the hordes visit again, or will we run the risk of the same mistakes being made.
That game is in March, and that reports conclusions need to be analysed, and acted upon.
Resolution 12 ? He's got the smoking gun, he should be using it.
What about getting together with the other clubs and asking why one club has been allowed to trade whilst insolvent ?
While they're there, they could ask of the beaks intend to see if King is going to comply with the Takeover Panel rulings…or if the game is to be dragged through the gutter again.
In fact, just get them to publish how they thought King was fit and proper to run a football club.
That would be a laugh.
All of these things affect Celtic, the shareholders , the support and in a wider context, the image of the game presented to the audience, the sponsors and the television companies.
Whilst Lawwell and our board cannot be held responsible for others misdoings, they could at least try to encourage opposition to those  misdoings.
As the perception of wrong doing spreads throughout the game, its not enough to stand by and shrug our shoulders.
Its time to get the clubs together and resign en masse from the SFA.
If they won't go, everyone else should.
Etims is noted for perhaps being a little imaginative  when it comes to the tittle tattle thats out there, especially when it comes to transfer window time.
But the amount of creative talent bursting through just now is quite encouraging,
The big story yesterday was the apparent interest in long serving Celtic forward James  Forrest.
I think theres something wrong with my google.
Liverpool were going to offer £8m for him in the summer, which evolved into a he's away for £12m and Peter Lawwell won't stand in his way.
Its bollocks, like pretty much everything else you read which we haven't made up on here.
And yes, the Victor Wanyama one is bollocks as well.
Ya Ya Toure isn't bollocks…not entirely anyway.
There are still a couple of players to come, one of which should be Scott McKenna , barring a Lawwell intervention.
One player who is definitely coming, although he seems to be taking his time, is Vakoun Bayo.
He has been saying goodbye to his club, their supporters and generally showing what a humble and decent guy he really is.
On Monday, in the DAC store, you can once again ask for a joint photo or signature from former DAC striker @vakoun45, who was contracted to the Scottish champions @CelticFC at the beginning of the week.
"With love and gratitude, I will remember the DAC fans. Their persistent support helped me to make a big difference to last year's goals,they also made a significant contribution to getting a move to Celtic. I hope I can thank many of you personally for the love I got"
We may have unearthed a little nugget here..
Caption competition…yesterday