What a to do this weekend.
First we have Celtic releasing a statement concerning their concerns about the standard of refereeing after the SFA compliance officer-you'll note she's been demoted to the extent she no longer deserves capital letters- backed referee John Beaton who said in his match report from Ibrox that he had seen all the Morelas assaults and deemed them to be within the rules.
Sky TV , to be fair, were the first to shift the blame, deciding that a darts player was somehow to blame..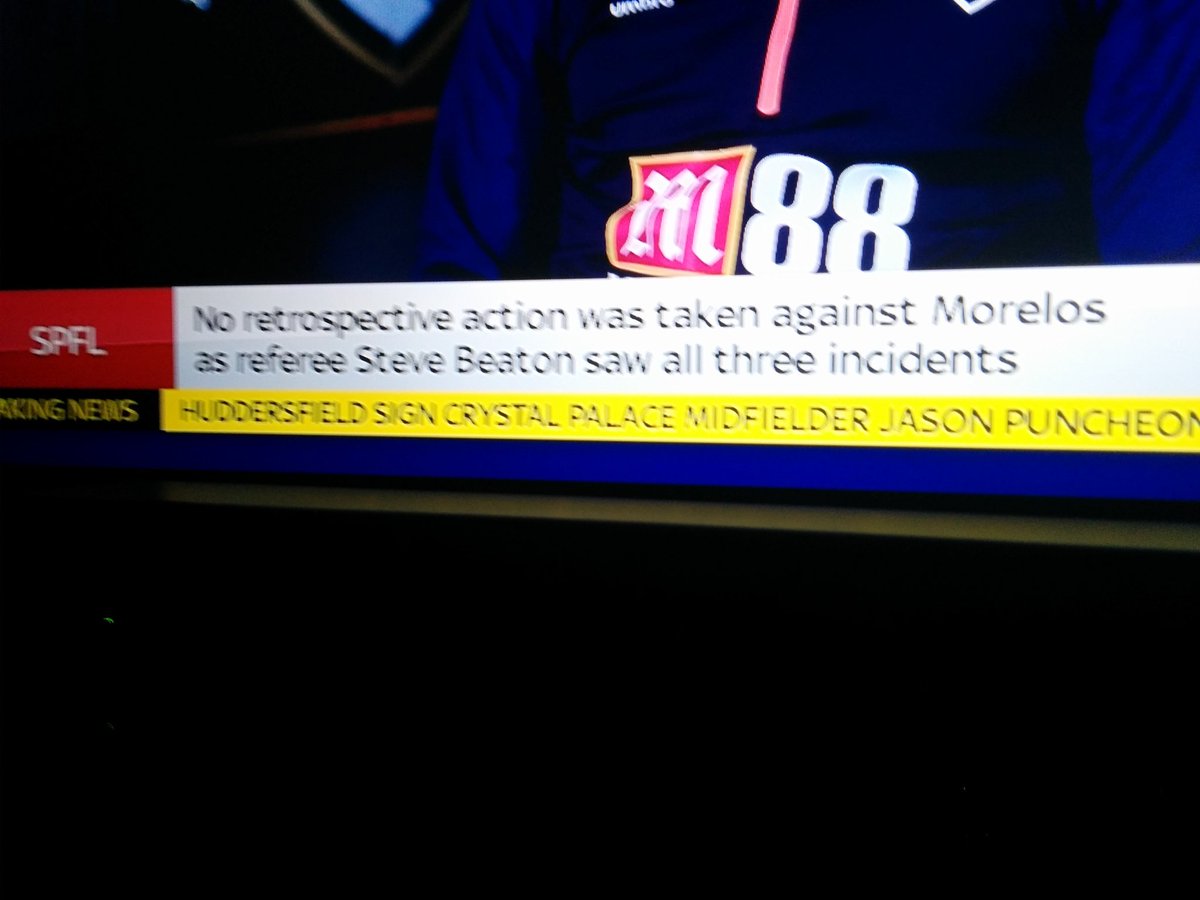 The public have not seen this report, incidentally, and therefore any claims that it was signed J. Beaton WATP are likely to be false.
The Celtic statement said;
Celtic Football Club is surprised that there will be no disciplinary action taken by the Scottish FA regarding the incidents during the match on December 29, which have been widely addressed in the media. 
It is reported that no action was taken because the match referee saw all of the incidents in question. 
Given that the referee took no action at the time, this tends to suggest that such conduct, which in one instance led to a Celtic player, Anthony Ralston, being injured, is acceptable in Scottish football. That cannot be right.
On the day, Celtic did not play well enough to win the match, something we accept. However, this issue goes beyond the result of the match.
Celtic is not the only club this season to raise concerns regarding the standard of officiating at matches in Scotland, concerns which have also been shared by many commentators on the game.
In order to fully understand what is going on, Celtic, our supporters, Scottish clubs and the general Scottish football public need transparency in these matters, and we therefore call on the Scottish FA to allow the referee, John Beaton, to explain these decisions publicly as well as any match officials involved in other similar circumstances.
In the meantime, we have requested a meeting with Scottish FA Chief Executive, Ian Maxwell, and the Association's Head of Refereeing. 
Concise, non inflammatory, and contains a mood not of anger, but a sense of bewilderment.
It even offers to meet with the head of refereeing to discuss the matter. The matter here is John Beaton.
John Beaton has a track record of controversial ( wrong ) decisions which do not favour Celtic, a penalty against Hearts for a clear dive, a sending off for Dedryck Boyata, delivered with a sneer..and so on.
He has a track record of controversial decisions favouring "rangers ", going back as far as allowing a late equaliser in the Scottish cup where the Alloa goalkeeper was fouled which gave "rangers " a late equaliser, to another unique interpretation of the rules against Hamilton-the papers were all over this one-culminating in the performance of the season last weekend.
One would think there were grounds for an investigation.
Beaton is being scrutinised, and when his misdemeanours are laid out, there is certainly cause for concern.
What follows is a classic example of how the media works these days, not just in soft news, such as sports, but in hard news, such as politics. 
Due to cuts across the news industry, and reduced staffing levels at local and national level, reporters now cannot fully investigate stories in the way they used to.
With competition between rolling 24 hour tv channels and national newspapers fierce, overworked reporters must put together four, five , maybe as many as six stories each every day.
In a nutshell, its why there's so much unsubstantiated shite out there.
One example is the millenium bug story, the one when all the planes were supposed to fall out of the sky when the new century began.
Complete bollocks, stemming from a ponderous scientific report as far back as 1993.
But the Press Association, a news agency from where nearly ninety per cent of all news stories originate, picked it up and put it out there.
Its the perfect story that can be run without checking, mere conjecture, with lots of room for hacks to add their own opinions, and that of others in the scientific world. none of whom would categorically deny the story, just in case a plane did fall out of the sky.
And so the story grew, right up until it was discovered to be a load of bollocks, and quietly disappeared from view.
There are several other examples, but thats the one we all remember.
So, returning to the case of Beaton, who is now finally being called out after a catalogue of errors.
A catalogue of errors that calls into question the way football , a massive industry with several other industries having more than a vested interest, either directly or indirectly.
Someone calls someone at the Press Association…
BREAKING – Press Association understands referee John Beaton has called in police after being targeted with threatening online messages in the wake of last weekend's Old Firm clash. He has been bombarded with abusive texts from trolls after his contact details were leaked online 
John Beaton forced to call police after receiving threatening messages following #OldFirm game |  @AndyNewportPA 
The hacks at all the newspapers , radio stations and tv channels were delighted.
They don't check PA stories, which come neatly packaged , short on detail and leave plenty of room for additional comment.
In the old days, a reporter would be despatched to speak to Beaton, the police would have been contacted, and we would have direct quotes from those involved.
Evidence would have been sought, and offered.
Later, it was confirmed by an unnamed spokesman that an unnamed man had been in touch with the police…by the Press association, giving the hacks all they needed to embellish a tale of terrible wrong doing, without fear of having to actually find out if it was true..
Police Scotland confirm to PA they have received a complaint after referee John Beaton's contact details were leaked online. A spokesperson said: "We can confirm that a complaint has been made to police regarding texts and calls received by a 36 year-old man…
So,  we have a story that has not been verified, but a  story that will run and run, with no one anywhere having to actually do any work on it.
Why ?
Well, a cynic might think that Beatons somewhat controversial career as a referee, which even includes pictures of him drinking, apparently post match, in a well known "rangers " supporters bar.
Even we at Etims have a witness or two to that effect.
and there are others, if you look for them..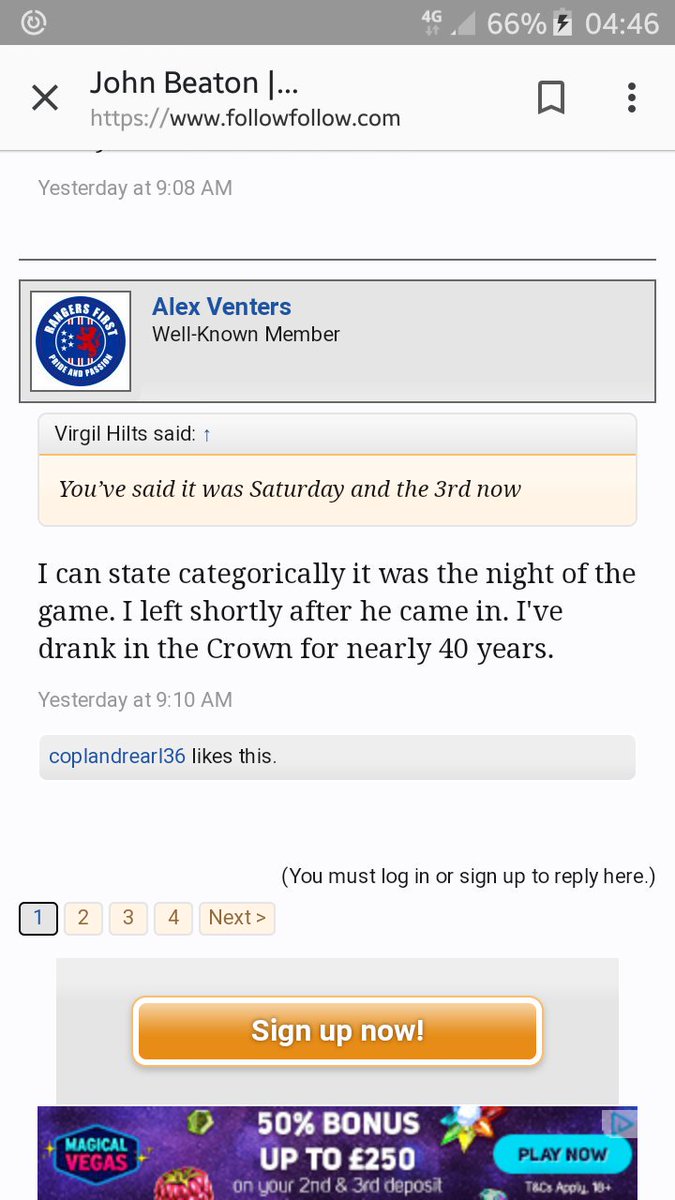 You'll note, however, that the mainstream media have not gone down that path. The path that night lead to someone establishing the truth, which most of us actually think is the primary purpose of the mainstream media.
Beaton has apparently received abuse.
Where is the evidence ? Which again one would think is pretty important in establishing both the nature and severity of the alleged offence.
So far, there is none.
Everything connected with this story, all the papers who have picked up on it, all the broadcast media that have discussed it, eminates from that single source.
And note the wording…which is actually non committal..which, in itself, one would think demanded scrutiny..
 Press Association understands referee John Beaton has called in police after being targeted with threatening online messages in the wake of last weekend's Old Firm clash. He has been bombarded with abusive texts from trolls after his contact details were leaked online 
The second part of the statement is quite clear.. if lacking in detail.
He has been bombarded with abusive texts from trolls after his contact details were leaked online 
Text messages ? Is that online abuse, or does the wording imply both ?
Again, even this line is not subject to the rigorous checks that a professional reporter, had he the time, would enthusiastically seek to endorse or deny.
Everything that you read this weekend, everything that you heard, originates from that single Press Association release, and you can guarantee that no one has checked a single word of it.
But there is plenty of comment..
The SFA, of whom it would be fair to say have some questions themselves that need to be answered… expanded on the theme, even introducing a few "facts " of their own, allowing the story to grow.. ( I've highlighted them, and note there is no corroboration anywhere else of these, but you can be sure they'll be part of the growth process..)
Ian Maxwell, Chief Executive of the Scottish FA said:
"It is with deep dismay, that in the last 24 hours, we learned of one of our match officials having had threats made against him and his family.
So they've been texting his wife and kids as well ?
"We are in close contact with those involved and with Police Scotland to ensure that they are safe and that those responsible are identified and held accountable for their actions. 
"This is not the first time in recent weeks that our match officials have been targeted. Another referee was allegedly threatened and assaulted at a lower-league game prior to Christmas. These incidents are isolated but are they are unacceptable and extremely concerning when they occur. 
No, it isn't. Steven Gerarrd of "rangers " is on record as asking if there was an agenda against his club. And we all remember the statements and prosecutions after a linesman was hit by a coin at a Livingston-"rangers " match…
Craig Levein puts in his tuppence worth on a weekly basis. Others have questioned the standard of refereeing..not just that of Beaton.
"Our match officials make hundreds of decisions each game. They take huge pride in their work but it is inevitable and accepted that some of their decisions will be viewed differently and debated by others. When differences of opinion however manifest as threats to our officials or their families, a line has been crossed. 
There it is again. Families threatened. Remember the millenium bug example, which shows how a lie can grow wings and fly around the world, until, of course , it falls out of the sky…
Even the PA left out abuse to the families, but the SFA have added it, quietly, for extra sympathy, when , in fact, no one else has mentioned it.
"Match officials are a vital part of the game and they work exceptionally hard to maintain high standards. We all have a responsibility to support our match officials and, as previously stated, we will shortly be engaging with stakeholders to allow them to discuss issues, air concerns and propose improvements to this area of our game. 
Er, isn't that what Celtic asked for ?
"As we look forward to 2019, I call on everyone involved in Scottish football, from the public parks to the international stage, to respect our match officials." 
Respect has to be earned. Not demanded.
Then this lot joined in… the referees union..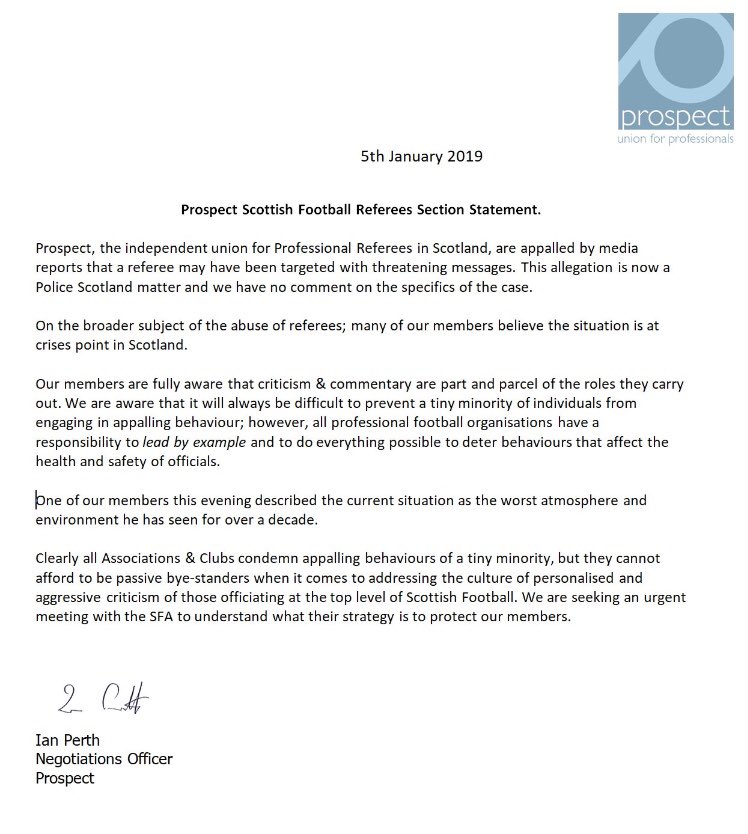 Note again, as the story has not been checked, they are appalled by media reports , and not the offence, which of course, has not been verified…before going on to accept an unchecked story as fact, and condemn appalling behaviours of a tiny minority. 
Oh, and by the way, it's "crisis", not" crises ".
Anyone would think that someone had asked them for a response , and they'd put something together in a rush, without checking…
Then again, no one else has checked it, so why should they ?
Indeed, whoever out this out knew no one would check it, and yet its been accepted by everyone as fact.
That's how it works these days. Thats why the papers are losing sales, and thats why no one trusts the media any more.
This story will die a natural death, but not before its deflected from the real issues, which i'll clarify at the end.
So, whats the motive behind it ?
And more importantly, who is behind it, and why would they try to motivate public opinion behind a man who clearly has questions to answer about his performances of late.
A common practice of the SFa over the years has been to divide the supporters of Celtic and "rangers ", which has  them uninhibited scope to become untouchable behind their own closed doors at Hampden.
As long as the two cash cows of Scottish football are arguing among themselves, they get away with it.
The SFA looks after itself, although its fair to say there has been one particular beneficiary of late.
Its just a happy coincidence that the authorities needed little persuasion to bend the rules to suit.
They've been called out, and they have circled the wagons, but what they have also done is split the army attacking them, in such a way that they will attack each other.
That way, they can wait until the story runs its course, and they can find something else to deflect us with..
Thats pretty much what the mainstream media is used for these days…