Davie Hay, writing in the Evening times, suggests that Celtic will come out of the next transfer window stronger than when they went in.
As we head into another transfer window, I am sure that there will be targets and I also suspect that the club will come out of the window stronger than when they went in.
That comes down to the manager and the chief executive working together and I think you will see that over the next couple of months.
There will be lessons learned from the summer window and if the AGM is anything to go by then I think we can be safe in the knowledge that everyone has the best interests of the club at heart. 
Sounds like Lawwell has dropped CQN in favour of Hay.
You'd kind of hope that the window would be better after Lawwell managed to lose the shopping list and the cheque book last time round.
Its well documented what went on during the summer, at least on here it was, and so there is little chance of a repeat.
You have to congratulate Brendan Rodgers and the Celtic players for their seventh straight domestic trophy, but sitting quietly in the background is a man who deserves a bit of recognition for that success too.
Peter Lawwell will never be without his critics. There is no chief executive at Celtic who will ever escape without someone complaining.
But the triumph at Hampden on Sunday afternoon was the 24th trophy that Lawwell has overseen in his tenure at the club and that is some going.
And while everyone at the club looks at Rodgers and hopes that he remains at the club for as long as possible, I have to say that I'd have the same feeling about Lawwell. 
Davie Hay has a role at Celtic as an ambassador, and clearly its time for his contract to be renewed as well.
So, if we are having loads of new players, as has been suggested, we'll be needing to expand the coaching staff..
And so we are !
Damien Duff, currently coaching at Shamrock Rovers will cross the water on Wednesday to become the first man on board for the next part of Brendans business plan.
Development is a key part of the current philosophy at Lennoxtown, and it could be said that someone likes the but of Duff's gib. In April this year he spoke about how he does things in Dublin;
What's always been my problem with kids and I think the kids have to take some responsibility too and coaches at the clubs. Kids don't touch a ball enough and that will never change," 
"I get slaughtered for it in this country for training my lads five times a week, training half six in the morning doing double sessions and your back at half six at night. I get slaughtered.
"That's dinosaur mentality. You have to train five times a week. We went to play Chelsea during the season, they train seven times a week. But most teams train twice or three times a week, so that's a problem already." 
The Irish independent clearly got wind of this yesterday as well…
'It's an amazing club' – Damien Duff reveals he is in talks with Celtic over a coaching role
"I spoke to them last week," 
"There is a role going there with the reserves. We're still talking to them. It's an amazing club and something will hopefully happen.
"I went over to the training ground and met everybody. It was so impressive. For me and most Irish men, they are one of the biggest clubs in the world.
"When there are kids involved, it's obviously hard and emotional thing to do…maybe I'll have to bribe them with getting a dog. I'm afraid of dogs, so I'll obviously have to rent two houses over there!"
Its more than that, Duff and Rodgers go back a long way, so the manager knows what he's getting.
Here he is getting his phone number from Duff when the player was at Fulham, so that he could get hold of him quickly once he quit Liverpool, had a bit of time off, took the Celtic job and sorted out with Lawwell who was actually running the team.  ( Are you sure? -Ed )
Meanwhile, with Kilmarnock at the top of the table, and heading up to Celtic Park tomorrow, the BBC, desperate for anyone but Celtic to win anything this season, posed the question..
Kilmarnock: Could Steve Clarke's side 'do a Leicester' and win Scottish Premiership?
I'm not entirely sure when Leicester won the Scottish Premiership, so I'm guessing it refers to when they won the English one.
November Player of the Month Ryan Christie was diplomatic…
"It is only the start of December and there is such a big run of games for everybody leading up to the winter break," 
"After the break, then you can start talking about it. But they have been playing very, very well and the manager there has done a fantastic job."
One other player, who has asked not to be named , wasn't..
"Don't talk shite "
But this is the BBC, and shite is their specialist subject (Woah, pots and kettles have suffered enough this week-Ed )
And they have some experts to hand..
Billy Dodds: "They might not win the league, but only a fool would write them off after what happened with Leicester. 
Read that again. Only a fool would write off Kilmarnock.
Well, here I am….
Tomorrow, Celtic , who usually do quite well at home will look to put another challenger in their place, hopefully as ruthlessly as Hearts were put to the sword when they made it look like they were contenders.
There is the small matter of a European game on Thursday that may well be at the back of the players minds, but over the last couple of years they have proved that when they are asked to produce when it matters, they do.
Kilmarnock will set themselves out to frustrate, manager Stevie Clarke is adept at getting his players to do what he wants them to, and they trust him implicitly as time and time again he's proved to be right.
But with intense pressure and a high energy, Celtic should swat them aside, early enough to make sure the game is over as a contest early on, and to deliver the psychological blow that will shatter their confidence.
Is that necessary ?
Yes, it is. According to the SFA fixture computer, they will be our first opponents after the winter break when the hot balls and the cold balls are put on display in the pretence that the Scottish cup draw is random.
At Rugby Park, as well…
Elsewhere, and there's panic over at Ibrox as one or two realise that although Dave King has said he'll find the funds needed to keep his clubs shoulders warm, the fear is that the Chinese investors he's about to announce don't really exist.
That could mean panic at the concert party as they find they're left holding the bill… and facing the penalties…
While King heads back to sunnier climes with his phone switched off and a whole sack of clean, er, linen.
Scott Sinclair has commented on racial abuse he received from an Aberdeen fan after he missed the penalty in the League cup final.
Show Racism the Red Card reacted instantly..
Show Racism the Red Card Scotland are saddened to see a video that allegedly shows an Aberdeen FC fan racially abuse Celtic's Scott Sinclair just before he takes a penalty at the weekend's League Cup Final at Hampden Park.
Not quite the wording they used when there were "allegations " of abuse towards Shay Logan, of Aberdeen..
We fully support Shay Logan and will be asking the SFA to investigate any claims of racism by Celtic supporters towards him. We also reject any allegations that Shay Logan "brought it upon himself". 
In response to the abuse hurled at Sinclair,  Shay Logan tweeted….
Water off a

back.. the monkey shout is out in 2018



my view on the Sinclair incident is Disgraceful (Ban 4 life) if using the skin colour of somebody is what u have to do to try to offend a fellow human being you are losing in life. BLACK WHITE ASIAN we are al the same 
Fair enough.
Sinclair commented on instagram, and received support from a couple of his team mates..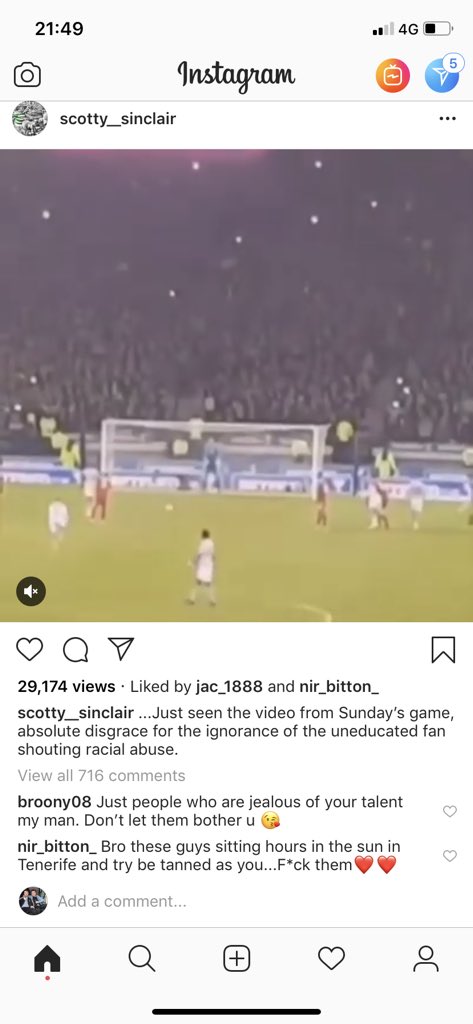 Its still astonishing that in the 21st century that race, colour or religion is used in any way to abuse anyone.
The average crowds in Scotland at football matches may be up, but the average IQ is plummeting.
Over the next few couple of days, we'll see adverts for all sorts of delightful little gift ideas, and as christmas is a time for healing wounds, and perhaps bringing our fellow men closer to our hearts, what better way than to offer a hand of friendship to our old friends across the city, who have had a tough time of late.
You could get them a dvd celebrating their clubs greatest achievement…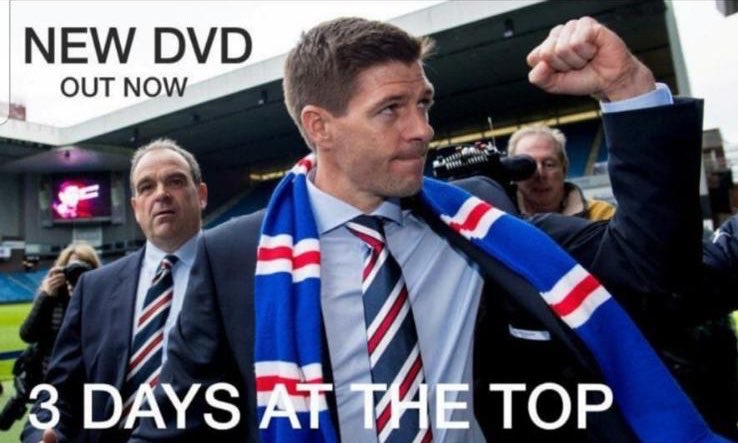 Or maybe a movie to watch…
You see, it doesn't have to be all about arguing and bickering..
Be nice…and people will be nice to you.
Its Friday, and of course that means its time for the Etims
Knob of the Week 
Andrew Dallas , one would think , would be an immediate and popular choice, but other referees have stepped up in support of him this week by showing that they, too, are capable of incapability in their work.
So the award has to go to the guy who made all of this possible.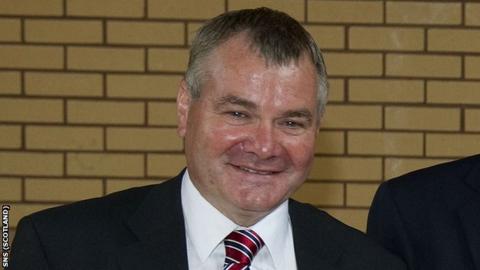 Fleming got the job in March 2011 when Hugh Dallas was forced out when suspicions he was a bigot found substance when one of his emails appeared to confirm it.
This year alone, Hearts, Motherwell, Kilmarnock. Celtic Aberdeen and even "rangers " have criiticised him heavily, and with good cause
Seven years in the job and arguably the country has regressed to the point where the best idea would be to scrap the refereeing department and hire professionals from abroad.
We should have known it would end up like this when he was given a ringing endorsement by Stewart Regan, another fuckwit who was promoted way beyond his ability.
"John brings a wealth of experience in refereeing and in the development and education sides of the game," 
"He also has a wide of experience of working in business.
"His role will be pivotal to the new Scottish FA strategic plan.
"I have received a number of positive comments from the refereeing fraternity and also from his colleagues within the Scottish FA and I am convinced he will be an asset to the organisation."
This week, he has been noticeable by his absence after what has been , even by their own standards a shocking display of incompetence.
Yet, as is the way with those ensconced at Hampden, he'll sit behind his desk, ignore his phone and emails, and wait for it all to blow over.
Seven years in the making, John Fleming has made it to be named the Etims
Knob of the Week 
Yesterday, we had this endearing image of yesteryear..