Celtic continued their Europa League revival with a win in Trondheim last night that leaves them requiring one point from the home match with Salzburg to progress.
I think we'd all have settled for that on match day one.
Although it was all a little tense while watching the game, the reality was that Celtic were much more in control than the scoreline suggests, and the tension was probably more in our minds than out on the pitch.
In the first half there did seem to be a touch of anxiety , with perhaps a few hurried and therefore mistimed passes in the final third, but once James Forrest aimed a shot at Scott Sinclairs head to help it beat the goalkeeper, the team settled and produced what Brendan Rodgers described as "very,very good "
"I am pleased with the result but even more so with the performance. To come under pressure – knowing we had to win – to play to that level technically, well it was good insight into the game for me. 
The players were calm, confident and they all connected well. They were pressing the game, then their ability – both technically and with talent – showed they could control the game. It was very, very good.
"James Forrest is very important to us. But I thought the team functioned very well. From the goalkeeper right the way through.
"If you want to play like we play, then you need all the players to be in the right positions. James and Scott's movement from outside to inside was very good."  
Forrest is important to the way Celtic play, and lets hope the knock he took late on clears up in time for sunday, but he is a doubt. Its his foot, and to be fair it might well recover in time, but not if Leigh Griffiths keeps standing on it, apologising and then running away giggling.
Summing up, the manager continued;
We just wanted to have an opportunity after this evening to have it in our own hands and thankfully that's the way it's worked out. You can only look after your own result. 
The other game's result obviously helps us. 
Red Bull presumably decided they wanted to guarantee teir strongest team would be in the last thirty two, and Leipzig dutifully pulled over to allow the number one driver to overtake, like they do in Formula One.
We'll go into the last game going to win the game.
'It's very hard to go and just play for a point or a draw. We're playing a good side but we want to use the whole Celtic Park experience and the atmosphere to push us over the line. 
It will be a fantastic demonstration of what the Celtic support is about and that synergy between them and the team.
'It's been a great learning campaign for us again. We came here knowing we had to win and to see the players playing with that pressure and that level of control was very, very pleasing. That along with the result makes it a really good night for us.'
If Celtic do get out of this group and into the knockout stages, it will be remembered as one of the great group campaigns. The other sides in the group are all very good teams, if not the most famous names in European football, and we won;t, should we qualify , come up against many are better.
Is it too early to look at flights to Baku yet ?
Not all of the  media were full of praise for what will be remembered as one of Celtics more memorable away performances…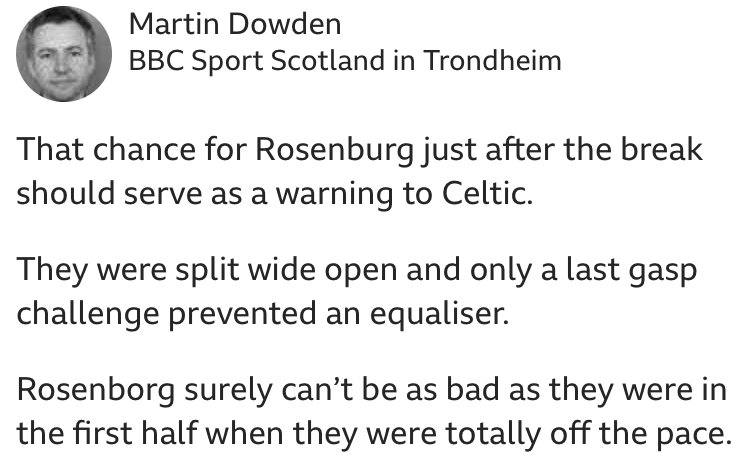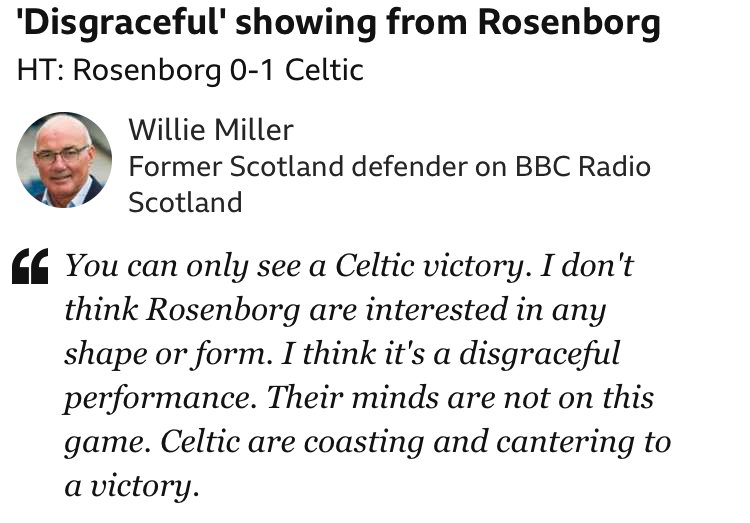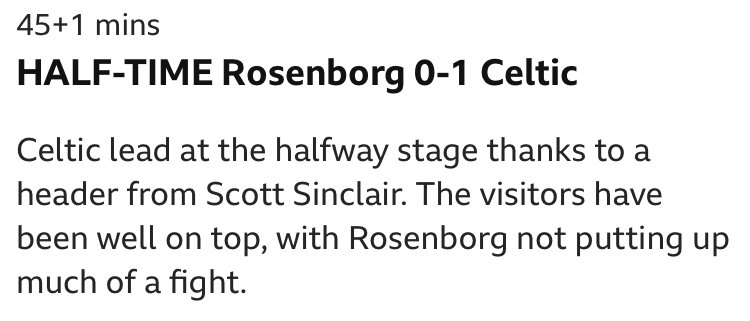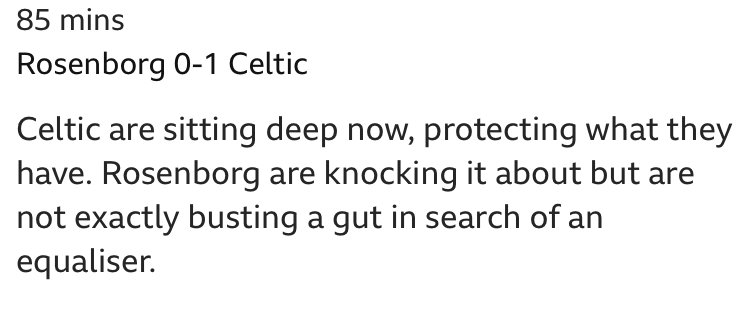 BBC Scotland getting right behind the nations champions there, as they endeavour to shine a light on all thats good in our game.
The players stayed over in Norway last night, a fairly unusual way of preparing for the cup final on Sunday, but it will allow for them to wind down a bit and keep the old body clock regulated, rather than a late night flight back to Glasgow, and endless arguments over taxis at the airport.
As November draws to a close, everything seems to be back on line after the players and manager slipped off track a few months ago.
Its difficult to recall how despairingly performances, both on and off the field were viewed up to and including the defeat at Rugby Park.
If Celtic continue to improve at the rate they have since that then we could be on the brink of a truly memorable season, one to even surpass the Invincible season, and theres no reason to think that the momentum will drop any time soon.
Well, not before January at least. And by then we could be in possession of Brendans seventh consecutive trophy and a place in Europe after christmas..
Elsewhere, the mighty "rangers " held Villareal , currently sixteenth in the two team Spanish league, to a 0-0 draw at Ibrox.
That keeps their faint hopes of progression alive, as they need to win in Vienna in their last game.
After Celtic manager Brendan Rodgers commented yesterday that he would like to see "rangers " qualify, aling with Celtic, the Ibrox support looked into their hearts , and amidst the darkness therein, found time to create a lovely tribute to the Irishman with a beautifu tifo display, that says simply "Super Rodgers "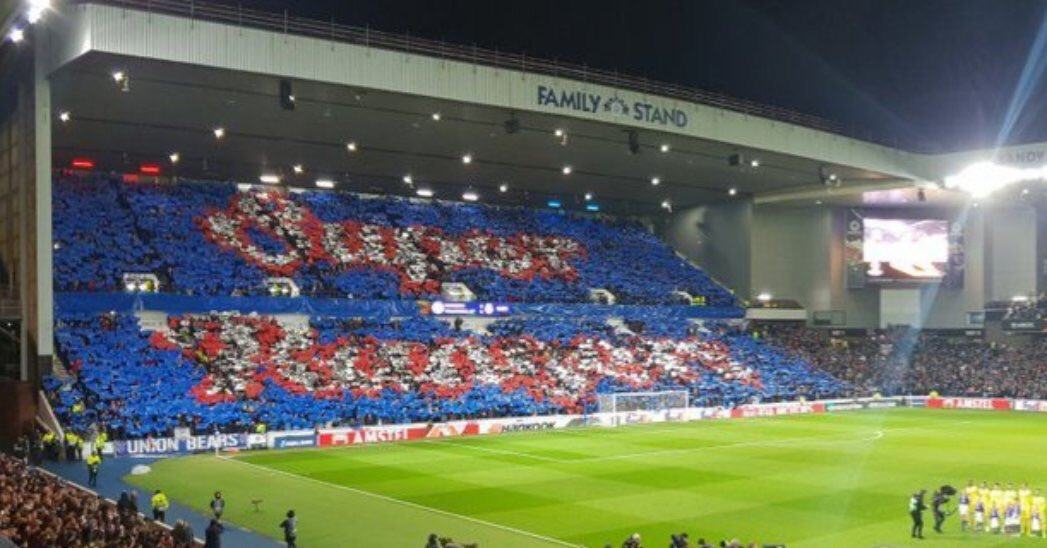 Spotted by and credit given to Raymie bhoy on twitter.
The man behind the display, who had clearly put hours into it, denied this vehemently, claiming it doesn't say that at all, and he should know, he designed it…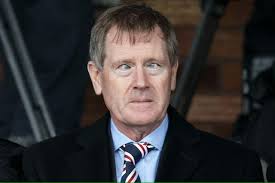 Or, as fitzy on twitter , after using hi tec deciphering software revealed, perhaps they have a new sponsor…
Something you won't hear about in the media is the incident that took place shortly after Ibrox man Daniel Candywhatever was sent off for a second bookable offence, when he stamped on an opponent..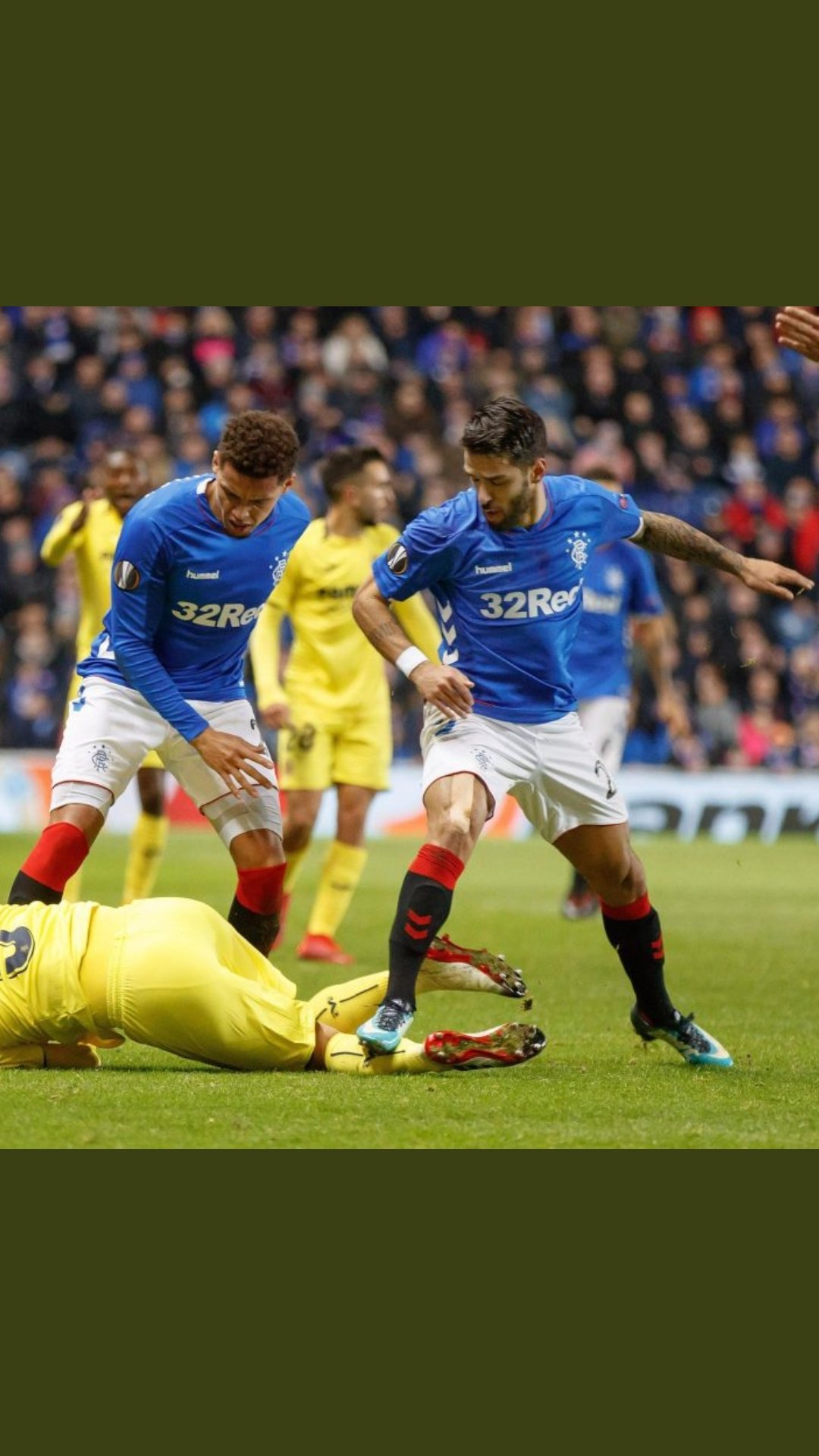 Some peepil missed that bit…
Also… no idea what the appeals process is in Europe or if there even is one – but if there is, it'll be a travesty if Rangers don't contest that Candeias red card. Morelos committed the foul and referee was awful all night. Must dispute it if they're able to and sure they will.
By lying on the ground and being fouled in a way that led to "rangers " going down to ten men,the Villareal player outraged the normally placid home support, and one of them raced onto the pitch, but was escorted away…the tv cameras swiftly turning away from the incident.
Not all cameras turned away though.. and after it was referred to VAR, the decision was upheld, according to our man in the room, Chairman LAO on twitter..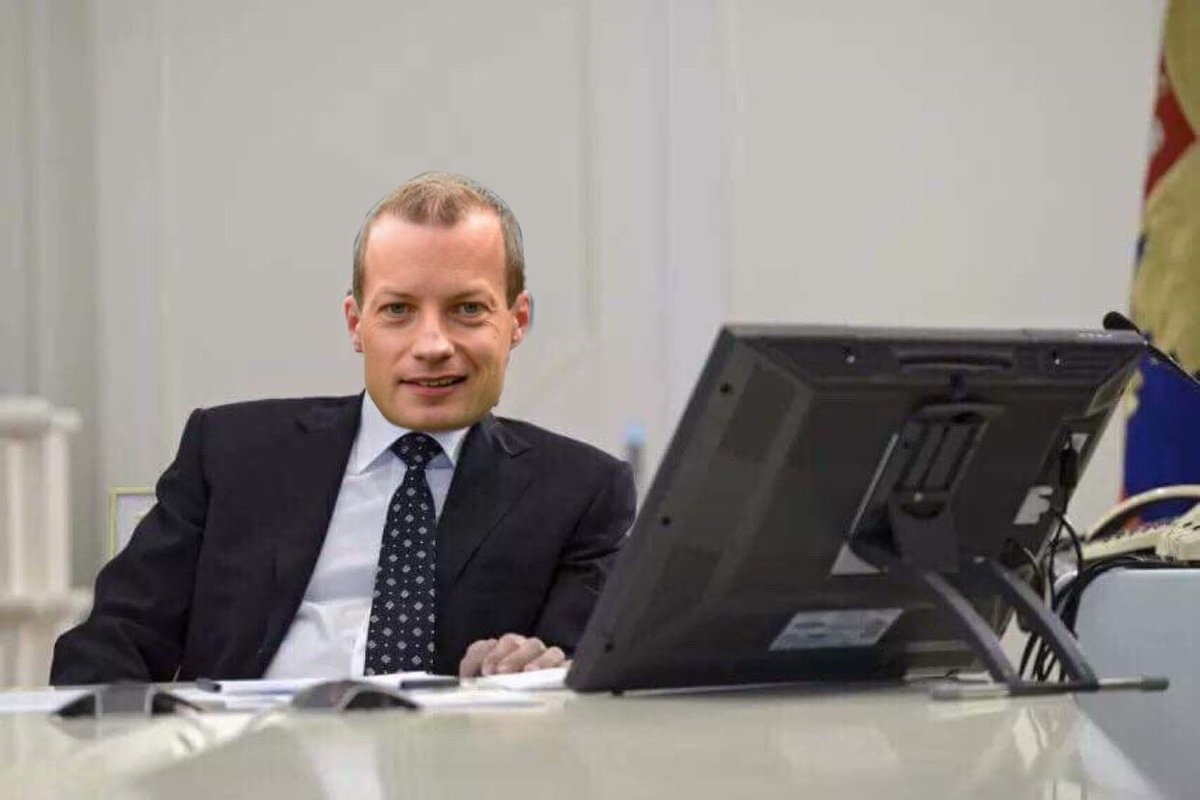 Another camera picked up something else , though, which was a matter of concern..the pitch invader.
With safety concerns for supporters high on the agenda for Celtics visit to Ibrox, one wonders if perhaps its worth mentioning that the players need certain guarantees for theirs…especially after recent outbursts from the "rangers " board who condemned the "thug like " behaviour of Celtic players in the last meeting, at Celtic Park.. 
There have been a number of incidents at Ibrox of late concerning supporter behaviour, including coins, batteries, golf balls and attempted assault, which place, to my mind, doubts about player safety and crowd control at Ibrox. 
And thats before you consider racism, bigotry and the smell. 
Based on this evidence, Celtic should demand a neutral venue until guarantees about safety can be put in place, and even then they should make it perfectly clear that that should any incidents that are considered potentially dangerous to their players, or any racist or sectarian chants are heard, the team will leave the field of play. 
And will have their own security detail to help them do it.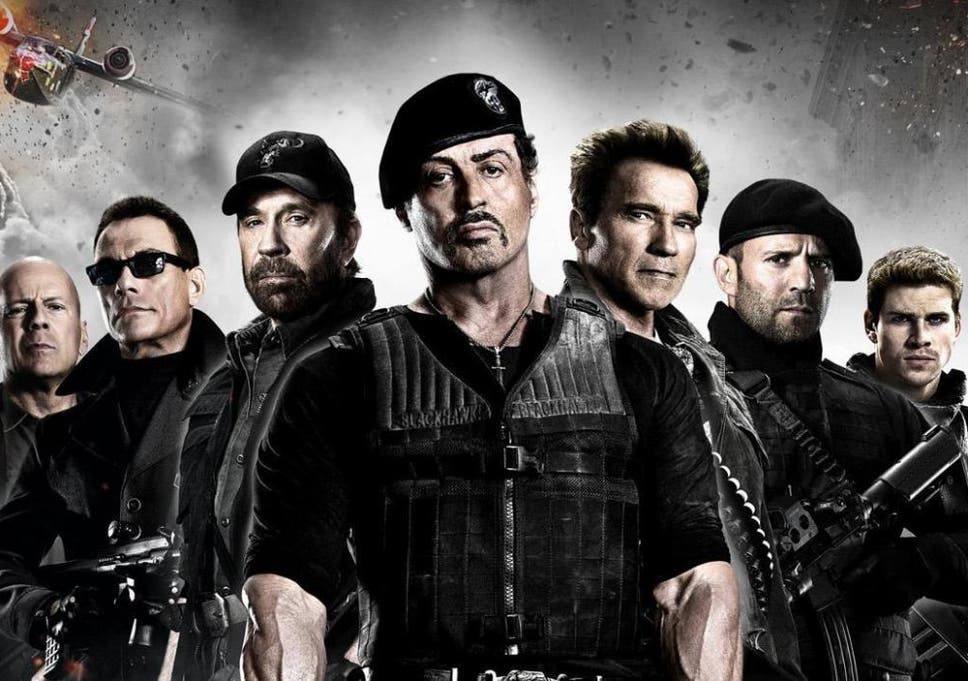 Lets be honest, the police aren't up to it.
And I'm not the only person who has lost faith in them…
Compare and contrast with how others see the Celtic support…again…
Celtic's european away fans are truly class you can't really deny that, it was a great experience sitting that close to them for over 90 minutes 
And hey, the team ain't so bad either…
Its Friday, and that means its time for the awarding  of the
Etims Knob Of The Week. 
The media hold a place of responsibility in any society that considers itself to be a democracy. they must be independent, they must be truthful, and they must hold those in the public eye accountable for their actions.
Above all, they must be impartial, and unafraid to call out those who try to lie to the public.
Then there's Chris Jack, of the Herald Group, who clearly wasn't listening at Hack High School.
Get a coffee and read this, his match summary from Ibrox, it contains everything that is wrong with Scottish mainstream sports media, and should be used as an example over at Hack High.
Of how not to be a journalist.
Reproduced in full here, as it really is funny as fuck, though I doubt he meant it that way.
IT is going down to the wire. The scenario that Steven Gerrard would have taken at the start of the section is now the reality for Rangers.
Six points from five games leaves them third in Group G with just one fixture to play. If they can follow up their win over Rapid Vienna at Ibrox with another away from home, then a place in the next round will be secured.
Given what Rangers have achieved on their remarkable European run so far this season, few would back against them doing just that. It is all to play for.
Gerrard didn't get the win over Villarreal that he wanted here but he will be proud of the efforts of his side once again as they recovered from the red card wrongly shown to Daniel Candeias before the break to take a share of the spoils from the Spaniards for a second time.
When Gerrard was asked on Wednesday what he felt Rangers required from their last two matches, he reckoned that four points was the minimum if a knockout berth was going to be clinched. He was right.
He surely, like most, would have expected Spartak to beat Vienna on home soil. 
That wasn't the case, though. 
As supporters took their seats here, the permutations would have been discussed and debated following Vienna's surprise 2-1 victory in the early kick-off.
Rangers could no longer be eliminated from the competition here. Now, they will head to Austria next month knowing exactly what is required.
All the 'what if?' scenarios were for before and after this game, not during a thrilling 90 minutes under the floodlights. Rangers, first and foremost, had to take care of business and look to overcome a side that really should have beaten them on Matchday One.
Gerrard had called upon Ibrox to play its part on what he hoped would be a memorable European night. Villarreal were not to be feared or respected too much.
The decibel levels steadily rose before kick-off as the Light Blue legions created the perfect backdrop to the occasion, but the excitement was soon replaced with a nervousness.
The contrast in styles was clear. Rangers were high tempo and full of energy but it was Villarreal that had the real quality on the ball and there was a sense of trepidation every time the yellow shirts attacked with pace and precision.
The visitors cut through Rangers too easily at times but they found Allan McGregor in inspired form once again. He was left helpless as Carlos Bacca narrowly failed to connect with a Karl Toko Ekambi cross but two saves from the Cameroonian were crucial.
Ekambi only had McGregor to beat when he got in behind Joe Worrall but McGregor spread himself well to make a terrific block. Just before the break, he denied the forward again as boss Javier Calleja was left to rue his side's profligacy in the final third.
The chances that fell Ekambi's way were the best that Villarreal could carve out. At the other end, there were a series of near misses for Rangers.
Scott Arfield was the first to test keeper Andres Fernandez with a poked effort from inside the area, while Alfredo Morelos saw a shot blocked and a flick from the resultant corner miss the target.
There was plenty of endeavour from Rangers but their play was frantic and scrappy at times and too many moves broke down prematurely.
Both of their clearest chances came from set pieces. A Glenn Middleton free-kick was recycled by Arfield at the back post but Connor Goldson couldn't convert after Worrall had nodded the ball back into the area. The former Brighton stopper later connected with another cross but his header was easily held by Fernandez.
Gerrard would have been content at that stage but Rangers' job got harder before they could return to the dressing room and regroup ahead of a huge 45 minutes.
A skirmish flared up on the far side of the park after a challenge from Alfredo Morelos on Santiago Caseres. Candeias inadvertently tripped over the midfielder and was inexplicably shown a second yellow card. The Portuguese protested his innocence, but to no avail.
A fan jumped over the hoardings from the Sandy Jardine Stand to confront the linesman and was led away by stewards and police. He, and the decision from referee Matej Jug, were met with a vociferous backlash from a furious home crowd.
Seconds later, the whistle blew for half-time and Jug was once again the centre of attention as the players made their way off. Rangers were very much up against it now.
It took them until just before the hour mark to get a sight of goal as Middleton, now playing closer to Morelos through the middle, collected a James Tavernier pass and fired over after spinning well on the edge of the area.
By that stage, McGregor had dived at Ekambi's feet to deny him once again. It was a frantic, at times desperate, defensive showing from Rangers as the minutes ticked by slowly.
Every one that elapsed got Rangers closer to an unlikely point. Gerrard's side stuck to their task, with each tackle or pass cheered and their rare forays forward met with a roar of encouragement.
The loudest one was saved for the 76th minute but it quickly came to an end. Morelos did brilliantly on the left and found Ryan Jack before the ball was shuttled to Arfield and then to Tavernier.
A cross from the right found Middleton and the youngster converted at the second attempt. His joy was short-lived, though, as the offside flag denied him the biggest goal of his career.
Gerrard introduced Kyle Lafferty as Morelos was given a warm reception for his efforts and the Northern Irishman almost made an immediate impact as he burst forward and tested Fernandez with a dipping effort that he had to parry away.
It led to a spell of pressure from Rangers as Middleton whipped in a couple of corners and the belief was surging through everyone in blue on and off the park. The stage was set and Gerrard needed a hero.
Nobody in Light Blue could emerge as the match winner but every one had played their part. This wasn't a win, but it some ways it felt like one for Rangers.
A journey that started out against Shkupi back in July has at least one more stop in Vienna. Only time will tell if another will follow.
Based on that summary, perhaps we should have concerns about matters on the pitch when we visit Ibrox on the 29th…like whether or not I can find a corset strong enough to stop my sides from splitting.
Anyway, well done to Chris Jack, head and shoulders above anyone else this week….
Etims Knob Of The Week. 
Caption competition from yesterday…