Then again, we're used to that sort of thing.
Celtic are in Trondheim and although there is every reason to be confident of getting the win that will prolong the clubs participation in Europe, as the game gets closer, the doubts creep in.
Apart from anything else, its in a city that today will only have five hours of daylight.
09:22
Thursday, 29 November 2018 (CET)
Sunrise in Trondheim, Norway
14:51
Thursday, 29 November 2018 (CET)
Sunset in Trondheim, Norway  
Its just not worth the effort for the Sun to get up at all.
Fortunately, most of our players have taken the field at Ibrox, where the stadium is shrouded in perpetual darknes, so they should be able to cope.
Both clubs have a cup final to look forward to at the weekend, and the norwegians have more or less said they'll put out a weakened side. I'm not buying into that, but if Celtic do score early it may lower their interest in tonights game.
Rosenborg can still qualify, as Moravcik 67 detailed in yesterdays diary, but its unlikely. But to suggest they won;t compete is a little over optimistic.
Celtic, however, are taking it seriously, as you'd expect..manager Rodgers said
Whatever team we put out will be a strong team and a team we think can win the game and then we go into the first final of the season and it will be another very strong team that we think can win the game," 
We want to go into our last game at Celtic Park with an opportunity to qualify and if we get a victory tomorrow night then we have an opportunity to do that," 
"We understand and respect Rosenborg. They have come off the back of a celebration of being champions again for the fourth consecutive time.
"So we know it can be a difficult game for us and that is what we will prepare for."
It will be the fourth game between the two this season, which will mean that Celtic will have faced the Norwegian champions more times than up to six of their Premier League opponents come the end of the season.
So we should know what we're up against. With two wins and a draw so far, form suggests Celtic can certainly avoid defeat, but will an away win be beyond them?
The return to fitness of Leigh Griffiths will help, he found the net against Rosenberg in the crucial opening Europa league game at the start of the group campaign, but its Oddsone Edouard who scored twice in the 3-1 qualifier win.
That presents a dilemma for the manager, who won't want to change a side that has hot form, so we're more likely to see an unchanged line up with Griffiths coming off the bench later on.
however, its the defence that has improved greatly as the season has progressed, with the Boyata Benkovic partnership blossoming, and also allowing the players around them to play with a bit more confidence.
Rodgers spoke highly of the two men..
The two of them are top-class.
"I was talking to someone the other day, and I said if I was managing in the Premier League you would be happy with those two as centre halves.
"Both have different attributes. But they are really stable and secure. They work very well off each other.
"They love playing with us, and it's great for us as a team to have that stability.
"Sometimes we haven't had that. So to have those two and their qualities gives us a really strong base. 
Any team, if you've got that stability in your centre-halves, then that's important.
Take note of what he says about how much they are enjoying playing at Celtic. That could be a crucial factor in whether or not it will be a fleeting glimpse of a competent pairing, or something a little more long term.
Calum MacGregor, another who has developed into a class act, spoke confidently ahead of the game.. and perhaps dispelled any doubts about the team becoming complacent or over familiar with their opponents
It's always good when you have that familiarity about stadiums you've been to and have had good results there,"
"You get a good feeling when you're coming back. It's another tough test for us to come here and try and get a positive result, but we come into the tie with good confidence.
"This is another big game, off the back of a big result in the last match against Leipzig. We know how hard it's going to be against Rosenborg but we need to get a positive result.
"You can see the confidence with the goals and the scorelines in the last few weeks. The boys in the attacking half have been great and, defensively, we've kept clean sheets. We've only conceded one goal recently."
As for a prediction, I think we'll get the result, and probably win comfortably, but its Europe, and its Celtic. So there's always room for a bit of doubt.
The game kicks off at five minutes to six, so plan your day properly or you'll miss it.
Elsewhere, and the other Scottish side in europe tonight, "rangers ", have had a turbulent few days as it seems all of a sudden everyone is against them.
In the spirit of solidairty, Celtic boss Brendan Rodgers said he hoped Glasgows fledgling club would also make the knock out stages of the Europa League, which was nice.
As you can see, however, this touching gesture was relegated to a sideline on one back page this morning…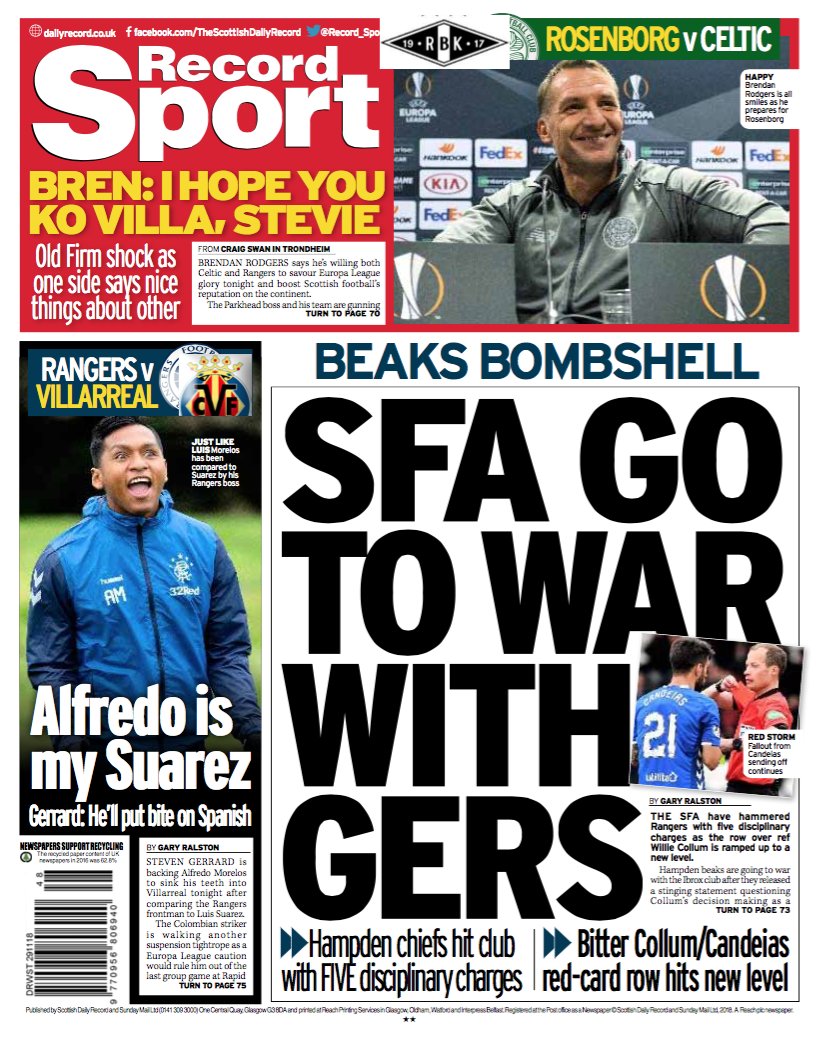 Gary Ralston, who is noted for his partisan prattling on those pages, seems to be quite hurt by the news that his beloved "rangers " will be charged with five counts of breaking the rules…
Like any other club would be.
The Scottish FA has charged Rangers with bringing the game into disrepute after the club's criticism of referee Willie Collum.
The Ibrox club released a statement and wrote a formal complaint to the SFA following the sending-off of Daniel Candeias against St Mirren this month.
The governing body has now issued Rangers with a total of five charges including indicating bias.
Rangers have until 4 December to respond to the charges. 
They will then face a hearing on 19 December. 
The charges are detailed here SFA charges in full
The statement that has caused the bother is perhaps an indication of why Celtic maybe shouldnlt hire James Traynor after all, because it does sort of sound like the sort of noise a small child makes when you take his sweeties off him.
RANGERS are extremely disappointed with the decision of the Scottish FA's Judicial Panel to dismiss our appeal against the second yellow card shown to Daniel Candeias in the closing seconds of last Saturday's match against St Mirren.
Rangers afforded the governing body the opportunity to let common sense prevail and we are surprised they have chosen not to do so by correcting what was, and what remains an inexplicable decision by the match referee, Willie Collum. Rangers shall now seek a fundamental review of the rules relating to red cards which result from two bookings of a player in a game.
If one of these decisions is obviously wrong, it must be possible to correct that mistake. It is wrong that players' livelihoods and careers can be impacted without the opportunity of redress, especially when the official responsible for the miscarriage of justice is allowed to continue as though beyond question or reproach.
It defies belief that this same referee, who got it so blatantly wrong last Saturday, is awarded one of the biggest matches in Scottish football this weekend while Daniel Candeias is denied the right to go to his work. This, frankly, is unacceptable.
Furthermore, it is understood that a number of people within the Scottish FA are in no doubt Mr Collum's judgment was flawed and Rangers shall also now be submitting a formal complaint about the performance of this referee. The manner in which he reacted to an incident involving our player made it obvious he did not give due consideration to his decision.
This is by no means the first time errors of judgment have been made in matches involving this official and clearly there is an underlying issue which requires to be addressed. 
Presumably that statement will be used in evidence, and there can be little doubt that they are guilty on all five counts. On a positive note though, at least they'll be able to explain the five stars on the jersey with a little more credibility by claiming its one for each fine.
Its not been a great day for those cuddly caring bears…
Ibrox: Dave King and his Going Concern
A big financial loss at Rangers International Football Club reflects big errors in spending, meaning a new regime for picking players
The club does well at selling tickets, but it lags Celtic in other earnings
Banks don't bankroll RIFC, so its directors and investors are doing so. For how long? 
Its a fairly long article, but its an essential read for anyone who is running a sweepstake at work around the date that this version of Rangers collapses.
The full article is here.. I've taken the liberty of giving it a sub title…Its happening again but I'm going to reproduce my favourite bit, the one bit that should alert the football authorities to the fact that a club operating out of Ibrox is living beyond its means again, and unless they do something about it, then Scottish football is going to be embarrassed all over again…
RIFC now has Metro Bank on board, having lived without much banking support for several grim years. But that's not where it can look to bankroll losses. For that, it has directors, ploughing in loans and occasionally swapping them for equity.
By the end of its financial year, in June, total external loans had mounted up to £23.4m. That's not a particularly healthy figure, as Rangers fans ought to know by now.
It's lower now, because of a debt-for-equity swap worth £11m, carried out earlier this autumn. However, more money will be required – £4.6m more this season, with the first tranche required in January, and a further £3m more in the 2019-20 season. The more of that transferring into equity, the more dilution there will be of other shareholder stakes.
The club might continue a Europa league run meets the fans' high expectations – we'll find out more about that on Thursday evening against Villarreal – and the added broadcasting rights with gate receipts could offset those numbers.
But the accounts spell out very clearly that RIFC can only be considered a going concern because directors and other investors are willing to dig deep, and have promised to keep doing so.
One big question is how long Rangers can afford to live beyond its means. Or to put it more positively: how long and how much will this investment strategy require before it delivers profitable results?
It was a question put to Dave King at the AGM, to which the answer came: "As long as it takes".
The casual response from King sums up the level of scrutiny he gets from his club, their supporters, the SFAand with the exception of the author of the BBC piece, the media.
It is happening again, and its disgraceful that its being allowed to.
But I'm cool with that.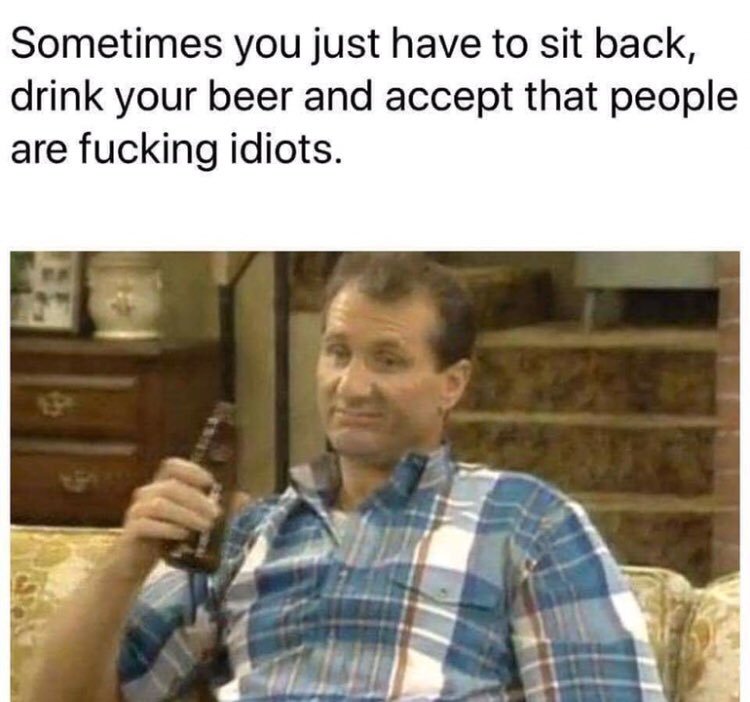 Thanks to Mr Henrik on twitter, we have an advance copy of a soon to be released statement from Club 1872, where the most gullible of the gullibillies spend their spare change…
CraigWhyteFanClub on twitter also made us aware of the latest offensive product to be placed alongside green pepperamis and Eggs Benedict on the Not allowed list at Ibrox..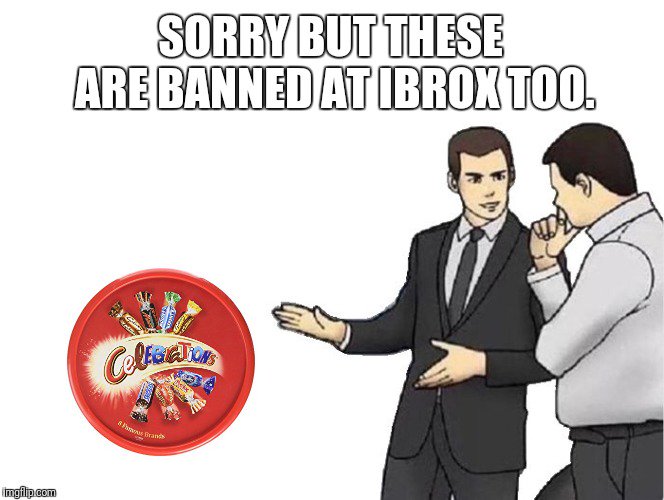 Villareal fans could be in trouble if they cheer a goal tonight. Has anyone warned them that a victory could cause the home fans to stop picking fleas off each other and start biting and scratching instead ?
Or worse ?
Also on twitter, Cartuja has pointed out a new product that might well put a stop to the social unrest hinted at long ago-or should that be subliminally encouraged long ago-by former SFA chief Stewart Regan ?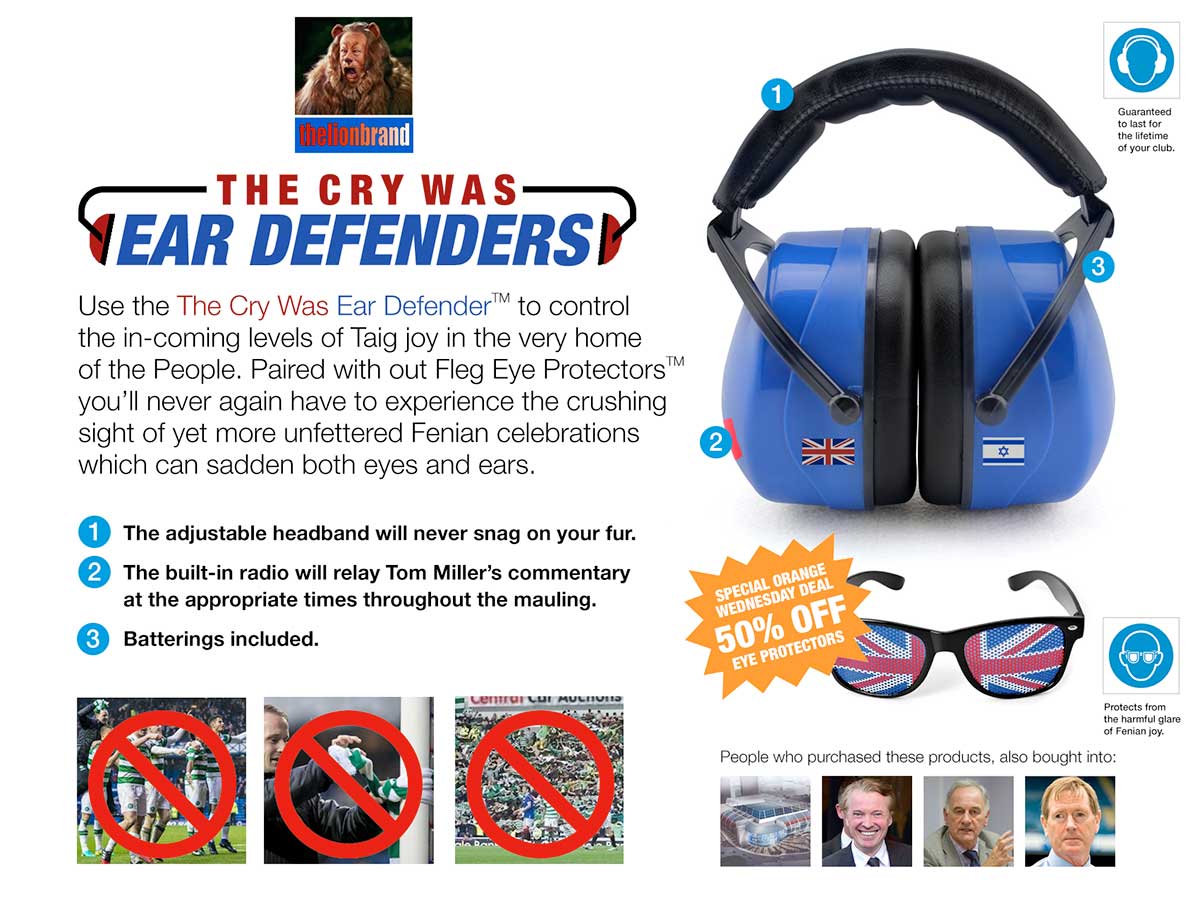 Mind you, when a director of another club criticises Celtic players in this way at an AGM..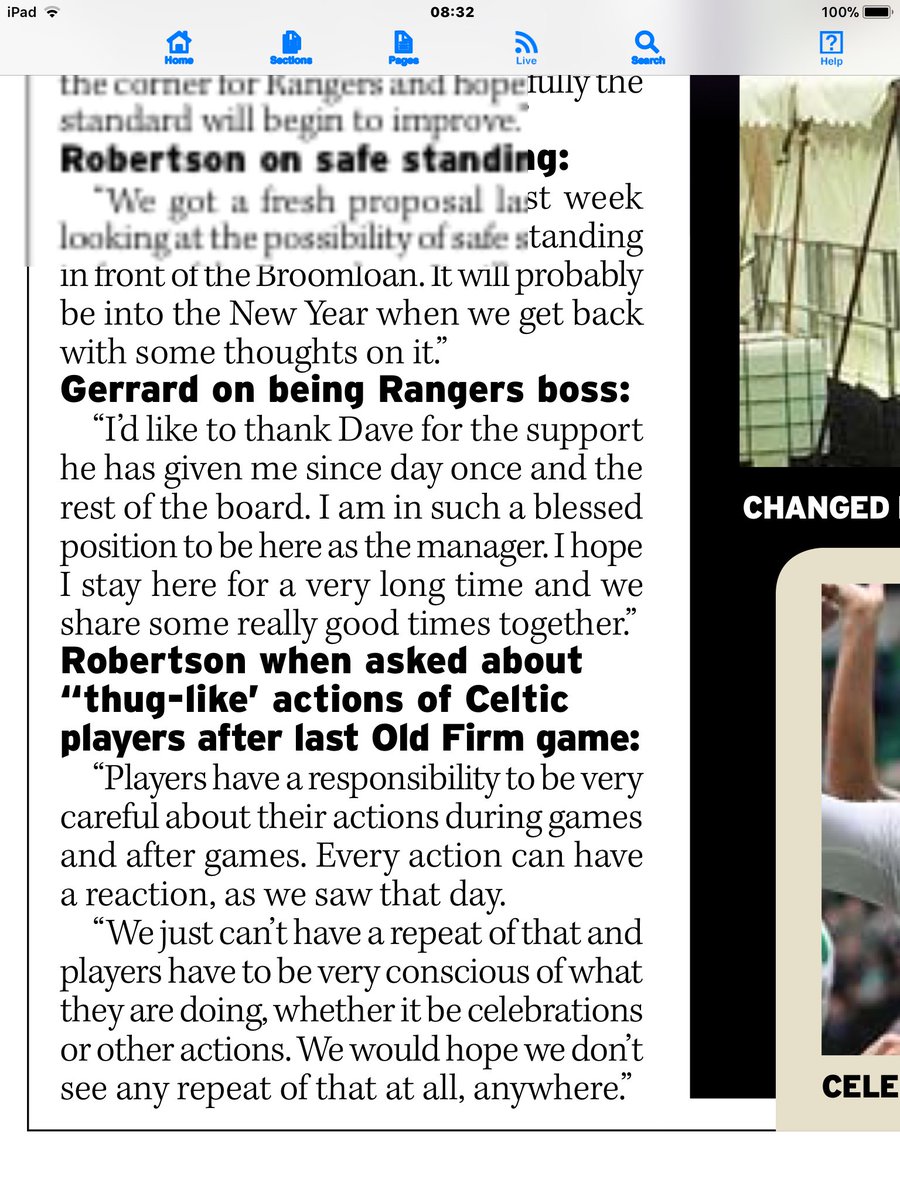 by agreeing that those players are "thug like " and condemning them, then perhaps its our board who have the headphones on.
There is no excuse for allowing this kind of smear campaign to go unchallenged.
In the extract above, Robertson is admitting he can't control his fans, although there is an argument that they dont want to…and he's blaming Celtic players for that.
A strong rebuttal and condemnation s required from our directors.
Their responsibility is not only to protect the interests of shareholders, but to protect the good name of the club and all associated with it.
Yet again, they have let us down.
Yet again, they have allowed our reputation to be sullied publicly and without comment.
Next time I anywhere near any of them, I'm going to take their dinner money off them.. shouldn't be too difficult as they don't appear to have the balls to stand up to anyone.
Caption competition …yesterday…