Celtic Diary Sunday November 4: And Its Going To Get Even Better…
Celtic moved to within a point of league leaders Hearts with another performance which suggests that reports of their demise were a little premature.
The hoops also have a game in hand.
At one point this season we may have been worried that the campaign to become the first Scottish team to secure a second collection of eight successive titles was under threat, but its going to take a mighty collapse for anything other to be the outcome of this season.
Celtic won 5-0, and I don't think any of us were surprised at the size of the victory. Even Craig Levein admitted he had got it wrong when he set his side up to defend, although it would have been nice had he praised a Celtic side who have now returned to the dashing style of the old Invincible team, with pretty much the same results.
90mincynic  on twitter pointed out that this was..
This is first time since April/May 2014 that Celtic have scored 3 or more goals in five consecutive domestic games. 
And yet it wasn't so long ago that we were bemoaning the lack of goals…
Regular readers are fully aware of what prompted the change, despite what everyone else says.
I listened to a wee bit of On The Ball, the often cringe making "comedy" show on BBC Radio Scotland yesterday, and one of the pundits claimed the turnaround was due to Brendan Rodgers deciding that he could afford no further damage to his reputation and he needed to concentrate on the domestic scene in Scotland ahead of a move south.
We know, of course, that he's been given a boost from the owner and will be allowed to spend in January as long as he doesn't hand his notice in again.
He may well spend some of the money he's been allocated on securing players who are already here, and thus giving the side-especially the defence-a little stability and familiarity.
Filip Benkovic is beginnining to like it here.
The next two  months could see Celtic qualify for Europe after christmas and lift the first of the three domestic trophies. If the form and confidence showed in Scotland can be transferred to the European stage, there's every chance this will happen.
Benkovic and Boyata may well absorb a fair bit of the transfer budget, but theres a lot of water still to flow under that particular bridge.
Ryan Christie, a revelation in the number ten role, may also see his bank balance boosted with a new deal. Along with Calum MacGregor, he has risen to the challenges put to him during the prolonged absence of Scott Brown, and with Olivier Ntcham possibly heading for the exit door, we can only hope that money goes into what appears to be a sizable kitty.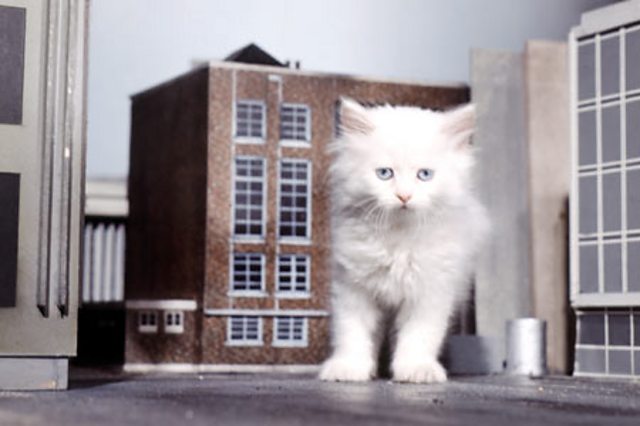 With Celtic now in top gear, and the league slipping away from any contenders, the media moved to find something else to talk about.
So much so that the talentless Jonathan Sutherland thought it relevant to ask Brendan Rodgers what he thought about the incident at St Mirren where someone threw a coin at Alfredo Morelas.
Rodgers simply told him to ask Steven Gerrard, quite rightly, but there's that disquiet that the BBC should try to elicit an opinion on something rodgers probably hadn;t seen and probably didn't care about.
With Neil Lennon speaking out on anti Catholic and anti Irish abuse, there has been a knee jerk reaction from the establishment.
They don't want the rest of the world to see that Scotland hasn't dealt with the core issue, and are happy for it to be a football problem.
Morelas is from Colombia. Was the coin thrown at him because he's a catholic ?
Probably not.
Missile throwing is a problem in Scotland right now, and the failure to address it over the last couple of years has brought matters to a head.
We are still to see action taken on the supporter who threw a coin at a linesman at the Livingston "rangers " game.
And the battery heaved at Leigh Griffiths has been conveniently swept under an ever heightening carpet.
There are many examples of anti Irish and anti catholic behaviour in Scottish football. Its simply wrong to attribute it to Neil Lennon.
Remember this ?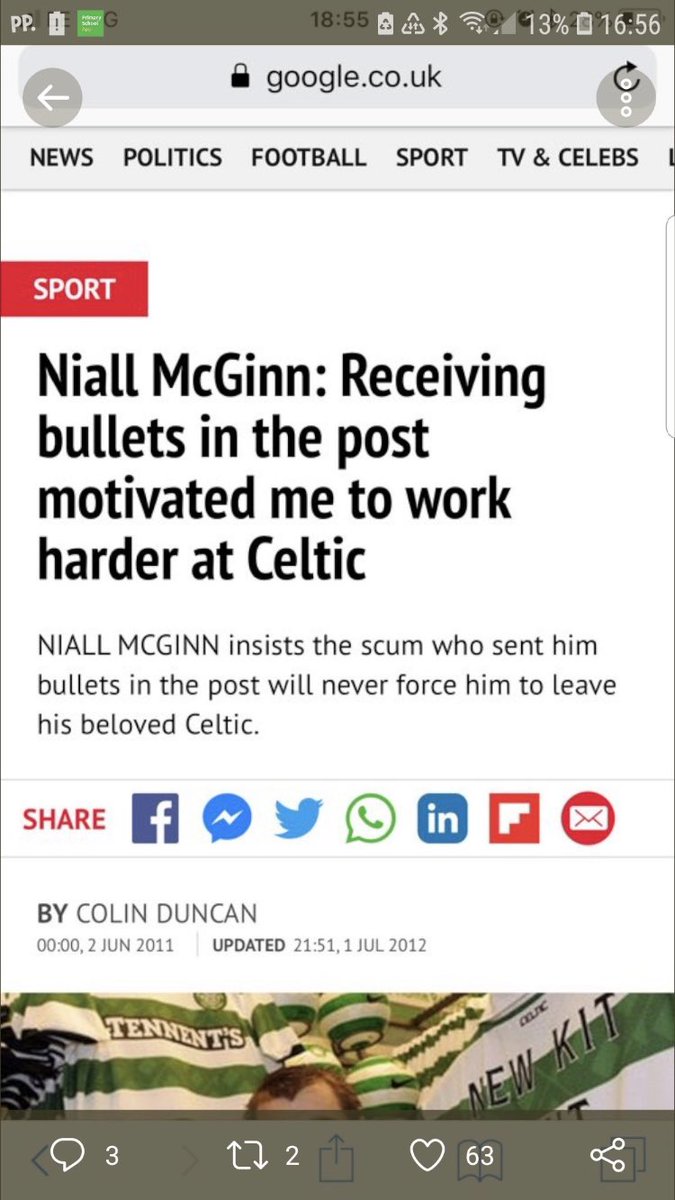 Or this ?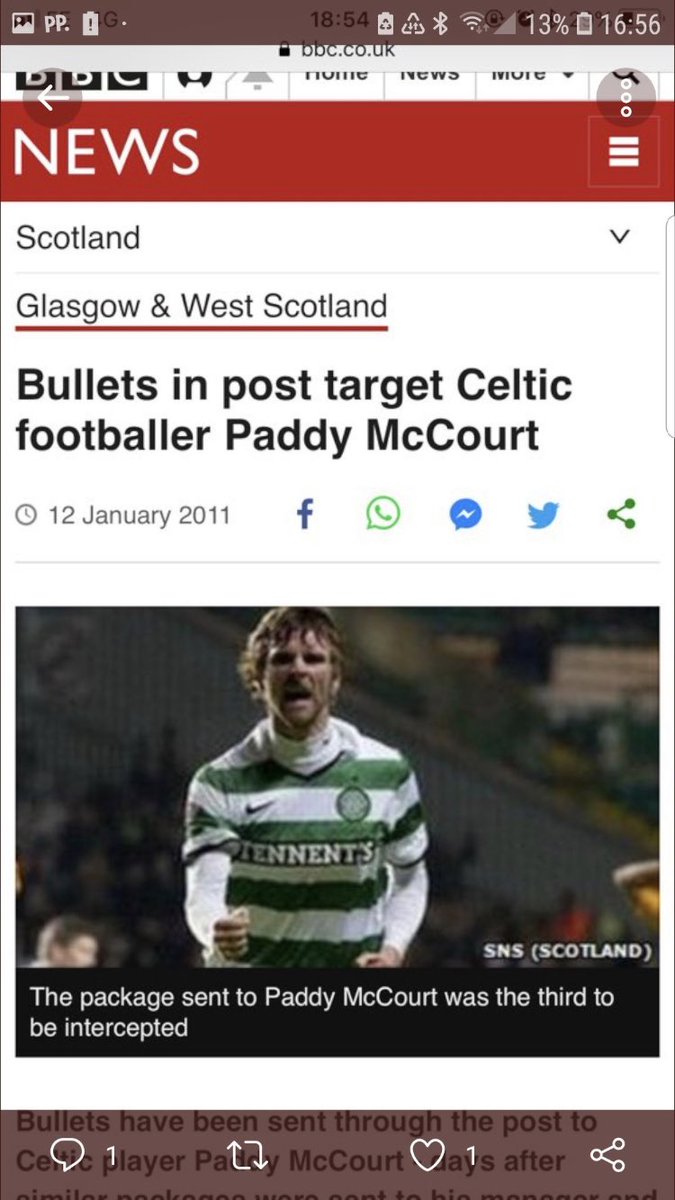 The connection with Lennon ? Three Northern Ireland internationalists that played for Celtic.
Thats the issue that the media wishes to avoid.
By avoiding the truth when it came to the liquidation of "rangers ", many of their fans quietly walked away from the club. That allowed a number of their more unsavoury fans to make their voices louder.
The new club, interested only in making as much money as it could from a dying market, pandered to them, and a gushing media failed to call them out.
We are now almost at the point of "social unrest " that discredited former SFA chief Stewart Regan referred to when he desperatly tried to gain support for his plan to save the Rangers brand despite years of financial and institutional irregularities.
Which reminds me…
Gianni Infantino of UEFA has been accused of helping PSG and Manchester City circumvent UEFA FFP rules.
Der Speigel isn't like the media in Scotland. It goes after those who it feels there are at it when provided with evidence.
Infantino,,does the name ring a bell ?
It did with Auldheid…
He was an official at UEFA in 2011 and involved in the introduction of UEFA FFP having worked in UEFA Club Licensing.
 He was the guy that Celtic copied their letter of May 2012 to SFA expressing concerns about the investigation into RFC use of ebts with side letters. 
 In September 2011 there was a conversation between the SFA official responsible for seeing UEFA FFP was being adhered to by SFA and clubs and a UEFA official.
 The result of that conversation was verbal acceptance of the June 2011 monitoring submission from RFC.
 A submissions that the JPDT was supposed to be investigating looks like it's been deflected to CAS. 
Awkward for UEFA given it now appears UEFA not so hot on applying FFP without fear or favour. 
Does this explain Celtics reluctance to take Resolution 12 to UEFA ? 
We await with interest developments.. but not baited breath. Although the involvement of a proper grown up newspaper might make a difference.
Mind you, there are genuine fears of another instance of unfair sporting advantage happening right under our noses.
But not from anyone sensible.
There was no diary yesterday, i was fitting a bathroom. Well, I was helping to fit a bathroom.
We go back to Friday for this…
 Speaking of Gerrarrd…we have an exclusive telephone conversation between him and Pedro Caixinha which we will publish during the week.
Its startling . Its not true, but its startling nevertheless.