Relax.
Let the papers, pundits and personalities have their day.
Then consider this…
What we saw last night was a makeshift Celtic team hold its own for about half an hour against a side riding high in the German league, which is generally accepted to be better than our own .
Not for the first time, a couple of mistakes in an otherwise steady defensive performance let the team down, and the major creative influences, Forrest and Rogic, weren't available to help out.
The heart of the team wasn't there either, so that little extra encouragement was absent.
It happens. Unfortunately, it all happened last night.
Against a weaker side Celtic may have got away with it, but the 2-0 reverse in a game that would have had neutrals switching over if Eastenders was on, wasn't entirely unexpected, and there wasn't enough between the sides to suggest the result couldn't be overturned in Glasgow.
Rodgers agreed…
"We have seen enough to know that we can win at home when the players come back.
"From tonight's general performance, I believe it's something that's well within our capabilities.
As with Salzburg away, Celtic did okay until their opponents scored.
Thats maybe something to work on …
And the argument around the amount of injuries, and the training methods..maybe theres something to work on there.
But, oh, the palaver …the hurt and the wild, wild stories that have hit social media since the defeat.
Yousseff Mulumbu…is he the source for the Kris Boyd leaks ? some seem to think so. Thats why he didn;t play last night and Eboue Kouassi started..
As with all bits of tittle tattle that come our way, I tried to find out…
It's shite.
Then there's the row -over the phone between Lawwell and Rodgers- the two supposedly have fell out again and …oh whats the point in elaborating.
More nonsense.
Neither of these two are noted for discussing anything remotely important on the phone, and they tend not to talk about anything in front of anyone anyway.
To suggest that a weakened side losing in Liepzig was the catalyst for "major upheaval next week " is stretching it a bit.
Whilst I genuinely believe those who gave us this news believe it, it seems to me that there's a wider agenda here, especially ahead of Murrayfield.
Two tv pundits, both former players, have led the offensive.
Andy Walker, face deep in Sky flavoured soup said after the game..
"They looked out of their depth,"  
He knows all about that, I guess.
They gave a chance to Lewis Morgan which they had to do given the amount of injuries but he didn't look up to it.
"Ryan Christie didn't look up to it, Eboue Kouassi, given you've spent £3m on him, showed absolutely nothing.
"Celtic have been founding wanting in Europe and this I thought was their level, the Europa League." 
Players who have been called upon to step into the first team for one of the most difficult games of the season can only be asked to give their all. If they were "up to it " , then they wouldn't be fringe players, which is not to say they are not capable of being first team regulars, but it is harsh to judge them on this one game.
None of them hid, and it could be argued that Christie, Kouassi and Morgan did alright, but tiredness is a major factor at this level when you haven't been used to it.
Then there was Chris Sutton, who perhaps allowed his genuine affection for Celtic to cloud his thoughts..
I'm sorry changes or not there are ways to lose a game and that wasn't one of them… RB Leipzig 2-0 Celtic. Average age Celtic 24.4.. average age Leipzig 22.5.. 7 full internationals plus £21.5 million in transfer fees! The bar has been lowered if that's acceptable.. 
Ways to lose a game include catching the fucking ball at Ibrox when your side is struggling and getting sent off.
I haven't forgotten.
Oh, and Dave Kitson ( I don't know either ) tore into Brendan Rodgers on Talkshite Radio, calling last nights result embarrassing.
Whoever he is.
This radio station regularly tries to rile Celtic fans as they are probably the only ones who rise to the bait when they start fishing.
Mind you, if it creates a siege mentality within the dressing room, then I'm happy with that.
Murrayfield on Sunday is the next big game, and a step towards the first leg of the third treble.
Mind you, if you think any of that is going to be easy, bear in mind that there are four fans of old Rangers acting as officials in the other semi final.
With Andrew Dallas presumably rested for the final.
but will they need any help…they have the tactical nous of Steven Gerrard these days, who has now taken his side to eleven unbeaten games in europe.
Whichever way you look at that, its a massive improvement for them.
Gerrard offered his thoughts after a fairly credible 0-0 draw with Moscow Spartak at Ibrox…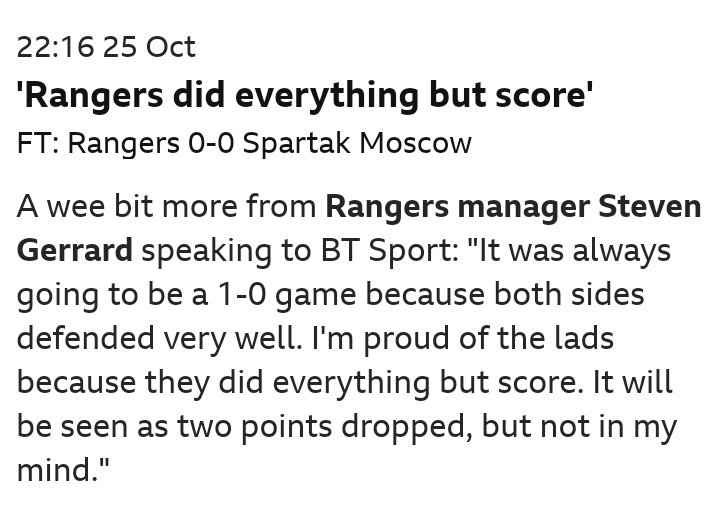 Bless him.
Back to Murrayfield on Sunday, as its a rugby ground its not really designed for segregated crowds, so be careful out there, and maybe have a read of this..
THE SPFL, Scottish Rugby and all partner agencies wish fans travelling to BT Murrayfield Stadium have a safe and enjoyable day.  The information below provides detail from all agencies on the various travel options and some key information about the day.
In order to ensure you have great day out our key messages are as follows;
Plan your journey in advance and get to the stadium early – turnstiles open at 12noon
No bags larger than A5 will be permitted, and all bags will be subject to search. There are no left luggage facilities at the stadium.  Supporters may be subject to search.
Respect our neighbours – BT Murrayfield is located within a residential area, and we would ask that all supporters are respectful of our neighbours and their property when attending the match.
For more information please refer to our FAQs – http://www.scottishrugby.org/betfredsemifinal
Advice from Police Scotland
Plan ahead, be responsible and enjoy the match.
There will be a huge number of people travelling to both Hampden and BT Murrayfield and Police Scotland wants to make sure everyone gets there safely, on time and home again with minimal disruption.
Supporters should be aware that the roads and public transport will be busy and are advised to plan ahead and leave plenty of time for their journey. Glasgow and Edinburgh city centres are also expected to be very busy on the day. Please, plan your journey to the match and home again well in advance.
Police Scotland will also be working closely with British Transport Police colleagues to ensure the safe transit of thousands of supporters from across the country.
Supporters are advised that if you try to enter the stadium with a flare, smoke bomb or pyrotechnic you will be arrested. These devices are illegal and dangerous. If you bring any of these items to the match you will endanger your own as well as other's safety.
Supporters are also urged to act responsibly and enjoy the match, but not to risk missing it having over-indulged and drank too much. Anyone who involves themselves in acts of sectarianism, disorder or violence will be dealt with appropriately.
Important advice for supporters:
Be aware that drinking alcohol in public is an offence in Glasgow – and prohibited in Edinburgh
Drinking alcohol on public transport is not permitted
It is an offence to be in possession of alcohol or be drunk aboard a coach or mini-bus travelling to a sporting event.  Officers will be conducting spot checks to enforce this. 
You cannot bring, or attempt to bring alcohol into the stadium – don't miss a memorable match because you have drunk too much and don't get in
Celtic Support
Celtic Supporters should access the North, West and East stands of BT Murrayfield Stadium via from the North from the A8, Corstorphine Road and Roseburn Park. Please follow signage and the direction of stewards and police on the day.
Getting to BT Murrayfield
By Supporters' Coaches
M8 Eastbound
Buses exiting from Junction 2 of the M8 should take the fourth exit of the Newbridge Roundabout on to the Glasgow Road A8. Continue through the underpass of the Gogar Roundabout and keep travelling straight eastwards until you are met by the Police Scotland motorcycle section.
Buses exiting from Junction 1 of the M8 should head north on the A702 and take the third exit of the Gogar Roundabout on to the A8. Continue through the underpass of the Gogar Roundabout and keep travelling straight eastwards until met by the Police Scotland motorcycle section.
M9 Southbound
Exit at Junction 1 and onto the Glasgow Road A8. Continue through the underpass of the Gogar Roundabout and keep travelling straight eastwards until met by the Police Scotland motorcycle section.
A71 Eastbound
Continue along the A71 Calder Road and Gorgie Road until met by the Police Scotland motorcycle section where you will be taken up Balgreen Road to the designated parking areas. Any double decker buses not able to travel under the low bridge (14ft/4.2m) over Balgreen Road will be filtered off by the police motorcycle section at Stevenson Drive. 
Buses arriving in Edinburgh from the west via the A8 or A71 corridors will be met by Police Scotland officers to bring them to the designated bus parking areas. Please be aware there is a low bridge (14ft/4.2m) over Balgreen Road.
The two primary parking locations for Celtic supporters' coaches will be the Saughtonhall Car Park to the north west of the stadium (for pass holders only) and all others will be parked along the A8 corridor.
Bus drivers should adhere to the instructions of Police Scotland officers and bus parking marshals who will ensure buses are parked in the most efficient manner, are not causing obstruction and are able to return back their origination in the quickest manner possible.  There is a short walk to the stadium from these parking locations which will be clearly signed and which supporters should follow.
By Train
Please plan ahead and check your journey if you're heading to the game. Allow additional time for travel, as queuing systems will be in place at Glasgow Central and Queen Street prior to kick off and at Haymarket after the final whistle.
Extra staff will be on hand to help and, as with most large events, alcohol bans will be in place.  Scotrail will be adding extra carriages to trains to help you get to and from the stadium, however trains will be much busier than normal.
The nearest train station to BT Murrayfield is Haymarket.
Fans alighting at this station should walk west along the A8 corridor to BT Murrayfield. This is around a 15-minute walk and will be clearly signposted for Celtic supporters.
Supporters can also alight the train at Edinburgh Park and continue the short journey to BT Murrayfield via the Tram. Supporters choosing this method of travel should alight the Tram at Balgreen Tram Stop where they will have a short walk to the stadium.
Trains to and from Edinburgh via Airdrie and Bathgate will operate with six carriages throughout the day. However, Network Rail will be carrying out work to upgrade the track and signalling equipment at Bellgrove. This means buses replace trains between Partick and Springburn/Garrowhill.
Celtic fans travelling from the west of the city are advised to travel on the Glasgow Queen Street High level – Edinburgh via Falkirk High route where possible.
Details of train journey routes and times can be found at https://www.scotrail.co.uk/
By Car
Please note there are no car parking or drop off facilities within BT Murrayfield or its immediate environs. In addition many surrounding streets will be subject to temporary parking restrictions for safety reasons.   
Parking attendants will be patrolling and enforcing these temporary restrictions and your vehicle may be towed if you park in a restricted area.
On street parking in the Murrayfield area is always in high demand and available space is very limited.
Supporters are advised to park a short distance out from the stadium and either walk or use public transport (train, tram or bus) for the remainder of your journey.
It should be noted the A8 and A71 corridors become very congested pre and post-match and that you may wish to consider other routes, such as Stevenson Drive and Ravelston Dykes.
Please also note that the bus lanes are not in operation and to ease congestion these lanes should be used.
Supporters attending using any nearby on-street parking are advised to check the timings of the road closures as you may be parked within an area that is affected by the various post-match closures – http://www.edinburgh.gov.uk/downloads/file/11461/betfred_cup_semi-final_281018_parking_restrictions   Access/egress will not be available during the road closure times and includes popular areas in Haymarket Yards, the Stanhope area, Wester Coates area, Balbirnie Place and parts of the Roseburn area.
By Bus
Full details of the service alterations can be found at www.lothianbuses.com or https://www.citylink.co.uk/
Celtic Supporters should take the following bus services to the North side of the stadium – Citylink 900, Lothian Buses 12, 26, 31 and First Bus 23, 24, 38. 
By Tram
Edinburgh Trams will be running services from every three minutes from locations such as Ingliston Park & Ride, Edinburgh Park, Haymarket and St Andrew Square (for Waverley).
In co-operation with Police Scotland, Celtic fans arriving from the west of the city are asked to disembark the tram at Balgreen and follow the directions of police and stewards towards the north of the stadium. If you are arriving from the city centre you are asked to disembark the tram at Haymarket and follow the directions of police and stewards along the A8 towards Roseburn Terrace. Please see the walking route map for more information.
Tickets must be purchased prior to boarding trams using the ticket vending machines at stops or on the Transport for Edinburgh App. Edinburgh Trams recommends purchasing return tickets to make your journey simpler. Customers are requested to have their tickets ready for inspection for the gateline, which will be in place at Murrayfield Stadium and Balgreen tram stops.
Ticket prices (City Fare Zone):
SINGLE ticket   £1.70 (adult) or £0.80 (child)
RETURN ticket £3.20 (adult) or £1.60 (child)
Please note: Customers who do not purchase a ticket in advance are subject to payment of the £10 On-board fare.
Additional Travel Information
With over 60,000 fans attending the event, our services are expected to be very busy with queuing likely at Murrayfield Stadium tram stop after the match. Our trams carry up to 250 people and we'll be running them from every three minutes in both directions to get customers on their way as quickly as possible. For those who would prefer not to queue, the West End is an approximate 15 minute walk from the stadium. Alternatively, bus services operate from Westfield Road and Roseburn Terrace. Visit the Lothian Buses website for more information.
Park and Ride
A number of park and ride facilities operate around Edinburgh, including those at:
As usual, there's little help for us coming from Stoke on Trent, which is another example of neglect etc…
Its all very well telling us all of this, but for those of us who don't know the area, its not as useful as they perhaps think.
The last time I was in Edinburgh I pulled up at traffic lights and someone came over to the car thinking I was selling drugs.
It's Friday, and that means its time for
Etims Knob Of The Week. 
Not many overwhelmingly strong candidates this week, which allowed Andy Walker to come up on the rails and pip the other runners at the post.
The Sky Tv man has figured out that if you wind Celtic fans up, they respond, more so than the fans of any other clubs.
Either that or he is just a tosser.
Whatever, he is this weeks
Etims Knob Of The Week. Yesterday we had this picture..