The dates and times for the Scottish League cup semi finals were announced yesterday, to a huge sigh of relief from all concerned with the game.
Given the level of competence associated with those who organise Scottish football, many expected the semi finals and final all to be played on the one day on the one pitch, but common sense has prevailed, with only the semi fonals being played on the same day, on the same pitch.
As long as it rains.
If it turns out to be a nice day, the teams involved will simply have to wait until it does rain. Which, in late October, probably won;t be more than a few hours.
Neil Doncaster, briefly allowed out without adult supervision, said;
We have been working very closely with Hampden Park and the clubs who have made it to the semi finals. We met with them today and with Police Scotland. 
On Sky TV, a reporter asked him if he'd spoken to the police. Doncaster said "No, not directly "
"We are pleased to have come to an arrangement that suits everyone. 
If you don't count Aberdeen…
An AFC spokesperson commented. "As a club we have repeatedly asked that the authorities stop giving us kick-off times which, for our large travelling support, are completely unacceptable, but yet again, what should be a showpiece occasion, is scheduled to start at a time that does not take supporters into account.
"While we appreciate Police Scotland was insistent that our game was played first for operational reasons, we believe, and stated along with others, that having both games in the same stadium on the same day, is inappropriate. There are other options that should have been investigated further, including staging the two games on consecutive weekends or using two different venues which would have allowed kick-off times more suitable for what are hugely significant occasions in the Scottish football calendar. Contesting the two matches on consecutive weekends would be an alternative surely worth investigating, particularly as Celtic are due to face Heart of Midlothian in the Ladbrokes Premiership the following weekend, while also fulfilling the contractual obligations.
"We appreciate the authorities have a difficult job to schedule games in what is an extremely congested calendar but to yet again ask our supporters to be in Glasgow for a 12 noon start on a Sunday is, quite frankly, appalling."
Or Hearts…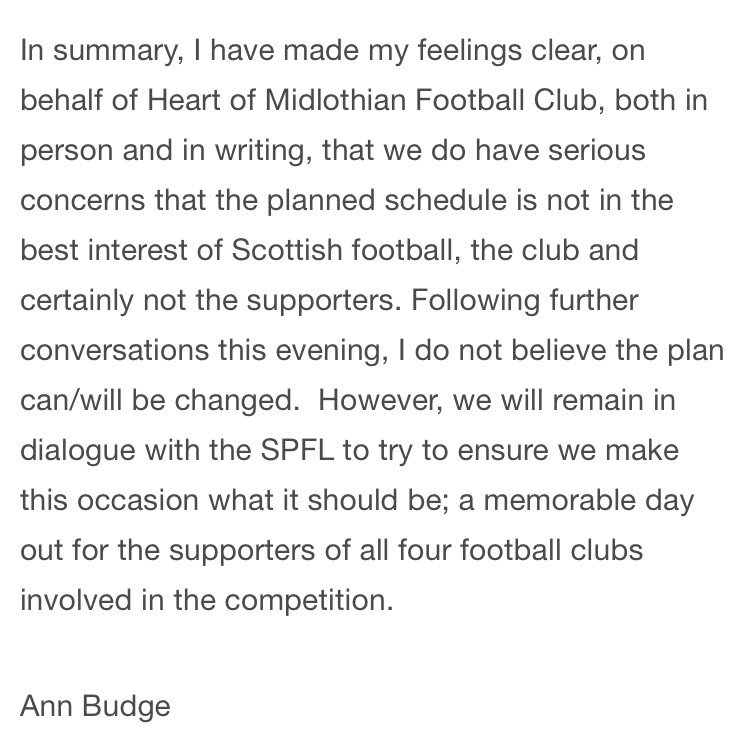 Celtic haven't said anything yet, as our board are undergoing tests to see if its actually within the realms of surgical science to get their collective heads removed from up their arses.
"rangers " haven't commented, but its expected to be something about being the people.
"It's not ideal but we are under a contractual obligation to bring our semi final games here if it is manageable from a Police and Hampden Park point of view and they've assured us it is. 
Er, contractual obligation ? Really ? Lets check the rules of the competition…it'll be in there…
One wonders what the compensation payable to Hampden was on previous occasions when this "contract 2 wasn;t honoured…( Thanks to Matthew Leslie for this detail)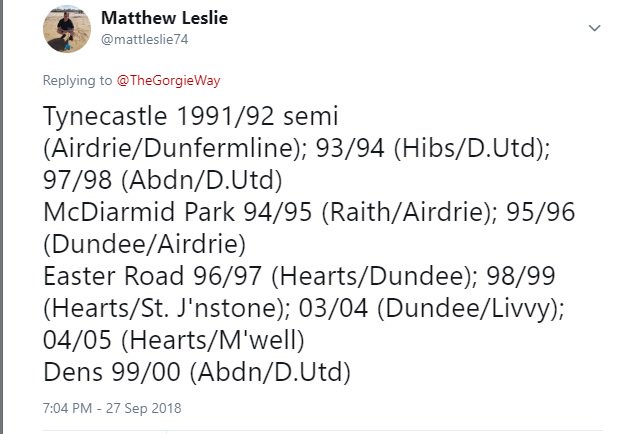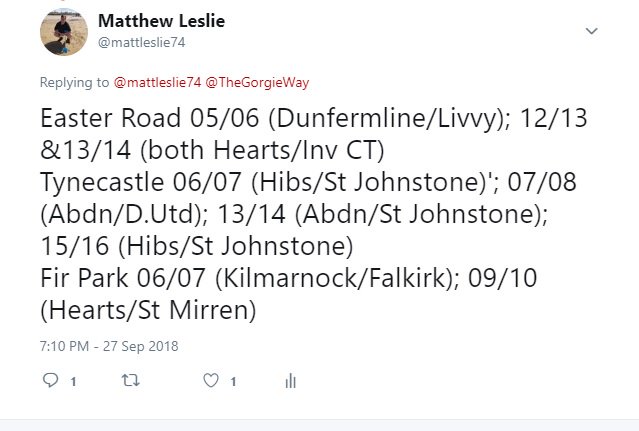 We believe the Police believe the games to be manageable. 
Er, I thought he said he had spoken to them, although to be fair, he also said he hadn't.
Clearly, these are slightly exceptional circumstances, having two Ladbrokes Premiership clubs in the Europa League group stages, so we can't go any earlier than the Sunday. 
Deftly sidestepping the fact they they had completely forgotten about the Europa League when they set out the season schedule.
"We would have looked at other grounds had the Police and Hampden Park not been able to meet the requirement to be here, but in both cases they've said the games are manageable and can take place here on the same day, so that's what we'll go with. 
There he goes again, saying the police have said the situation is manageable, as opposed to earlier when he said he believed they believed its manageable
"We've got the games staggered a fair way apart and while we appreciate it will cause some inconvenience for supporters travelling, but that is the price we pay for having two teams in the Europa League group stages this year."  
No, not at all.
Its actually the price we pay for keeping the fuckwits we have running our game in power. 
What concerns me is that I was told by our CEO that Doncaster actually represents the clubs, so it does beg the question, and its an important one…
Did the clubs agree to this, and are their statements merely an attempt to pacify their customers ?
Fitba Tweets has summed it all up, including a clear vision of where its all going..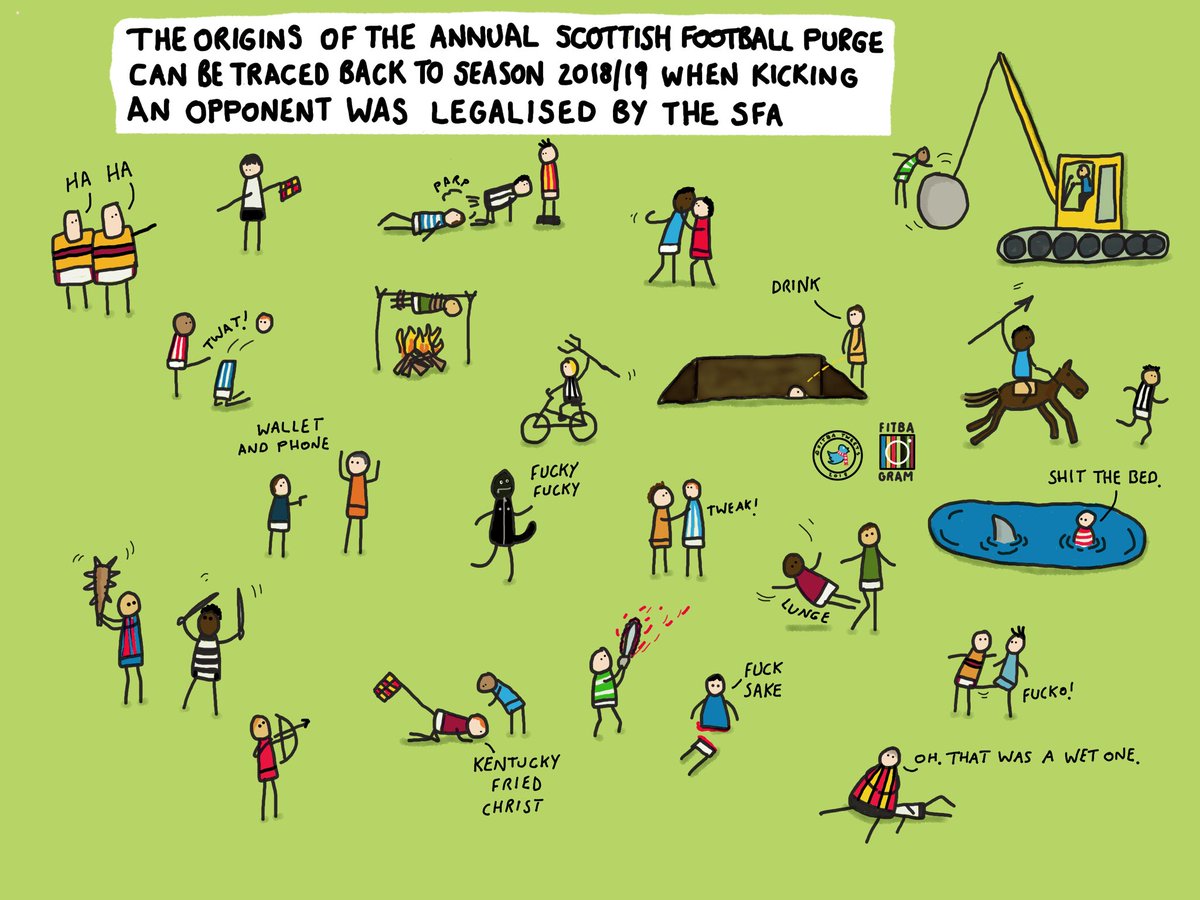 My own ?
The police have just been given a pay rise, and now with the added overtime and arrest bonuses, it looks like they can look forward to a very merry christmas indeed.
They've also called in an unnamed expert to help them to assess their own performances at the football..(from the BBC )
An expert will be commissioned to review policing at football matches in Scotland.
The move was confirmed at a Scottish Police Authority meeting in response to a question about a crush at Celtic Park earlier this month.
But the force later said the review was not triggered by a particular incident. 
Deputy Chief Constable Will Kerr told the Scottish Police Authority that the appointment of the expert who will head the review would be finalised soon.
Mr Kerr, who recently joined the force from the National Crime Agency, said it had an "enviable reputation" for managing major events such as the Ryder Cup, Commonwealth Games and the recent European Championships.
He also highlighted the fact that Assistant Chief Constable Bernard Higgins addressed a Uefa event last year on high-risk football matches.
Mr Kerr said: "That said, whilst we are comfortable in how we police football matches, any mature learning organisation has to be comfortable enough to challenge itself, particularly when there is a public debate around how matches are policed." 
The deputy chief constable confirmed he was writing a terms of reference for an independent professional assurance review into how the force polices matches across Scotland. 
They're going to be so disappointed when they find out their preferred choice is dead.
There is no news about how Celtic's "independent " review into the near tragedy when the "rangers " came to Celtic Park. We are certain that its because they are being completely thorough, and under no circumstances trying to word the conclusion in such a way that leaves everyone blameless.
Though we do know that the words "lessons have been learned " will feature at some point in the text.
To briefly return to the St Johnstone match, and referee John Beaton, there's a video doing the rounds of him shaking hands with Brendan Rodgers after the game. It's on my twitter timeline @Richiestoke if anyone would like to post it in the replies, as that ability is beyond my own.
It shows the referee wiping his hand on his shirt after contact…what would a body language expert say about that ?
Which reminds me…Dedryck has said sorry…sort of..
The insightful fitbaw tweets knows what happened there as well…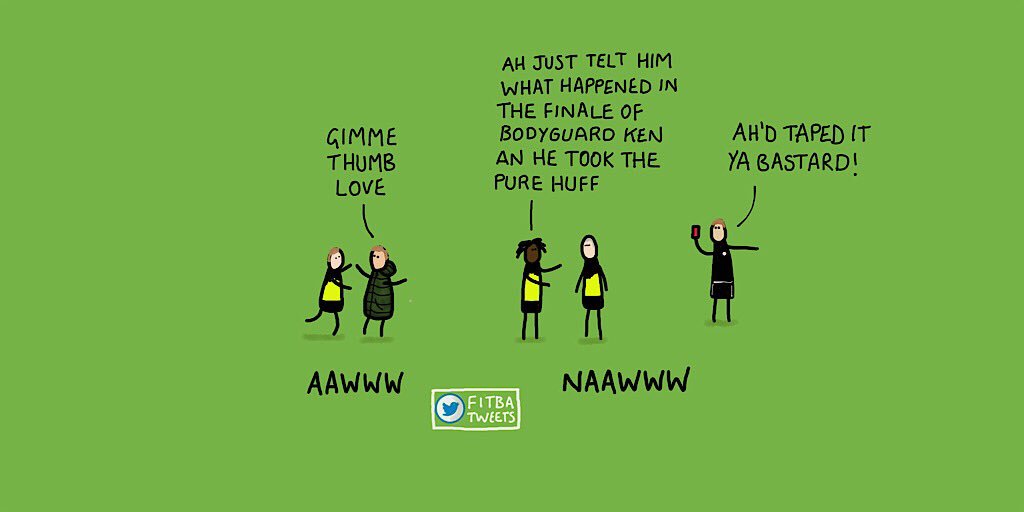 Speaking of Christmas, (we were, a few lines up ) the new happy unified atmosphere at Celtic Park will see the club venture into new territory.
They want the coveted christmas number one spot in the hit parade !
We hear that rehearsals are underway for our very own Bhoyband, Peter, Brendan and Dermot who are going to release "We're On The One Road " to celebrate their new found unity.
Keep an eye out for the special promotional video to the B side, a version of the Wolfetones "Helicopter song ", where the our heroes take a ride on Dermots chopper.
Sorry, in Dermots chopper. Ducking autocorrect.
"rangers", we hear, are not taking this lying down, and have began auditions to put together their own band, provisionally named Hun Boy Three.
As you know, my chosen profession is marketing, and any advice i can offer the club should be taken seriously.
Stephen Ireland is about to join Aberdeen on a free transfer, which puts him just within our own budget.
Surely, with the loss of revenue caused by non participation in the champions League, this gap can be filled-and then some-by snapping up the former Stoke defender and giving him the squad number 32 ?
It's Friday again, already, which means its time for
Knob of the Week
John Beaton was way ahead of the pack, but when a master of knobbery enters the stage, there can only be one winner…
For completely disregarding those who indirectly pay his wages, the Scottish football supporter, with his poorly thought out "super sunday " of football next month-and by the way, if BT sport had anything to do with this, its time to bin them as well-step forward…Neil Doncaster..
In fact keep stepping forward, until you've disappeared completely back down the M6. And then step forward some more…
Yesterdays caption competition…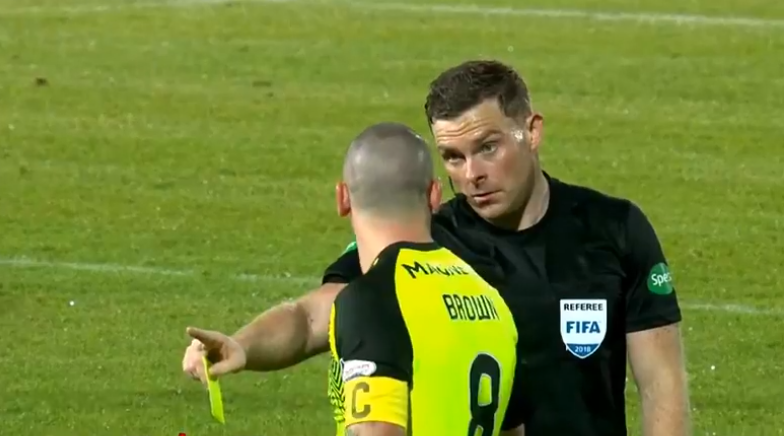 Probably as close to the truth as we'll get…
The community of Rothesay has had more than its fair share of tragedy recently, and we've been asked if we can ask you to take note of this, and take part if you are at the game on Saturday..