"Batten down the hatches,"  came the cry from Hampden, "the peasants are at the door ! "
And as they don't want to pay to get in, the hatches were indeed battened down,   and yet another scurry of squirrels was unleashed.
Before we get on to what the Bullshit Broadcasting Company of Scotland revealed, or was told to reveal last night, we'll say a little word about their competitors over at Radio Clyde.
After being challenged on the SFA and all its dark deeds, presenter Hugh Keevins gave me a number to ring so that we could discuss them, live on air.
I rang it at a quarter to six, spoke to a chap and was told to expect a call back.
Two hours later, the first of which was spent listening to a show that can only add to the popularity of podcasts, it became apparent that the subject matter was going to be too much for them, as the phone didn't ring.
I even missed the Beat The Pundit section, which , if the guest was allowed to bring his own bat could well have been the highlight of the show.
At the start of the show, Keevins claimed that no one wanted to concentrate on the good things in Scottish football, such as Hearts breaking the stranglehold of Celtic at the top of the league, before omitting to mention the Edinburgh side again -at least while I was having my ears assaulted.
The thing is, theses problems in the Scottish game won't go away until the perpetrators are hauled to account.
The SFA is a self serving, self appointed and self investigating body which is accountable to no one.
Its unelected , uncommunicative and uninspiring.
At the moment, its under severe pressure from its member clubs and the general public to start earning its wedge, and at best is merely climbing higher up the ladder away from the brouhaha but at the same time revealing its forgotten to put on any underwear.
Everything it appears to do is done wrong, and there is a marked reluctance to put it right.
In fact, there's a reluctance to even talk about it.
A favoured SFA tactic to deflect from criticism is to try to turn the banks of the two largets supports against each other.
Over on the BBC , former SFA chief George Peat, who achieved the square root of fuck all for the game during his tenure, spoke of his biggest regret..
He spoke of his biggest regret, incidentally, which was later written up as a "disappointment" on the BBC website…
When discussing his presidency from 2007-11, Peat was asked about what disappointments he had from his time with the SFA.
And he explained: "There were certain things that disappointed me. One in particular disappointed me.
"I remember when Rangers got to the final in Manchester. I got a phone call from a prominent chairman of a club requesting me not to help Rangers in any way.
"And it so happened that I had already had a meeting with Lex Gold at the SPL because what we were willing to do was to extend the season because of the fixture pile-up that Rangers had and I was most disappointed when I got back to the office to receive this call to ask me not to help them in any way.
"That really stuck in my throat." 
And so it becomes a Celtic "rangers " thing again, as the clear implication was that it was Peter Lawwell who told him this, even though Lawwell wasn't the chairman and never has been.
Lets face it though, facts were never the SFA's strong point.
Peat is the second former SFA man to go public with his reminisces in just a few days, following clueless Gordon Smiths interview with a sycophantic Daily Record hack.
As for Peat, he'll be remembered for his own deeds-or rather lack of them..as Rangers Tax Case on twitter reminded us..
George Peat was President of the SFA when HMRC knocked on the door with the equivalent of a warrant to see all of Rangers' financial data filed with the SFA. You would think he would have launched his own investigation. You know- for the good of the game. He did nothing.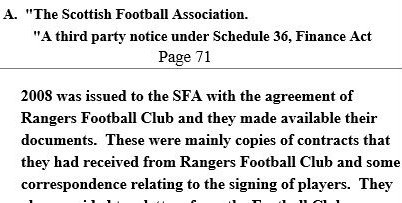 In 2011, Peat also went public with his thoughts over criticism from Celtic-just a few months before "rangers " died of neglect, with his organisation playing a not inconsiderable part in the fiasco..
"Celtic's policy of airing their grievances in public is becoming tiresome,"
"It is ironic that they have chosen to criticise the SFA's processes and structures yet again on the eve of our two-day seminar which will culminate in a new strategy, incorporating streamlined structures and more efficient procedures. 
Seven years on, we're still waiting..
The SFA is acutely aware of the need to modernise. That was why we commissioned the Henry McLeish Review, which we are committed to implementing.
"It was only a matter of weeks ago that the Celtic chief executive [Peter Lawwell] welcomed the Scottish FA's recognition of the need for modernisation.
"It is also ironic, given the constant demands for transparency and accountability, that the statement issued by Celtic last night was not attributed to anyone.
"Perhaps Celtic should devote more time to their own responsibilities and discipline than questioning others."
They're under pressure, and have hit the deflector button.
Its what they do, its what they've always done, and now, as he did then, Peat is turning on Celtic, in the knowledge he'll receive the full backing of the Ibrox hordes, but then again, bearing in mind how they helped their own club, that backing probably isn't worth having.
Incidentally, something that "rangers " fans-and a few hacks-seem to forget is that the season back then was extended, and those dopey buggers at Ibrox kind of messed it up themselves, a suspiciously timed waterlogged pitch and the broken pipe-probably the one bringing in water from the church up the road-spring to mind.
Even if someone from Celtic did warn the SFA not to help them, I couldn't give a toss, and in fact i'd be disappointed if they didn't, given the SFA's gleeful reluctance to help Celtic during 2003 , when Alex McLeish utilised a unique remuneration scheme to help his club win the league-and with no small measure of help from a compliant jimmy Calderwood , who thought he'd be his successor, stated,
"I don't know what they're (Celtic) complaining about, they should just get on with it, I wish we were in their position," 
He meant being in a UEFA cup final, and not being up to date with tax regulations.
But as you see, its become a "rangers " Celtic thing…which is just what they wanted.
Kenny McDowell, the hack who interviewed Peat, didn't ask about the context, he didn;t push him on what it was he regretted about the incident, and most importantly , he let the insinuation lie there without asking any tricky questions.
Then again, that is the wont of the BBC where their favourites are concerned, and thats not just in football, it applies to politics as well, presumably because they think that the multi- principled Ruth Davidson will repay them when she gets that leadership job she doesn't want.
All of this adds up to something else breaking that they want to play down.
My guess is the dodgy share dealing about to take place at Ibrox to give Dave King the money to pay the Takeover Panel demands…
Although it really could be anything, given the high jinks the establishment get up to…
I digress.
Whilst the SFA  utilises its friends in the media, spare a thought for the PR department behind this, over in Australia..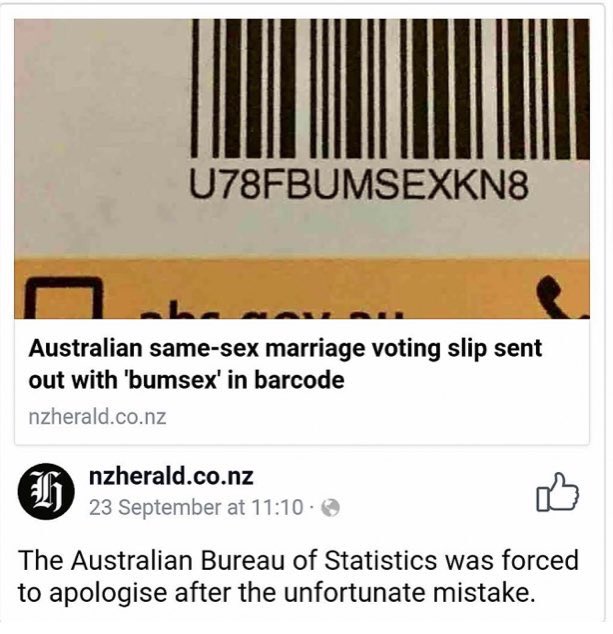 Mistake my, er , arse.
Anyway, remember that game we played one time… ?
Have a look at these two pictures…two similar tackles, by the same player, in two different games…which received two entirely different refereeing decisions..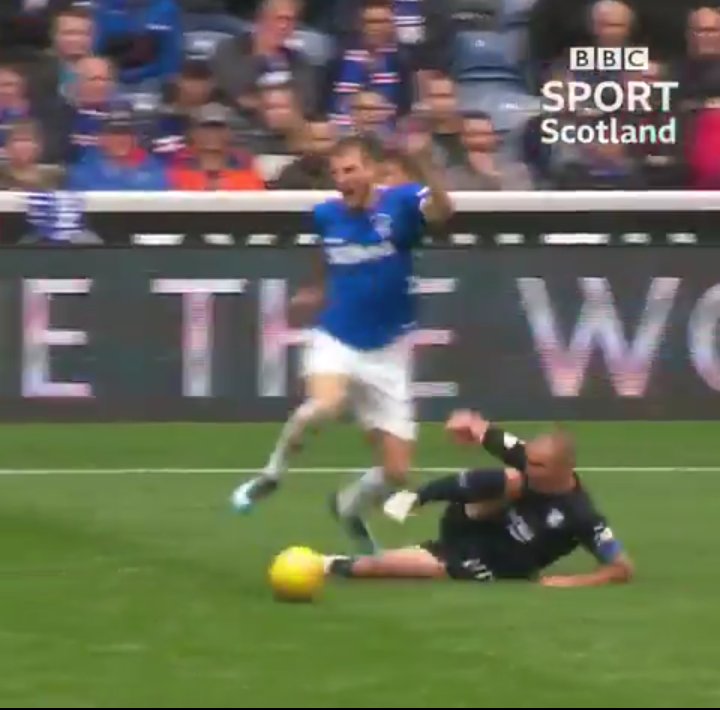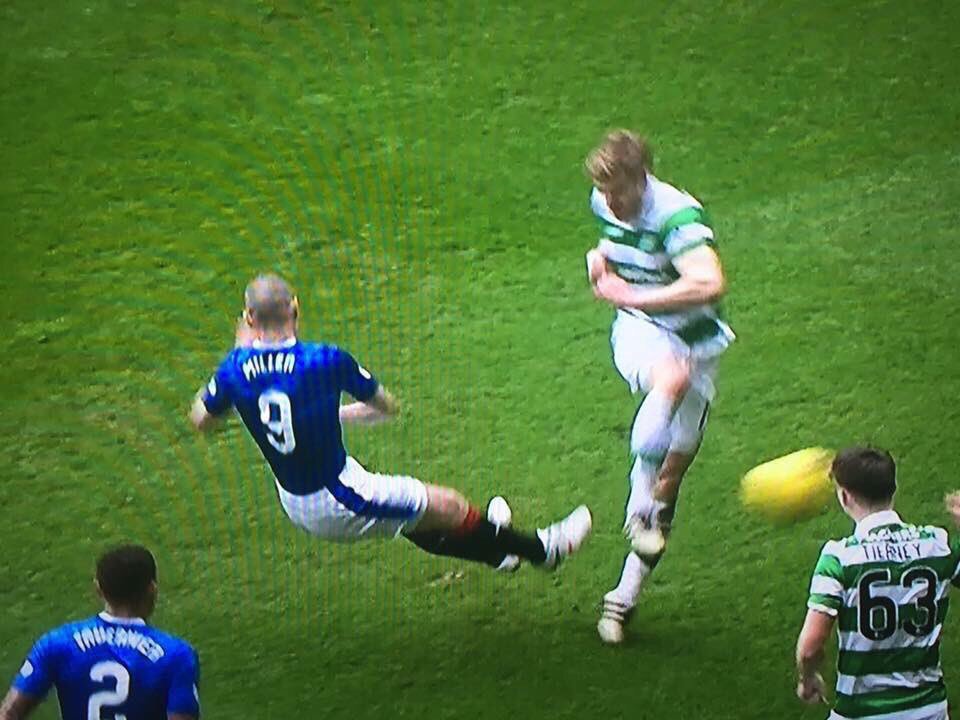 Using your skill and judgement, determine how long Neil Lennon should be banned for…
Yesterday, we showed this picture..