Celtic Diary Sunday September 9: Expert Points Out The Obvious
The powerful investigative force that is the Scottish sports media sweep into action this morning, as the Sunday Mail highlighted the crush in the Janefield underpass at last Sundays Glasgow derby..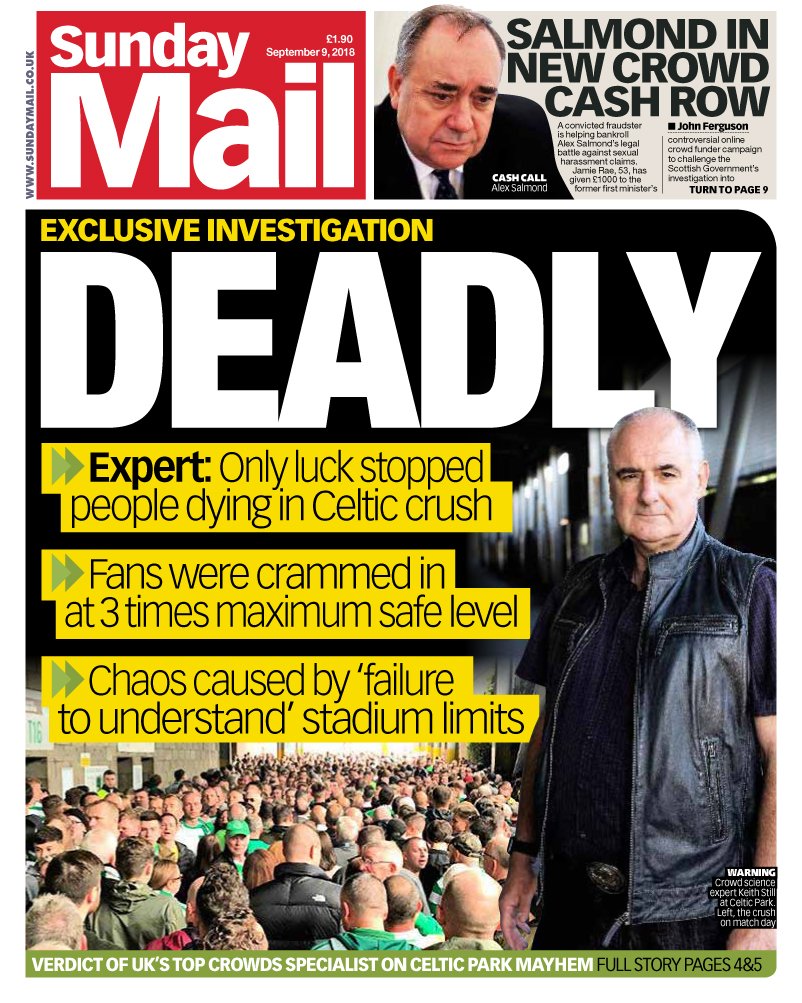 So, bloke who wasn't at the game, has no access to cctv footage and presumably hasn't spoken to anyone who was, can now tell us what went wrong..
This should be good.
Crowd expert says only luck stopped fans dying in Celtic crush before Rangers game
Anyone who was there would agree.
Professor Dr Keith Still says three times the safe amount of fans were packed into a concourse due to organisational failures that put supporters' lives at risk. 
Fair enough. Anyone who was there would agree.
Only good luck prevented fans dying in the crush before last week's Old firm match at Celtic Park, ­Britain's leading crowd safety expert has said.
Professor Dr Keith Still said ­catastrophic organisational failures had put supporters' lives at risk.
Professor Still examined video and photo evidence, fans' testimonies and visited Celtic Park ­following the chaotic scenes last Sunday.
He said it was clear "three times" the safe amount of fans were packed into a concourse behind the ­stadium's North Stand ahead of ­kick-off. 
So, he's seen the same videos and read the same things that we all have, and has concluded the same thing that everyone else did last Sunday teatime.
Which is why the Celtic Trust and others took their concerns to the Celtic, and as a result of this, there is now a full, independent inquiry under way.
Still, who is originally from ­Aberdeen, is widely regarded as the UK's leading expert in crowd safety. 
Well, he can certainly spot a problem.
And he was quite blunt about what it was…
He said the level of fans at the spot at Janefield Street, where the North Stand overhangs the road, was "clearly dangerous and a significant risk to life and limb". 
We know.
The professor of crowd ­science at Manchester ­Metropolitan ­University said ­"questions must be asked and ­lessons must be learned" over what caused the ­terrifying incident, which left five fans hurt. 
We know. And they are.
Dozens of supporters scaled a fence and climbed into the cemetery next to the ground as panic swept through the crowd.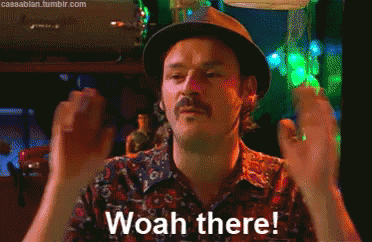 Panic ?
One of the reasons, to my mind, that there wasn't a disaster is that the crowd did not panic.
Someone hasn't paid enough attention to the witness statements…
One man suffered a ­broken wrist in the jam involving thousands of home fans ahead of the game in which Celtic beat Rangers 1-0.
New segregation ­arrangements were in place and police and Celtic are investigating.
The club announced on Friday they have drafted in safety consultants to review arrangements and carry out their own inquiry.
Still said: "Photographic and video evidence from the incident shows people physically in contact with one another.
"It shows the safe limit of fans has been grossly exceeded. It's clearly a dangerous situation.
He's good, isn't he ?
"At low density, people filter through safely.
"If the density is too high, there's nowhere for them to go and, as in this case, it's a serious risk to life and limb.
"And if the input of fans exceeds the throughput – as appears to be the case here – it means there's no way out for fans and it's highly ­dangerous. The density of fans appears to be six to seven ­people per square metre – three times the maximum safe level of about two per square metre.
"The person who's in the control room should have CCTV images or a vantage point high enough to be able to assess this.
"At too high density, any trip, slip or fall means people do not have the opportunity to react safely – and this can have a catastrophic effect. 
No shit ? Really ?
He's worth every penny, this guy.
"It's just luck that the outcome wasn't worse. Fans were climbing up fences to get away.
"This shows people were feeling a significant risk to life and limb.
"This area should never have become overcrowded in the first place.
"We need to know what ­precise decisions were made to move two sets of fans together in this confined space in this way. This was something I would consider to have been an ill-informed crowd management situation.
"One of the causes of accidents – right up to the level of mass fatalities – is a failure to ­understand the design limits of a location. I would put this incident in this category. You need to know you ­cannot put that many people in such a confined space.
"As an expert witness in such cases, I'd be looking for the police logs, witness accounts and CCTV footage. The risk assessment itself needs to be looked at. What have the club done to prevent overcrowding to this extent in that area? 
"That is where the safety ­investigation should begin."
Er, thats kind of what the independent inquiry is going to do, the one commissioned last week.
What concerns me about this report is not the sensationalism, as we are all well aware of how serious the situation was last week, but there is something missing.
Ah, maybe its in the next bit…
"The section of the ground has areas like two large funnels at either end but this is fine as long as the crowd flow and density are ­regulated.
"I think someone has not been aware of the consequences of ­allowing two such large groups of fans into this area from either side in this manner.
"There's definitely been a failure to understand the risk in that area at the ground. 
Go on…
What happened on Sunday was dangerous but it was predictable and preventable. It's only good ­fortune which prevented fatalities.
"I feel it's important to ask ­questions, speak about these cases and learn lessons.
"It has been said that 'those who do not remember the past are ­condemned to repeat it'. It's now about working out what happened to stop it happening again." 
Nearly there…
"From video evidence, it appears there are no barriers on either side and police horses do not appear to be regulating crowd flow." 
And there we have it, right at the end…
Yes, you were under the impression I was perhaps not taking this guy seriously.
I am.
His professional reputation is at stake here, and there was no way he was ever going to go along with any agenda that presumes guilt on behalf of Celtic. Thats not to say if the club are at fault we should not demand action to address the fault, but it is to say we should keep an open mind until the investigation is concluded.
Apart from that one line, which he probably insisted was included, there is no mention of any possible police failings, including the change in procedure for the game.
One thing we have learned over the years is that we cannot trust the media to be impartial when it comes to Celtic, and this report, which has highlighted a genuine problem, has not looked at it in a wide enough perpsective to , for want of a better phrase, to be considered of any value to any investigation.
Although, as Still's credentials in this field are as good as anyones, and there is no suggestion otherwise, perhaps the investigation might like to consider asking him to elaborate on that last line, and to factor in the changes made to pre match crowd control.
This morning, I get the feeling he might not be overly pleased with the way his thoughts have been presented.
It's international weekend, and Scotland faced Belgium on Friday night, and there was certainly little chance of overcrowding, as no one seemed to give a toss and stayed home to watch the telly instead.
Scotland lost 4-0 and manager Alex McLeish has had a start to his management stint that truly reflects his abilities.
He's got it all to do in the tricky European Nations League-it might be called that, I can't be arsed checking. If Scotland have agreed to play Israel while that country is going around murdering innocent children then the SFa have finally pushed me over the edge from complete indifference to downright hostility.
He has said that he's going to utilise the talents of alan MacGregor of "rangers " in goal..and yet in doing so has opened up another can of worms, that one that suggests that one particular club, and its successors, is not subject to the same rulings as the others…
The Telegraph, April 3, 2009…
Barry Ferguson and Allan McGregor banned for life from playing for Scotland
Rangers players Barry Ferguson and Allan McGregor have been banned from representing Scotland, the Scottish Football Association have confirmed.
Ferguson, 31, and McGregor, 27, were axed from Scotland's starting line-up for the World Cup qualifier against Iceland on Wednesday night following a late-night drinking session after the defeat in Holland on Saturday.
The pair returned to club duty but were sent home from club training on Friday as punishment after photographs emerged of the team-mates making 'V' signs while sat on the sidelines at Hampden Park.
A statement on the Scottish FA website read: "Following on from the events of the past week – and specifically the last 48 hours – the Scottish FA has today confirmed that Barry Ferguson and Allan McGregor will no longer be considered for International selection by Scotland.
"The decision was taken following further discussions today between the National Team Manager and the Scottish FA Chief Executive.
"This action has been taken in the best interests of the squad, the fans and the country. Everyone is determined to qualify for the World Cup and we must ensure that nothing is allowed to distract us from this goal." 
Scotland manager George Burley had stated initially after his team's win over Iceland that Ferguson would retain the captaincy but few people expect the midfielder, who has been capped 45 times, to reach his ambition of making a half-century of appearances.
Ferguson and McGregor had initially been ordered home once their misbehaviour was brought to Burley's attention but they were allowed to stay with the camp after apologising to the manager.
However, the emergence of the players' gestures during the midweek match – and the public reaction to it – has forced drastic action to be taken.
Both players issued an apology for their actions and spoke of their disappointment that their international careers are now over.
Burley was sacked in November of that year, and when discussing a replacement, then SFA chief Gordon Smith said that, regarding the lifetime ban the SFA had handed MacGregor and Ferguson..
I'm sure the new manager will have licence to pick who he wants.
Smith, the day before the ban was announced, had been right behind Burley…(The Times, April 2 2009 )
Gordon Smith, the chief executive of the Scottish FA (SFA), has refused to support the decision of George Burley to drop Barry Ferguson and Allan McGregor for yesterday's World Cup qualifying match against Iceland. Smith met Burley after the game and asked him to justify the omission of the Rangers duo, whom the Scotland manager allegedly caught indulging in a late-night drinking session at the team hotel last weekend. 
Asked before the match if he backed Burley, Smith was noncommittal. "He has made a decision and I know exactly why he has done it: he's told me his reasons," Smith said. "I'm going along with that just now. After the game has passed, George and I will sit down and discuss what has happened in the last few days and review the situation and how it's been dealt with."
Smith revealed that Burley did not consult him or the SFA board over the matter. "We weren't involved in the decision at all," Smith said. "It's George's decision how to deal with it. He has to deal with behaviour and any sanctions that are taken. He also picks the team 100 per cent. It's his decision whether the players are away from the squad. We have to give him autonomy in that respect. But we'll be reviewing the situation – I've told George that."
Smith suggested that the manager was unlikely to alter his stance on the matter. Pressed on what he intended to ask Burley, he replied: "What happened; what the situation was in terms of players; whether players have acted in a certain way; if the players' behaviour wasn't the type of behaviour you'd expect from international players who are on duty. He's told me his reasons but we'll just decide whether it was the best [decision] and George knows that. I'm pretty sure he'll stand by what he's done because he's a strong character and I think that he feels he's done the best thing.
"The players have apologised. Every manager has to deal with disciplinary matters. Sometimes the managers can go the full way and act very strongly. And on other occasions the manager can sometimes see a situation as being over once an apology has been made. Maybe he just wants to keep the team spirit as it is without making any drastic changes."
Apart from anything else, what the fuck has team selection got to do with Smith ?
Unless the two players had gone running to him asking for him to intervene ?
Friends in high places ?
Might also explain why Ryan Jack found himself in a Scotland shirt on Friday.
Smith went on to be Director of football at Rangers in June 2011.
Less than a year later, they went into liquidation.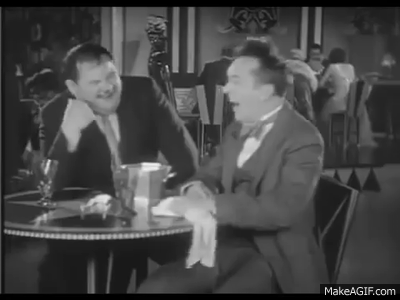 Incidentally, its good to see those often maligned supporters at Ibrox getting behind one of their own who has fallen, or perhaps is about to fall, on hard times..
Nacho Novo, the cheeky little Spaniard who was in receipt of a few quid that he is about to be asked to pay the tax on has been bleating in the Record about how he feels he has been wrongly, and badly, treated… you know…the EBT scandal…
"It has no impact on me. I don't care about it because it is not fair on the players – we never asked for EBTs.
"When I went to Rangers, I just wanted to sign the contract and start playing. I would have signed for £10 a week.
"I didn't care about the money and I didn't even f****** speak English at the time so I had no idea about these things. I left it all between my agent and the club. 
Couldn't speak English ?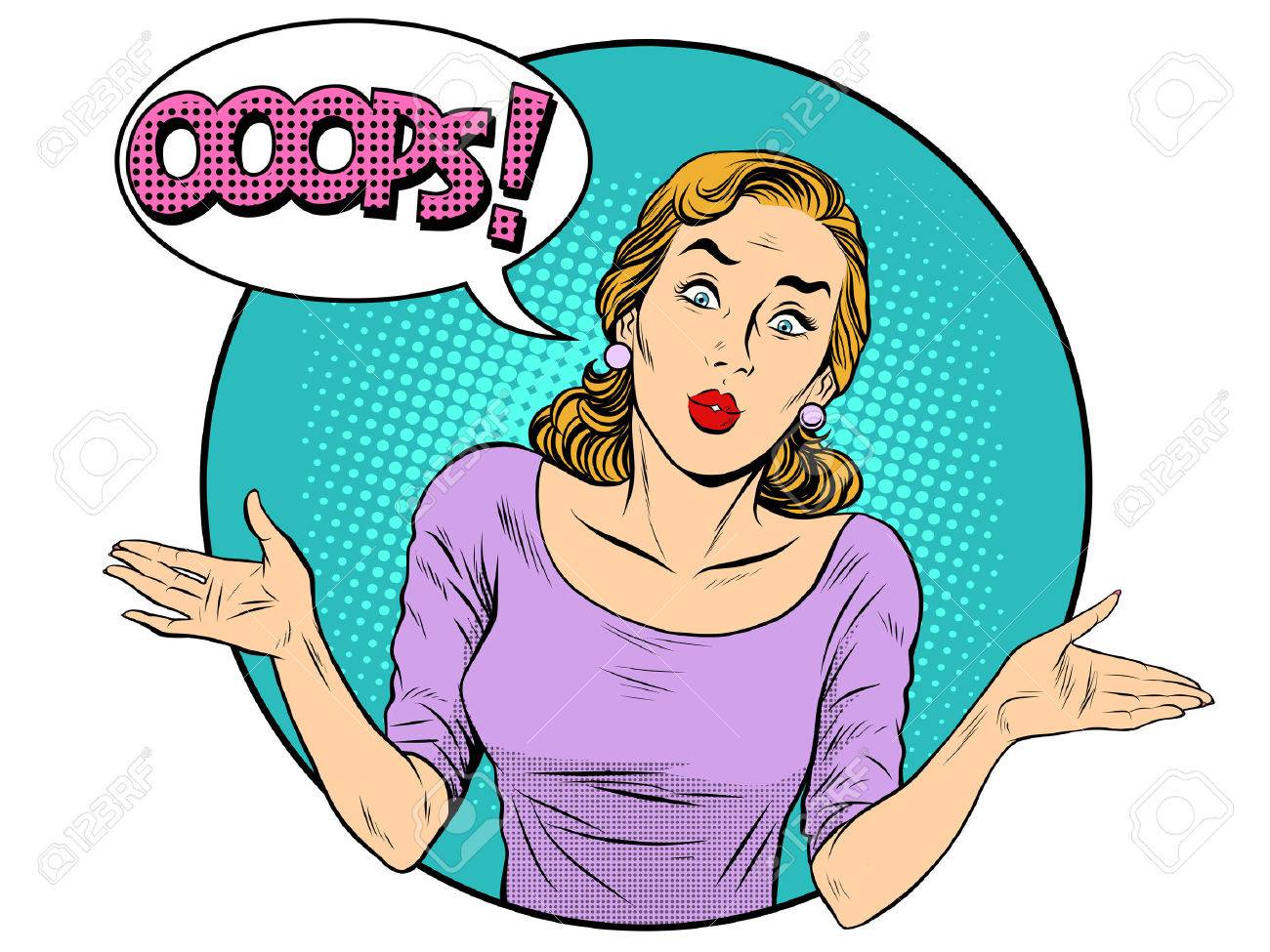 From his autobiography…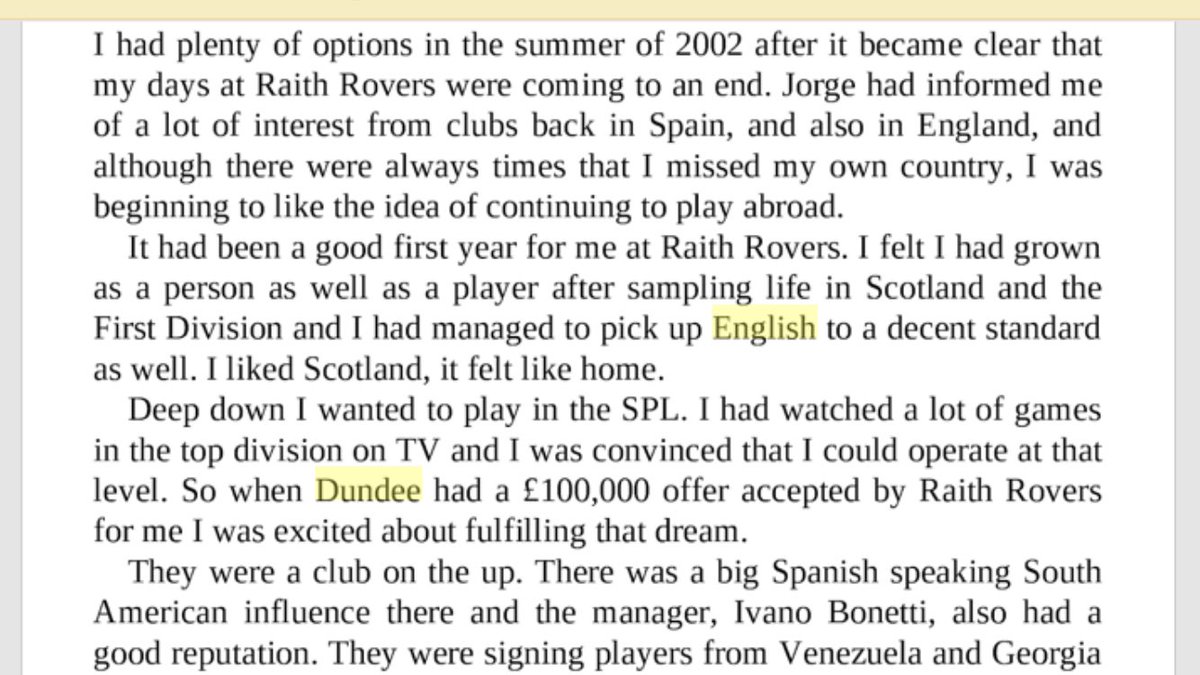 What I do know is that we also signed a contract which said, if there were any problems in the future, Rangers would deal with them. So I didn't have anything to worry about. I just wanted to play. Now, years later, the rules have been changed and I find myself in this situation. I can't go into details but what I can say is it's just not fair.
He's not the only one with a selective memory..
Ach, who cares ?
Whits for them will not go by them…
Back to Friday for the Caption competition…
today..
Later today on the site, Rebus discusses what went wrong in the transfer window. Well worth a look.