Celtic Diary Thursday August 30: Implosion Imminent! Please Exit Safely
Etims regulars Desi Mond, Hector Bandido and I recorded a podcast last night, and removed ourselves from Celtic's christmas card list.
Anyone listening can be in no doubt that this site has any interest in not only being one of Peters Puppets, but has little interest in the opinions of those who are.
Self praise is no praise at all, but the podcast is probably the most honest one we've ever done, and I like to think most people would agree with our fears and conclusions.
Fears…there's the word for today.
Moussa Dembele sent his agent to Europe and he got back in touch with an offer from French side Lyon who are prepared to pay him about four times what he's on just now.
This is what happens when you fail to qualify for the champions League.
He's not going to turn it down, and whilst Brendan Rodgers doesn't want him to go, there's little he can do about it.
He said;
"I think it's understanding where Celtic is at. There's no secret.
"It's very difficult to build something here because every two years there is going to be recycle. That's the way it is.
"Of course, you'd love to be able to say we want to keep some of these players for five, six, seven years, but it's not the reality, especially now when players can get offered three or four times the money they are on here.
"It's a really short career. I think it's difficult for players. There comes a certain time.
"With Virgil van Dijk, there was a possibility the summer before for him to go. He played on for a year and then got his move.
"It's worth mentioning that Moussa has been brilliant in my time here. It has been perfect.
"When I met with him a few years ago, I explained how it could go in terms of him improving and becoming a winner and showing that he can play at the highest level.
"All these steps have been taken. It's something you have to deal with.
"It's great that you have players with lots of value that can move on, but I think that Celtic is a club with cycles and this is the first of them in my time.
"It's just timing. It's unfortunate that it's come at this time."
 "They say about football management that you're always in it, it depends how deep.
"Ankle deep, knee deep or neck deep? You've just got to keep it as low as you can." 
Alternatively, you could make a note of where its likely to be and walk around it….
Many of us figured that Oddsone Edoaurd was signed as a replacement anyway, so its no real surprise.
With a fully committed and hopefully fully fit Leigh Griffiths as well, we're not short up front, but if Rodgers continues to claim he wants three forwards whilst only playing one at a time, then he's perhaps concentrating on the wrong problems within the squad.
Along with the board, we may be about to hear the excuse that we ran out of time, that certain "targets " would not commit until we were confirmed as participants in the Champions League, or even the Europa League, and we may also be told the usual line about not breaking the pay structure, or pandering to agents, but the truth is that once again, from a position of strength just a few months ago, and the euphoria of the double treble, there's a lot of shell shocked Celtic supporters around this morning.
Quite a few of them will be trudging along to the game tonight-we still have to dispose of Suduva to ensure European football until christmas, and whilst that should not be beyond the team, nothing is certain in football, and if we are shellshocked, then take a moment to consider how the players must feel.
Frankly, they need our support tonight, so please, those of you going, try to get behind them, and leave the demands for a new board and a new CEO until after the game.
The game on Sunday against "rangers " will take care of itself, but tonight demands a professional and confident performance.
With all the fuss about Dembele, and possibly even Ntcham, then concentration may be difficult for everybody, so a huge , united effort is required.
Kick off is at 8pm, and those not in attendance will have to find a stream, a radio, or a dark corner to weep in until the result comes through.
I'm still confident, Suduva are not one of the teams we should be wary of, any reverse result will be down to our own failings, and not due to anything they pull out of the hat.
Same with Sunday, and two victories before the international break will give the squad a chance to breathe after a hectic schedule, and a chance to regroup and move forward.
But it will be a time to make sure there's plenty of room behind the couch.
Of course, the sixty four million dollar question is how did we end up in this position after being on such a shigh at the end of last season ?
  Perhapa a better question is why did it all go wrong ?
Someone has slept through the summer, and it may be too late to put it right.
But we'll get through the next two games before we dig out the pitchforks and head to the car park.
Manager Rodgers has a difficult job to lift the gloom surrounding Celtic Park just now, so a big cheer for the players at 8pm tonight would not go amiss.
Although the side only scraped a 1-0 win over hamilton, it was a win, and it was a clean sheet.
The players looked more comfortable with three at the back, and the forwards, for the first time in a long time, decided not to shoot straight at the keeper.
Sure, they didn;t always hit the target, but its a significant shift in tactics as far as i'm concerned, and we may well see a few more goals tonight and sunday becuase of it.
If Rodgers sticks to the three defenders, any three will do, as there isn't much to choose between them, then we should eliminate the daft mistakes.
We might be sad to see Dembele leaving, but I'm fairly sure that Leigh Griffiths will be walking with a spring in his step today, and he's the kind of guy who given a glimpse of an opportunity to get the main striker role again-last time he had it he scored forty for the season, then he will grab it with both hands and tie his scarf around it.
He will be ably supported by the likes of Rogic, Macgregor and Forrest. Guys who have committed to the cause, and guys who will be proud to be wearing the shirt tonight.
We need more of them , and we need them to stand up and be counted in the next two games.
What we also need is to put some supporters of another club back in their box, as they are getting a little uppity…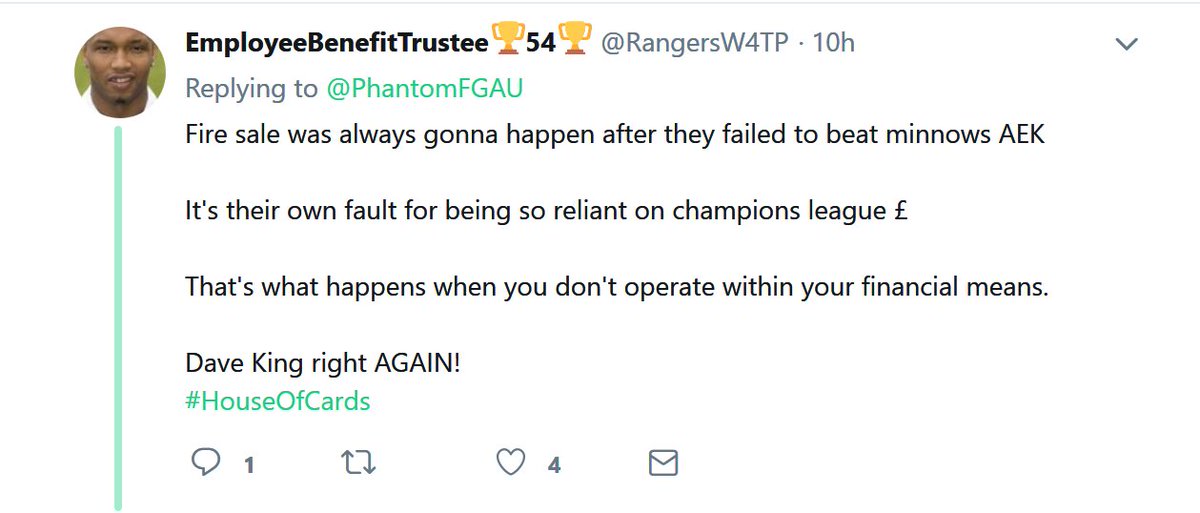 Then again, as long as they are behind King then there's nothing to worry about.
At the moment, there's a bit of a political storm surrounding the ibrox clubs bid to use council land as a fan zone on match days.
Given their supports penchant to misbehave, the council asked Greater Manchester council, who once set up a big screen in a public park to allow the hordes to watch the UEFA cup final, for their views on the matter.
The emailed reply was short and to the point..
"Don't be fucking stupid. "
Of course, there are a few politicians who will pander to the orange vote, and they will be all over the media over the next few days.
Why not ask them to publicly endorse it, and accept responsibility should there be any problems ?
That will send them scurrying for safety.
Celtic are considering their own fanzone, but are offering to buy the land.
"rangers ", of course, are in no position to buy anything.
There is some good news, however…we may have a new midfielder in for Sunday..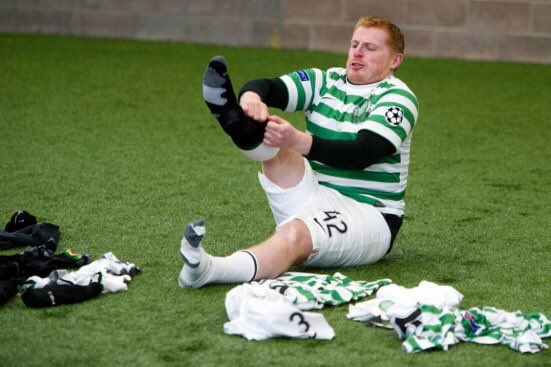 By the way, get your money on him being the next manager…might not be today, but it might not be as far away as you think…
Yesterday, we had this image..
Thanks to Muiry on twitter for the he