Celtic Diary Monday August 6: It's All Getting A Bit Intense
The quest for eight in a row began on Saturday, with the legend that is Danny McGrain raising the flag that signified victory in the last campaign.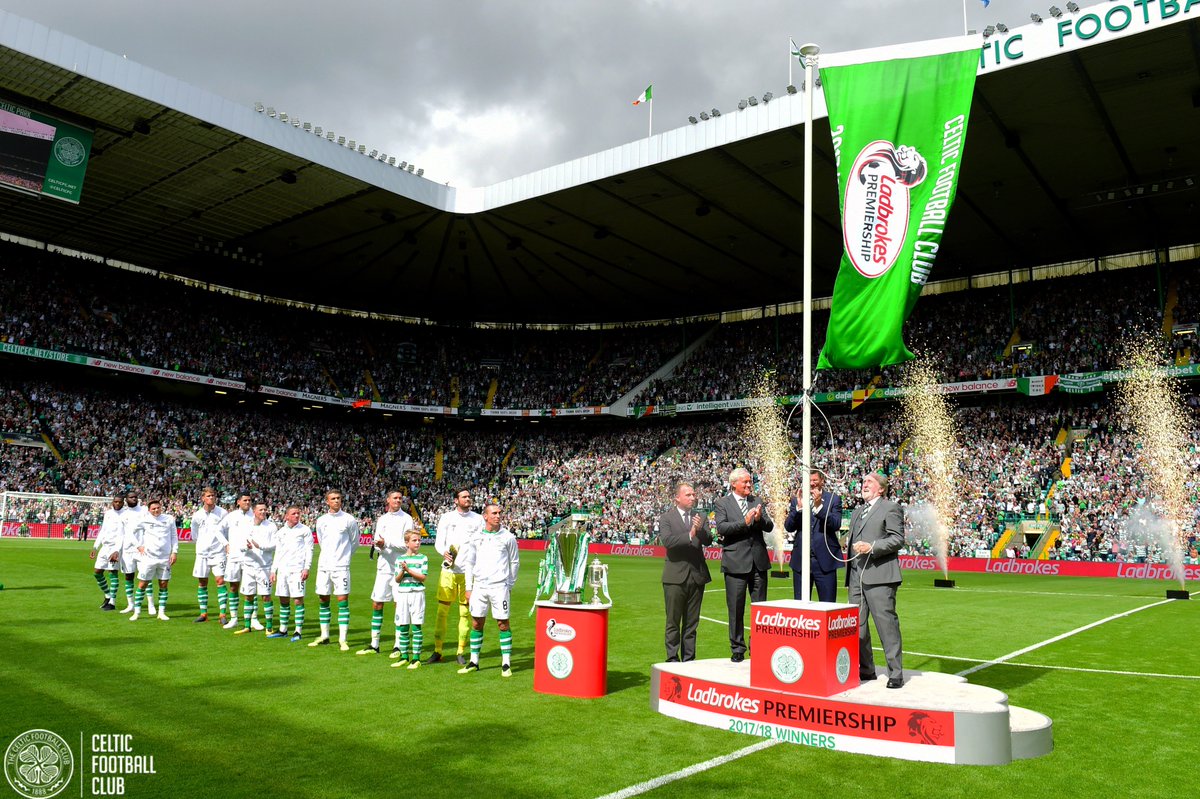 I took a few videos of the event to help me remember the occasion, as i'd had a glass of shandy earlier and intended to have a sherry on the train home, but this miserable bat kept telling everyone to sit down.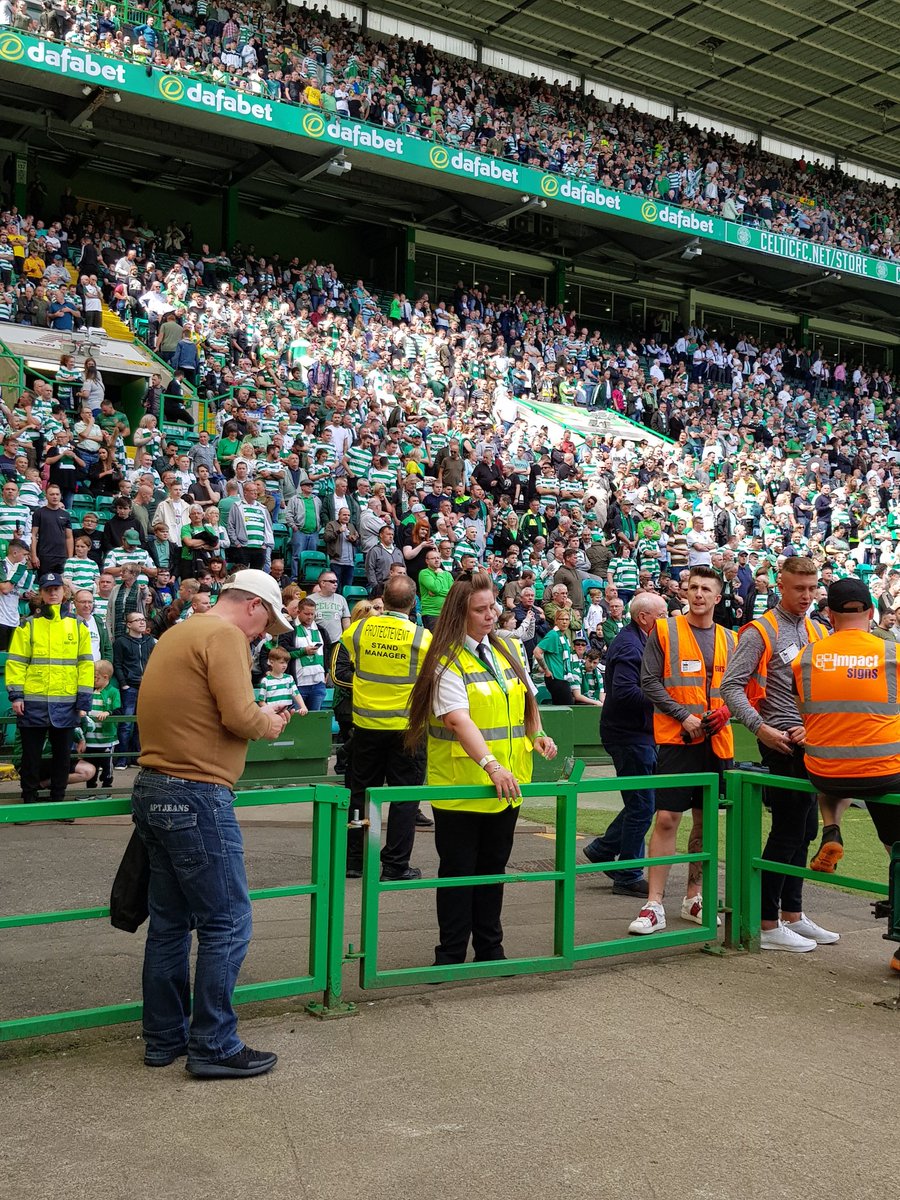 Then again, my old paranoid gene had kicked in long before this, as it appears the club were doing everything they could to get to me.
My seat is number four.. can you spot their attempt to ostracise me ?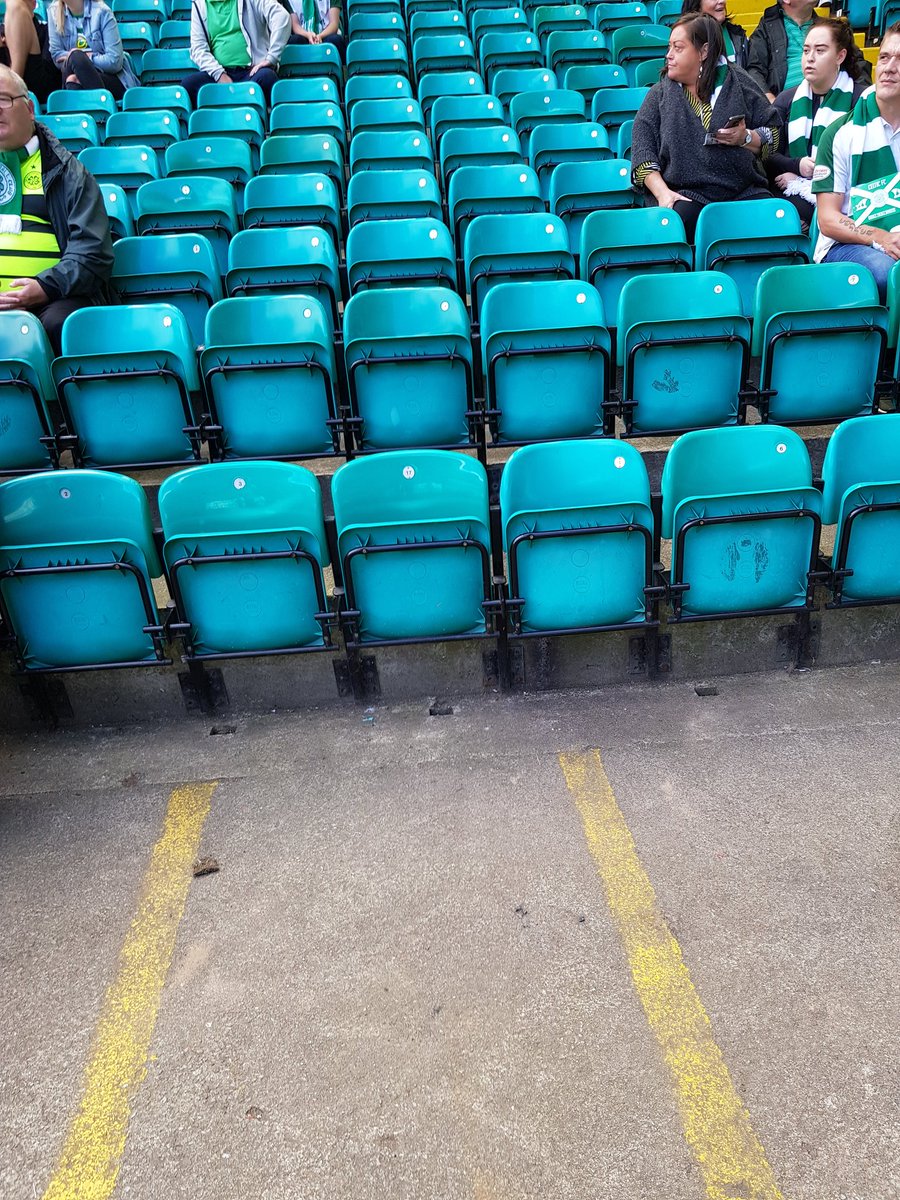 to be fair, they had left a wee postcard on the seat…
Celtic duly went out and showed Kenny Miller and Livingston that it was going to be a long , hard season for them. It finished 3-1 , but in truth it was finished as soon as Tom Rogic headed the opening goal.
French duo Oddsone Edouard and Olivier Ntcham scored the other goals, and the only note of concern surrounded the latter when he took an ankle knock that hopefully will have cleared up by the time AEK Athens get off the plane in Glasgow. The medics reckon it will.
It's all starting to feel a bit rushed-two games a week at this early stage will play havoc with players fitness. Knocks, strains and bookings for clumsy, mistimed tackles will all play their part, and thats why the manager will be using a wee bit of squad rotation to get through the next few weeks.
He was quite blunt about it;
There are not 11 players who are going to get us through this period, especially at the beginning of the season, so we're having to manage the players when we bring them in and take one or two out, without disrupting the fluency of the team.' 
The added bonus of this is that the players know that at this stage of the season if they do well, they can win a place in the starting line up for the rest of the season. From their point of view, there really is everything to play for.
Johnny Hayes played on Saturday, Mikael Lustig played on Saturday, and Leigh Griffiths got a cameo as well..
Rodgers:
'That was the idea earlier on in the game, taking Odsonne off and trying to give Leigh some game time.
'We gave young Mikey some game time as well, while the others like Lustig, Simunovic and Tom Rogic got games. 
This week sees the last few days of the English transfer window, for purchses at least, and so we can expect a flurry of bids and bullshit from the media.
Fulham have apparently offered £9m for Dedryck Boyata, which is decent enough, but then again, we could probably squeeze them for more, and a bit of a sell on fee as well.
There will be other bids as the English clubs realise they have only a short time to spend their money, and it might all get a bit silly.
Bear in mind, however, they can still sell players up until the end of the month, and thats when we can start looking at who is coming in…
Its a distraction we could do without , however, as there are  some Greeks coming to ton, and they certainly are not bearing gifts.
Our man in Greece tells us what we ought to know about them…
I'd advise you to watch last season's cup final against PAOK. They have a good unit, but it would break up easily with Celtic's faster wingers.
Their defence and midfield cannot match Celtic's explosion.
If the wingers and the left and right backs can run up and down, they will probably open up AEK's defence quite easily as it tends to be slow and heavy.
They will probably give Celtic space and counter, which must be a concern as they are good on the break.
So in summary, Celtic must run faster on the wings, pass the ball quicker and make them tired. Hitting them from the centre or with long balls will not assist Celtic. 
And for the supporters..
I don't think the stadium will be packed, given the time of the year.
If you apply fast you will get the tickets. In addition, remember that both clubs have similar roots, as they both have the immigration element deeply entrenched into their history.
But be careful about political statements.
It is highly likely the locals will see this as a sign of friendship and brotherhood. Both AEK and PAOK are clubs from Constantinopole, created by those who were forced to leave what is now mainland Turkey
We hope to have more later…
Later today, the club will find out who their next European opponents will be, whether its in the Champions League (11am ) or the Europa League (1.30pm) .
And it really is quite complicated.
If Celtic beat AEK over the course, then its pretty straightforward.
Seeds —— Salzburg / Shkëndija PSV Celtic / AEK Astana / Dinamo Zagreb
Unseeded ———- Red Star Belgrade / Spartak Trnava Qarabag / BATE Borisov Young Boys of Berne Malmo / Videoton
Celtic will face an unseeded team. None of which will be pushovers.
Should we lose to AEK athens, then there's a very complicated formula as to who we would play, which by the time I've copied it, understood it and tried to summarise it in a way we could all understand , the draw will have been made and we can safely say there'll be something about it we can moan about.
I gave up when i worked out that we could end up playing Rosenberg again.
And I think I might even be right.
Elsewhere in the league, Edinburgh dominates the table, with Hearts in pole position after they beat Hamilton 4-1, and hibernian behind them after a 3-0 win over motherwell.
St Mirren also got off to a great start by beating Dundee, and Kilmarnock swept aside St Johnstone 2-0.
| POS | TEAM | PLD | GD | PTS |
| --- | --- | --- | --- | --- |
| 1 | Heart of Midlothian | 1 | 3 | 3 |
| 2 | Hibernian | 1 | 3 | 3 |
| 3 | Celtic | 1 | 2 | 3 |
| 4 | Kilmarnock | 1 | 2 | 3 |
| 5 | St. Mirren | 1 | 1 | 3 |
| 6 | Aberdeen | 1 | 0 | 1 |
| 7 | Rangers | 1 | 0 | 1 |
| 8 | Dundee | 1 | -1 | 0 |
| 9 | Livingston | 1 | -2 | 0 |
| 10 | St. Johnstone | 1 | -2 | 0 |
| 11 | Hamilton Academical | 1 | -3 | 0 |
| 12 | Motherwell | 1 | -3 | 0 |
Steven Gerrard found that life as a manager at "rangers " may not be the breeze he was led to believe when his piss poor team could only draw with an even piss poorer Aberdeen side, despite having the advantage of being a man down.
Thats what they said about playing with ten men when Jozo Simunovic was sent off at Ibrox last season. Ten men is a definite advantage…
Alfredo Morelas was sent off for kicking out at an opponent, and he was guilty. no matter what you hear…
No matter what you hear..Gerrard might not have been wearing a bread wrapper, or fighting with fans in a hedge, but the post match bleating did remind us of previous incumbents..
He did give us a moment of hilarity, when he said live on tv that Morelas's sending off was down to "provoction", and I have to be honest, its a word I am unfamiliar with..
No exact matches found for "provoction"
Oh. so is the Oxford English dictionary.
However, as its a previously unused word, that means we can make our own definition for it, and thus spare Gerrards blushes…
Lets look at the context.. Gerrard claims that Morelas's sending off was down to "provoction ", so it could be defined as " one who is a cheating wee talentless bassa with a bad temper and a poor eye for a target "
He  missed the player with his kick, which is consistent with his numerous attempts on goal.
Gerrards post match rant, which was clearly scripted by the Fat Controller , was indicative of how they are going to play the victim card again this season, and one wonders of the media will call them out for it.
Willie Miller, once of Aberdeen and now of the BBC used to be fairly honest, but even he seems to have given up the fight..
Willie Miller on BBC Sportsound: "Rangers are disrespectful particularly to Aberdeen. They've always been disrespectful. They need to take a minute and realise where the clubs been, which is through administration." 
If you go through something, you normally come out the other side.
They didnt come out of it, not in the sense he's implying, they went into liquidation, and therefore ceased to be…
A line which is never heard on the BBC these days, after they decided to ignore the facts and go with the flow eminating from the rest of the media.
As for the referees not favouring "rangers ", he might have a point.
They only got one penalty yesterday….
As you can understand the trip north meant no diary over the weekend, so we go back to Friday for this…