Celtic Diary Thursday July 26: Manager Admits He's Mortal
When you get something wrong, its a true test of your inner strength to not only admit it, but to put it right as soon as you realise the mistake.
Enormous credit must go to Brendan Rodgers who set the team up, er, imaginatively last night in an attempt to confuse visitors rosenberg in the second round Champions League qualifiers, but ended up only confusing his own players, who looked nervous and uncertain of what to do.
And for those of us watching, or listening, I can vouch that I was sweating like a South African businessman at a Takeover Panel hearing.
As a result, Rosenberg took a shock early lead-it certainly shocked me-and for a mercifully short while supporters were checking the times of trains to Cork.
Celtic responded to the early set back with goals from Oddsone Edoaurd (2) and Olivier Ntcham to make the trip to Trondheim next week a little easier, and after wards rodgers confessed that he'd initially made an arse of it.
"When the game started we tried to work the same way as we had done through the pre-season without trying to change so much.
"That has worked very well when Moussa (Dembele) has played, so we tried to do a similar thing by putting James (Forrest) up there.
"For the first 20 or 25 minutes I wasn't overly happy with the shape of the team and that was my fault. 
Everyone could see it. We tried to play Jamesie on the inside and couldn't get him onto the ball.
"We just adapted it and went into a much cleaner shape that the players know. We could then press the game and attack from a better base. The fluency was better.
"Then the quality comes through. We scored three very good goals and could have had a few more. 
"The last 15 minutes of the first half and the whole of the second half the players were absolutely magnificent.
"It was a real demonstration of their maturity, staying calm under that bit of pressure.
"You could probably sense a wee bit of apprehension in the crowd when it went to 1-0 but the team is maturing and evolving all the time.
"We have a lot of young players in there for this stage of the season. But it was a joy to watch the team this evening and not just all the good stuff either.
"Dealing with all the adversity in the game is a part of it. It is not always clean and pure and scoring five or six goals.
"You judge your team when they're down as well. They were fantastic at that and really showed that mentality to win the game well. By the end we could have had five or six goals.
"I sat here after a 0-0 last year happy and I thought we could have been better. This year I'm sat in a much-better place with a two-goal advantage but we know it's going to be tough over there."
Only the Rosenberg keeper and the woodwork kept the score respectable as Celtic more or less turned the game into a session of shootie- in, and once the defence realised there was much to be gained by keeping things simple, they too looked a lot more at ease.
Rini Coollen, the Dutchman who is in charge of Rosenberg for the moment, was admirably stubborn, but also clearly disappointed..
"Celtic were the better team and deserved to win, no doubt about that. But we will not give up.
"It will be very difficult, very tough. Celtic are at a different level but that doesn't mean a team wins.
"We are at home and play in front of our home crowd which will help us a lot so we will not give up and you never know." 
There were outstanding performances from Christian Gamboa, who, if he wants it, may still have a place at Celtic, Olivier Ntcham, when he wasn't taking set pieces and Oddsone Edouard, who is now the subject of a police investigation over in France, as PSG have reported him stolen…
Jack Hendry and Kristoffer Ajer deserve a mention as well, as the early goal conceded could have thrown them off their game. It didn't, and they will both emerge more confident after last night.
Sometimes its better to love the one you're with than fantasize about exotic , tanned foreigners…
All in all, a potential banana skin has been avoided, and Celtic should progress to face Greek champions AEK Athens with a similar performance in Norway, and then we'll be halfway there.
Daniel Arzani, an attacking midfielder about to join Manchester City, may only stop briefly in the English town to say hello to his new manager, as he is tipped to be the next City employee to head north for a bit of experience in the field.
An attacking midfielder.
Perhaps we're hoping UEFA will sanction thirteen a side.
Perhaps it might be an idea to sack whoever is our defence scout and ask the guys who find the forwards and midfielders to take over his duties.
Or just sack him and advertise in the paper for defenders.
The ones we have may not be world class, but they are learning. There is a worry that one of Europes top sides will embarrass Celtic later in the tournament, but if a defence containing Klevin Wilson and Efe Ambrose can contain Barcelona at their peak, there is perhaps a little to be said for more a pragmatic tactical approach.
Thats not to say a central defender or two wouldn't be welcomed, but for the qualifiers at least, lets stick with guys who know each other.
We can moan about it later.
We're going to be stuck with four qualifying rounds for a while yet, and we need to get behind the other Scottish clubs-I know- as they attempt to progress ( lol ) in the Europa League.
Hibernian face Greek side Asteris Tripolis, and you can't blame them for keeping John McGinn to help them out. Its only what Celtic did with Virgil van Dijk a few years ago.
McGinn may well now have to wait until Christmas to begin his Celtic career, whilst Rod Petrie, it appears, can forget about phoning the bank to see if the £4m cheque has cleared.
This is the man who wants to be the boss at the SFA, though an outsider would struggle find a reason why he should be.
In fact,  based on this decision, which has  cost his club £2m , one could understand if his wife doesn't even let him decide what they should have for tea.
Aberdeen face Burnley, and all of us who follow Scottish football will need no encourage to dig out the old inflatable sheep we keep for special occasions to wave at the telly in the hope of encouraging the Dons to a victory that will silence a few of the critics we have down south.
Down here, they find it important to feel superior to their northern neighbours, and with ten times the customer base and obscene amounts of money pouring into what is ultmiately a piss poor product, its all they have to make themselves feel better.
After Brexit, and the impending restrictions on foreigners living and working in England. one can only salivate at the prospect of all those players being deported and paid up in full.
Oddly enough, pro Brexit politicians steer clear of that particular debate, as its one that the masses could understand, and could cost them their off shore tax havens.
For me, I'll happily put up with tinned food, bottled water and ghetto conditions if it shuts fucking Talksport up.
Oh, and "rangers " are playing as well.
Good luck to them, I've no issues with them if it helps us.
And anyway, as they should discover if they gaze into the Croatian stands,
Some Celtic fans are attending the game tonight, and they're taking this banner with them.
there's a long way to go to improve the co-efficient, and there's no time like the present to make a start.
Moravcik 67 on twitter explains how it works…
1. Some info on what would need to happen for Scottish teams to play less qualifiers in Europe, based on this season's access list. The round a club starts in is based on the Scottish coefficient – which is itself based on 5 years worth of the results of Scottish clubs in Europe 
2. The points a club contributes to the Scottish coefficient are –
During qualifying:
Win = 1pt,
draw = 0.5pts –
Group stage onward:
Win = 2pts,
draw = 1pt
Note that the points a club get for its own coefficient during qualifying is based on the round the clubs gets reaches
3. For example, if Hibs lose both legs to Asteras, they'll have contributed 2pts to the Scottish coefficient for their 2 wins in the 1st round, but will only get 1.5pts for their own coefficient because that's what you get for reaching R2 of the EL qualifiers. 
4. Once all the points of all the clubs are added together in a season, the total is then divided by the number of clubs. This gives the national coefficient for the year. The picture here shows the 17/18 Scottish coefficient

5. The 4.0 pt national coefficient comes from –
7 qualifying wins (7pts) –
2 qualifying draws (1pt) –
2 post-qualifying wins (4pts) –
4 bonus points (Celtic, for reaching the CL group stage)
That's 16pts in total. It's then divided by the number of clubs (4), to give 4pts total 
6. In short, for the national coefficient, every match matters. For the club coefficient, during qualifying at least, the only thing that matters is progressing. Scotland was ranked 23rd for this season. That meant, the starting rounds for each club are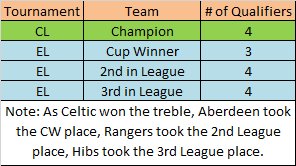 7. So what impact would moving up the rankings have for Scottish clubs? Based on this years access list, here's what would happen if Scotland acheived the following positions on the list. Green for CL, blue for EL.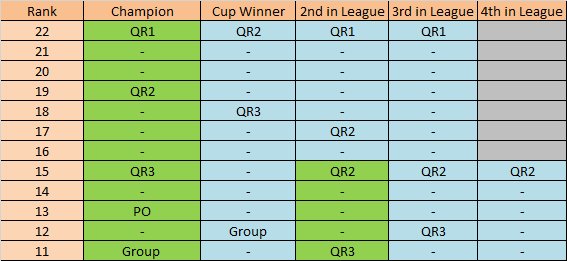 8. As you can see we need to jump up to 19th before there's any change. After that, nearly every increase in position brings about a benefit to at leaest one of our clubs. By the time we reach 15th, we have 2 CL clubs again, 5 clubs in total, and all skipping the 1st round. 
9. Sadly, we're going the wrong way just now. Next year we'll have dropped from 23rd to 26th. This is the country rankings used for the 18/19 season

10. As you can see, we're not that far (<1pt) behind 19th position, the 1st position that would have an impact on where Scottish clubs start. But beyond that, it's a much steeper climb – to the point where we almost need to double our national coefficient to get to 11th.
11. The problem is that we need to take into account that 1pt in that table is not the same as 1 qualifying win. Remember that we need to divide points gained by clubs by the number of clubs? An increase of 1pt in the table is equal to 4 extra qualifying wins over 5 seasons. 
12. To reach 15th, and all the advantages that go with it, we'd need an extra 6.5pts. That'd pretty much require every Scottish club to contribute an extra qualifying win and draw each year for 5 straight years. It's that level of consistency we struggle with. 
13. To reach 11th place, and get the automatic CL group palce, we'd have needed an extra 14.25pts on the Scottish coefficient over the last 5 years. That's not far off needing every Scottish team to provide 3 extra wins per season for 5 straight years. It's a huge task. 
14. Sadly, we make it difficult for ourselves. We drop too many stupid points. That 19th position could have been achieved had – Celtic beat Lincoln Red Imps – Rangers beat Niederkorn – Aberdeen beat Fola Esch – Hearts beat Birkirkara Not too much to ask for, is it?  
Thats that then. We'll just have to win the bloody thing.
Back to last night, and we've been asked to pass on a safety message..
Message to all young cheeky wee Buckfast drinkers. See if you canny handle your bevy, then don't bring it in with you and annoy the fkn life out folk that have turned up to watch the game. 
They should do what I do, and just go to sleep.
Yesterday we had this picture…