Celtic Diary Saturday July 21: Questions That Must Be Asked-And Answered
We'll just talk about the football, shall we, as Celtic consider their response to the decision to involve the CAS in sorting out the cheats from Ibrox.
There will be a response, won't there ?
Perhaps along the lines of questioning the legality of the Five Way agreement, which whitewashed the death of the first Ibrox entity.
Thanks to Barcabhoy and Tigertim on twitter, there are four questions that need answering..
Is every professional club in Scotland subject to EXACTLY the same disciplinary procedures ?
 Do you have a disciplinary process that applies to only one club and if so Why ?
 How can you possibly justify that ? 
Can all member clubs of the @ScottishFA refuse to have their rule breaking adjudicated by the National Association
Are @UEFAcom comfortable with a legal agreement between the SFA and Rangers which takes authority out of the hands of the SFA
Finally, and crucially,
Are there any current agreements still in place?
Either Celtic respond, or they don't.
One would like to think that they would have some response to being cheated out of a potential payday millions of pounds. And the distinct possibility of it happening again.
And one would like to think they have an opinion on how the investigation is being handled.
That way we can all pull in the same direction.
With no football today , the manager took a minute away from his relentless training programme-thats Lewis Morgan out now as well-to talk about his forward line, which is as strong as his defence is weak.
Which is why he's talking about them, and not telling us what he intends to do about the big gaps appearing where the defenders should be.
The manager reckons the two Frenchmen, and Olivier Ntcham, are good enough to get into the World champions squad.
"One day I think that will be their aim," 
"There are some very talented French boys around but they only need to look at the regard with which they are held in. You look at Moussa and Ollie playing in there and you heard recently that Odsonne's under -17 coach thought that he was more regarded than Kylian Mbappe.
"That is the esteem that he is held in. He had a loan that didn't quite work out for him but he is right back on and there will be a pathway for those players, I am sure.
"If you look at their under-21s, it is a very special team as well," 
"Moussa and Ollie have been in that and have really featured and I am sure Odsonne in the future will come into the reckoning. They have a platform with very good players and it is definitely a market that all teams will always look at." 
The front two will certainly have more chance if they play together and shine in the UCL.
But its at the back where the problems continue.
Dedryck Boyata is on holiday and he's switched his phone off. even when he puts it on to check his texts he only reads the ones that start with £50,000 a week.
And there are apparently a few of them.
Everton have returned to their dossier on Keiran Tierney after Luke shaw told them he didn;t want to play for them. Thats the Daily Stars take on it, at least.
As far as I'm aware, Tierney and Everton have not altered their mutual admiration in the slightest since the story broke a few weeks ago.
I hope I'm wrong, but I'll be surprised-and happy-if I am.
Simunovic has apparently asked Celtic to let him go if Fenerbahce put in a bid.., which leaves Lustig, Ajer and Hendry.
Oh, and Comperr, the signing that raised a few eyebrows when he joined, and has raised the clubs insurance premiums now he's here.
Don't we have anyone on the scouting staff who can spot a defender ?
Chris Sutton, who is honest enough to admit he'll say to someones face what he'll say in print, concurs when it comes to the shambolic planning when it comes to the Celtic  defence..
"I can't quite believe they have allowed it to happen again mind you. They knew Dedryck Boyata and Mikael Lustig were going to be unavailable. It's not like the World Cup sneaked up on them,"
"Yet here they are, going in to a crucial qualifier with a patchwork back four. Again.
"It was the same in Brendan Rodgers's first season when he was forced to chuck in Eoghan O'Connell and Lustig as a partnership in Astana. Now they will need to rely on a couple of rookies in the first leg against Rosenborg.
"I know there is the option of cancelling Boyata's shore leave but that would be too big a gamble after a couple of weeks out from training. The same goes for Lustig and then there's Cristian Gamboa. Don't get me started on Marvin Compper. He's been a disaster.​" 
Harsh on Comperr, we haven't seen enough of him to conclude whether he's a disaster or not.
He's got a point though, Rodgers should spend less time fawning over his forwards and more time dealing with the defence.
Celtics next opponents, Rosenberg, sacked their manager in the week, but events have taken a somewhat bizzare turn.. as the Daily Mail explains..
Celtic's Champions League opponents Rosenborg were last night in the midst of a full-blown crisis after their players demanded the reinstatement of their former manager and his No2.
Kare Ingebrigtsen and assistant Erik Hoftun were dismissed on Thursday after the Norwegian champions scraped past Valur of Iceland 3-2 on aggregate to set up a meeting with the Parkhead side.
On Friday, the Trondheim club unveiled former academy manager Rini Coolen as their next boss in the hope he can guide them past Brendan Rodgers' side and into the group stage of the Champions League.
But the move to promote the Dutchman has met with mass resistance from the entire squad – with the players releasing a statement revealing they have gone to the board to ask for Ingebrigtsen's reinstatement.
A press release read: 'We vehemently disagree with the board's decision to sack Kare (Ingebrigtsen) and Erik (Hoftun).
'The whole group was behind the training team until the end, and the group believes they were and would be best suited to further development.
'As a group we asked the board to reinstate Kare and Erik, but they refused.
'We thank you for four wonderful years, with very good results and the return of Rosenborg as Norway's largest club.
'Furthermore, we will professionally deal with those who come in now and will do our utmost to perform in future matches.' 
Asked yesterday why the players had acted in such a manner, Rosenborg chairman Ivar Koteng stated: 'They thought he was the best coach for the job.' 
Pressed if there was any chance Ingebrigtsen would be reinstated, he replied: 'No.' Coolen has been appointed until the end of the season and arrives in the post with a patchy track-record having been sacked by a string of clubs including Twente Enschede, RBC Roosendaal and Adelaide United. 
Normally, a club who hires a new manager will get a positive response from his players. Unless its Roy Keane or Sam Allardyce coming in, so this is certainly unusual.
A couple of quick early goals at Celtic Park on Wednesday for the hoops will kill this tie before the supporters have finished their pies.
Which reminds me, you'd better get your ticket sorted for that one.
TICKETS for Wednesday night's UEFA Champions League qualifying match against Norwegian champions Rosenborg (July 25, KO 7:45pm) are on sale now.
The Ticket Office will open this weekend on Saturday from 9am until 1pm and on Sunday from 10am until 2pm for supporters looking to secure their seat for the first leg of the Second Qualifying Round tie.
Season Ticket holders have until 2pm on Sunday to secure their seasonal seat for the match with discounted ticket prices also available:
– £22 for adults
– £12 for concessions
– £7 for under 13s
After Sunday's 2pm deadline, your seat for this match can no longer be guaranteed.
Please note, the payment date for members of the Home Cup Ticket Scheme is Monday, July 23.
Tickets are also available to buy now on general sale, priced from £25 for adults, from £13 for concessions and from just £8 for under 13s.
Buy online now, call the sale line on 0871 226 1888* or visit the Ticket Office in person this weekend!
Your support will once again be crucial as the Hoops look to continue in the competition, and a full house at Paradise can make all the difference. 
Conversely, the support of the board is required as the supporters look to ensure that Scottish football can cleanse itself of corruption. 
I added that last bit, as you probably guessed.
For those who can't make the game, simply hop on a plane to Europe and take out a subscription to Celtic TV, where you can watch it online.
Over on the other side of town, Dave king was "urged " "ordered " or "asked if he could possibly " do what the Takeover Panel told him to do.
Depending on which of his poodles reported it, that is.
There's a guy at the BBC , Business/Economy editor Douglas Fraser, however, who sees it differently..accurately, in fact..
Dave King has previous on stringing along the authorities. In legal action taken by South Africa's tax authorities, he kept them waiting for years before paying up what he owed. The stigma of a criminal record doesn't seem to bother him much.
Facing action by the Takeover Panel, the Ibrox chairman seems to be playing a similar game.
The watchdog of mergers and takeovers has limited powers. The main one is usually very effective, in that it "cold shoulders" someone who refuses to comply, denying them any access to regulated financial companies, such as banks or accountants.
It hasn't used that on Dave King, yet, probably because he doesn't have much need of banks or accountants in the UK. He lives in South Africa, from where it's easier to cock a snook at the financial authorities in London.
He did so this week with his start-of-season message to fans. Published on the Rangers website, this was intended to fuel a sense of Ibrox grievance that Rangers' financial difficulties are down to vexatious complaints from other clubs and former directors.
It's almost as if the Companies Act 2006 was not crystal clear on him being in the wrong, or that the Takeover Panel was unable to make up its own mind without pressure from the terracing at Parkhead.
Not for the first time, a Rangers chairman in difficulties has appealed to the faithful to back him against the perceived injustices of the outside world. And not for the first time, many of the Rangers faithful have failed to distinguish between the interests of their club and those of its chairman.
'No end in sight'
King twice described the Court of Session rulings as "strange", and said the Takeover Panel's refusal to give him more time to get his finances together, to open a UK bank account and to make the offer was causing "further unnecessary delay, with no end in sight".
Those final four words appear to be what focussed our learned friends' minds with Friday's hearing in the Court of Session. King is either deluding himself about who's causing delay, or he's stringing along the Court. But for how long?
Being found in contempt of court, as early as next month, could bring a jail sentence of up to two years or an unlimited fine. Both the Court and the Takeover Panel have a common interest in seeing their authority respected, and that of the law.
So does he want to be a fugitive, unable to touch down in the UK and visit Ibrox without having his collar felt?
If he is held in contempt, will there then be a case for the Scottish Football Association to challenge his status as a "fit and proper" person to be a director of a Scottish premiership club?
That sporting sanction, rather than cold shouldering or a fine, may be what the Takeover Panel is relying upon as the leverage to get Mr King to comply.
He'll have to make up his mind before 16 August, when the case is reconvened? Yes, yet again, the Scottish courts are taking a long time to handle this. I'm told it could have been taken to an English court, and would probably have been concluded a long time ago.
The end game may well have begun for King, and perhaps with him out of the way, the SFA will be a little less worried about him taking them down with him , especially if they are not the principal architects of his demise.
We did Knob of the Week yesterday, and already we have an early contender for next weeks title..
It is with a great sense of relief we find he is safe…but no thanks to his brother..
Travel seems to be fraught with problems for that lot…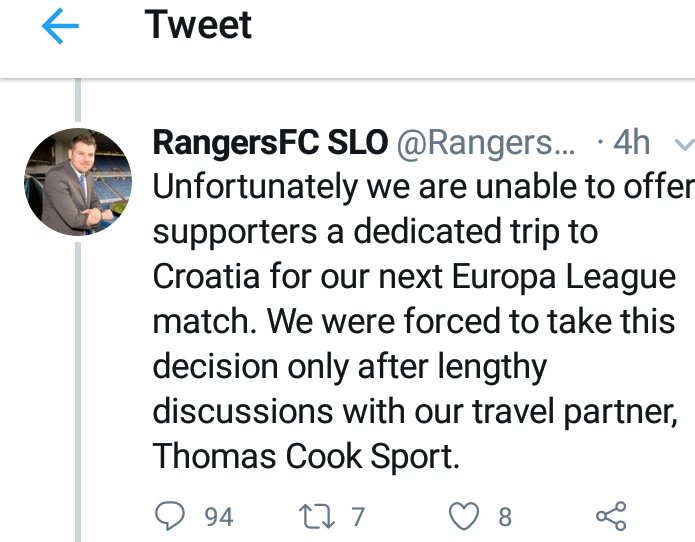 Rangers SLO must be the toughest job in football. Imagine being the bridge between the halfwits that run the club and the halfwits that support it. 
One bear , probably not one who is smarter than the average bear, though he might be, it's all relative, explained on twitter that there is a shortage of planes this time of year.
Yesterdays caption competition…
today…