Celtic Diary Friday July 20: Compliance Report : Relax…It Ain't So Bad
The Compliance Officer has spoken…
Preliminary Tribunal Hearing Outcome: The Judicial Panel convened a preliminary hearing relating to the above case on June 26 2018. 
This preliminary issue raised by Rangers FC challenged the jurisdiction of the Scottish FA's Judicial Panel Disciplinary Tribunal to hear the case, and contended that the Notice of Complaint must be determined by the Court of Arbitration for Sport.
Having received submissions on 26 June the Judicial Panel Disciplinary Tribunal have issued a decision upholding the preliminary issue raised by the club. The Judicial Panel Disciplinary Tribunal proposes to continue consideration of the complaint until parties consider next steps and terms of reference for any remit to CAS. 
First thing to note is that this statement does not refer to the alleged offences ( alleged my arse ) , but to who has jurisdiction to rule on the alleged ( my arse ) offences.
Rangers FC-it doesn't clarify which one ,which in turn suggests the five way agreement is being used here, reckon that the alleged (my arse ) offences should fall under the remit of the Court of Arbitration for Sport.
There is no indication as to why Rangers FC have argued this, or why the JPDT have agreed to it, but it appears that this is where it will end up.
Which means that those considering the alleged ( my arse ) offences will be looking at it with unconflicted eyes.
Which cannot be a bad thing.
As Auldheid, one of the valiant shareholders behind the Resolution 12 campaign said on CQN…
Interesting development regarding the Rangers notice of complaint.
 It sounds like the evidence the resolutioners presented on the 26 June made an impact…
 Who conducts the prosecution at CAS? 
The real significance here is that in mid May TRFC said accusations around activity at end of March 2011 were groundless.
The SFA were presented with information that suggested otherwise, which would have been passed to TRFC for comment.
 They have not disputed that evidence but have instead said SFA are not in a position to rule on the matter and have contended that the Notice of Complaint must be determined by the Court of Arbitration for Sport.
 That is more than welcome and is a point that was made to Celtic when told the SFA Comp Off was going to investigate that input would be needed from UEFA and HMRC for a correct decision to be made.
 What is not clear, because what goes to CAS has still to be agreed, is whether TRFC are claiming that the 5 Way is in effect a pardon for RFC's misdeeds or that the licence was granted and monitored as UEFA intended their rules to be applied. 
If the latter then CAS have already ruled on similar cases for Malaga in 2012 and Giannina in 2013 where they upheld UEFA's decision that both clubs were in breach of UEFA FFP in similar circumstances and in Giannina case should not have been granted a licence in March.
 It would be up to CAS to decide if there was a difference in the RFC application that made the grant legit. If not and extracts of both Giannina and Malaga cases were provided to SFA two weeks ago, then an overdue payable did exist and how RFC got around that will become subject to CAS scrutiny and as a result UEFA scrutiny who don't like being lied to. Its a risk TRFC will be taking but if licence granted legitimately then that is all Res12 asked to establish. If not that is up to God knows whom to decide on sanctions.
 If TRFC are arguing that the 5 Way pardons them from sins of RFC, that puts 5 Way under CAS scrutiny and given that one part at least, the transfer of SFA Membership from RFC to TRFC/Newco conflicts with a UEFA Regulation designed to protect the integrity of UEFA competition (Article 12) then the integrity of the 5 Way comes under question.
 Bottom line is this has to go to CAS and Celtic need to be more pro active in ensuring all factors are considered, because as matters stand TRFC are accusing Celtic shareholders of being trouble makers and Celtic and CSA and CST, who have been briefed, simply cannot let that go unchallenged . Celtic should welcome CAS adjudication and not let SFA off the hook by not insisting SFA take the matter to CAS in order to satisfy their shareholders all was handled as UEFA intended in their rules.
Celtic, and Peter Lawwell, must welcome the decision to send this to CAS.
They must now welcome the news that there is a chance for a full independent inquiry into the alleged ( my arse ) events that are under investigation here.
They must offer to assist any investigation with any further evidence that they have .
Any failure to comment at this stage is unacceptable, as after all, it is Celtic PLC and their shareholders who lost out if these allegations are found to be true, and it is the job of the PLC board to protect the interests of shareholders.
With CAS involvment , there is genuine optimism that we can finally deal with those who have corrupted our game, and begin to look forward to an honest and level playing field in Scottish football.
So, Peter, lets see what you can do….
Back at the ranch, and Celtic eased past Alashkert on Wednesday with another 3-0 win, despite making the game a handicap event when Jozo Simunovic got himself sent off early in the game.
He is now ruled out of the first leg of the next match, which is against old foes Rosenborg.
Rosenborg have began their preparations for the game by sacking their manager..
Norwegian Glaswegian Christian W is the go to man on Norwegian football, and on twiter last night he explained whats been going on in Trondheim, and why….
1/ Many parallels between RBK & Celtic; – Huge financial advantage over rest of league, built in large part on European successes – Expectation to win every domestic game & trophy + to keep improving in an ever tougher European environment – Also expectations of *how* you win 
2/ Nils Arne Eggen coached RBK from 1988 to 2002 (apart from year's sabbatical). He essentially defined the club's culture, ethos and playing style to a degree comparable to how Cruyff defined instilled his philosophy at Ajax and Barcelona 
3/ Eggen was an offensive manager, playing a 'pure' 4-3-3 with attacking full-backs, two industrious but effective no. 8s each side of a deep lying playmaker and a front three combination of speed, physical presence and great movement 
4/ While Eggen built an incredible slick playing machine where the team was always king (many players failed outside RBK), their constant presence in the Champions League through the 1990s built up their financial powers. 
5/ With Ingebrigtsen gone today RBK have changed manager since 2002, him being the longest serving one (since 2014) While they've won the league 9 out of those 15 seasons (+ 3 cups), they've essentially underachieved, with their last CL group stage appreance now 11 years ago. 
6/ Why? Multiple factors obviously but complacency & amateurism at board level led to lack of stability at managerial level, with scattergun approach to both type of manager brought in & the player recruitment process, which seemed very scattergun & downright lazy at times. 
7/ The club's financial power means they can afford do such mistakes and still dominate Norwegian football but they've achieved far less in Europe than comparable clubs in Denmark and Sweden, especially FC Copenhagen and to a lesser extent Malmö 
8/ The last two appointments were heralded as a return to the 'ideals of Rosenborg' with local managers who had previously been at club. They just didn't have the actual tactical competencies to drive the club forward.
Christian offers his thoughts on why Deila won't be making a return to Celtic Park in a Rosenborg trackie…
The next game is against Rosenborg, in Glasgow on Wednesday, and it could be tricky.
Simunovic won't be available, possibly ever again..
Turkish newspaper AMK Spor report Fenerbahce sporting director Damien Comolli is looking to bring Celtic's Jozo Simunovic to the Ulker Stadium this summer.
Fenerbahce manager Phillip Cocu has reportedly told Comolli to sign the Celtic player, but it's unlikely Brendan Rodgers will want to lose the player.
The 23-year old central defender made 30 appearances for Celtic in all competitions last season and has also been linked with a move to Fenerbahce in the past.
As it stands the Turkish club only have two senior central defenders at their disposal and Cocu has told Comolli they need a quality central defender to come in.
AMK Spor say Simunovic is also keen on the idea of playing for Fenerbahce, and he's made it clear to Celtic he wants to leave if the Yellow Canaries make an official bid for him.
The Turkish media often insist players are eager to move to their biggest clubs, so there may be some bias involved there.
The former Dinamo Zagreb player still has three years left on his current Celtic contract.
Then there's Dedryck Boyata, who seems to have become a superstar overnight after his outstanding perfromances against , er, Tunisia and Panama…
According to some reports, Boyata wants to move to a club befitting his performances in the World cup, and he's not short of offers.
Though perhaps not from the clubs at a level he was hoping for.
A move looks likely, he's been a part of a squad that has done well, very well, and will be comparing his relatively low wage with those of his English based team mates, and noting that they don;t get anywhere near the grief he gets should they misplace a pass or fall asleep during a game…
Lets hope the Kenneth Omerou  rumour is true…
Kenneth Josiah Omeruo (born 17 October 1993) is a Nigerian professional footballer who plays as a defender for English club Chelsea and the Nigeria national team.[2][3] Omeruo signed for Chelsea from Standard Liege in January 2012 and upon signing went on loan to Dutch top-flight side ADO Den Haag. Then only 19, he impressed enough in the Eredivisie to earn a call up to the Nigerian national team.
Now a regular international, Omeruo has represented Nigeria at the 2013 Africa Cup of Nations and the 2013 Confederations Cup in Brazil. Omeruo cemented a place in the starting line-up at the Africa Cup of Nations as it turned into a wonderful tournament for the Super Eagles and they emerged from the tournament victorious.[4]
Though its doubtful…
Earlier this week Leeds United secured the signature of Jamal Blackman on loan for the season. He was the second former Middlesbrough loanee signed from Chelsea this summer, after Lewis Baker arrived earlier in the summer.
Another player with a similar history then appeared to hint he could be next. Kenneth Omeruo commented on Blackman's Instagram post about the move stating, "wait for me."
What the Nigerian international meant by the comment is up for debate but, at the moment, there is no sign that Leeds are in fact interested in signing the player.
To be honest, this guy isn't getting a game at chelsea, and a loan has been suggested.
Thing is, the  number of images of him standing next to some sports car or other when you google his name make me feel he's another who has earned the money already, and finds playing a chore that he doesn;t need or want any more.
File with  Charley Musonda, ….
With Boyata sounding more and more like he wants away, and Simunovic provong he should be allowed to leave, there is a need to spend on central defence.
Now.
Thats not to say Celtic should rush out and buy a couple of centre halfs in some sort of panic dash, but perhaps one or two of those we've been watching could be brought closer to a deal …
We have been watching some, haven't we ?
and if they are bit pricey, we could ask Dermot for a few quid…
Barchester Healthcare to be put up for sale as owners eye £2.5bn price tag
It is understood Irish tycoons Dermot Desmond, JP McManus and John Magnier have mandated investment bank JP Morgan to assess their options 
Barchester Healthcare, one of Britain's biggest care home groups, is to be put up for sale in a deal that could net its owners around £2.5 billion.
The Press Association understands the group's owners – the Irish business tycoons Dermot Desmond, JP McManus and John Magnier – have mandated investment bank JP Morgan to assess their options, the most likely of which is a sale. 
It is thought that several buyers have already expressed an interest, but only offers higher than £2.5 billion are being taken seriously. 
On Monday, the draw for the third round of the qualifiers takes place….

Athens anyone ?
How about this for a picture, posted on twitter by Danny 
Over on the other side of the river, Dave king has done his usual everyone has got it in for me speech, though one does wonder if they would have had he not been such a shameless lying bastard.
We'll never know I guess.
An off the record source tells us that King has  dismissed rumours that Ibrox is to get a similar lighting system to the one recently installed a Celtic Park.
Apparently King feels there would be no point as all the ibrox fans are condemned to perpetual darkness anyway.
He's back in court today.
Or his representatives are.
The pressure on him is building.
Won't be long before he draws his money out of the club and runs away.
It's Friday, and that means that we trawl the news and views from around the world to find someone who has risen head and shoulders above the rest to acquire the title of Etims
Knob of the Week 
Tricky one this time…but using hindsight we've managed to find someone with powers of perception previously unheard of in Scottish football…none other than Gordon Parks, the enthusiastic hack over at the Sunday Mail/Daily Record…
Well done Gordon…you are this weeks Etims
Knob of the Week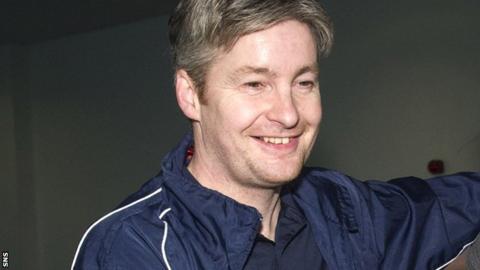 Parks famously once said that he knew of several instances of gambling related match fixing in Scottish football, but true to form, as a Scottish mainstream sports journalist, he hasn't told anyone else.
Caption competition from Wednesday….