Know what ? Maybe i should just ditch all this football gossip malarkey.
Maybe try my hand at fiction. ( don't laugh )
I've an idea for a book.
Set in Germany, 1934.
Amongst the backdrop of sectarian issues and religious discrimination. You know the period, where Jews were banned from certain professions, their schools received no state funding, and their businesses were by and large boycotted.
The media , through extreme outlets such as Julius Streichers weekly tabloid Der Sturmer, would blatantly promote racism and encourage violence. Even raising money for extreme organisations and actively encouraging sectarianism. I remember distinctly one poll which asked if Jewish schools should be closed.
Anyway, in this setting a new man rides into town, he's got a bit of a dodgy past, which , maybe due to his persuasive influence, is largely ignored by the media, and he's encouraged, nay supported as he takes over a thriving local business.
Some locals aren't too happy, and the town council are outraged, but aided and abetted by the media and his band of ruffians, lets call them the blackshirts-oh wait, thats been done. As has brownshirts.
I know, lets call them Mandarinshirts.
They tend to do a lot of marching, parading up and down Jewish neighbourhoods singing songs, smashing windows and attacking old ladies. The police do very little about it, as they are somewhat sympathetic to the cause.
Aided and abetted by his roughnecks and out of town business partners, themselves hoping for a slice of the action, he threatens councillors, and one by one they resign.
Its just not worth it for them to stay on.
Those left are compromised, he's maybe got some photos or recordings of them, and other businesses begin to lose their customers-and its a big market.
And he gets the media to say that in fact, its him who is being victimised…and of course his merry band of mandarin men.
I've had to set it in Germany 1934, because there's no chance that sort of scenario could exist in the 21st century, let alone in Scotland.
Could it ?
Nah, bollocks, I'll stick to the football. The fiction is too far fetched.
We're getting close to the real stuff now.
As you are probably aware, there's been a little bit of a kerfuffle on social media regarding the possible transfer of Keiran Tierney to Everton.
I figured I'd have a wee look at some Everton forums to see what they make of it. There's very little in the papers down here, so that has to be encouraging.
This post stood out, however…
Fact is, on our side, Joyce, Bascombe and King had the story on the same night. They've been briefed.
Until he say otherwise, we're in the market for the bhoy. 
So, who are Joyce, Bascombe and King ?
To those who scour the gossip pages of Liverpool FC during the transfer windows, the name of Paul Joyce is one that stands out as being one of the most reliable and trustworthy sources of LFC information.
Joyce, along with Tony Barrett (the Times), Dominic King (the Daily Mail), Chris Bascombe (the Telegraph), Andy Hunter (the Guardian), David Maddock (the Mirror), and James Pearce (the Liverpool Echo) are the Liverpool correspondents for their respective newspapers, following the Reds home and away, gaining insight and information about the club. 
Liverpool ?
Not Everton ?
Oh, well, who cares what they know…
Also on that site, called GrandOld Team-they nick everything down there-was this…
YESTERDAY was a bad day for the so-called 'In the Know' Celtic supporters who well and truly got their fingers burnt for passing on the snippets of information that had apparently been fed to them.
Let's assume that it was fed to them and they all just didn't decide to make it all up. That theory isn't even worth exploring as an option as Brendan Rodgers himself contributed greatly to the Kieran Tierney to Everton story/non story though the detailed interview he gave on the subject in Austria on Sunday.
There is a small group of Celtic supporters who Peter Lawwell uses to reach out to the support. Fair enough. Some have even signed confidentiality agreements with the club so anything significant you read has been completely filtered and is exactly what the Chief Executive wants you to read.
Some not all. That's important.
Beyond this group, who are mostly from the longer established Celtic online blogging community, there are a number of posters on Celtic sites and on Twitter, who also have their ears to the ground at Celtic Park and have proven contacts in the Celtic boardroom.
One is Barcabhoy who we mentioned earlier in the week. After David Potter, the respected Celtic author and historian, wrote a heart felt, rather OTT, plea to Celtic not to sell Kieran Tierney to Everton, Barcabhoy outlined the reasons why the player could be sold to a Premier League club.
He noted that the player would get a 500% increase in salary and that the move would be life changing for the player. He stated that the information he had was that the player wanted to go and Celtic, in the circumstances, were powerless to stop him. What would be the point in keeping an unhappy player?
Over on E-Tims and on their Twitter accounts, things were getting even more emotional. They had reason to believe that KT was being sold to Everton or if they didn't have their reasons then you have to ask what the hell was going on with them?
Celtic Underground, who recently sat down with Peter Lawwell to interview him for their podcast – the Celtic Chief Executive got his message out in a friendly environment, carefully selected. Asking the questions was one of the bloggers mentioned above, Harry Brady (that's not his real name incidentally).
Anyway Celtic Underground – clearly ITK – also tweeted at the start of the week that we should brace ourselves for bad news on KT.
There is one poster on a Celtic forum, who only posts very occasionally, but it is usually insightful and accurate information – he was first to state that Moussa Dembele would be joining Celtic from Fulham – and he too stated the same thing as ALL of the above re KT and Everton.
David Potter had another rant. Mike Maher, another esteemed Celtic writer – had an article on Dalglish leaving Celtic for Merseyside in 1977 and the impact that it had on our club. These were merely opinion pieces from respected figures within the Celtic support.
Then totally out of the blue, an article appeared that seemed to contradict just about everything that had been written on this Tierney to Everton story since Sunday.
There was no bid, Celtic don't want a bid, the player is staying blah blah blah.
Just before that there was a newspaper story down south linking Everton to another left back playing in France and the price was around £15million. No idea if that has any significance on the Tierney story/ non-story.
Someone posted that E-Tims credibility was now at 0%.
Every ITK poster must now tread a little more cautiously. Who gave them the information that was apparently entirely wrong? Why did Brendan Rodgers go into this matter in such great detail at the weekend?
Why were the ITK supporters hung out to dry?
It doesn't add up. But if it means Kieran Tierney is staying at Celtic then at least we have got a happy ending to what was an uncomfortable situation for many people who simply has Celtic at heart – including most importantly, KT himself.
E-Tims has loads of credibility BTW.  
I'm ending this here.
I believe that Tierney himself is a wee bit upset by the stuff that has appeared on social media, and he has every right to be.
He's being pulled in so many directions he doesn't know if he's coming or going.
If he has a decision to make, then let him make it in peace. He's only 21, for fucks sake. 
At that age our biggest decision was whether or not to wear the home top or the away top to the game. 
Give him a break 
He's one of us, and as such deserves at least that.
That arm around him that we spoke of yesterday, time to offer it.
Scott Sinclair is definitely staying.
I couldn't find a picture of him, but I did find one of his lovely wife.
Sinclair seems a little more settled now..
The work I have been putting in on the off-season is paying off and I have come back really sharp,' 
'Last year was a quick turnaround. We had two weeks off and we were straight back in. This year I have had a good break and managed to get in a lot of relaxation so I am ready to go again.' 
'The level I set was so high and getting player of the year – I then tried to replicate that game after game,' 
'That is the pressure I have put on myself. Every single game I go into everyone expects two or three goals or me to get man of the match, but it is not always going to be the case.
'You want to keep the standard up. But whatever scenario unfolds I will keep giving 100 per cent. Hopefully, this can be an even better season for me again. I want to get back to that level and to show the fans the excitement of me playing again.
'I feel physically it is the best I have been, the way I have been working in pre-season. I feel fit and ready and excited about this season.'
'I love the club,' 
'I love playing in front of 60,000 most weeks, and even when we are away the fans are amazing. I've got no reason to leave.
'We're settled here. We've been here for two years now, and we're happy living in Glasgow.' 
There were stories that two players were carrying injuries, one is probably Nir Biton, the other, well, all we know is its a recurring injury and its one of our top men.
Time to sort out the training methods..
Dave king has given the BBC his response to the Takeover Panels decision to start procedures against him for real..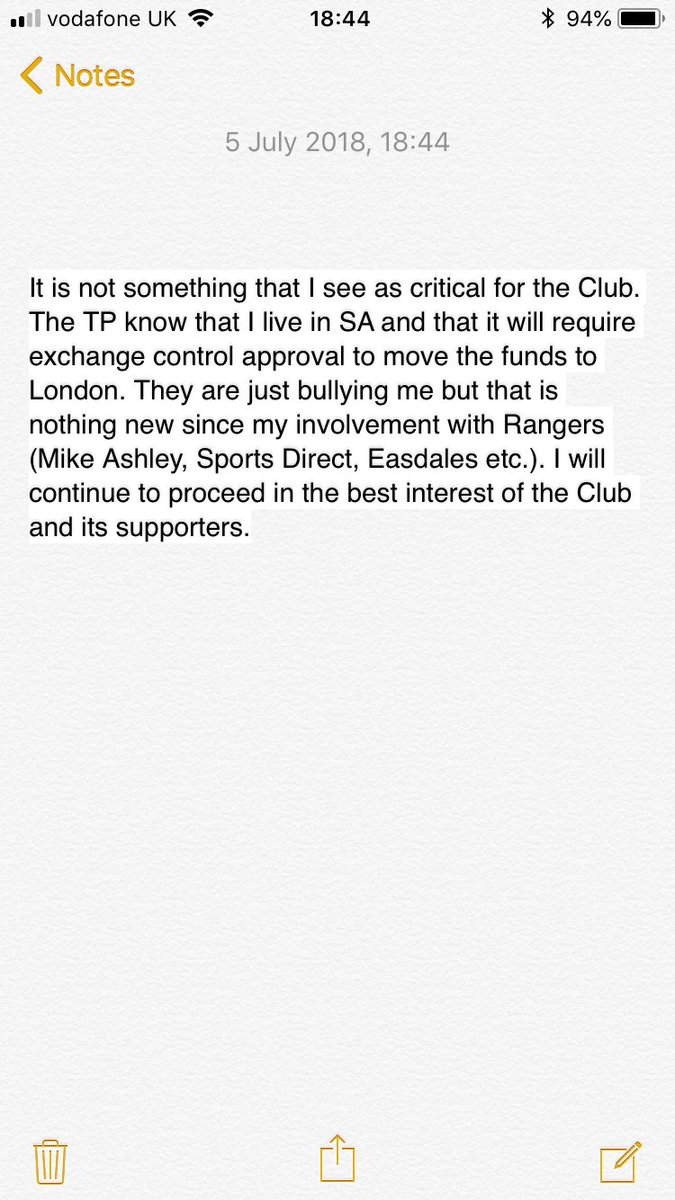 Harry Wilson won't be joining Celtic on loan, largely because he won't be guaranteed first team football here either.
Which should be no surprise. Maybe, as with  Jon Flanagan, we'll be told he turned us down and joined "rangers " instead.
Another film-or at least book-we've seen before..
He may have said "No, Thanks ",
And to him , we offer our thanks for doing so.
Friday, of course, means its time for the Etims
Knob of the Week 
And since I get to choose it, It won't be me, despite one or two on social media actively campaigning for me to be given some sort of lifetime achievement award.
This week, it has to go to our club, a sort of collective award, for allowing civil war to break out over a players future, seemingly without taking the players own well being into account.
All they had to do was clarify the situation.
And I promise thats finally my final word on it.
Still, Celtic  shouldn't be too despondent. If the compliance investigation reports next week and its another whitewash, they could do a another double…
Yesterdays caption competition..
Today…