Celtic Diary Monday May 28: Celts To Plunder Relegated Sides ?
Yesterday we mentioned an apparent interest in Stoke City midfielder Joe Allen, which can pretty much be discounted due to the transfer fee Stoke will demand, although the man who told me about Bojan wanting to come to Celtic hasn't said anything about this, so it might be true.
Remember, we only repeat what we hear, and sometimes we get it wrong. Actually, we never get it right or wrong, the people who tell us do.
If we are looking at Stoke City, we could do worse than try to rescue Shaqiri from oblivion, but again, although Stoke aren't by any means skint, they also want to recoup some of the money they have wasted over the last couple of years.
Another who is on the radar, if we actually have a radar, that is, is Swansea's Jordan Ayew.. (from the 4th Official site
The director of football at Ghanaian club Berekum Chelsea, Nana Oduro Sarfo said, "Jordan has had offers from several clubs after Swansea City's relegation last season. He will surely not play in the Championship with them. Liverpool have shown interest in him but Scottish side Celtic and their coach seem to be serious with their interest." 
I believe he may go to Scotland looking at how events are unfolding since they want to meet every demand. They speak English just like in England so he can express himself well in there and meet the expectations in the league." 
This story has been picked up by both the Daily Star and Talksport Radio, so its probably not worth spending any more time on, but the claims from the chap over in Ghana do lend it some weight.
An ex Celt who could be on the move again is the nomadic midfielder Liam Henderson.
According to the Daily Record, Italian side Parma, who have undergone a bit of a reboot, have offered around £1m for him, which is considerably more than Celtic sold him for.
Former Celtic midfielder Liam Henderson set for Serie A move as Parma eye £1m bid
The midfielder only moved to Bari in January but has impressed the fallen Italian giants and they want to sign him this summer. 
Parma are a new club, since the previous entity went under, and the Record beautifully skirted around that minor detail, just in case anyone drew comparisons with a club closer to home..
Parma have just secured an emotional return to Serie A – their first since the club was reformed as Parma 1913 when they were declared bankrupt three years ago. 
The point about this potential transfer , however, was made by David Wright, on This Is Futbol, where he seemed to blame Celtic for Scottish football being unable to sell itself..
It seems that Celtic, yet again, sold a player for a lot lower than he was actually worth. 
The last one, i think, was Kenny Dalglish, so its obviously an ongoing  concern.
Henderson was a title winner and a League Cup winner with Celtic and also won the Norwegian league title and cup with Rosenborg.
The left-footed midfielder was also part of the Hibernian team that won the Scottish Cup and given the fact that he has had such a decorated career at such a young age, the Bhoys really should have been demanding a higher fee for him.
Hopefully Rodgers had the sense to include some kind of sell-on clause in Henderson's move to Bari, which will at least offer a big of consolation to what is basically missing out on a decent fee.
If Celtic had got £1million for Henderson in January, it would really have helped the club to strengthen their defence by boosting their wage budget.
The Bhoys need to stop selling players for lower than they worth, this is why Scottish football is not taken seriously. 
And here's me thinking that the whiff of corruption surrounding the game was what was really putting people off.
Or the media's lack of desire to talk the game  up.
Or the fact that there's a club who are in liquidation that has been replaced by another which is somehow getting away with pretending its the same club.
But what do I know ?
I know that we shouldn't pay any attention to the papers if we can help it.
A couple of days apart, and yet another story is debunked by the ones who broke it…( Record )
May 26…
Steven Gerrard 'targets' James Collins to solidify Rangers backline
May 27..
Collins not on Rangers radar
That is presumably the same radar that doesn't register wealth.
There's going to be a lot of speculation about Celtic bringing in players, and when it doesn't happen, it will be another stone to throw at the club for our media, who can't wait to bring us down to the same level as "rangers ", who won't buy anyone of note.
We're being linked with players we have no intention of buying, and we will read that the club couldn;t afford them, or tempt them north in a bid to level out the image of our club with another one over the river.
Celtic have already decided who they want to keep, and who they want to bring in.
The key to what Brendan Rodgers is trying to do at the club is continuity, and unless a top player  moves on, there will not be any surprise marquee signings.
On the other hand, when the newest Glasgow side fails in its attempts to bring players north during its Summer of Stars, it will be blamed on our league, the money available to our clubs and not the fact that the Ibrox club is a dead man walking  looking for somewhere to lie down and die.
At Celtic we have a group of players who seem to have bonded and who want to go on and do well together.
For instance, much was made of an apparent lollygagger-Moussa Dembele- playing up front for us who is merely biding his time until he gets a big move away..
And yet, look at this picture, taken as the pre match huddle broke up before the cup final..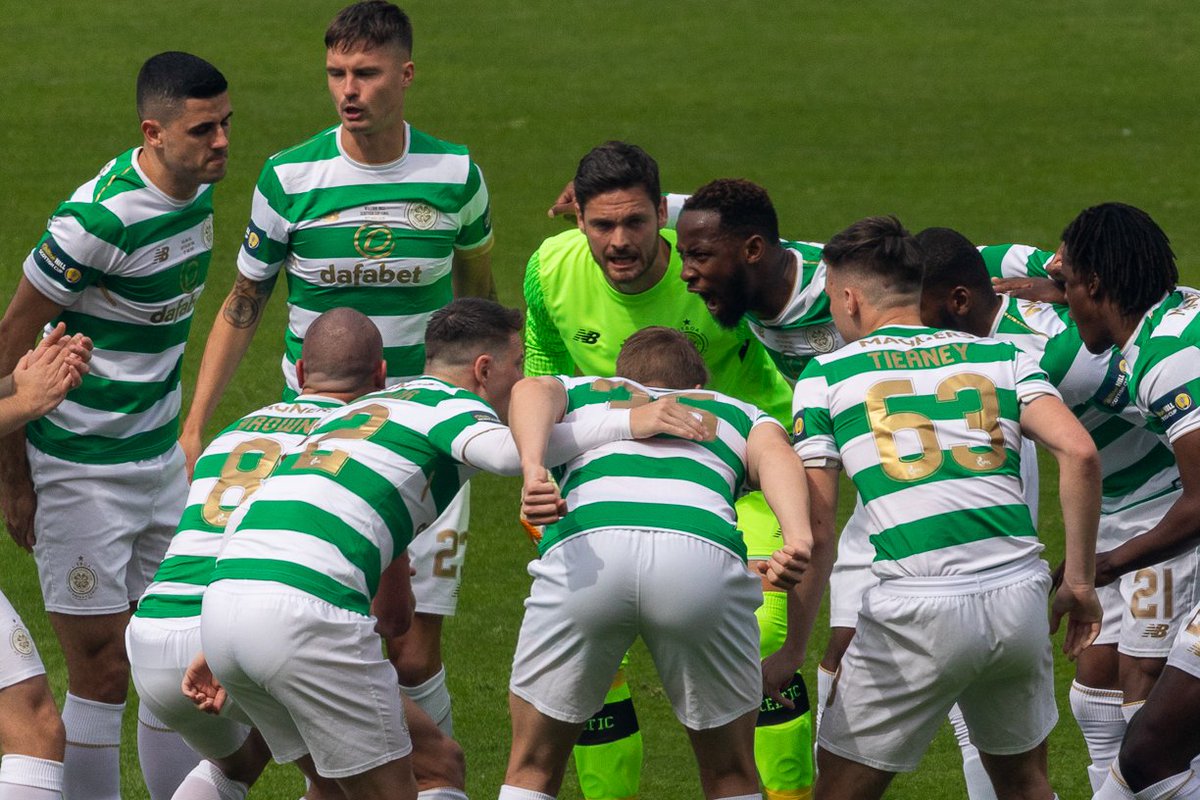 He seems rather keen to me..
The truth is that we have a group of players who even after two trebles are still hungry for more, and its a group that isn't going to be broken up any time soon.
One aspect of last season was the injury list. It seemed like everyone was taking a turn in the medical centre, although to be fair the decision to outsource nursing appointments may have been a factor..
The management is now concerned about the level of injuries and is looking in depth as to what the underlying causes are.
In short, they believe its a little more than referees being a little lenient with opposition players kicking ours.
All will no doubt be revealed soon..
Ach, lets lighten up…soon be summer..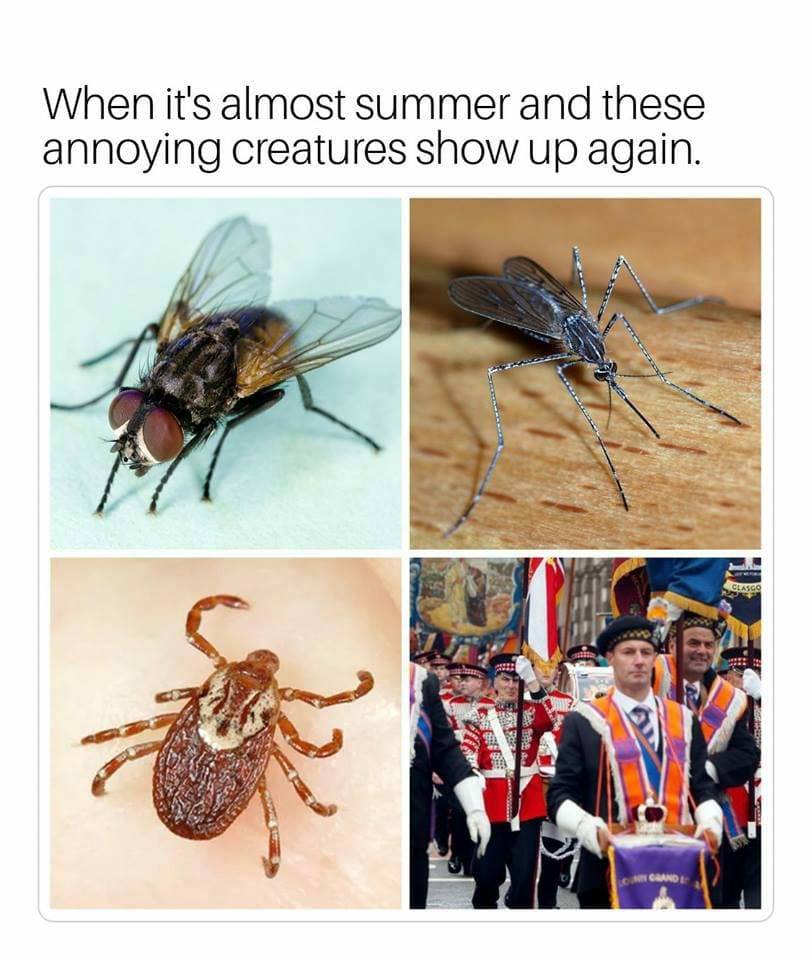 The Europa League starts for "rangers " and Hibernian on or around the 12th of July, which is usually a kind of carnival day for supporters of the former.
They might need cheering up, as the list of opponents for their European day out this year is quite frightening for them..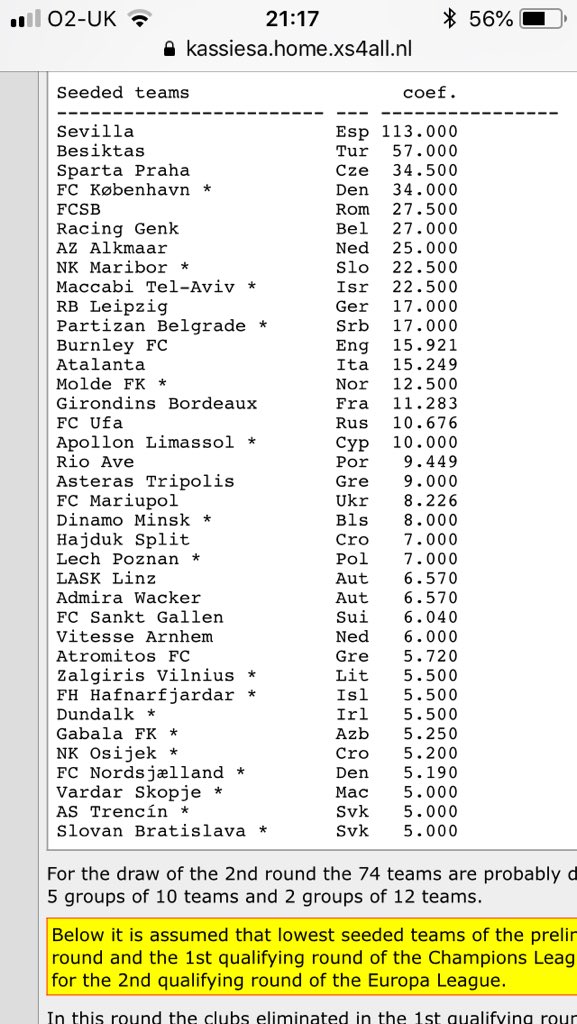 For Celtic, our entrance will be against any of the teams on the right, unless its regionalised, which it usually is, which narrows it down.
Seeded teams                   coef.              Unseeded teams                 coef.
------------------------ --- ----------------     ------------------------ --- ----------------
Ludogorets Razgrad       Bul  37.000              Shkendija Tetovo         Mac   3.500
Celtic                   Sco  31.000              Olimpija Ljubljana       Slo   2.900
APOEL Nicosia            Cyp  27.000              F91 Dudelange            Lux   3.500
Legia Warsaw             Pol  24.500              Spartak Trnava           Svk   3.500
FK Astana                Kaz  21.750              Valletta FC              Mlt   3.250
Garabag Agdam            Azb  20.500              Víkingur                 Far   3.000
Sheriff Tiraspol         Mol  14.750              Crusaders Belfast        Nir   3.000
Malmö FF                 Swe  14.000              FC Santa Coloma *p       And   2.750
Red Star Belgrade        Srb  10.750              Alashkert FC             Arm   2.500
Hapoel Beer-Sheva        Isr  10.000              Sutjeska Niksic          Mon   2.500
Rosenborg BK             Nor   9.000              Suduva Marijampole       Lit   2.000
HJK Helsinki             Fin   8.000              Cork City                Irl   1.750
The New Saints           Wal   5.000              Spartaks Jurmala         Lat   1.750
Videoton Fehérvár        Hun   4.250              Valur Reykjavik          Isl   1.650
FK Kukësi                Alb   4.250              Flora Tallinn            Est   1.250
Zrinjski Mostar          Bos   3.750              Torpedo Kutaisi          Geo   1.000  



For the draw of the 1st round the 34 teams are divided into 1 group of 10 teams and 2 groups of 12 teams.
The draw for the 2nd qualifying round is made before the results of the preliminary round and the 1st qualifying round are known. Clubs of the preliminary round and the 1st qualifying round are seeded by the highest ranking of the clubs involved.
It all has a sort of sameness about it, but there's little doubt we'll have put our emotions through the wringer again before the summer's out.
For those of you asking about the dear wife and how she's doing after her operation, i'd like to offer thanks. As you can see from the text below, she's recovering some of her charm and good nature..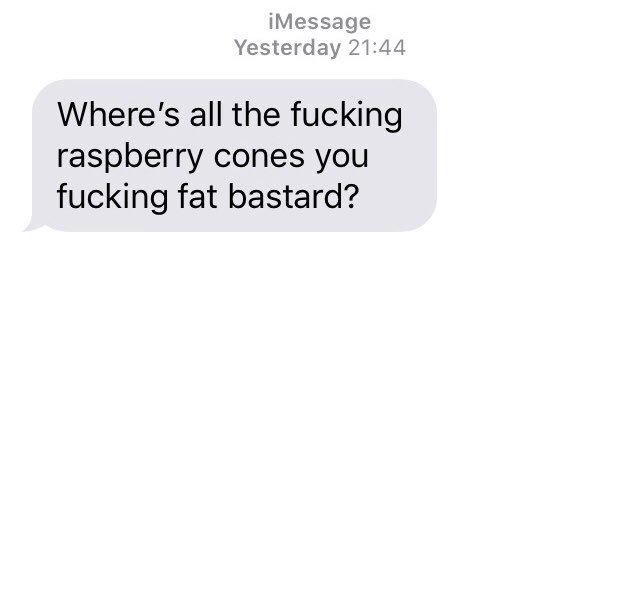 Yesterday, we showed you this..