Celtic Diary Tuesday May 15: All Sorts Of Nonsense
Kristoffer Ajer has signed a four year deal with Celtic, disappointing the likes of Borussia Dortmund who had had their eye on him.
Signed by Ronny Deila and farmed out to Kilmarnock, presumably as a punishment for something, the lad has come on in leaps and bounds, and may well be the mainstay of the Celtic central defence for a while yet.
He's even made Dedryck Boyata feel a little more comfortable, and Mikael Lustig has noticed a drop in cries for his retirement from the stands, and as he's the only player in our side prepared to run directly with the ball at the opposition, the decision to sign him up has to be applauded.
Ajer said;
It was never in doubt," 
"When you play for Celtic and perform in such a good team there will always be interest but for me it will always be about Celtic and when that opportunity came up I wasn't in any doubt.
"To be fair I have never been interested in hearing about any of the interest levels. I was just 100% focussed on Celtic and when this opportunity came up to renew my contract I was really happy with that because there is not a better club for me to be at right now.
"The last year has gone quicker than I expected but I have always been training had and receiving a lot of help from the gaffer and the rest of the squad. They have believed in me as they do all their players and that makes it easier for a young guy coming to a massive club like this." 
The word on the street is that he's Kolo Toure's project, and it has to be said its going well.
With Scott Bain also secured, you might be surprised to learn that another goalkeeper is on the radar, young Conor O'Malley of Peterborough..
O'Malley began his career with his local club Westport United in their youth team. He played for Mervue United's under 19 side for the 2011–12 season, making 2 appearances for the first team in the League of Ireland First Division. He played for Salthill Devon's under 19's for the 2012–13 season before returning to Mervue's first team, playing 8 games in the 2013 season.[2]
In January 2014 O'Malley joined Shamrock Rovers' B team, he played 15 times for them and also made the bench for the First Team 3 times. As a result, after another year he joined St Patrick's Athletic ahead of the 2015 season. He won the 2015 League of Ireland Cup for the club, by saving 2 penalties against Galway United in the final.[3] He played in the 2016 League of Ireland Cup Final also, as Pat's won 4–1 against Limerick to retain the title.[4] In his 48 games for them he gained a reputation attracting the likes of Leeds United, Peterborough United and Rangers.[5]
On 7 August 2017, O'Malley joined his old Pat's teammate Chris Forrester at League 1 side Peterborough United for an undisclosed fee expected to be in the region of €100,000. He made his debut in a 2-0 victory against Southampton Under-21s in the EFL Trophy. 
When he joined Peterborough, manager Grant McCann said..
He is a down to earth lad, he is 6ft 3, is brave, will come for crosses and really good with his feet and he will keep Jonathan (Bond) and Josh (Tibbetts) on their toes.
I want to make sure we have three keepers fighting for two places. Conor knows Chris Forrester very well. Chris has talked to me about him, I have a lot of contacts in Ireland and I have spoken to three or four managers in the Irish Premier League and they all tell me he is the top young keeper out there.
"I am delighted to have him on board, without me sounding like a broken record and saying loads of clubs were after him, it is the truth, there were Championship clubs in for him and I am really pleased he has decided to join us and look forward to working with him,"  
Its the good with his feet bit that caught my eye…
Any other tittle tattle you hear will be just that. As usual, the media won't know about any incoming until its done. The key is to watch the local papers such as the Peterborough Telegraph, who cannot be controlled as much by the Celtic management.
And we just make stuff up. Apart from when we don't.
We just keep our eyes open..
Various reports say that Zvezda winger Luka Adžić, whose contract is up next January, has declined an offer of a new deal. He was allegedly wanted by #CelticFC a few months ago. It would be a shame to lose such a talented youngster at this stage… #FKC
We haven't made the stuff about a european final in the offing, well, not all of it at least, and the mystery further deepened when one of ours tried to log into the wifi at the ground on Sunday..
Back at the ranch, and the players are currently enjoying a bit of time off ahead of some intense hard work ahead of the Cup final.
As most of them haven't had a break since the Tenerife trip last week, so they may be suffering from over work after an hour and a half shift at the weekeND.
There is a worry, certainly for me, that these breaks have upset the momentum of the squad, momentum in the loosest possible meaning of the word, and there's a danger that the players will treat the Final with the same half arsed attitude that they have treated most league games.
From where i was sitting on Sunday, there was an awful lot of hesitancy and uncertainty among the front players, as though fear of making a mistake was overriding any instinct to try something new.
Forget the system, thats not the problem.
Its the players.
They need a kick up the arse.
Rodgers has changed things around on several occasions this season, even going with two up front on occasion, but it hasn;t really worked, and it puts me in mind of what Ronny Deila said to me a few years ago, about how he would teach the players another system when they had mastered this one.
Slow learners, perhaps ?
Maybe, but that hesitancy on Sunday has been evident throughout the season, its just that this time I was close enough to see it in their faces.
If I were to adopt a phrase that pays for the players at Hampden it would just be simply
"Gauny Dae Sumthin "
Perhaps the idea is to lull Motherwell into a false sense of security, and then blitz them in the way " rangers " were torn apart early on at Celtic Park a couple of weeks ago.
One worry that needs to be aired before the game is the threat to life for Scott Brown, who has been the victim of some tackles that should have put the perpetrator in front of a judge.
And one of the most enthusiastic players in Scotland will be playing for Motherwell, and they have history between them.
One of our summer signings has to be a big lump of a lad who can be brought on purely just to knock fuck out of anyone who kicks any of ours.
If he can play a bit thats a bonus, but there is little protection from referees these days, and Brown is going to end up on the treatment table sooner rather than later of things are allowed to carry on.
And at his age that could be career defining, if not actually career ending.
Former Celt Mark Wilson , speaking in the Evening times, finally said something I agree with..
I thought the tackle on him on Sunday was a shocker," 
"One or two of those challenges and I'd have thought it was a coincidence but they are now tallying up and you see how bad they are.
"The one at Celtic Park from Andrew Davies was an absolute shocker, Naismith the other week was an absolute shocker and Cosgrove at Aberdeen was a shocker.
"And Graeme Shinnie's here was a bad one. I think Broony has had problems with his ankles. People say it was a nothing game for Celtic but that could have put him out of the cup final.
"I don't know if it's people just want to try to get near him because he's been on such a high level, no midfielder has really touched him this season. The young boy at Hearts, Harry Cochrane, had a good game against him at Tynecastle but apart from that no-one has really touched him.
"I don't know if it's just frustration in other players thinking if I can't get near him in a football sense I'm going to try to leave something a mark on him. 
But I thought the one on Sunday was a bit naughty, going into the last ten minutes of the game but Scott takes it well."
Which reminds me…
Celtic's Scott Brown left with cut to head after smacking himself with massive league trophy
Get someone else to pick up the Scottish Cup…he'll probably fall down the steps or something.
Meanwhile , over on the other side of the city…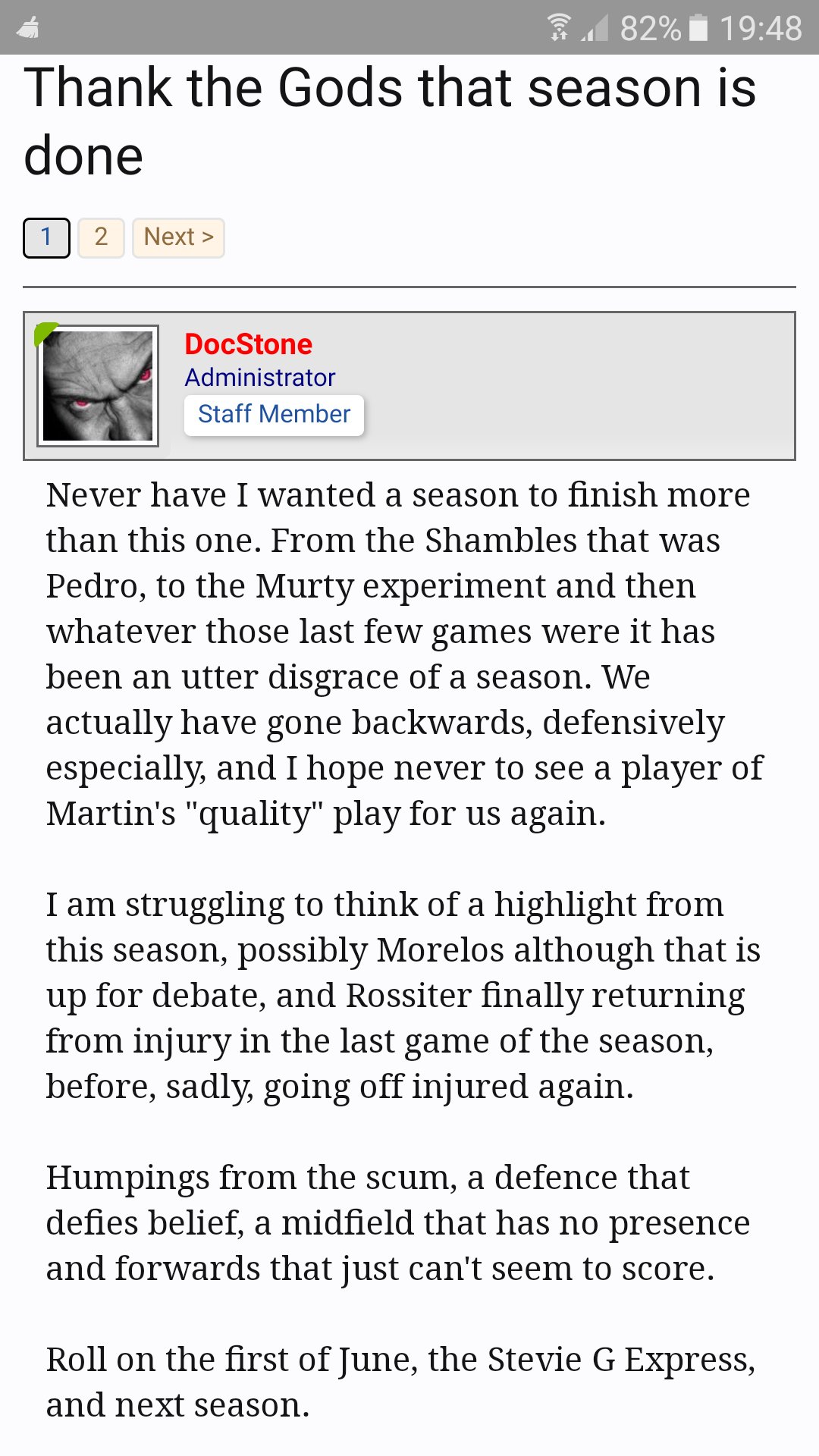 But they're still the people, and hot on the heels of the signing of Canada legend Scott Arfield, the next big story will be how Steven Gerrard has used his influence to bring in a couple of duds from his Liverpool youth side, who had been interesting Celtic..
Well, they probably arent duds, its just that under Gerrard for the youths they kind of looked as though they were.
I'm sure they will all see a continuation of his influence as a positive thing in their careers.
These loans don' t always work out, as Celtic discovered with Charley musonda, and there was a clu on facebook as to why it didn't.
His girlfriend posted..
The problem with kids from the EPL is that they feel they have already made the grade, and usually have all the trappings to show it.
Whereas the French chaps we have on board must be a delight to work with…
Effectively, the new management at Ibrox are about to make mistakes that Rodgers certainly won't be repeating.
Which should keep us chuckling at least until autumn.
Gerrard has been asked if there's any chance of bringing Mo Salah, the Egyptian scoring sensation from Anfield to Ibrox, not becuase he's good at scoring goals, but because of the high level of stupidity amongst the Ibrox support , which means they will think the back of his shirt says No Salad, which is sure to shift tops when they go on sale.
Meanwhile, there's something else we should have seen, and its taken a young lady on twitter to point it out to us.
Neil Lennon was rather exuberant at the end of his sides 5-5 draw with "rangers " at Ibrox. He had a wee run round the pitch, arms outstretched a la Henrik Larsson to double the effect on the hordes, who typically reacted as thougb they'd been sprayed with holy water.
Lennon pointed out that he'd been the victim of sectarian abuse, which is the norm for him when he goes to Ibrox, and sadly the media have come to accept it as the norm as well.
But if you thought the media were distasteful in their coverage of what is actually a hate crime, and could well get the place closed down-it would if it was anywhere else, maybe singing about any other minority- then take a look at this, presumably written in 1690..
You take it personally because you are a Celtic fan and you cannot separate your feelings from being a manager with another team other than Celtic when playing Rangers. The sectarianism has got worse since you came to Scotland and I personally feel you instigate it a lot.
Perhaps we'll see a new law -wouldn't be a surprise with Scotland's form when it comes to making laws- where catholics or Irish are not allowed to be catholics or Irish in a public place.
Ginger hair could be forcibly dyed and crucifixes confiscated, perhaps melted down to make the very bars for the prisons of these criminals…
Would that please the peepil ?
Fuck. I shouldn't put ideas into their heads, which coincidentally have an awful lot of room for them.
On Cup final day, thankfully they will be pre-occupied with another royal wedding, this one to distract from the Brexit shambles, and its all going wrong for the happy couple to be.
Meghans dad won't be there, which means that neither male parent will be at their childs wedding, which is surely a first even for that dysfunctional lot.
Phil the Greek will struggle to get there due to illness, and auld Betty is trying desperately to at least find a pub in Windsor showing the cup final, as she forgot to sign up for the home cup ticket scheme.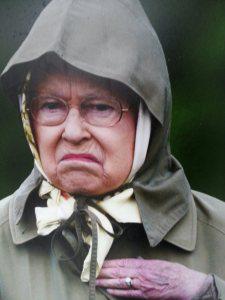 Now in her nineties, she's genuinely worried she won't be around for ten in a row, especially as all the newspapers have her obituary ready to print, and we hear she's exteemely pissed off with Harry, who she affectionately describes as "not even one of fucking us " for booking his wedding on the very day she was desperate to see back to back trebles.
Something you perhaps didn't know is that her portrait in the ibrox dressing rooms actually contains a couple of cameras to allow the opposition to watch the team talks that take place there.
We asked the men charged with observing the footage what they thought..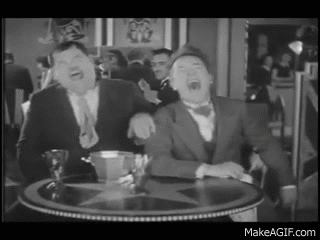 Yesterday, we showed this picture…
He's about to sing this wonderful lament …