We're almost there now.
A fifth consecutive domestic trophy could be in the bag-we're gonna need a bigger bag soon- by mid afternoon tomorrow after the visit to Easter road and the game against Hibernian.
You'd think the manager would be happy about that.
Well, he is.
"There is still a lot of work for me to do, to achieve, on the pitch and off the pitch,"
"But you can only do that if you are happy and for me I couldn't be happier at this club. The support I get from the board, it is all very aligned, very clear and that allows me to work in confidence.
"And that gives the stability to the team and for the staff and everyone, we can all move forward.
"I am looking to the next step and already we are thinking how we can improve for next season." 
So far , so good ?
"I couldn't have wished for it to have gone any better," 
"You always hope you come into a club and make an impact. 
"What is important for us that we could start quickly but that is all down to the players and their ability to learn and take on board and they have been absolutely fantastic.
"I talk to them about this ferocious intent to keep developing and I see that every day so they can then take it on to the field. It has been a joy to see that and we want to continue with that." 
Job satisfaction is something that most of us may never have, some of us have it for a while and some of us are always looking at the greener grass elsewhere.
Rodgers looks like he's happy. He sounds like he's happy, and no matter who knocks on his door it will take a lot to get him to leave.
And the title ?
"I am a Celtic fan but I don't want to wait. I want to win it on Saturday.
"If we can do it, great. It will be a tough game for us, probably the most difficult place we could go to win the title but if it doesn't happen it is OK.
"We go to the next game and if not the next game. The most important thing is to win and we want to do it as soon as we can." 
Rock stars, authors, film makers and others talk about the difficulty of repeating an initial success. The second album is often a collection of songs that weren;t good enough for the first album, with a few new tracks flung in.
A second book is often the one publishers rejected earlier when the author was unkmown, and a second film usually just the same story with more expensive special effects, and possibly a big name on the billboard.
All of the above are done to cash in on the initial success, and its very rare that the second offering is better than the first, or even as good.
In football, to repeat an achievement such as the Invincible season is impossible.
Every week, sometimes twice a week, another team gets their cup final, their chance to make themselves headliners for a day.
Should Celtic secure a second treble, a sixth consecutive trophy, then this seasons feat will surpass last seasons.
Other teams and other coaches get wise, and set up differently , perhaps even with more enthusiasm when they play against what will be remembered as a legendary Celtic side, and the players may at times have struggled with this, or their own comedown after last season, but here's the rub, as they say.
We are just two wins away from a second treble.
So what if this season hasn't been another unbeaten one ? The trophies are what counts, thats what we will remember, and thats what the history books will record.
The other teams gave it their best, and they have improved, certainly in how they play against Celtic, and its worth considering that had the hoops gone unbeaten again, the critics from elsewhere-and in the SMSM- would have been telling us it didn't count, due to a lack of opposition.
Now all they can tell us is that Celtic found it difficult, Celtic were lethargic, the team is going backwards.
It may have felt like that at the time as we watched a couple of tricky games, but looking back, it wasn't so bad.
The players faced a different set of problems this year, and as a squad, they look to have coped.
To come through it with three more trophies shows they have the desire and character needed to move on to the next level.
Where we you when history was made ?
Right here.
Enjoy it.
Elsewhere, and there has been criticism from a few quarters about the Diary for perhaps overdoing the content from "rangers ".
First of all, can i clarify something..
Rangers are the club who are in liquidation. "rangers ", as mentioned this week, are the new lot, who pretend they are Rangers, and are indicated by the quotation marks, to indicate the difference.
I'm not concerned what they call themselves, but the parenthesis is to indicate the susprise that they are allowed to call themselves "rangers ", when Rangers is a defunct brand and customers may be fooled into thinking the product they are buying is the original one, when of course, it isn't.
Annd secondly, one of the rules of the Diary is that if it makes me laugh, the odds are it will make you laugh, and nothing makes me laugh more than the sound of bears howling at the moon.
Or their poodles in the media angrily polishing yet another turd deposited on their desk by the fat controller and his media company.
Even as we speak, old tubby Tum tum at Level 5 is working on a way to market the season books, which considering the response of the hordes to the tragi-comedy being played out this week over there, is proving to be a little trickier than usual.
We hear, from a drunk fellow who tends to drink rather a lot, that the big news is that King is going to invest £30 million-but only if the fans match it, through sales of season books, merchandising , and the various peoples fronts of Judea that have sprung up.
And know what, the media will help to sell it, and we'll hear of this sleeping giant awakening, but only if their fans are gullible enough to fall for it again.
And guess what ?
We all know the answer to that one.
We did try to get an interview with Lee Wallace on his way to work yesterday, but he was too quick for us..
Thats because we know who-or we think we know who-their new shirt sponsor will be..
Energize ?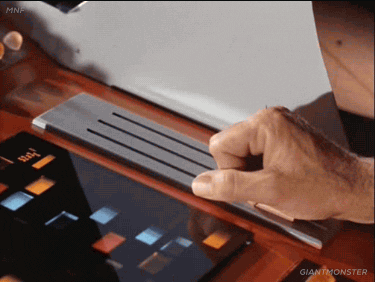 Isn't that what Captain Kirk used to say before he disappeared into thin air, and re-emerged as the same Captian Kirk somewhere else ?
It all makes sense now…
Although Alastair Johnston doesn't, with his warbling interview about how "rangers " are ahead of the curve…
Never mind, there's still hope..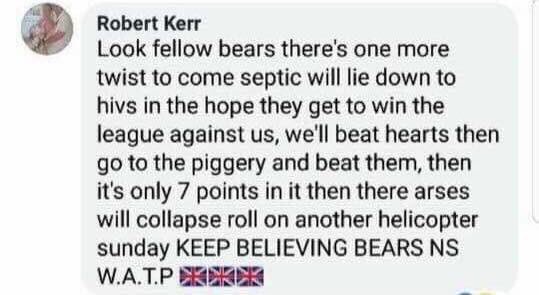 WATP, it stands for We Are Truly Stupid. ( And bad at spelling )
Away from them, and instead of Knob of the Week, we're doing something a little different today.
Its the one off Etims
Goodguys Of The Century 
For all their hard work, these guys deserve a medal, and yesterday, they announced that they had won…
We have just received news that Royal Assent was given today and the Offensive Behaviour at Football and Threatening Communications Act (Scotland) 2012 will be removed from Scots law at midnight tonight. Our deepest and heartfelt thanks to James Kelly MSP and his team and to every single person who supported the campaign and took action to defend yourself and your fellow fans. We hope this is a lesson to governments in the future not to underestimate the power and ingenuity of the football community. We did it!
To all of them…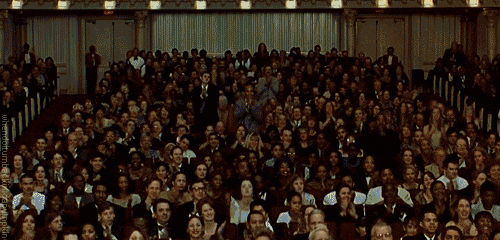 Yesterdays picture..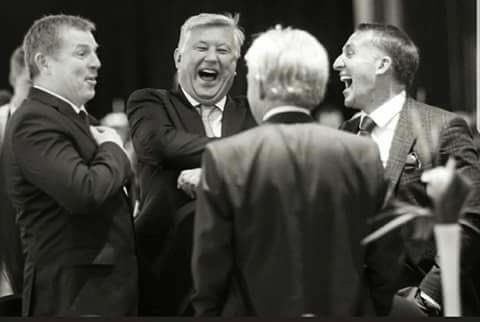 Today…
There was something else I noticed on twitter, something that reminded me who we are, and what we are.
And also why we should never forget to fight back, however and wherever we can, against any form of oppression.
The Benaa Youth Team in the Gaza Strip say thank you to Celtic fans for their continued solidarity with the Palestinian people. The team reached the semi-final of a local tournament before the Israeli army fired rounds of tear gas causing it to be abandoned. #Palestine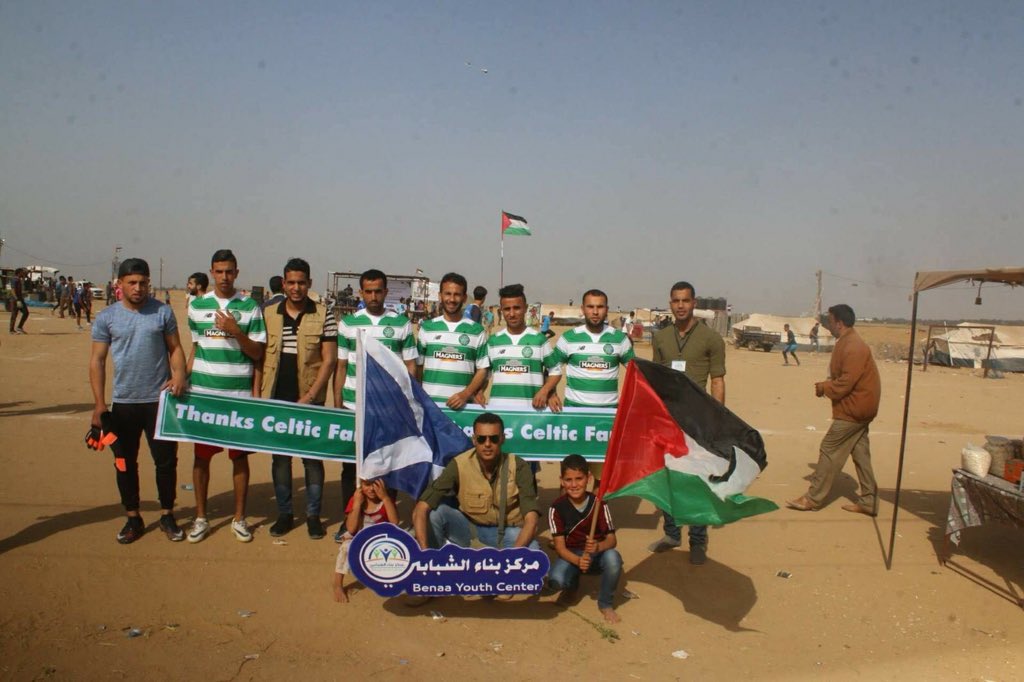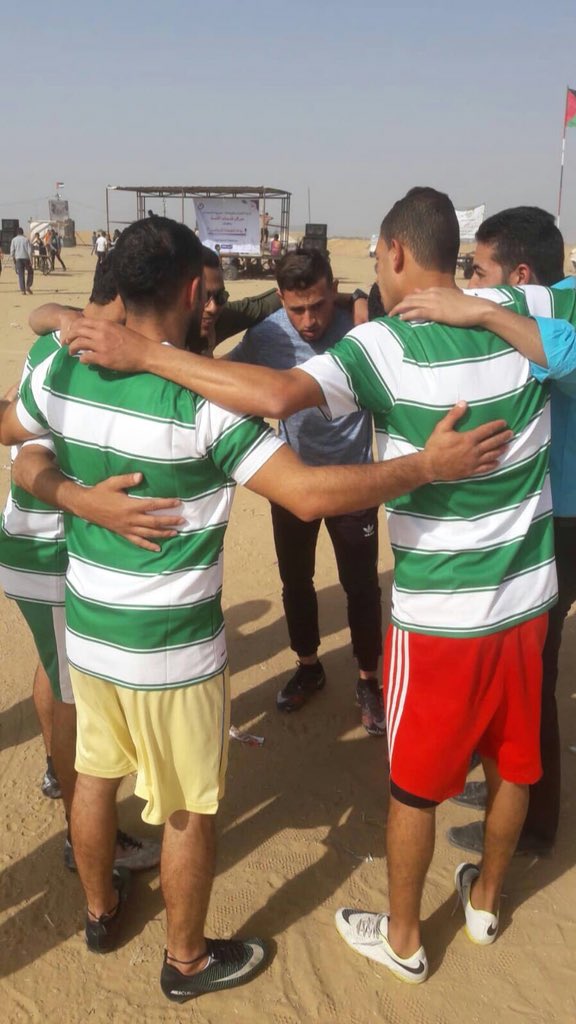 Just a thought, ahead of the Scottish cup final, can someone reassure me that Police Scotland don't use tear gas..