Celtic Diary Tuesday April 17: Complacency Fear As Ibrox Implodes
It looks as though chaos reigns over at Ibrox in the aftermath of their Cup exit at the hands of Celtic.
Andy Andy Halliday, who had a bit if a tantrum after he was hauled off shortly before half time, came in for a bit of stick from Chris Sutton, who knows a thing or two about throwing tantrums and sulks, byt thats  to get himself sent off..
"He was screaming at the bench – blaming everyone else but himself and that sums up the Rangers players' mentality.
"What kind of ship are Rangers running? Halliday was discarded by the previous manager and brought back in by Murty but was absolutely hopeless against Celtic yesterday.
"So what right does he have to act like that? The Rangers players are out of control. Kris Commons did something similar with Ronny Deila in Molde but the difference is he could actually play and back it up. 
Halliday has done nothing and should have been ashamed of his performance. I'm not saying Murty got it right but the 26-year-old should have kept his head down in that situation." 
I'm not sure I agree with his excusing of Kris commons "because he could play a bit " but he does have a point in there somewhere.
And that point is that this incarnation of "rangers " is about to collapse.
And thats without any financial complications taken into consideration.
They were fighting in the stands, fighting in the tunnel and figthing in the dressing room. It didn;t occur to any of them to do any fighting on the pitch, or at the very least show a little passion out there, and thats why they were so soundly beaten.
And they've got it all to look forward to again in just under a fortnight.
They may have to do it without manager Graeme Murty, at east according to Ibrox Noise, which claims to have heard a story.
I personally treat these websites who claim to have heard something with a little pinch of salt, as I prefer the ones that just make stuff up, like we do.
However, its worth considering this one, especially as Dave King recently more or less told the world Murty was going at the end of the season, and you could make a case for the fact their season has already finished…
"Claims vary between him being completely axed at the club, to being restored to the youth setup, but the ugly performance, result and off-pitch aftermath of the Murty era are leading to allegations the 43-year old has finally run his race in Govan.
"The disaster that was yesterday's Old Firm nightmare for Rangers has put Murty under an even bigger microscope than he already was, and with speculation being rife over the past month or two around the likes of Clarke, Robinson, De Boer, Jack, Keizer et al taking over, it does seem a matter of time before Murty leaves the post.
"We all knew it was only till season's end anyway, but in a case of damage limitation the board are alleged to have decided to take action and dealt with it now.
"We cannot corroborate these claims as yet but we'll keep you posted." 
The supporters , though , have made their mind up, and already begun protesting..
Thats Auchenhowie, the training ground, and this is a supporter placing a padlock around the gates.
In the dark, when there is nobody there.
Another bemoaned, well, everything…
And then, this morning, the chaos continued..
LAST STRAW
Rangers set to sack Kenny Miller and suspend Lee Wallace after Hampden bust-up with Graeme Murty following 4-0 loss to Celtic
SunSport can reveal that Miller's Ibrox career is OVER following a major changing-room rammy while skipper Wallace also seems certain to have played his last game for the club 
Well, until Miller replaces Murty, that is.
Forget all this talk of anyone else coming in, although there is a story circulating they have asked Derek McInnes to take over, again, and he's told them no, again.
Although there could be a chance for Jimmy Nicholl to step up to the plate, though frankly even he might not want the gig.
A high-ranking Gers source told SunSport: "The Ibrox hierarchy are raging with the behaviour of the club's most senior player and club captain after Sunday's defeat.
"The powers-that-be believe the manager has been undermined and have decided to take action.
"They don't think what happened in the dressing room is acceptable." 
No dignity, you see..
One supporter showed dignity, and dammit, he may have seen through the masterplan in place over there..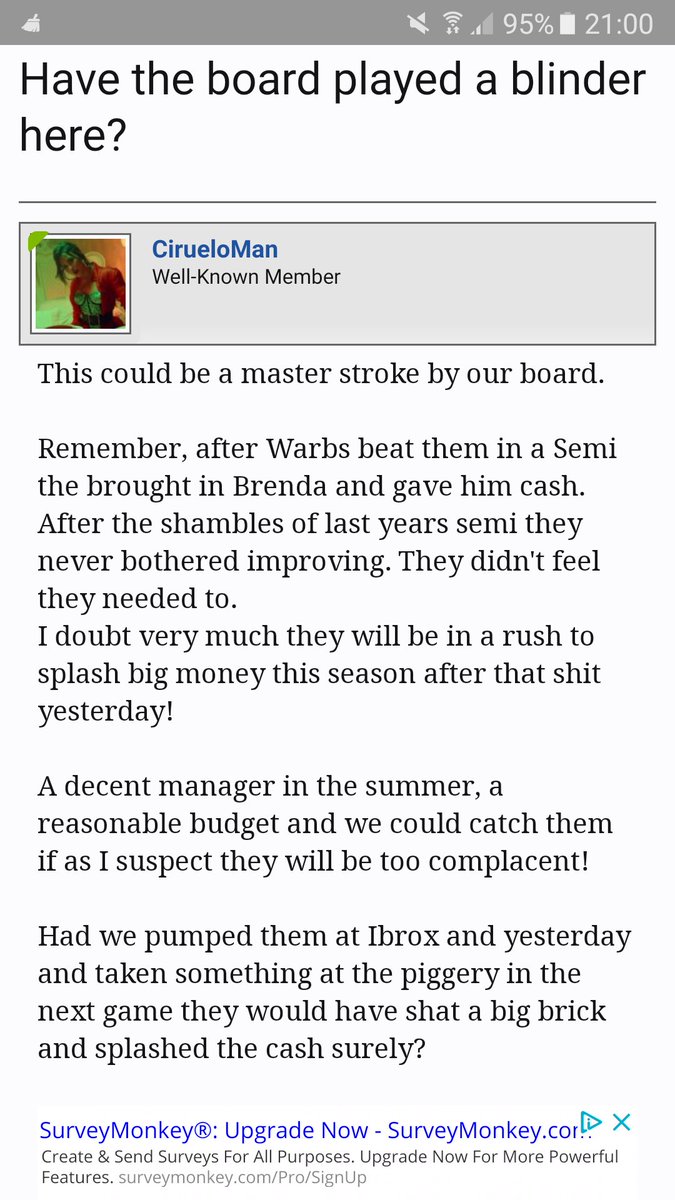 Well, at least we can say that this isn't his scarf..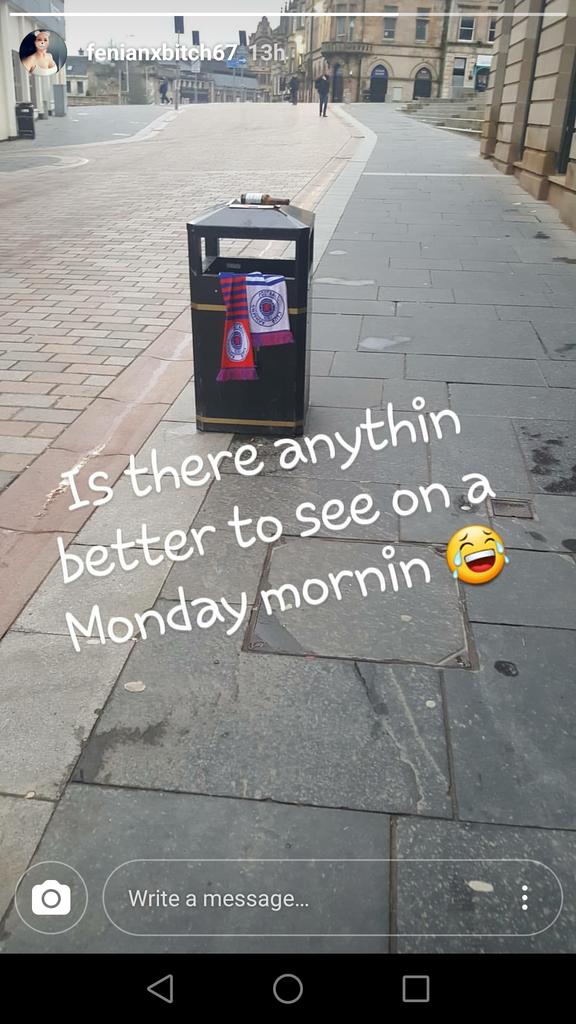 Still, as chaos reigns over at Ibrox, the media had to do their bit for balance..
BAD NEWS EMERGES FOR CELTIC DESPITE RESOUNDING THRASHING OF RANGERS
According to the Times, Manchester United scouts were in attendance at the Scotland national stadium to watch the two Old Firm foes go at it again, whilst keeping an eye on Kieran Tierney. The left-back, who has already played over 50 matches this season for the Bhoys, has continued to impress and the Red Devils are one of the latest teams to go and watch how he plays. 
Rod Stewart was there as well, and the word is he wants Mikael Lustig to play rhythm guitar in his back up band.
As for Tierney, he was pretty clear about his intentions the other day..
"I'm not thinking about anyone other than Celtic just now,"
"I'm enjoying my career here; I've just signed a six-year deal, so if that doesn't say long-term, I don't know what does."
TheTimes begged to differ..
Kieran Tierney committed but Celtic may be powerless to stop move to England
I'm a freelance journalist and former professional footballer based in Nottingham.
I write for The Times, including a column visiting a different club outside the Premier League each week, ESPN, The Football League Paper, and my work has been published by the The Independent, Daily Mail, and Sky Sports.
I'm also a contributor to various broadcasters, including the BBC, TalkSPORT and Sky Sports.
My 15-year football career began at Nottingham Forest, where I spent five years, before moving on to Rotherham United, Chesterfield, Crewe Alexandra, Northampton Town and Grimsby Town. I retired in 2016 after more than 350 professional games and 15 appearances for Scotland under-21s.
In June 2015 I graduated with a first-class BA honours degree in Professional Sports Writing and Broadcasting from Staffordshire University. I'm also a Uefa B licensed coach.
The headline is deceiving, as nowhere in the text does Robertson make that claim, in fact, he says the opposite, and praises Tierney
It is the perennial question: how can you judge Scotland's brightest talent against lesser opposition? Though it was widely felt, north of the border, that Virgil van Dijk and Victor Wanyama were good enough to play for one of England's best — and so it has proved — Southampton were the only club willing to make a move for the pair during their Celtic days.
Brendan Rodgers, however, believes Tierney is different, and puts the young tyro on a par with fellow left backs Danny Rose and Ryan Bertrand, players the Celtic manager has worked with previously. "This is a young player who can play in the top four of the Premier League, if that's where he wanted to go," Rodgers said.
What is clear is that Tierney possesses the required levels of professionalism, determination, application and character to play on any stage. 
but adds..
….strange as it may sound, José Mourinho, or any other potential suitor, may have their work cut out in convincing Tierney to depart just yet. 
Juventus, by the way, are another recent " suitor ".
Ah well, we'd be gutted if nobody at least tried to sign him.
Though more gutted if he went anywhere.
Same with this guy, who has also expressed a desire to stay at Celtic, despite never quite being the managers favourite.
"When we bring our A game, nobody in Scotland can touch us. You saw that on Sunday. That was a game that they cheered for.
"Their manager said that, but you should be careful what you wish for in case it comes back to bite you on the arse.
"You always want to beat your rivals and, from start to finish, we dominated the game in every aspect. I could have had a goal myself near the end if Kieran had spotted me, but he was trying to pick out Scott Sinclair instead. It was 4-0 going on five or six." 
Calum MacGregor, who was excellent again on Sunday, spoke about the attitude in the side after the "rangers " players had cheered drawing Celtic..
"We were excellent," 
"To win 4-0 in a semi-final makes us well deserved winners.
"They cheered the draw, they fancied it, but you have got to show up in the big games and we did that.
"The draw is made and you think, ok be respectful. Everyone is excited, it is a big derby but it is disrespectful and that annoyed the players. We were really here to prove a point. You can't do that. You can't cheer the draw and we turned up on the big stage and beat them." 
For Celtic, there's still a league and a cup to win.
That seems to have been forgotten in the general mirth after the game.
The first chance to win the league is on Saturday up at Easter road.
Maybe time now to put Sunday behind us and switch back on…
As for the Cup, motherwell played with drive and passion to overcome Aberdeen quite convincgly, and they will be more than ready for the final.
Celtic need to keep their own drive and enthusiasm high, because its always harder to switch it back on when you've turned it off.
Yesterdays picture..