Celtic Diary Friday April 13: Celts Play Down Semi Final
Todays Diary was originally going to start with a look at the dilemma facing Tony MacGlennan, the SFA compliance officer, as he figures out who to blame for the granting of a licence to Rangers, back when they were Rangers.
But boy did I ramble on, so thats now a separate piece online at noon today, and even if i do say so myself, its worth a look.
And the conclusion actually worked itself out as I was writing it, which helped, and if i'm hnest it had never occured to me before, so its a new take on an old theme.
Anyhoo, lets see whats happening back at the ranch ahead of the Cup semi final.
Whats on the managers mind ?
"The history is not weighing on us.
"We just have to do our job. We set our targets and goals and one of them is to win the league. The Scottish Cup is another.
"We wanted to not just defend the trophy, but to win it again.
"That doesn't cloud our thinking, though. We still come in and enjoy our work. I tend not to think about the other stuff too much.
"If you do, and got wrapped up in the whole history or the expectation, then you put yourself in a pressure trap. You don't need that. There's enough pressure in football.
"I am here to win, but I am here to get the team playing well enough to win and, hopefully, that will continue in all of the games until the end of the season."
Oh.
Right, what about the captain, then ?
Scott Brown Retweeted Celtic TV
These jeans




Scott Brown added,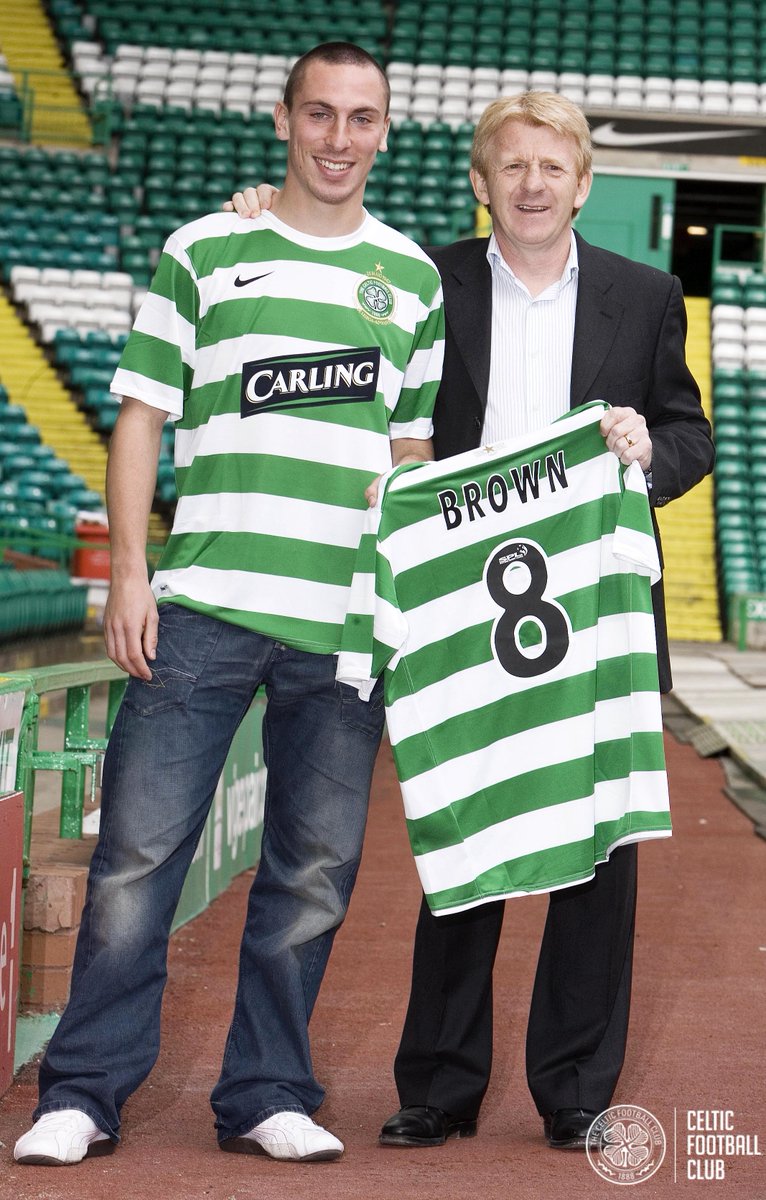 Bloody hell.
What about the experts ?
And what about Charlie Nicholas, what does he think ?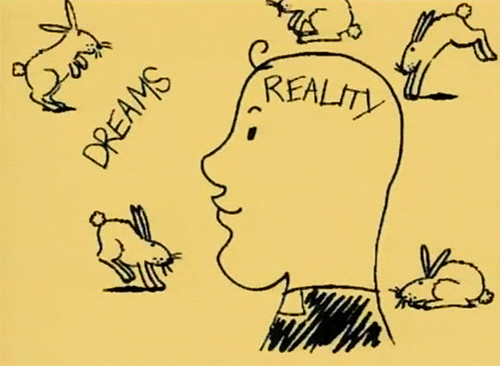 No, about the game.
"People are suggesting that Griffiths might play. That might be the big issue. If I'm picking the team, then Moussa Dembele and [Odsonne] Edouard up front, if he's fit, would be the partnership for me. Rangers still have the same weaknesses at the back." 
Charlie isn't picking the team, which is a relief.
Clearly, Celtic are focused on the game.
Theres going to be little comment from Lennoxtown, and there's not going to be any Celtic cheerleading in the media, and in fact, one could almost argue that the SMSM have got their excuses lined up for a "rangers " defeat.
Well, sort of.
Celtic WERE lucky against Rangers and Ibrox side are due a rub of the green – Barry Ferguson
The former Gers captain stands by his opinion that Rangers were the better team and the gods were smiling on 10-man Hoops as they ran out 3-2 winners at Ibrox
In fact, not only do I stick by every word but I'll go one step further and say I hope he used up all his good fortune that day at Ibrox because it's about time my old club catch a break or two when the two sides come together again at Hampden in Sunday's Scottish Cup semi.
I'm not trying to rile anyone up here or cause controversy. I'm merely giving my opinion.
And, as far as I'm concerned, Rangers were the better team even though they lost the last Old Firm game 3-2. 
Against ten men. At home.
Also, I feel I'm as well qualified as anyone to talk about this particular fixture as I've played in enough of them down the years. 
Er, none , actually.
And I'm telling you now, luck plays a massive part in almost every single one of them. 
Though not as much of a part as in Ferguson finding a career in the media.
The article continues in much the same vein, and is only noteworthy because its a rarity in that it talks up their chances.
Most, like Stephen thompson in the Herald , seem resigned to a "rangers "defeat, and that, of course, is bad for the game.
Steven Thompson: Celtic double-treble would hit a bum note in Scottish game
The rest have moved on, as has the young defender David Bates, who has signed a pre contract to join Hamburg in the summer. It seems the Ibrox side staunchly refused to be held to ransom…
Why Rangers refusal to bow to David Bates wage demands led to Hamburg move
The 21-year-old will move to Germany in the summer after Rangers refused to match his wage demands. 
Rangers are in line to net only a five-figure compensation payment under FIFA guidelines but they point-blank refused to salary demands from Bates and his advisors they believed excessive.
His package would have outstripped considerably the salary levels of other young Rangers and Ibrox chairman Dave King and his board decided to draw the line on a player who has made just 19 appearances for the club. 
Yeah…"we didn't need him anyway "
He's the second asset to walk away for nothing, following the departure of Danny Wilson.
Simple fact is, they can't afford to retain all of their players. Even the ones where they would make a profit further down the line.
Though they are on the hunt for a new manager, which should lift their current managers morale.
Marcel Keizer, currently unemployed, has expressed an interest in talking to "rangers " about being their new man.
Or rather, his agent said he would talk to them. Bizarrely, this is seen as a "keen interest " in taking the  post, and even more bizarrely, shows the contempt that is out there for Graeme Murty, who presumably can't wait to get out of dodge.
As we are now risking merely pointing at laughing at that lot, time to wind it back over to the good guys, and there is considerable debate about who will line up to face "rangers " at Hampden.
There are two ways to go about this.
What I think Rodgers will do is play this eleven…
Gordon, Lustig, Boyata, Ajer. Tierney, Brown , Armstrong, Forrest, Rogic, Sinclair Dembele.
What I would like to see is..
Gordon, Lusitg, Ajer, Hendry, Tierney, Brown, Armstrong, Forrest, MacGregor, Sinclair, Griffiths.
I'd do one of those man for man analyses but frankly i don;t even know eleven of their players, let alone who teir opposite number is at Celtic.
As for a prediction…as long as we up the pace and drop the tippy tappy, there will be another chapter in the Hampden in the sun song, with the score being the same…
Too much of the sidieways stuff allows their most influential man-Bobby Madden-a chance to stamp his authority on the game.
Elsewhere, and Celtic could be about to go global.
FIFA want to expand their fledgling International cup, and there's a lot of money involved. Celtic took part in the competition a while back, facing Leicester, Barcelona and Inter, and due to the size of the clubs international, especially US, fanbase, another invite is on the cards.
Sky Sports had the story, and they would leap at the chance to cover the tournament, as they recently lost the UEFA club games
Meanwhile, there's evidence that Celtic really do run Scottish football… well, the fixture computer, at least.

Kind of nails the conspiracy theories..
Back to the gullibillies as someone else is after their money…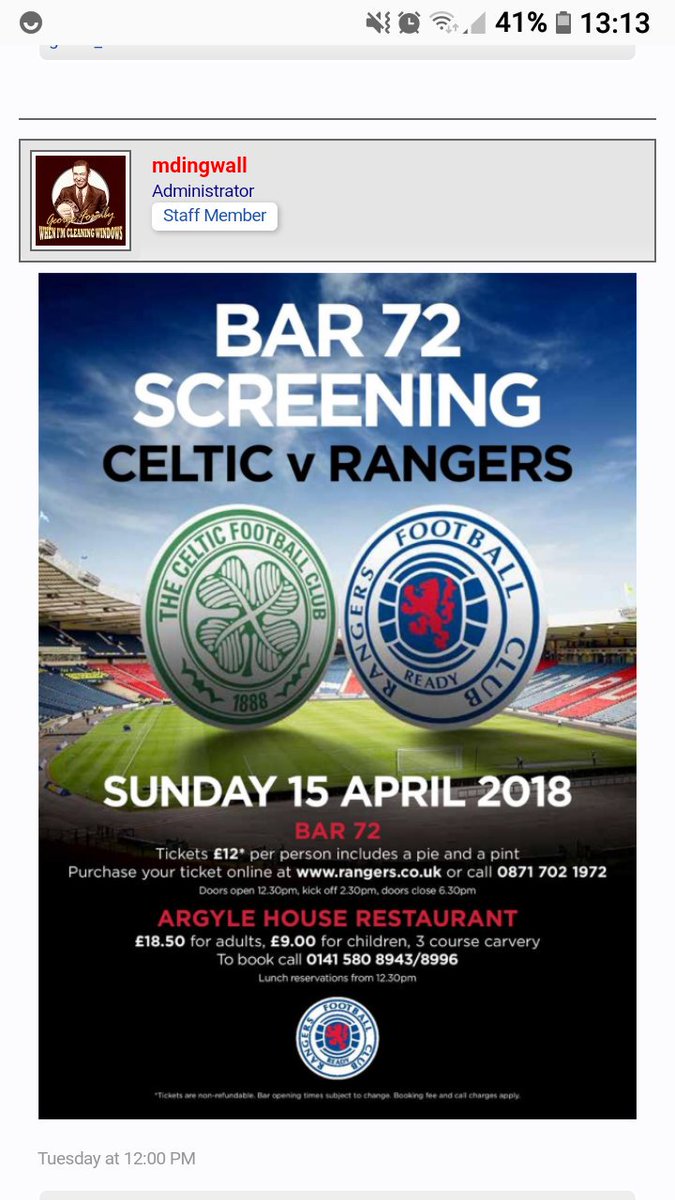 £12 ?
They even fleece their own.
It's Friday, and of course that means we award the Etims
Knob of the Week 
In a week where world tensions have escalated up to Cuban missile crisis levels, Common sense, discretion and diplomacy are required to see us safely out the other end.
Russia vows to shoot down any and all missiles fired at Syria. Get ready Russia, because they will be coming, nice and new and "smart!" You shouldn't be partners with a Gas Killing Animal who kills his people and enjoys it!
Frightening.
but be reassured, they've told him the missiles have been fired, and ushered him into his bunker and told him the country is now a nuclear wasteland.
Donald J Trump, this weeks
Goddamn Knob of the Week 
Yesterdays picture..
Going for his own seven in a row, it seems..
Try this one..