Celtic Diary Tuesday April 10: Sky TV And SFA In Fixture Row ?
The dates for the post split matches have yet to be announced, they might have been by the time you read this, but as of this morning, nothing.
This despite the SPFL calling in an expert to help please everybody, such as the police, the tv companies , and the drivelling hordes that follow follow one of the more surprising top six finishers.
We hear that Celtic will play "rangers " at Ibrox for a third time, on July 12. Which apparently will please everyone.
We also hear that there is talk of a glamour match between the two Glasgow sides for a new trophy, the King william victory shield, with all money going towards encouraging sectarianism in the game, which apparently is a big seller, except when one of the teams can win the league when they face each other.
The real truth, and you won't find this in the media,
( because its bollocks?0-Ed)
(Yeah, that would stop them..Ralph)
is that Sky are desperate to have another Celtic "rangers " game with something to play for, ever since the authorities put a block on cup finals between the two, and you can't blame them.
Remember the last one, when someone flung a quid at a Rangers man in a bid to cause havoc ?
And then there was the Hugh Dallas incident..
That was big tv , and thats what the tv companies want.
The authorities, however, have two issues with this.
Firstly, they don't want to see Celtic fans enjoying a league title win at the expense of their heroes.
More significantly, they know exactly how the ibrox support will react, which means they will have to fine the club, as their antics will be broadcast worldwide, and they really don't want any attention on their own shortcomings, or anything surrounding the fledgling basket of assets, a basket which is getting smaller by the day.
To help combat pressure from the tv companies, the Hampden Ibrox Axis have called for help from their pals at the BBC, who rallied to the sound of the flute…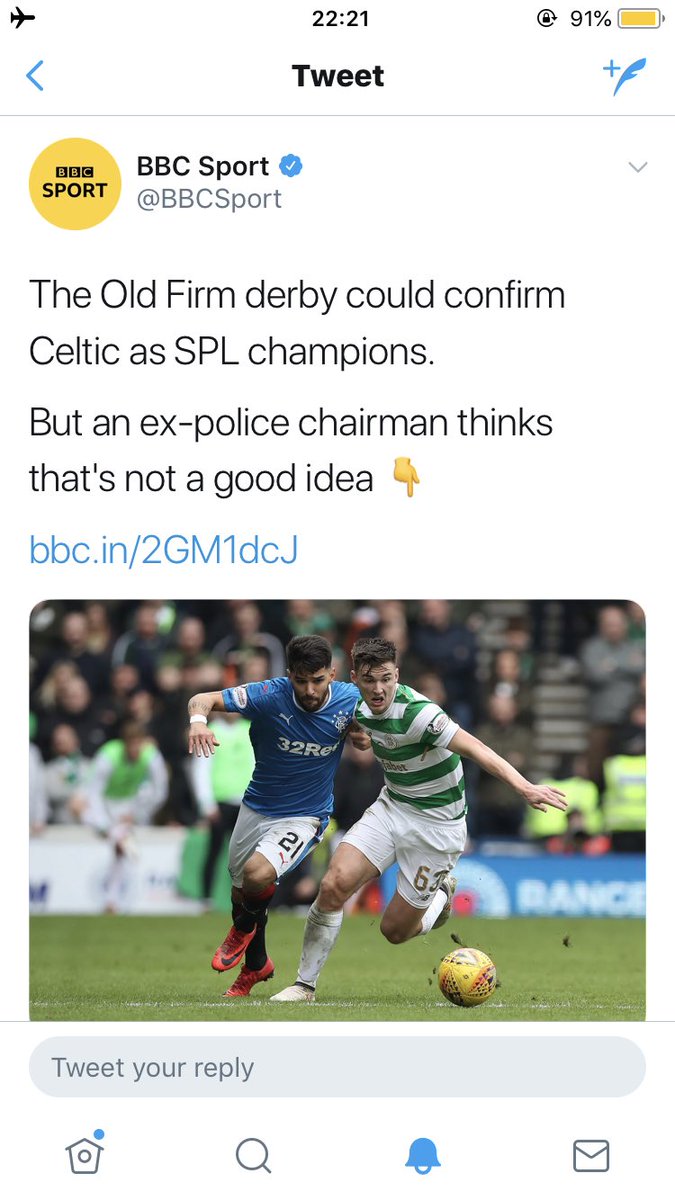 Er, its not the Old Firm, its not the SPL, but lets put that down to pure enthusiasm,
They had  another go..
Old Firm title decider should be avoided, says ex-police body chairman
Its not the Old Frim, its not a title decider and the guy isn;t a policeman.
Then again, its not really the BBC any more, is it ?
Les Gray, who used to be a policeman but now works as a consultant for , er , Les Gray Services , as we see from LinkedIn
Les Gray
Consultant at Les Gray Services Ltd
Glasgow, United Kingdom

Law Enforcement
Current

Les Gray Services Ltd

Previous

Scottish Police Federation, 
Strathclyde Police, 
Strathclyde Police Federation
was consulted for his views..
[Police are] concerned with public safety and that will always be paramount," 
"The last few games have been brilliant to watch, a great spectacle and people have behaved themselves so why do we want to endanger that?" 
….let's not kid ourselves on. We all know that these games are supercharged and to make it the deciding game, whether it was 1999 or 1949, the circumstances haven't changed and the police will always have the last say and for good reason.
 "Why take the risk of taking backwards steps when it can be avoided? The game's going to happen, why do you want to supercharge it?"  
His consultancy must be booked up for years based on that sort of wisdom.
Wisdom that he shared with us back in 2011, when he was chairman of the Police Federation, after a Cup game saw Ally Mccoist throw his not inconsiderable weight around on the touchline…
"We simply don't have the money and resources to do this. Everyone involved needs to sit down and look at this. Something has to give. This madness cannot go on." 
"What happens on the pitch is reproduced throughout Scotland, on the streets, in pubs, in homes. You cannot justify it. It can't keep on going." 
He's a consultant. For a living.
I wouldn't ask him what time it was.
But I am on the point of why we always seem to play them in semi finals, and not finals…guarantees a showpiece game, but no trophy at the end.
Wouldn't surprise me if the referee was instructed to make sure there's a replay…
After comically creating and endorsing the same club myth, the Scottish football authorities have now created a situation where two of the clubs can never go head to head if there is silverware at stake. 
Or, to put it another way, they have destroyed the games credibility beyond repair. 
But we knew they would, didn't we ?
The media, who act now more as a sort of PR department for the Hampden Ibrox Axis, did their bit yesterday to help shift season books at Ibrox, as they need the money desperately, and to help one of the league sponsors, they gave us another non story..
Frank de Boer the favourite in Rangers next manager odds
Dutchman de Boer is outright favourite for the role after King cast doubt over Graeme Murty's future.
Former Rangers defender Frank de Boer this evening shot to the front of the betting to be next Rangers manager.
It comes just hours after chairman Dave King released a statement addressing the managerial uncertainty at Ibrox.
King praised Graeme Murty for stabilising the side post-Pedro Caixinha but went on to say his next managerial appointment had to be spot on as he would not consider his work complete until "Rangers has been restored to the top of our game".
That has led to a general consensus that former Under 20s boss Murty's second short stint in charge is likely to come to an end in the summer. 
As, indeed, will the club itself, given the current financial climate over there.
There will be more names on that list as and when the sportswriters think of them.
Surely the gullibillies won't fall for it again ?
Well……
The media will be going overboard, as usual, in the run up to the cup game this weekend.
We're going to remind you of happier days, when the fans sportingly cheered each others goals, in a spirit of true sporting rivalry that has long since vanished…
Yesterdays picture..