A glance at todays headlines shows us that the mainstream media have taken to openly making things up, a sure sign that Etims is indeed the most influential website of them all.
Where we lead, others follow, but remember, folks, we do it all year round and not just once a year.
As legal disclaimers go, thats the one to which we'll refer to whenever we have to.
Though I have to tip the hat to whoever came up with this one, as one can already imagine the hordes discussing where it should go…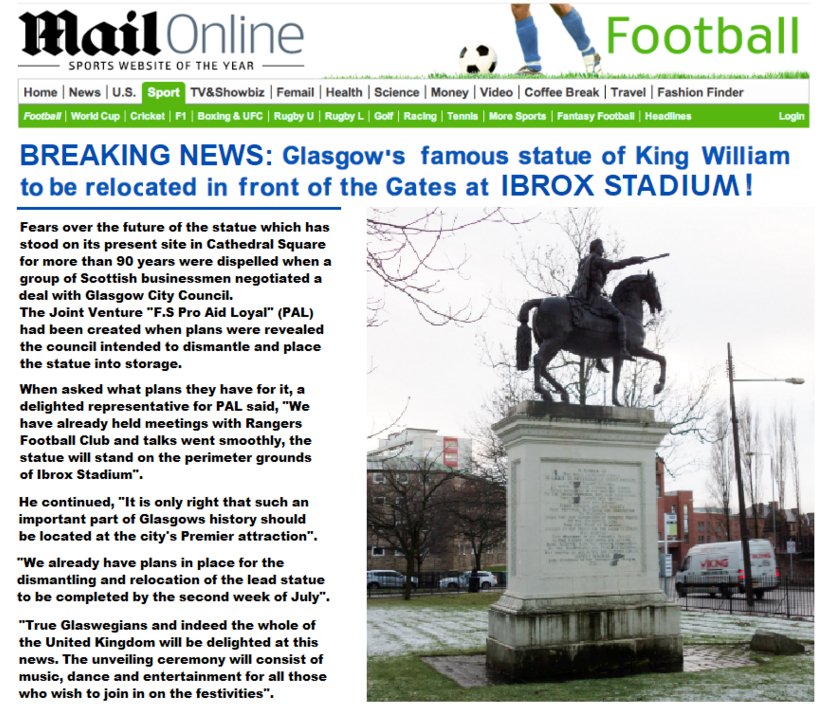 Back at the ranch, and Celtic coasted to a 3-0 win over ross county yesterday, with Stuart Armstrong putting in a performance that reminded us of er, Stuart Armstrong.
Moussa Dembele scored from the spot, Stuart Armstrong and Tom Rogic completed the scoring.
Whether or not its because Armstrong  is back to full fitness, or his mind was on is law degree is irrelevant. We can't change whats done, but he can sure as hell influence whats coming.
Even Scott Sinclair looked a little closer to his true self, although he didn;t seem happy with the attention he got from the county defenders, and in fairness he had a point. At least three fouls in the second half went unpunished, all of which had seen him in dangerous positions with  possession.
Sinclair had earlier dismissed specualtion that he wanted to move on..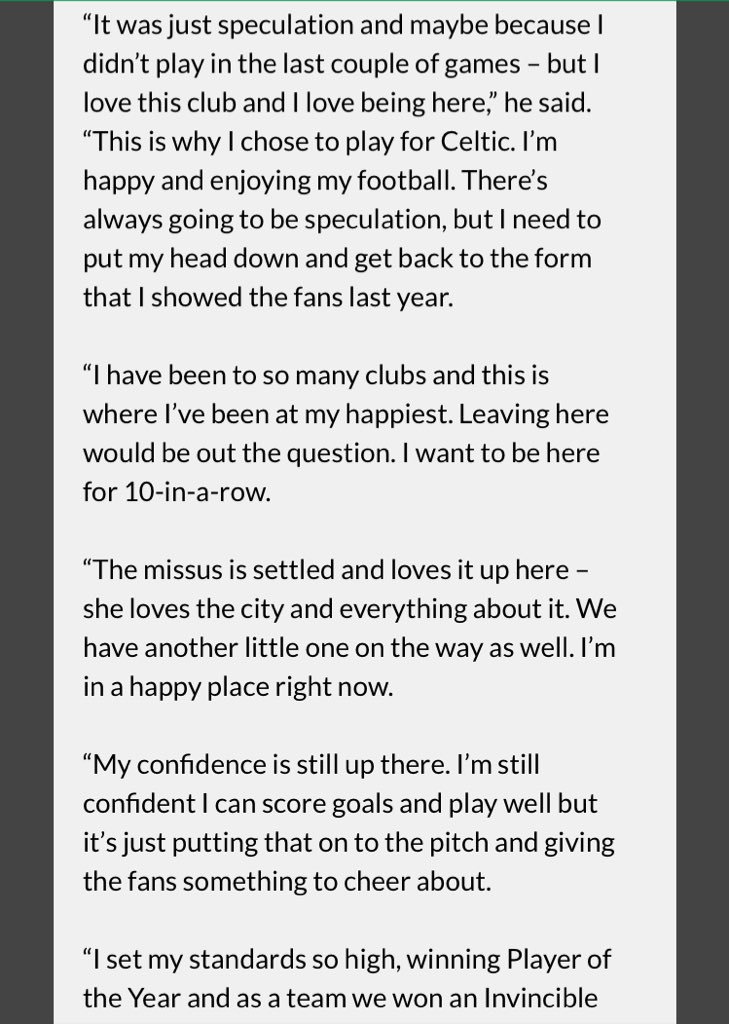 The other talking point in the game was the shocking assault on Scott Brown, the latest in a long line of attempts to presumably collect the bounty put on the Celtic player by hearts manager Craig Levein…
However, we can exclusively reveal it wasn't Levein who put out the contract, but another Edinburgh based manager bent on revenge…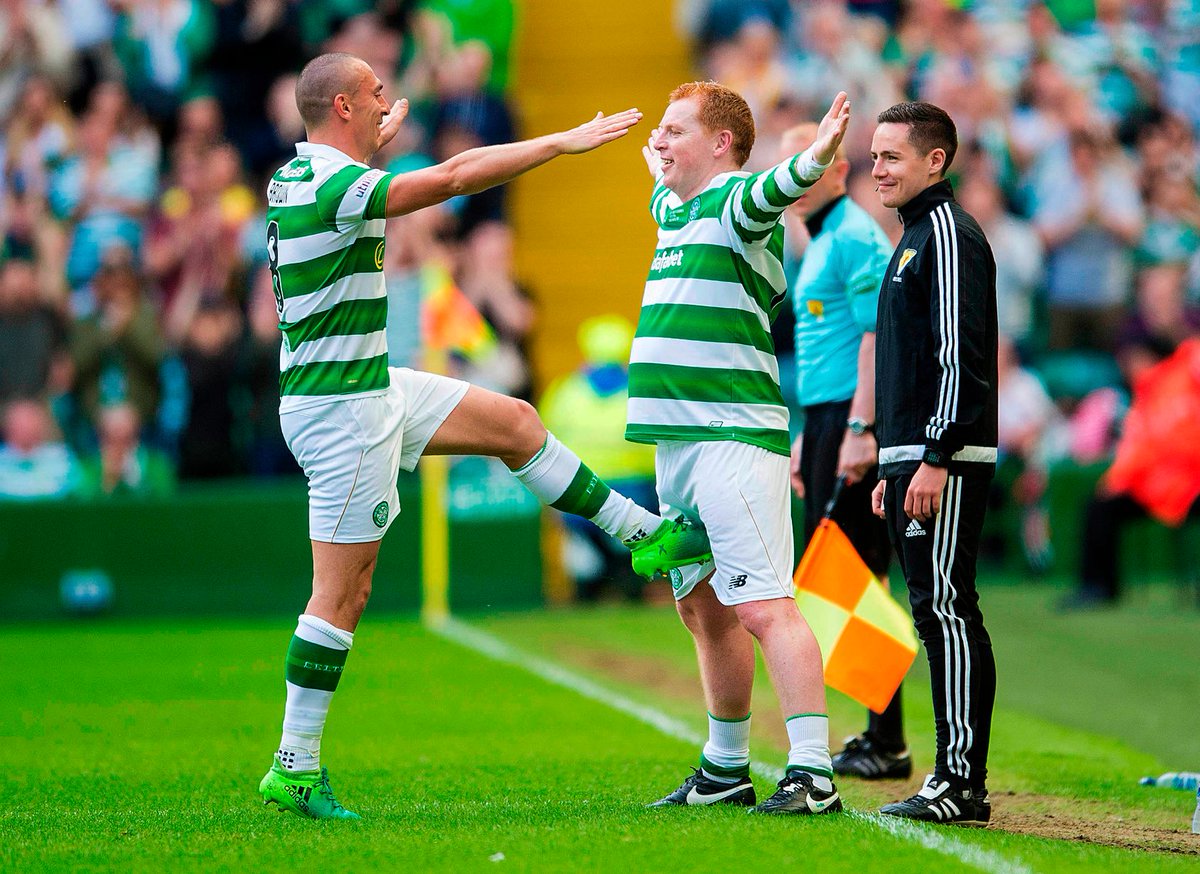 We have a picture from another angle that shows just how bad the revenge tackle was..
What was heartening though, was the reaction of Stuart Armstrong, who seemed rather intent on extracting a little retribution, a sure sign that the players are beginning to fed up of being kicked around for an hour and a half every week.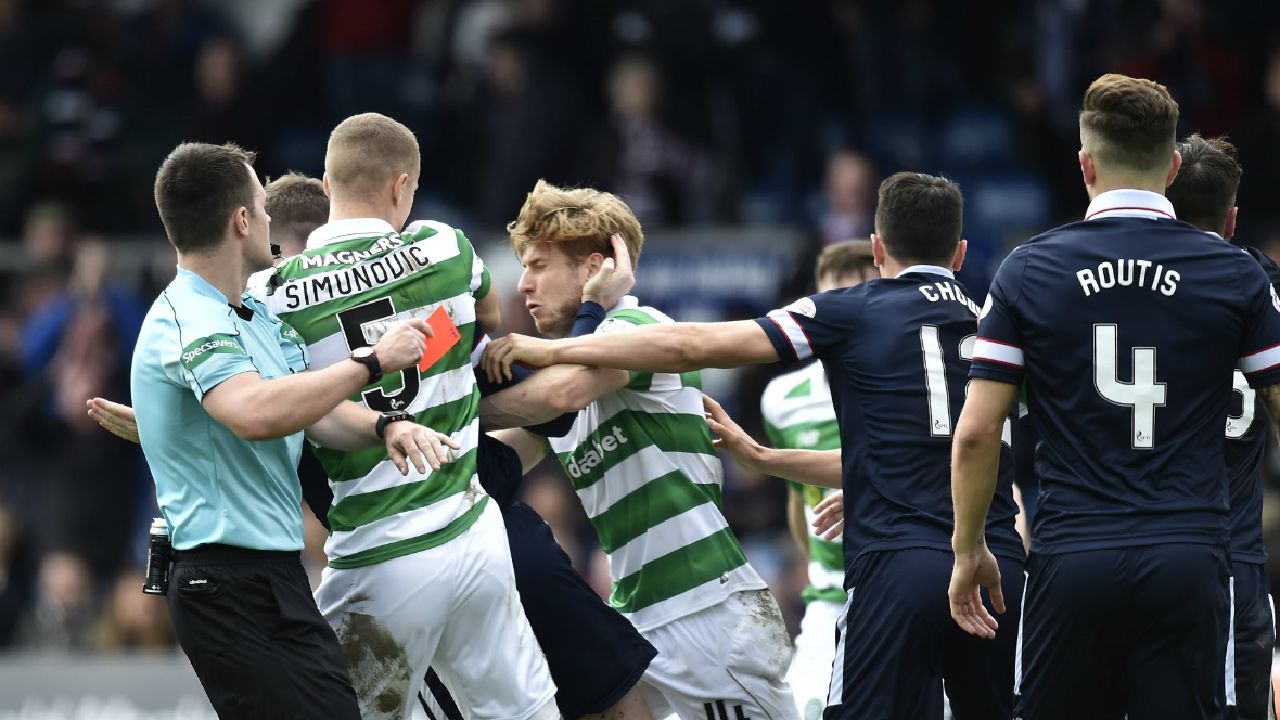 County captain and villain of the piece Andrew Davis had apparently apologised afterwards, sort of..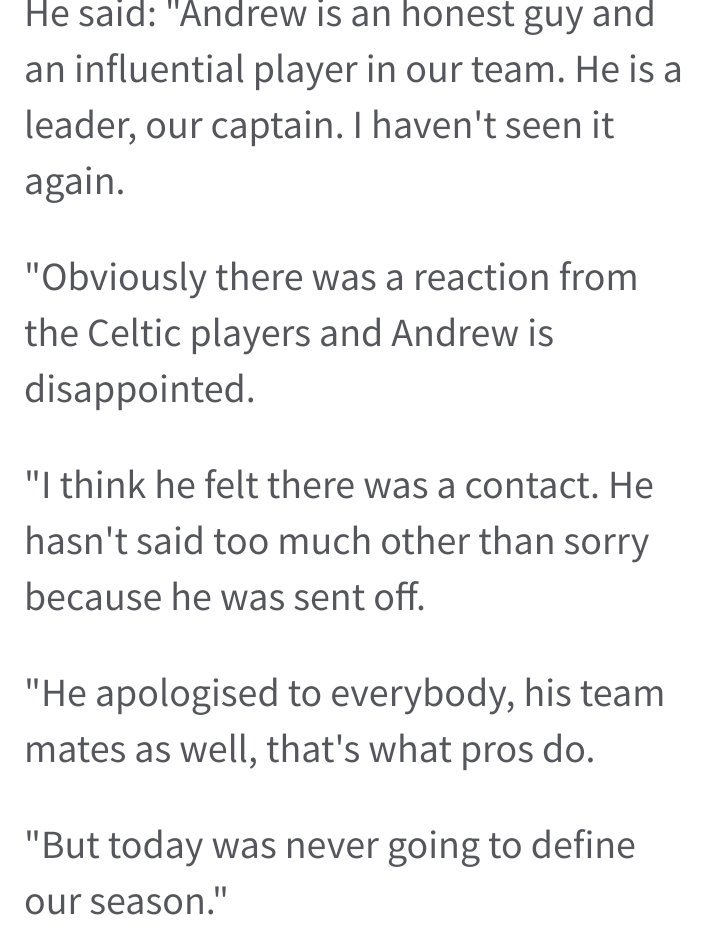 The game also saw the return of Leigh Griffiths and Patrick Roberts to the fold, which as we reach the prize giving stage of proceedings can only be good news, although with Dedryck Boyata being substituted at half time after another of his nervous peformances it has to be said that his time may be drawing to an end in the hoops.
With improvement visible in Kristoffer Ajer and to a lesser extent Jack Hendry-even after only a few weeks, it may not actually be a fault in coaching the defence, it may be that a couple of them don't seem to want to listen.
Don't be surprised if natural selection leads us to have Hendry and Ajer as a first choice pairing sooner rather than later. Rodgers post match never mentioned the Belgian….
Although he seemed rather pleased with everything else..
"It was a very pleasing victory. When you come back after an international break, you're looking to try and get some fluency as quickly as you can.
"You saw the pitch today and it really helped. It was in really good condition so well done to the groundstaff for getting it to that level which allows us to play the game much quicker.
"I thought the positioning of the team was very good. We talked before the game about having that intent and intensity in the game, and I thought we started that way, scoring one in the first half and we could have had a few more.
"Of course they went down to 10 men. It was a really bad challenge. I feel for the Ross County staff, who're trying to keep this team in the league, and I feel for their supporters who have travelled all the way down. If you watch it again, it's a really poor challenge. If Jozo Simunovic gets two games for a slight elbow then I don't know what that will be.
"For us, in the second half, there was a question – could we learn and improve from the second half at Motherwell?  We did that, scoring two good goals and won the ball back quickly, counter-pressed it and had lots of chances." 
Stuart Armstrong got a mention..after his man of the match performance..
"He has been building his way back into contention and he showed his energy and all the qualities he has," 
 "It was a great goal, but he worked really hard, played the postion really well and had good tactical discipline.
"He tired a little in the last 20 minutes, but we wanted to get him through 90 to push him with his game-time. I was very pleased with him." 
Looking ahead, Rodgers seemed to invite the challenge..
"We are going into a really exciting part of the season where it's now all about your mental fitness," 
 "We have the talent and now it's about one game at a time.
"We got our three points today, played well – and it's important we perform well, some people think it's all about the points at this stage but, for us, it's about performing well as well.
"You saw the crowd today. For a top v bottom clash, we virtually had a full house. I thought today we were back to a lot where we were last year. We had lots of threats on goal – ok, we didn't score as many goals but I thought we looked like we could score from lots of different angles.
"There was lots of speed and penetration and, very importantly, counter-pressing when we lost the ball – we had hunger to get the ball back. That brought us our second goal. It was a really good performance. This last period is now something we will really relish." 
It should be fun.
Aberdeen and Hibernian both won yesterday, and "rangers " managed a draw after going two down early on, so competition in the places for Europe is hotting up and will keep us interested  in what goes on elsewhere.
With a previous Ibrox entity having fibbed on an application for a European licence, and doubts about their eligibility last year having surfaced, there were a few raised eyebrows when the unaudited interim accounts were released late on Friday night, as though they were trying to hide something.
Like the unaudited interim accounts, for instance. They show that the club made a loss in the period June to December, which is the bit where clubs shouldn't make a loss, and admits that the club is around £17m in the red to soft loans, but leaves out the bit about the money secured at Close Brothers.
As ever, they are drifting close to the edge, and it can't help that Dave king is still kicking the can down the rod when it comes to the Takeover Panel ruling…
DAVE KING has released the following statement:
Supporters will be aware of the Takeover Panel's ruling last year that I must make an offer to the non- concert party minority shareholders of the Rangers International Football Club PLC. I have defended this ruling on the basis that any offer should not come from me but should be made by one of my trust companies.
The Takeover Panel has relented to my request for which I am grateful. I confirm that It will be announced today that one of my trust companies will now proceed and shall within a short period make a fully funded offer in compliance with the normal requirements of the Takeover Panel. 
In the fullness of time…at the appropriate juncture…at an opportune moment…you get the jist.
Meanwhile, there's another begging bowl being passed around the support…at least this one is a little more honest in its tagline.. although the picture may be out of date, they can't keep spending money on new ones..
But there is some good news for them…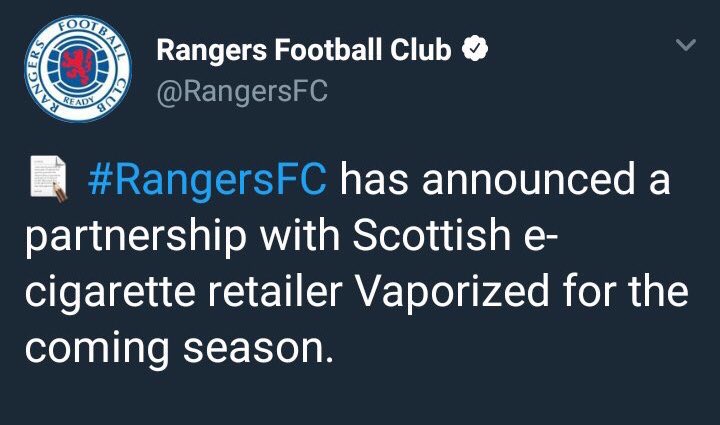 Fake fags for a fake team ?
Still, one of their number has grasped the mettle and is running with it..
One or two things spring to mind..
They did give me another reason to wish they would just fold and quit though.
The man who worked as their mascot, Broxi Bear, has passed away, and we'd like first of all to offer our condolences to his family and friends.
If they are reading this, they might want to skip the next bit though..
Away from that, and there's a petition afoot to encourage Celtic to place machines in the stadium to administer free sanitary products for the ladies.
As a practical solution to an issue, that which argues that women shouldn;t have to pay for them in the first place, which for me its difficult to find an argument against, it might not change the world if Celtic adopt this policy.
What it will do though, at a very minimal cost to the club, is encourage others to follow suit, and raise awareness of the issue nationwide.
Don't listen to me though…read it for yourself.
Click on the link below to sign, or else I will tell your wife you haven;t signed, and she will kick your fucking head in for being a mysoginistic bastard.
Me ? I will do as any animal that bleeds for a week and doesn't die tells me to.
Seriously though, it is a great idea and its absolute nonsense that they should have to pay for these products anyway.
We showed you a couple of pictures on Friday..
The first was Jorge Cadete..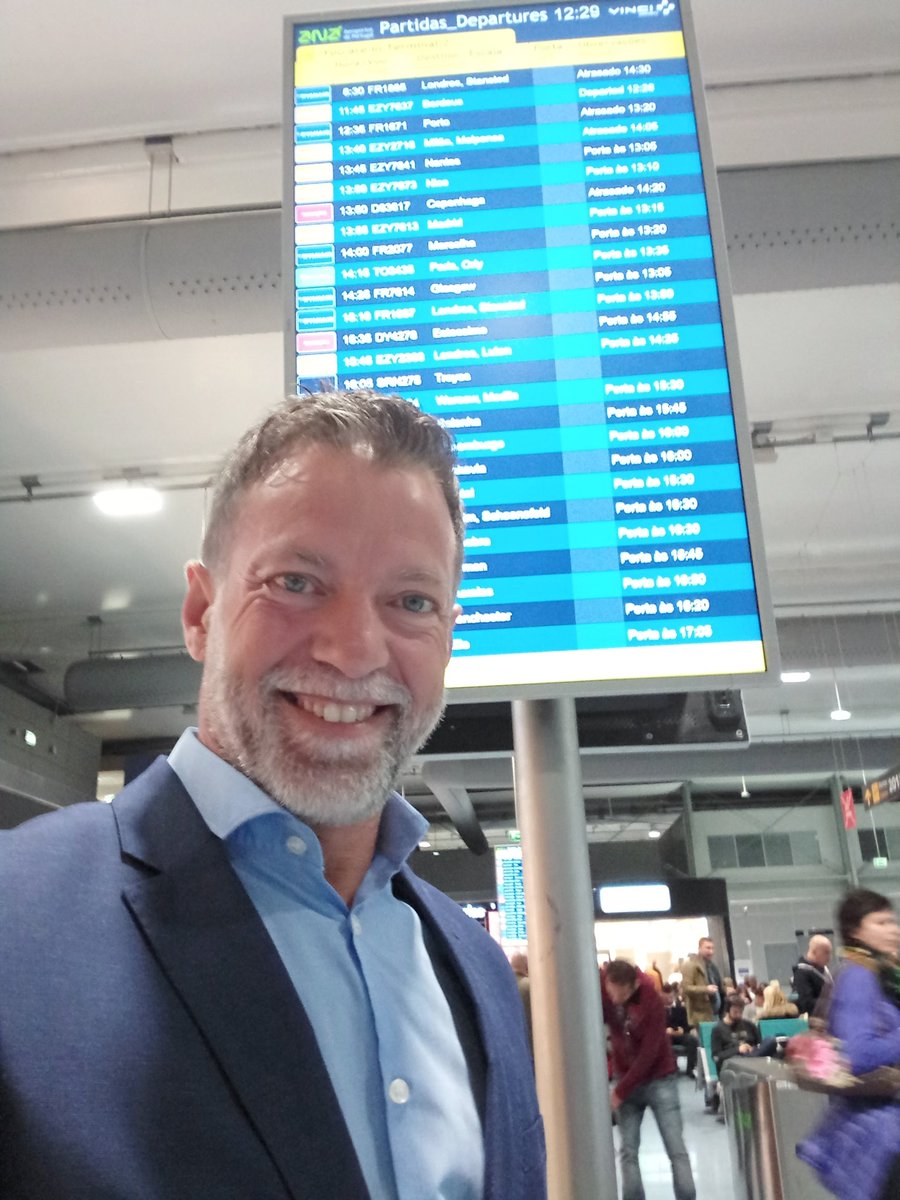 who reminded me of someone..
and the second was Roy Aitken, who has the look of a statesman these days, not surprising really, for one destined to lead..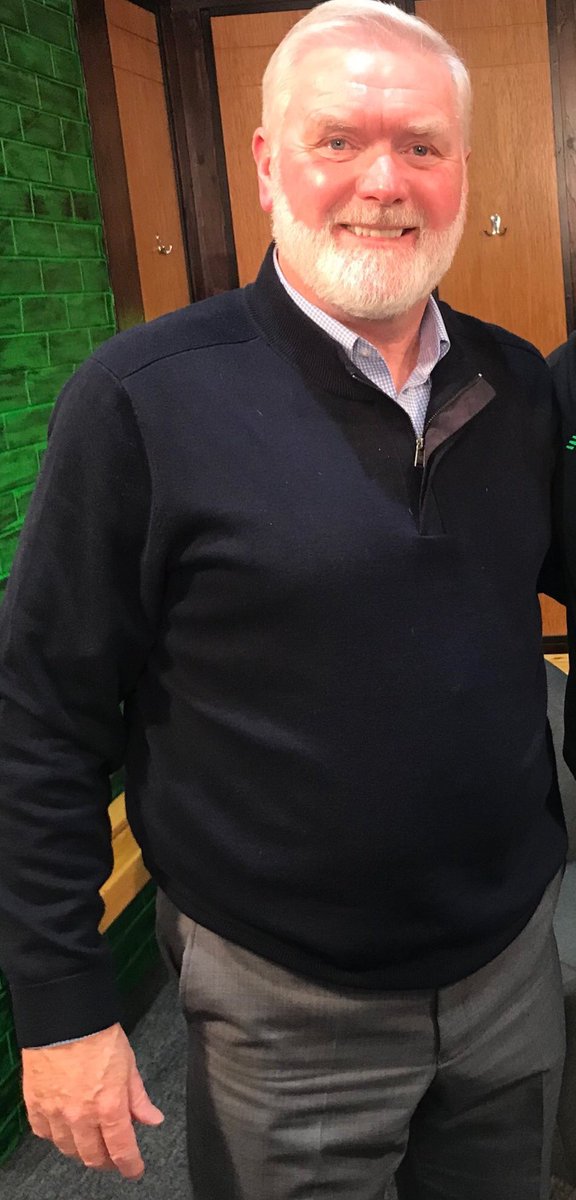 Back to a traditional caption competition today..