It's that time of year again…
"Honey, if I do the dishes can I have a season book ? " 
"Hang on, this is at Celtic , where you said the SFA are cheats, the establishment encourages it, the media turns a blind eye to it and the pies cost a fortune ? " 
"yes " 
"you're a fucking idiot. " 
What possible grounds can she have for calling me an idiot ?
I'm quite sure that any day now the board of directors will issue a statement telling us that they are happy for us to spend hundreds of pounds again as they have done a lot of work behind the scenes and are completely satisfied that Scottish football is on the level.
Perish the thought, but if they don't do that, then there appears to be a reluctance among the support, quite a sizable portion, who will not be renewing.
Jobo Baldie on twitter spoke for us all…
The 18-19 season book renewal deadline is fast approaching. Before I shell out hundreds of pounds I'd like to know that football in Scotland is properly governed. Can anyone from @CelticFC @CelticFCSLO give any update from the SFA Compliance Officer's enquiry on licence issues?
The SFA Compliance Officer, we understand, as they say in the mainstream media, which means we haven't got a clue, is merely doing his job properly, and there have been no updates, no leaks to the press, and it wouldn't surprise me if the guy is currently tied up in the back of a ford fiesta somewhere on a northern beach.
It would be nice if someone could reassure us.
It would make us think that someone gives a toss about us.
Celtic supporters can;t help caring about the club, its kind of ingrained, but the club doesn't seem to be interested in how we feel, and we're a fickle bunch.
After all, we can always watch the game on the telly with our mates. Five hundred notes buys a lot of beer.
It's not just Celtic who need to reassure supporters. Fans of other clubs are starting to take notice of those peculiar SFA rules which only seem to apply to one club.
As we will see over the next couple of days.
James Forrest in his Celtic Blog explains…
Sometime over the next 48 hours, Sevco is going to have tell everyone in Scotland what we already know; that last season was a disaster on and off the park. That it wrecked the very notion that they are a fiscally responsible organisation. Sevco is going to have to submit fully audited accounts, and accounts which have no Going Concern notice qualifier. 
The full article is worth a read, as it explains fully where the ibrox club stands, and its not fenian blood they are knee deep in. Read it,  you'll probably notice the grin on your face getting wider as you scroll down the page.
As we know, had "rangers " progressed (lol) in europe last year. some tricky questions would have appeared on someones desk at Hampden, and this year could be interesting.
Over the years, the Hampden -Ibrox Axis has covered up where it can, helped each other out when needed and , er, gone through a lot of goats, but that cannot continue.
UEFA are aware that something is amiss, and although its in the rules anyway that clubs have to submit their three years of audited accounts, this year it looks like someone will actually read them.
And that someone will not be humming "The Sash " as he does.
So, as you would expect, the media are all over it.
They're not, of course they are not.
What about the other clubs ?
Yesterday we mentioned that Kilmarnock, now reborn under their new owner and new manager, are a little more interested in affairs at Hampden.
There's a revealing tale from Heart of Midlothian as well..from EasyJambo on SFM…
Ann Budge took part in a Q&A session with the Hearts message board Jambos Kickback a couple of weeks ago.  The answers to the questions have just been published.  One of the questions and answers is relevant to recent tweets by Auldheid, Barcabhoy and Rangers Tax-Case on the Licensing situation:
Q35. Will Hearts seek assurances from the SFA that Rangers meet FFP criteria for a UEFA Licence for season 2018/19, given that the company has publicly reported substantial losses in each of its five years existence and requires further funding of £7.2m over the next two seasons as identified in their last accounts? I would add that Hearts as a member club of the SFA, in conjunction with all other clubs, has a duty to uphold the rules and integrity of the game. In Rangers case, and as a result of their financial record over a number of years, I don't think that it is enough to accept self-certification by the club.  
AB: All I can say is that at Hearts, we have to jump through a lot of hoops to ensure we comply with FFP (Financial Fair Play) rules. We must assume that UEFA does the same with all other clubs and it's UEFA who decide if a team can play in Europe or not. It's not a question of whether a club is in debt. It's a case of, is that club in a position to pay the debt back. We have to complete enormous amounts of paperwork to UEFA, the SFA, the SPFL. When we took over in 2014, we had to attend a lot of meetings to prove we could run a financially viable football club. There is no reason to think Rangers are being treated any differently from any other team in that respect.  
Yes there is, and it seems Hearts fans are aware of this, and are in the process of demanding action from their board.
Along with Aberdeen, who wanted a new ground, Hearts appear to be in denial.
Hibernian fans are lucky to have Rod Petrie at their club.
Now there's a group of supporters who could well have an influence. I'm quite sure they would want assurances from their man on the inside that all is well, and the Ibrox club arent getting any favourable nods when it comes to the rules being kept…
Hearts, Aberdeen , Hibernian, Kilmarnock , Celtic….five of the top six….all of whom who have to reassure their support that they are paying into a game which is no longer a handicap event favouring the unmentioned, or indeed, unmentionable sixth team .
If they cannot provide that reassurance, we must assume that they themselves do not feel reassured. 
Which means I don't have to do the dishes anymore… no one does.
Meanwhile, back at the ranch, and there's a game on Saturday… and there's still some tickets left …
TICKETS are selling fast for Saturday's SPFL clash against Ross County at Celtic Park. 
Not that fast, obviously.
It was a convincing win for the Celts last time they hosted the Highlanders with goals from Tom Rogic, Moussa Dembele and a James Forrest brace securing the points.
The Dingwall side travel to Celtic Park for a 3pm kick-off this Saturday (March 31) and availability is now limited so don't leave it too late to secure a seat.
The last remaining tickets are on sale now, priced from:
– £27 for Adults
– £17 for Concessions
– £10 for Under-13s 
Three more points on the way to seven in a row-the first club to do seven in a row twice ?
Celtic are due to give someone a mauling at some point this season, and it could well be Saturday.
You don't get that kind of in depth pre match analysis anywhere else, you know.
Anyhoo, the main thing is that there's football on we can actually get interested in, after the international break petered out earlier this week.
With the cup semi final against the SFA just two weeks away, competition for places in the team will be fierce, and with the UCL qualifiers looming on the horizon , perhaps the managers team selection this weekend will indicate just how much truth there is in the SMSM's predicted mass exodus.
Then again, perhaps it won't.
One player who will be doing his best will be Moussa Dembele, who will have these words of encouragement ringing in his ears…
Sylvain Ripoll (manager of the French U21s) " Dembele is probably too good for this level, he is so strong physically but also he has the quality to be a playmaker as well as a goalscoring instinct, he is on the level of Mbappe and should go to the world cup" (Lequipe)
Surprisingly, and this is why I'd take that opinion with a pinch of salt, no Chinese team has put in a bid for him to compensate their fans for the failing to prise Alfredo Morelos from "rangers ".
By the way, before the game on saturday…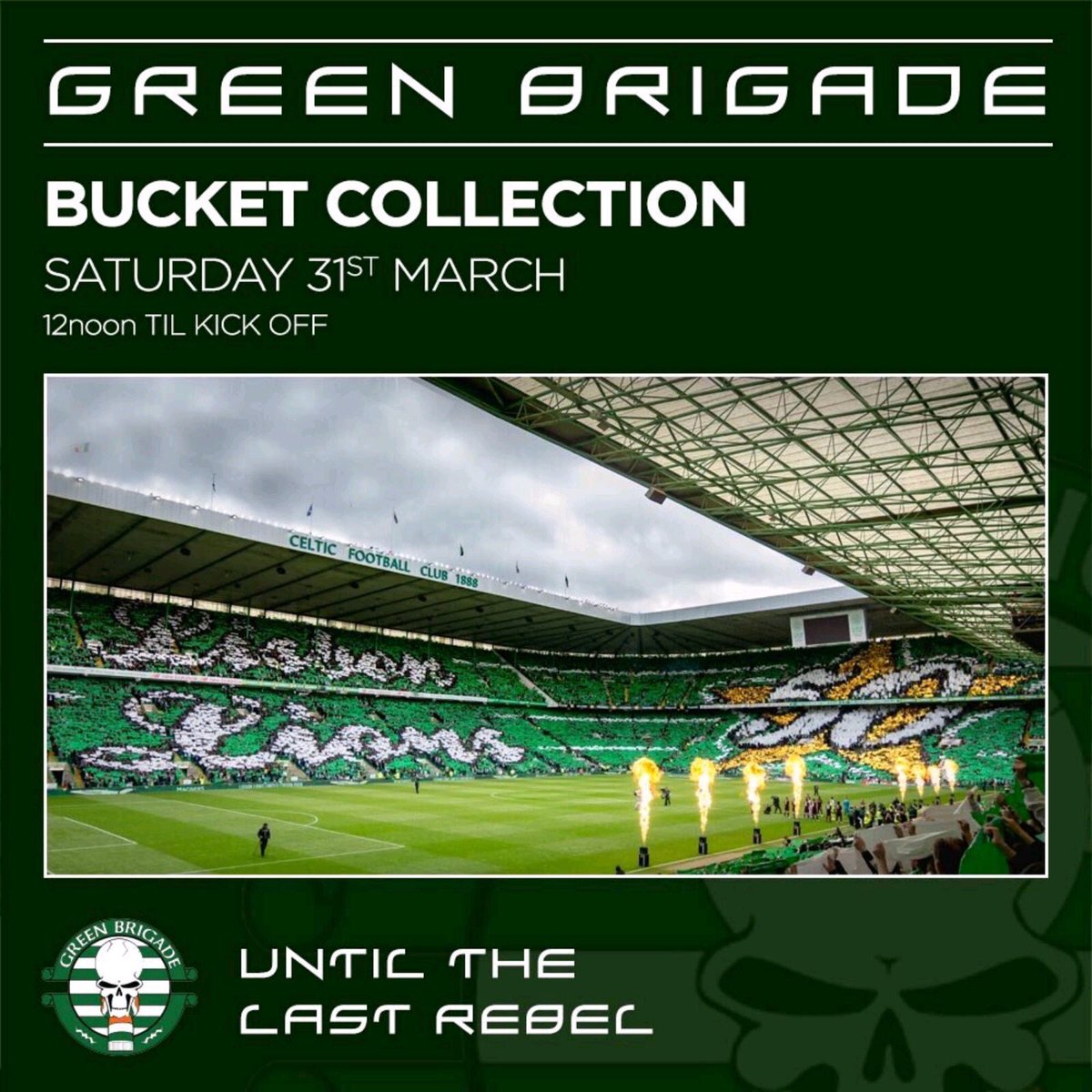 So, er , if you've got any buckets lying around that you aren't using, and they're in reasonably good condition, bring them to the game.
Presumably the GB need them for their next charity collection.
Meanwhile, there could be a summer ahead to rival the Woodstock Festival in peoples hearts and minds..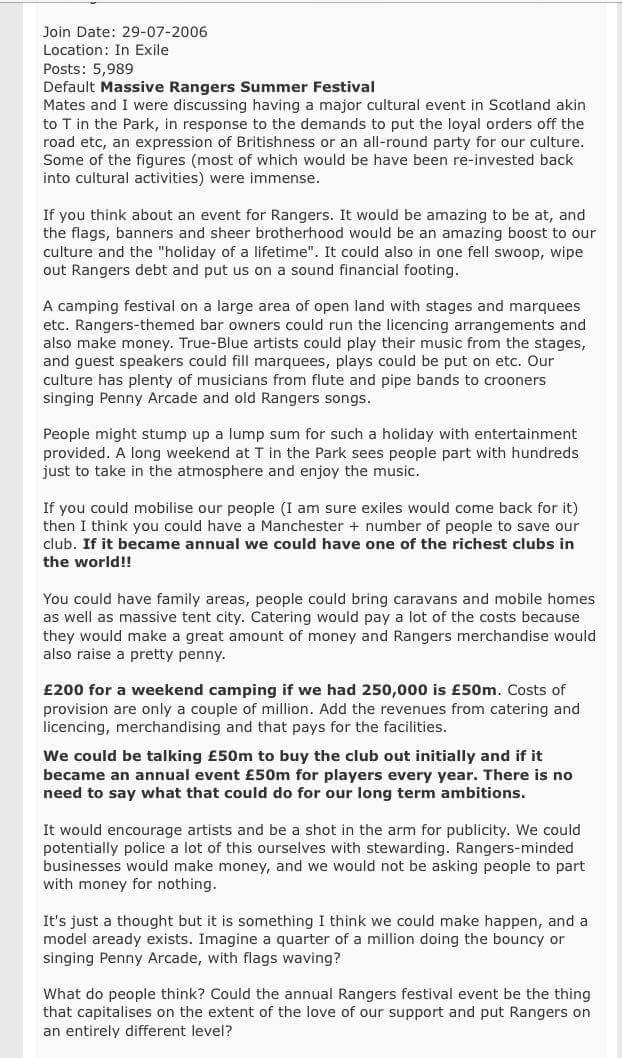 Actually, there's a place in Cornwall they could hold this event..
There's even somewhere nearby-well, Epping-for the club officials…
And it wouldn't be fair to ignore the press…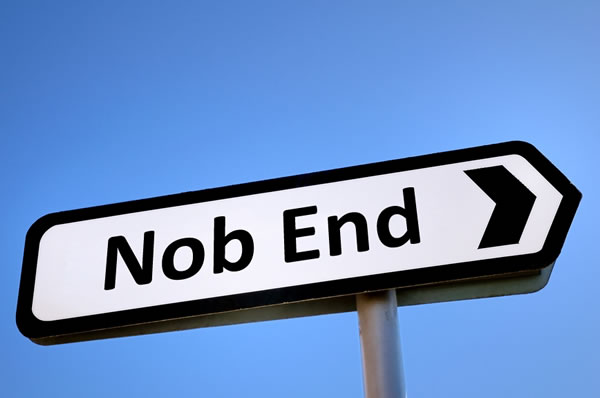 Yesterdays picture…