There have been no arrests following the abuse of Scott Sinclair at glasgow airport.
There has been no comment from Celtic, and no further action will be taken by the police. This may be at the request of the player, and in that case we must respect that.
The SFA were going to issue a statement, but they said they are still working on a statement regarding the players abuse at Ibrox last year, and they will get round to this one in due course, in the fullness of time.
However, the media then pressed a switch…
Rangers player Russell Martin suffers vile sectarian abuse in supermarket
The shocking footage emerged after the Old Firm derby on Sunday. 
Remember, Scott Sinclair was involved in an "altercation"….
Written by Sally Hind and a Record Reporter, the piece describes what happened..
RANGERS star Russell Martin is said to have been left "disgusted" by a sectarianattack on him in a supermarket ahead of the weekend's Old Firm clash.
The on-loan Norwich defender was shopping in a Glasgow store on Saturday when he was approached and filmed by two men.
The men can be heard calling him a "h** p****" and shouted "get it up ye you orange b****** ye".
The footage circulated social media after the Rangers v Celtic match on Sunday.
The video does show Martin being abused, and therefore surely those guilty should be found, arrested and charged ?
Should that not be the point of the piece ?
Rangers Football Club are understood to be aware of the clip, but it's believed no official complaint has been made as yet.
A source close to injured Martin, whose team suffered a 3-2 defeat against Celtic on Sunday, said he had "refused to react" to the abuse at the time.
They said: "He is disgusted by it. It's disgusting that these players can't go about their daily business without being abused in this revolting manner."
The video was being shared online and on fans forums last night, with one fan describing the culprits as "rabid and brainwashed".
Another said: "CCTV from the store should identify those f***wits." 
A source close to him said… fortunately, he included words such as "disgusted ", "abused " and "revolting ".
Online fury was added to add to the general tone, "rabid " , "brainwashed " and "fuckwits "…
Scott Sinclair was involved in an altercation.
Both attacks are serious offences, and they deserve equal outrage, and they both should be investigated by the police and charges brought…
Shouldn't they ?
Oh, and we can forget any statement from the SFA, they are still trying to cover up another incident of a fan invading the pitch at Ibrox on Sunday..
Meanwhile, back at the ranch, and Southampton are looking for a new boss….and you can guess who they have been linked with.
Brendan has said no. How do we know ?
Managers are sacked after a replacement is found, generally speaking, especially at this time of the season.
Unless , of course, we are talking about the SFA.
There is talk that he will join Arsenal at the end of the season, but again, thats all it is.
Talk.
Theres a picture which sums up the difference between Scottish and English football, one which perhaps explains why money isn't everything..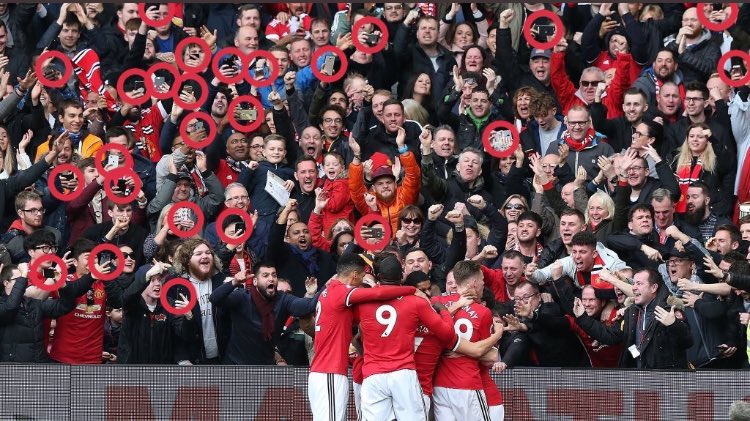 compare that to the raw passion of the Celtic support…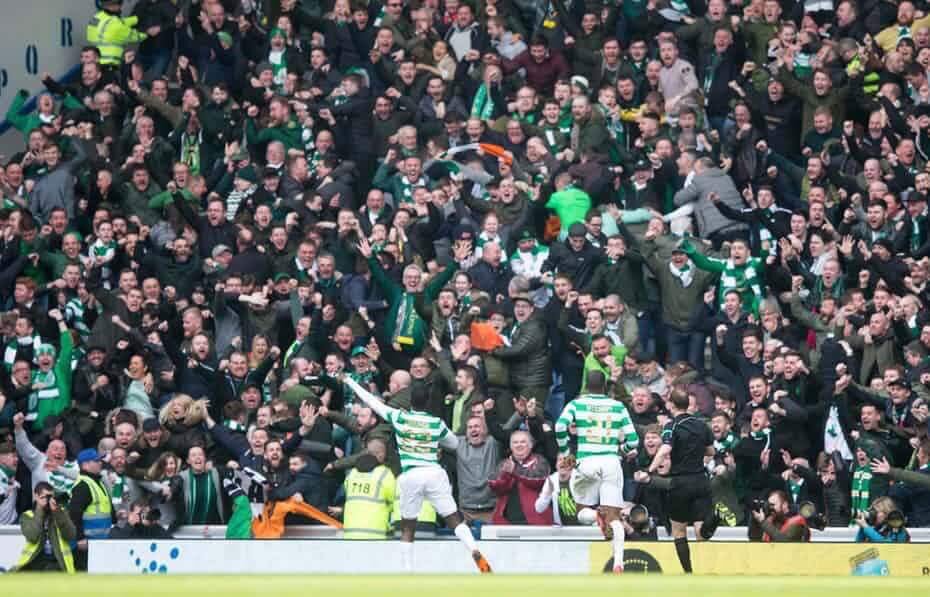 We should be flattered, after all, you'll note that despite his involvement in the resurgence of "rangers ", no one is talking about Graeme Murty moving south…
Rodgers
There is talk that Celtic will ask for the SFA to consider using a foreign referee for the cup semi final, and there is also talk that Celtic will actually not be so concerned should they be forced to play a third game at ibrox in this league campaign, as the lads like a day out and it guarantees three points.
Then again, thats all it is.
Talk.
There is also talk of Oddsone Edoaurd being offered a permanent deal at Celtic, which with the price agreed at around £7m, would be a coup for Rodgers.
Edouard seems to be having fun..
"I'm delighted about the victory yesterday," 
"What was especially important for me is that it was my first derby, so to score the winning goal was very special, which brings me a lot of happiness, and I'm particularly happy for the team.
"I'm a striker, so any time I get a goal I'm really happy. It was a very important game and one of our biggest matches of the season, so I was thrilled to score.
"The manager told me I was going up front with Moussa. We have played together before so we've a good understanding, and the manager encouraged me and gave me the confidence to go in and make a difference.
"It was a quick attack, and the moment Moussa got the ball. I knew he was going to give me a perfect pass. I received the ball, dribbled past one defender and then just put it into the net. Without doubt, it's the greatest moment of my life as a footballer so far. and I will always remember this big moment for the rest of my career. 
We won't forget it in a hurry either…
Theres an image from sundays game that suggests Jimmy Nicholl and Andrew Dallas won't forget it either.
Of course, while one half of glasgow enjoyed the day out, for others, mothers Day was all but ruined..
Meanwhile, what are you up to this afternoon ?
Stats show i have 163 followers on this. Mostly CELTIC fans. Well I'm on COUNTDOWN on Channel 4 tomorrow at 2:10pm..set your recorders to see how a fellow Celt does..rt would be appreciated.
Which gives me a great excuse to post this picture..
We have to go back to Thursday for the last caption competition…