Celtic Diary Tuesday March 6: Hype, Hope and Hallucinogenics
After a break of three days the diary returns, and all everyone is talking about is Celtic and "rangers "
You'll be able to spot the ones who've indulged in hallucinogenics.
Scotlands most successful club will face the country's new kids on the block three times before the end of the season, after the sponsors got their wish and the two were drawn to face each other in the Scottish cup semi finals, which was hardly a surprise, as its the only way to guarantee the "big game" for William Hill.
Celtic beat morton 3-0 in a game that will quickly be deleted from one's memory, with two goals from Moussa Dembele and one from Oddsone Edouard, to give a scoreline that apperently flattered Celtic, at east in the eyes pof Sky Tv's expert pundits..
And yet…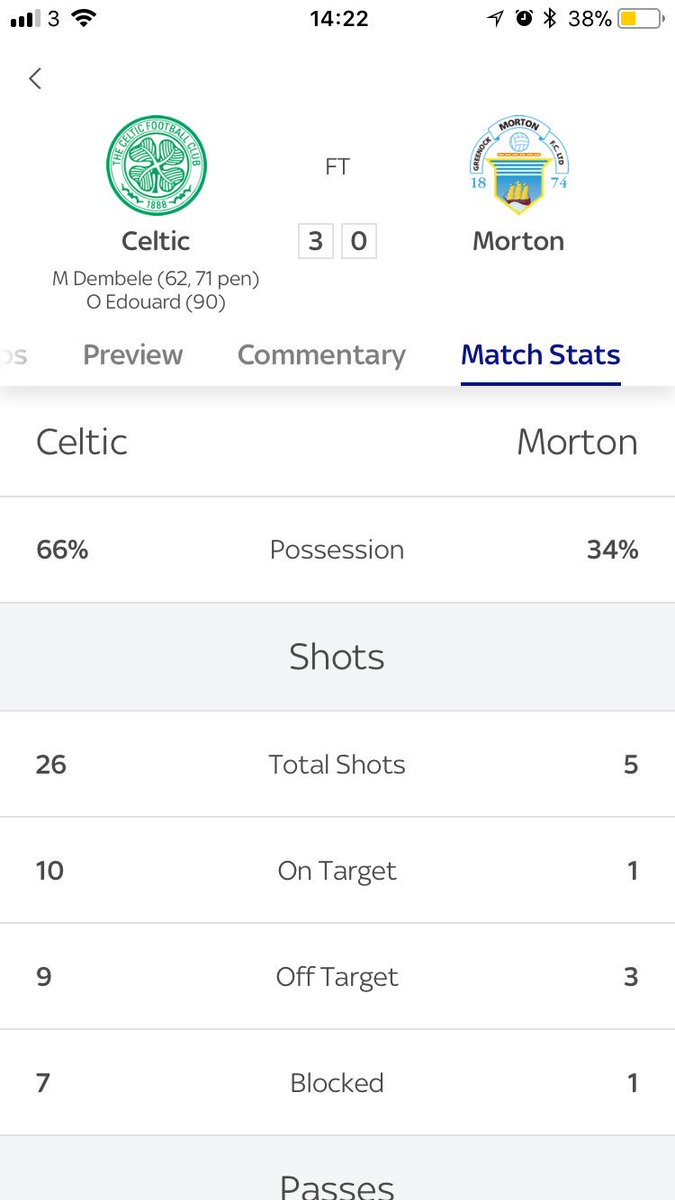 I didn't see the game, I'm kind of anti Scottish Cup, at least until the final, but those stats tell a different story.
but it does kind of tie in with the narrative that The Rangers Are coming, and the hype that will feed the bears during the run up to each of the three games.
Unless they are put firmly in their place on Sunday.
The most surreal moment of the weekend came when the Cup draw was made and the "rangers " players cheered at the news they would face Celtic.
Fair enough, they don't get many big games, and i suppose it'll be a nice day out for Graeme murty's journeymen ad loanees, but cheering ?
I suppose thats what a couple of wins does for morale.
And the support ? shall we just say that expectations have gone through the roof. Then again, the state of the roof down Govan way probably does make that fairly easy to do.
Graeme Murty, the figurehead for Jimmy Nicholl at Ibrox , said;
"I called it (the draw), sitting in the Sky studio, but apparently the sound that came out of our changing room when the draw came through was raucous and loud.
"I think that is indicative of where the squad are, they're flowing with confidence just now. They want to get into the games against Celtic and they're going to relish the challenge.
"It's a really good marker for looking at a team who want to get into that game and really go and mix it up." 
I think its a sign they've been eating too many mushrooms.
Back at the ranch, and Celtic boss Brendan Rodgers seemed a little bewildered by all the kerfuffle..
"It doesn't really concern me, to be honest, what the noise is. I am very much focused on Celtic really.
"Graeme has done a good job there stabilising their squad. 
They have had some good results and one thing that they have got that they been searching for, certainly in my time up here, has been consistency.
"They have players who know what it means to play for Rangers and be in and around it and they have got some spirit now. 
"But we go with equally the same attitude that we always have." 
The first clash, sunday's eague game could see Celtic go nine clear with a game in hand, but a win for "rangers" , as unlikely as it may seem, would bring the gap to three points, and in the eyes of many they've already won the game and there is a title race on.
Of course, this gives the media something to write about. Hardly unsurprising, and as a result, the hordes are lapping it up.
For their sakes, lets hope that reality doesn't drop them back on the ground too harshly.
Actually, lets not.
Bollocks to them and their new club , which has wilfully ignored the basic rules of football, business and human decency.
The truth is an alien concept to some in Scottish football.
At the moment I'm working through a lot of detail on the Resolution 12 issue, and some oddities that we maybe missed the first time around which have raised a few eyebrows, bit as usual, I want to be spot on with what I conclude.
One thing for the moment which puzzles me, and I'm looking back through some old stuff to try to get an answer, well, two things, in fact, are firstly why has no one ever asked Lord Nimmo Smith about the evidence he was not given to help him with his review, and if he feels that in order to prevent his name forever being associated with the now discredited report, if he wants to hold another review.
Surely there are at least grounds to ask him ?
Not , of course that our media seem overly fond of asking any questions of anybody who might shed some light on what will be remembered as the Cheating Years…
And secondly, ah well, I'll leave that until I've done a bit more digging.
For now , though, consider this..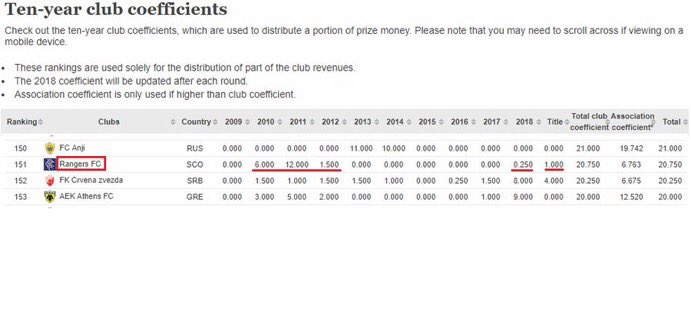 Could it be that they really are the same club ? Or has someone told UEFA that they are ?
Or does none of it really matter becuase they'll have gone tits up again by the time the Europa League kicks in next season ?
Are they the same club ? Lets ask the guy who owned them .. well, his QC..
Or another QC..
One snippet that concerns me, and it should concern everyone, came from Phil MacGhiollabhan, who claimed that on one national newspaper the news reporters were about to run with a story concerning the anomoloies of scottish football, but they were faced with a deputation from the sports desk claiming it would damage circulation.
Although perhaps that should read "damage circulation even further ".
Off the pitch, I couldn't care less what they want to call their club, or believe its the same club. It's their money.
However, the records and history of Scottish football require a certain degree of accuracy, and its abhorrent that this is being covered up, presumably to protect the brand.
Here's a thought, however, and one wonders if Auldheid on twitter has hit upon something regarding a possible delay in the publishing of the compliance report, which is the subject of a petition to Celtic just now..sign it, by the way , if you haven't already.
If same club they can be sanctioned for 2011 like no licence for 3 years if they cannot be sanctioned because not the same club there goes the 55. The SFA have created a mess for UEFA. 
And one wonders what UEFa a) have been told about this mess, and b) what they have told those who told them…
Ladbrokes are the current league sponsor..presumably because we couldn't get anybody else..
On 3 March, Ladbrokes threatened to withdraw sponsorship money from sporting events over proposed betting regulations. The government is consulting over new restrictions for the notoriously addictive fixed odds betting terminals. New legislation could see the minimum stake per bet reduced from £100 to £2.
Ladbrokes is a major sponsor in horse racing, and also a partner with the Scottish Premiership and the Rugby Football League Challenge Cup, spending a total of £8m a year. Its threat was greeted with anger from campaigners and social media users.
The "crack cocaine" of gambling

Fixed odds betting terminals, dubbed the "crack cocaine of gambling" by shadow culture secretary Tom Watson, give users automated access to casino games such as blackjack and roulette at up to three times the speed of a live game. The machines allow users to bet as much as £300 a minute, with a £100 limit on each bet. Figures from GambleAware show that 233,000 users lost more than £1,000 in a single sitting in 2016. An estimated 43% of users are at risk of becoming problem gamblers.
A 2015 report (pdf, p3) by the Responsible Gambling Trust found the majority of players of these machines tend to come from economically deprived areas, where the concentration of betting shops is often disproportionately high.
( The Canary..full article here..iCYlS4sQVy
You can see why they were attracted to Scotish football, and indeed why Scottish football was attracted to them.
We'll try to keep abreast of some of the more, er, staunch offerings in the media this week, and to begin with here's Matthew Lindsay of the Evening Times, who is as staunch as they come..
Jason Cummings has the same X Factor as Leigh Griffiths – he'll ensure Rangers are on song in the Old Firm game
Three fucking times I've read that, and it still doesn't make any sense.
JASON Cummings has the X Factor that can give Rangers the edge in the Old Firm game
– in exactly the same way that Leigh Griffiths has ensured Celtic have been on song in the fixture in the past few years.
That was the prediction today from the youth coach who worked with both players, as well as a raft of other Scotland internationalists over the years, as they came through the ranks at Hutchison Vale.
Tam Smith, who has been involved with the renowned Edinburgh club for the last 32 years, was unsurprised to see famous alumni Cummings take full advantage of a rare first team start for Rangers at the weekend.
Famous Alumni ?
You can just hear the bears wondering what an alumni is, and if its in any way related to the catholic church.
"Here billy, its bad enough signing catholics but this wan's a right catholic, he's an alumni. "
Smith, the Hutchison Vale coach, said;
"It's great to see Jason doing so well," he said. "He's another free spirit. I think the pro-youth process wipes the smiles off a lot of kids' faces. It suppresses their natural Scottishness. 
He can't get a regular start but is the guy who can win the game on Sunday.
It's possible, but there is a hint of hype about this article.
Perhaps Lindsay saw this on twitter, and wants to believe. Its not the most accurate guide to player values I've ever seen, but its probably the most optimistic..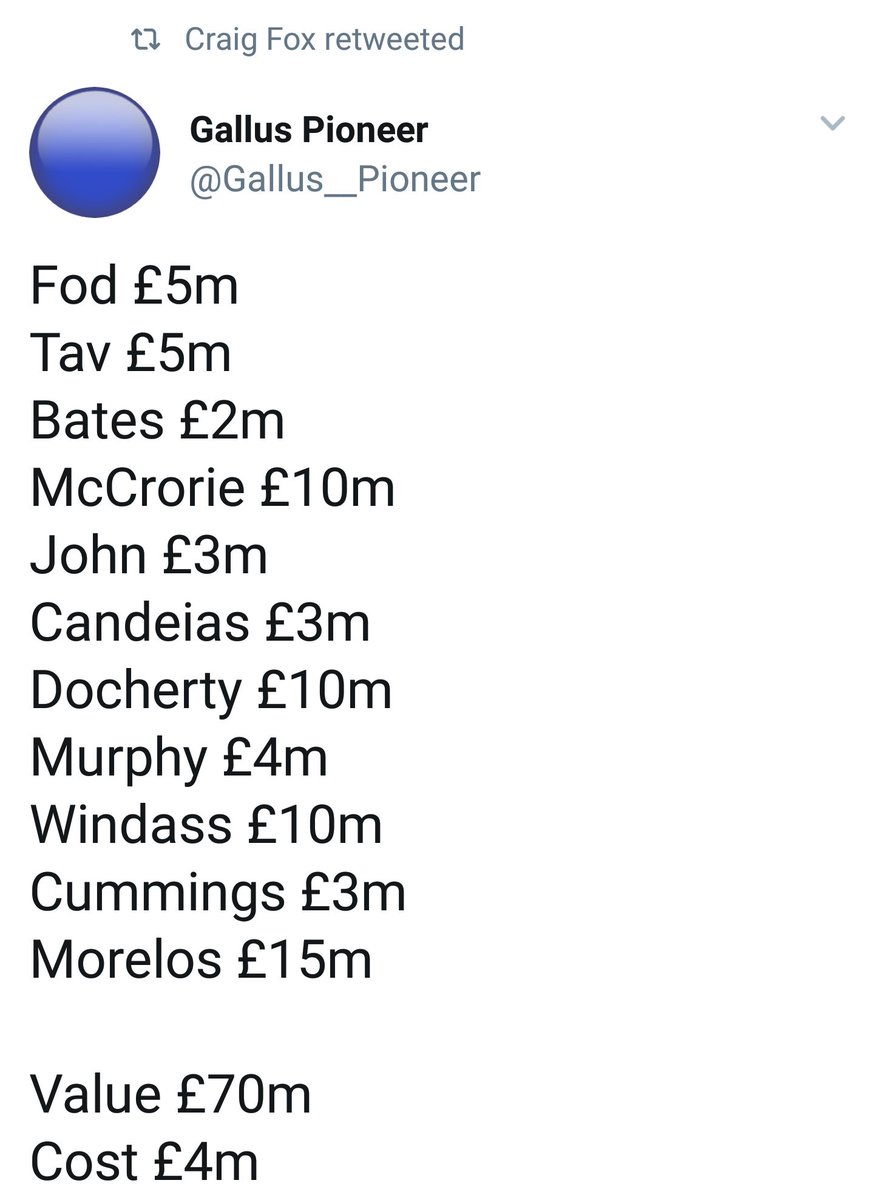 Its going to be a long week.
Fridays picture…
Remember the name Nick Powell. It might crop up again in the summer.