Celtic Diary Thursday March 1: Scapegoat Required : Will Consider A Swede
Mikael Lustig is a good defender. Form is temporary, class is permanent.
Brendan Rodgers is a good manager, again, form is temporary, c;as is permanent, and he's still learning at European level at least.
Things haven't been entirely tickety boo at Celtic since just before the winter break, and arguably the whole season has perhaps been a disappointment after the highs of last term.
However, and believe it or not I do take on other viewpoints, and the one that stood out this week concerned the possibility that there has been little time to work on anything on the training ground due to the hectic fixture schedule.
Its also worth considering that the invincible tag was always going to go at some time, and every club wanted to be the one to take it, and after a season of watching how Celtic play, the better managers out there would be a little more clued up on what might just work against the hoops.
This week, however, the postponement of the game with Dundee has allowed for a wee bit more time to be spent with the players. A few things, such as set pieces, high pressing and team shape, especially at the back,  can all be worked on, and you may have noticed how quiet its gone over at Lennoxtown, similar to how it went before the UCL qualifiers.
If my theory is correct, the team will be back to top form when Morton arrive in town at the weekend, and with a further weeks work on the training ground, one is tempted to think that the resurgent "rangers " will be in for a bit of a spanking come a week on Sunday.
Especially as we hear the manager is quite keen on administering a short, sharp slap to the new pretenders.
Pretending to be Rangers that is, not having pretences on the championship. Thats way beyond them.
Rodgers is immune to criticism from some quarters, especially in the support, and anyone-me , for instance, who dares to venture from the party line, is dismissed as anything from pissed ( not impossible ) to being a "green " hun, which is presumably one thats died and gone a bit mouldy.
He's having a difficult second season, other managers, who have played against his sysytem on a number of occasions are trying something different, thats all. One or two are getting results, nothing more , nothing less.
The next two weeks will allow him to take stock and do a wee bit of tweaking here and there.
But, apparently,  Mikael Lustig isn't immune from criticism. Which is ridiculous.
In the absence of Dedryck Boyata , Efe Ambrose and despite Jozo Simunovic's habit of running blindly around the first third of the pitch in the hope the ball-or anything else-comes near him, Lustig is carrying the can for the recent run of less than electrifying form, even though he spends a lot of his game trying to cover for the relatively youthful central defence, which until recently had changed on a week to week basis.
He's probably knackered, not only from his efforts on the pitch, but from those sleepless nights where he wakes up screaming "where the fuck have they gone now ?" as he looks frantically for whichever of our defenders should be positioned to his left.
Which brings me to this confidence boosting piece, on the HITC website..
Does Mikael Lustig have a Celtic future if replacement dazzles at Ibrox?
BBC Sport reported on Wednesday that Celtic right-back Mikael Lustig is likely to miss the trip to Rangers this month through suspension.
The Swedish defender was expected to serve out a one-match ban in last night's visit of Dundee, but the postponement of that one has caused the 31-year-old's ban to carry over to Celtic's next Premiership game, which could be the visit to Ibrox on March 11 unless the Dundee clash is rescheduled before then.
Cristian Gamboa and Anthony Ralston are the obvious choices to deputise for Lustig and could it be the beginning of the end for the 2012 signing at Parkhead if one of those two impresses? 
Let me stop you there, Christian Gamboa is not an obvious choice for anything.
In truth, Lustig has been abysmal in recent months and looks more of a liability with each game, having been sent off in Sunday's 2-0 win at Aberdeen for two yellow cards. 
On the one occasion when the rest of the defence did their jobs, against Zenit at Celtic Park, Lustig could get on with doing his. Which he did very well.
That performance followed a shocker in Russia last Thursday, which in itself was another in a series of increasingly worrying performances from Lustig and you wonder whether manager Brendan Rodgers could move him on when the summer transfer window opens if Gamboa or Ralston impresses at Ibrox.
It might be time for a changing of the guard at right-back, similar to how Kieran Tierney displaced Emilio Izaguirre on the opposite side of defence in late 2015 and hasn't looked back since. 
Ah yes, because we can compare Tierney with Gamboa. Ralston is a decent prospect, and will need mentoring, with Lustig being the obvious choice for that role.
Celtic fans would love academy lad Ralston to be that guy, though Gamboa has looked a decent defender at times and if either one has a good game against Graeme Murty's side then it's very difficult to see Lustig getting back in Rodgers's best XI in the short term.
Contracted until 2019, Lustig, on £24,000 per week according to The Daily Star, is a big earner at the Bhoys and maybe, just maybe, the Celtic boss will free up that £1.2 million-a-year salary by calling time on the defender's time in Glasgow this summer. 
Gamboa has looked a decent defender at times ? I'll just leave that line right where it is.
Lustig has been one of our better players over the last few years, he gets Celtic, and he has become one of us.
Whilst one or two of you might say I'm being a little hypocritical here, given my recent rants against Rodgers, and you may have a point, Lustig should be cut a little slack, as no matter how his form has been, or how much support or help he gets from the rest of the defence, he never, ever, hides, and thats the kind of player who needs support, not abuse.
Meanwhile, over at ibrox, they've got one or two real problems ahead of their crucial title clash against Celtic-well, thats how it will be billed next week.
First of all, Dave king, the financial whizz kid from south Africa , lost hos appeal against the Takeover Panel decision.
In a rather short presebtation, he backflipped on his claim that he was skint and said that his family trust -hah, King, Trust, there's two words that don't go together- would pay the cost of purchasing about 35 million shares at twenty pence each.
The judges, three of them, did a huddle, honestly, this is apparently true, and chucked his case out after about thirty minutes, largely because they'd had enough of his bullshit.
There is no truth in the rumour that after the huddle, the judges shouted Up The Ra and burst into a chorus of the Boys of the Old Brigade.
Coupled with another rumour that flew around the internet last night concerning a further request for money, around £800,000 , from close Brothers, which was denied , things are looking mighty grim down in the land that time forgot.
Desperate times call for desperate measures, and we hear that one of the major players at Ibrox had seen a film where it was possible to get a seven year loan with the only security being his soul, and with all at Ibrox condemned to eternal darkness, he figured there was nothing to lose.
So, last night, while everyone else was posting pictures of snowmen, stranded cars and the results of finding a bottle of hair dye next to the Prossecco, a strange ritual to contact their latest financial advisor was underway at Ibrox..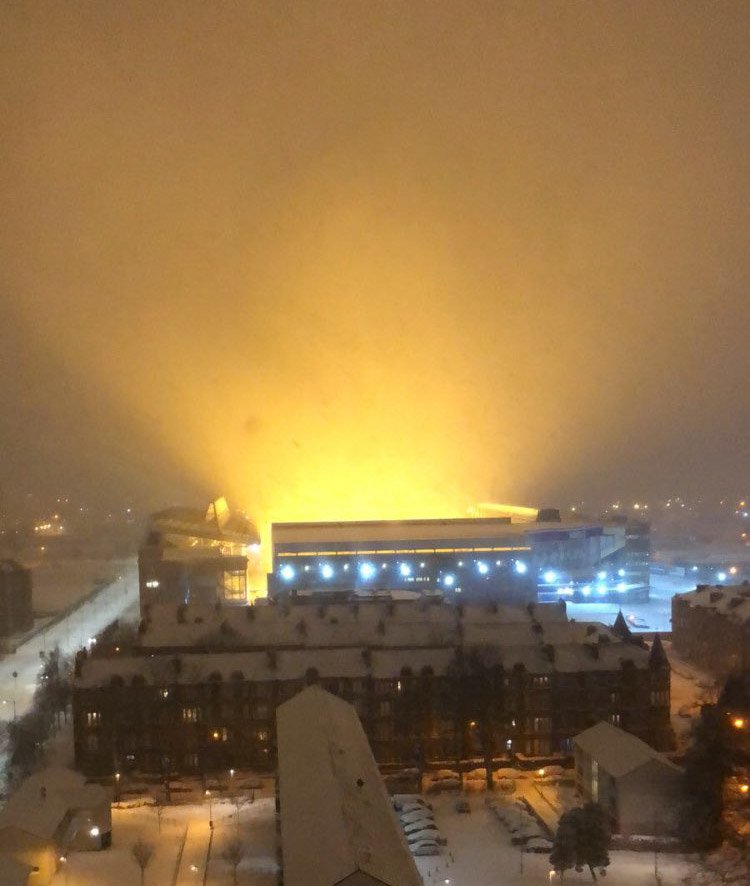 It appears they have summoned Satan and his minions, although it could be argued a number of them already have season books, and before you say I'm making this up, can you explain how the somewhat warm place where the damned reside ended up with its location confirmation sign covered in ice ?
Back at the ranch, and one of the Celtic players is considering legal action after his image, for which we believe he receives a wee bonus from the club when its used, was stolen and used in the tv series American Horror Story, which sort of has horror as a theme, but in later series switched over to the Game Of Thrones model, which is just naked people rubbing up against each other, to keep warm, presumably.
Speaking of shocks and horrors, the Sun reported…
A SHOCK video has emerged of Rangers fans chanting "We hate Catholics" hours after the Ibrox club's 2-0 win over Hearts.
The Gers fans can be heard on the clip, which was posted online by a member of the 'Honest Toun Loyal', proudly belting out the offensive slurs. 
I'm not quite sure how this can be termed a shock, they do it all the time.
Like on the early Crewe to Glasgow train last week, where someone recorded forty five minutes or so of singing, with not one song being about their team.
Moussa Dembele, Billy McNeill and the rest of the lions were among the targets in a repetoire which has to be listened to to be believed.
I'll work on getting that uploaded, as long as I can protect the identity of the source.
Caption competition from yesterday..
Not a caption as such, more of an observation..
Thanks to those of you who wished me luck at the hospital yesterday.
The biopsy came back clear, and as an added bonus the one that wasn't clear two years ago has now gone over the time where recurrences are likely, which meant I was completely discharged.
Which was kind of what I'd hoped for.
By the way, its still a bit nippy and slippy out there.
Don't go out unless you have to, but if you do pick me up some beer.