Celtic beat Aberdeen at Pittodrie 2-0 yesterday, not the greatest game you'll ever see, but it was significant in that we saw a little bit of the character in the players that had been so evident last season.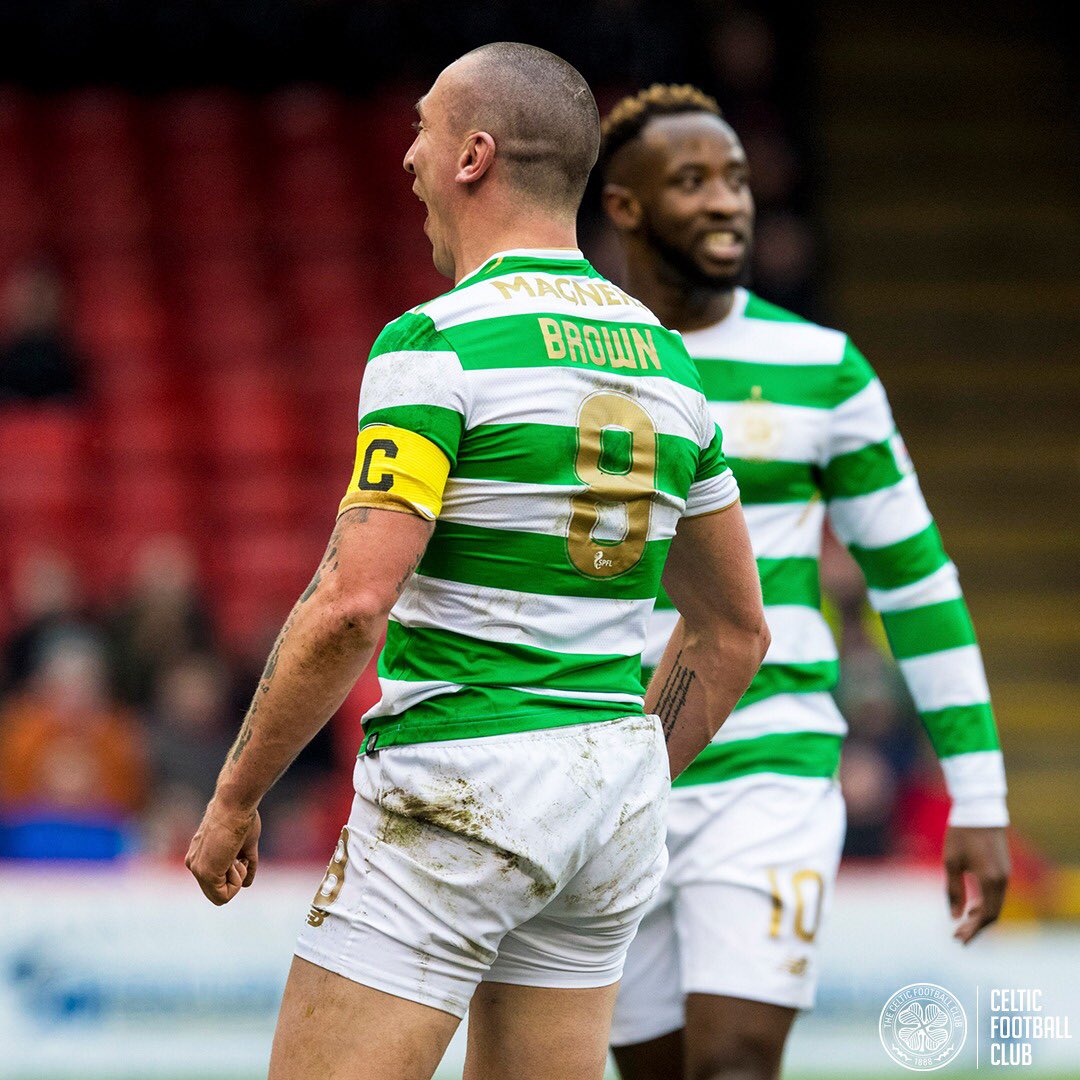 For the first twenty minutes or so, the side approached the game with caution, reverting the the side to side possession game between the back three which was daring Aberdeen to press and dispossess them.
Fortunately, as so often this season, Aberdeen had no interest in taking any chances whatsoever, and were quite content to hold off. Derek McInnes's idea of an adventure is to answer the door when its raining.
As Celtic gained in confidence, there were a few runs, a few forward passes, and inevitably, one of those moves ended in the opening goal when Moussa Dembele barged onto the end of a James Forrest cross.
In the second half, it all got a little untidy, and the first sign of a change in the overall personality of the team came from the much maligned dorus Des Vries, who made a couple of critical saves, and his defenders made a couple of blocks to keep out the Dons. It also emerged that he had been playing with a bit of back pain, an old injury from the Barcelona game where repeatedly bending to pick the ball out of the net had caused him problems, which had been exacerbated in Russia, but he performed admirably and inspired his team mates.
It takes a lot of mental strength to do that, especially as a goalkeeper, who by definition rarely get any credit , as its always the striker who "should have scored ".
Especially as its clear now that we don't actually have bad defenders, as what we seem to have are defenders who are not comfortable with playing three at the back. Lustig tends to cover Simunovic, Ajer tends to cover Simunovic whilst Simunovic runs around bumping into people. Like Ajer, for instance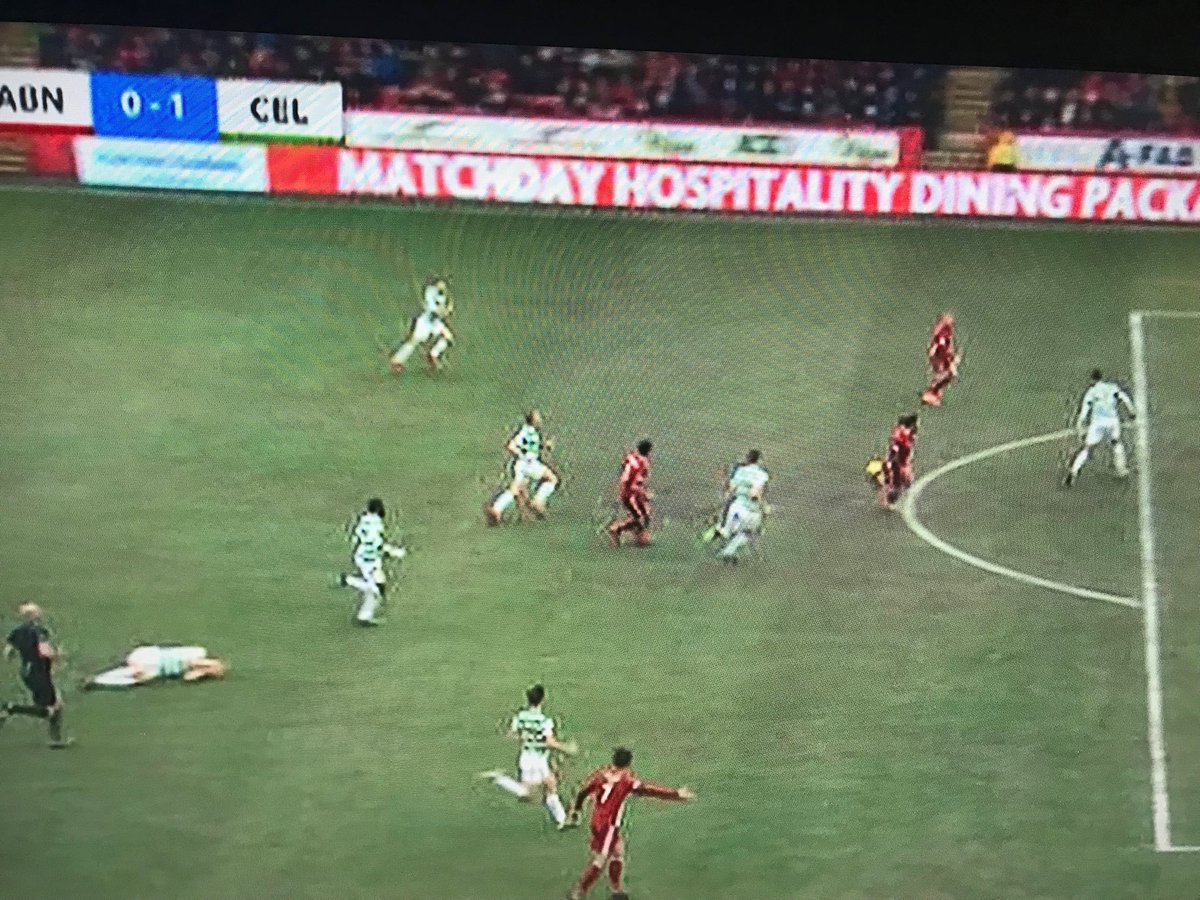 Despite having a good game up until that point, it appears referee Bobby Madden struggled to control his masonic base instinct and allowed play to go on. Presumably not noticing the six foot five man lying in front of him bleeding from a head wound.
He should have stopped the game, but that would have denied Aberdeen a scoring chance…
Anyhoo, back to the disorganised defence, and as a result, no one is concentrating on their own jobs, and everyone is worried about everyone else. With four defenders, as in the home game against Zenit, everyone could do their own job, and cries that Mikael Lustig is done were somewhat muted. For me, the big Swede hates playing in a back three, and thats the issue here.
But its okay to criticise Lustig, and many were to shout "I told you so " when a second foul led to his ordering off, although secretly most of us were probably pleased to finally see a bit of ruthlessness in our players.
When added to Simunovics foul on that irritating little nark Kenny MacLean, then we can surmise that either the boss has said start hitting them back, or the players have finally snapped after a couple of years of being assaulted.
As Aberdeen continued to search for an equaliser, they were becoming a little bit frantic, and a classic counter attack, with substitute Oddsone Edourad rampaging forward to lay off Keiran Tierney, the sigh of relief and roar that followed was probably heard in Russia when the left back made the points safe.
I think we can all safely say we're gald that game is out of the way, and with just ten games to go, a nine point lead should be enough to carry us over to seven in a row.
As for the manager, I'm still not convinced, and while many others are also asking questions, it cannot be denied that an unprecedented treble is well within our grasp.
Its been a toguh second season for him, and if he does come through with all the silverware, we'll all be happy.
We'd all settle for that, but then a major rethink about how Rodgers goes about his business next season is necessary.
The defence needs a shake up, as indeed it did last month, but nothing was done bar to purchase an aging and injury prone German who has still to feature for the club.
Questions need to be asked of John Kennedy, who after years as defensive coach has not actually given us a working defence, or any kind of system that might work.
Questions too, should be written down and placed on the desk of Lee Congerton, head of recrutiment, who has overseen seventeen signings under Rodgers, of which only two are regular first teamers, Sinclair and Dembele-although Ntcham should be-, neither of whom have been convincing in their second season.
Those who defend Rodgers, some with almost religious zeal, argue that he's won four out of four trophies, and in europe failure is inevitable because there's no way he can compete with the financial muscle of the big league clubs.
Er, that winning four out of four trophies is all well and good, but when you have a financial clout harder than all of the opposition put together, it seems a little odd to claim credit for winning under those circumstances whilst simultaneously using it to excuse piss poor and embarrassing results on the continent.
Or even at home against continental opposition.
What worries me is that when he is criticised, itself soon to be punishable by a proper kicking, is that the only two arguments one faces are the practical four out of four trophies, and its a results business, so thats what matters, but the rather vague "well, who would you have to replace him ? "
Which is hardly an argument to keep him, as it simply admits he the best we can get…
Rodgers is a capable manager, and now that the Zenit game fades into memory, he can shpow us how capable he is. He made an arse of that one, but perhaps this season is a bit of a learning curve for him as well.
Most recording artists, or pop stars as kids call them, will cite the difficulty of following up a successful debut album, with a second work of art, and instead simply fill out the work with the bits left over from the first album, as well as a new track or two.
This analogy perhaps fits Celtic this year, or at least Celtic under Brendan Rodgers.
He's certainly struggling with the lyrics, as they don't quite make sense..
"It was a fantastic win for us. 
"We're on an even playing field now with most of the other teams, 10 games to go.
"Some teams around us have been on holiday for a year with virtually one game a week. We've dealt with everything up until this point.
"With 10 games to go, we can really focus and concentrate domestically on what has been a really great season so far.
"One or two teams around us have got pressure now when they've been playing with no pressure a lot of the season.
"So, we look forward to finishing off the season well." 
On the one hand, it reminds me of a famous Celtic View headline back in the nineties, when Celtic had exited all the cup competitions and were trying desperately to avoid relegation.. something along the lines of
We can concentrate on building for next season
I'm exagerrating, but most older readers will remember the days of Pravda style utterings from the management and board.
Brendans statement about playing on a level playing field is nonsense. Aberdeen had to rest their best player yesterday because he's actually a Celtic player.
Sure the side have suffered from a horrendous run of injuries, but yesterdays team was packed with full and U21 internationals, all of which would hold down a place in any other Premier League side. As would those injured, and those out on loan who are holding down a place in other sides.
As for Europe, he's implying that wasn't a level playing field, or competing at that level was a hindrance to domestic perormances., whilst least season proved it need not be.
Rodgers has his faults, he's only human, despite what some of us think, and its how he deals with the issues and problems that come along that will define him as a manager.
And no, he shouldn't be sacked, but he does need to have a look at this season and see where he can improve.
Elsewhere, and where is that compliance report ?
Its been a while since the SFA said they would get one of their own to investigate themselves…so maybe a wee jolt to a few memories might help…
Petition to Celtic to seek information from the SFA with regard to their investigation into the processing of the application from Rangers FC for a UEFA Licence in 2011.
It is now over 22 weeks since the SFA announced they were to ask the SFA Compliance Officer to investigate the circumstances surrounding the processing of a UEFA license application from Rangers FC in 2011.
Interested supporter parties are wondering if the SFA are now themselves in breach of the following Judicial Panel Protocol (JPP) Founding Principle 2.2.
2. Founding Principles
2.2 Principle 1 – Economic and expeditious justice. The objective of the Protocol is to secure the Determination of disciplinary proceedings arising in respect of Association Football and that Decisions are made economically and expeditiously in a fair manner. Tribunals appointed from the Judicial Panel may impose reasonable procedural requirements on Parties to ensure that matters are dealt with economically and expeditiously.
Even allowing for
·         any complexity of the issue,
·         the need to observe due process,
·         and the consequences arising,
The signatories to this petition, drawn from across the Scottish football supporters' spectrum who value sporting integrity and fair play rules intended to uphold it, request that Celtic FC, in light of JPP Principle 1 (2.2) and as the club who may have been denied access to the Champions League as a result of any failings in the process in 2011, seek clarification from SFA on
·         where matters currently stand in the JPP process,
·         when the total JPP process, including investigation and any referral to a JPP Tribunal, will be concluded.
·          
If you believe the SFA have had more than enough time to conclude their task or a responsibility to provide an update in light of 2.2 Principle 1 then please sign …..
you can sign here…
Tomorrow, I'll give you another reason to sign, one that casts doubt on the credibility of all of those concerned.
And its one hundred per cent genuine.
Caption competition …from a few days ago now, as i've been having a bit of a moan, which you may have noticed, and thus been a little negligent of detail..