Celtic Diary Saturday January 20: Celts Glad To Be Back At Work. Honest.
The quest for the treble starts its third leg today, when Celtic host Brechin city in the less prestigious of the three Scottish Cup.
After manager Rodgers reverted to his Liverpool days with this weeks press briefings, showing he hasn't forgetten how to be tetchy, he reminded us of when he was managing in the English cup for the Mersey side..
"The first season at Liverpool we lost away to Oldham. I changed the team around quite a lot for the FA Cup.
"It wasn't the first game because we had beaten Mansfield away, Daniel Sturridge scored his first goal, and then we played up in Oldham away from home.
"There were a lot of changes and we were punished for it." 
Clever…"I" changed the team, "we " were punished. Is that one of those irregular verbs ?
He has had a look at todays opponents, who haven't won a league game this season, but doesn;t seem to have spotted any weaknesses..
"It has been tough for Darren Dods but this match, with 60,000 at Celtic Park, will give them some motivation.
"I have studied Brechin and watched them. They haven't won a game and have four draws but when I look at the team they are playing for the manager. 
When you study and watch them it is not as if it is a team that is downing tools and not playing or not working for him. They are a team that is part-time in what is predominantly a full-time league. The guys are giving their all.
"It doesn't mean we disrespect them. We expect to go into the game, work well and get through.
"You just have to be ready. There can be no complacency. We just have to focus on ourselves and do what we normally do. I'm looking forward to the game. You always want a home game in this scenario. 
Unless its a European game obviously.
"Last year when we came back we were away and played well. We got the win and that set us on the way to winning the trophy." 
Thats kind of what we are hoping for. A refreshed and enthusiastic Celtic, back from their break should hit the ground running.
If we struggle in any way, or there is less than one hundred per cent effort today, then we have a problem.
At least he has removed the "tired " theme from his statements, which may well have influenced the players a little more than he would have wanted.
We have a lot less games in the second half of the season compared to what we played first half.
"We pressed the refresh button in Dubai and we're really excited for the second part of the season.
"We'll definitely be a lot fresher, it's natural. The players did brilliantly to get through to that point of the season and through December when it was demanding a real burden on your physicality and mentality. They came through it well and finished eight points ahead. 
I'd kind of believe it if he had used the same player sweek in week out, but he didn;t, and has used the in jury problems as an excuse for one or two poor performances.
The time for excuses has stopped, and the players will just have to get used to three hours work a week.
There was some good news…Brighton have bought a striker, which in the words of one newspaper means..
Moussa Dembele edges closer to Celtic stay as Brighton splash out record fee on Dutch striker Jurgen Locadia
Brighton had been linked with an £18m move for Dembele but have turned their attention elsewhere. 
There's no mention in the article, by double surnamed hack Fraser Wilson at the Record-and we all know never to trust a man with two last names- as to Dembeles reaction now that his dream move has been wrecked, but he'll probably get over it.
Hopefully, Greg Docherty will be strong enough to withstand the latest media onslaught, after his move from Hamilton was wrecked by Hamilton, who rather selfishly wanted the first instalment of a £300,000 deal up front, and not in August, as the Ibrox club rather generously offered.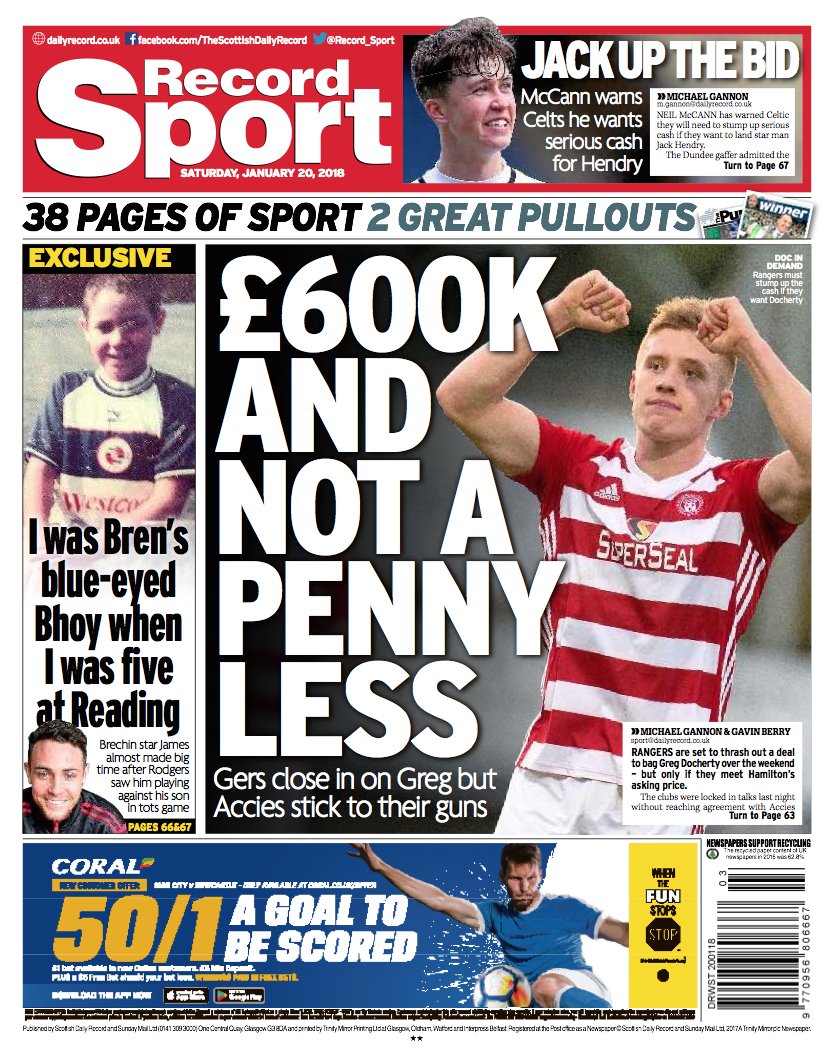 Hamilton have told them to fuck off, and the player won't feature in todays Lanarkshire derby, not because he is thrashing out a deal with "rangers ", but because Millwall and Cardiff want him, and they have got bank accounts with statements that are not written in red ink.
Neil McCann of Dundee, for the moment anyway, is holding out for as much as he can from Celtic should Jack Hendry choose to move to Glasgow. I hope he stands his ground, Celtic drop their interest and then he gets sacked when the player leaves for nothing at the end of his contract. We'd only loan him out somewhere anyway so we might as well let him learn his trade at Dens.
Meanwhile, in the darkness on the edge of town, there's been a terrible slur…
Martin Williams in the Herald does his best to make this into a serious bit of news..
PRIMARK has banned a cap with the word 'hun' on it from its Scottish stores after it was told of its link to a sectarian slur.
The retailer said that the word was used as an abbreviation of the word 'honey'.
But it decided to discontinue the cap after it prompted a social media storm.
It came after an Irish journalist Aoife-Grace Moore posted a picture of a 'hun' cap found in a Glasgow city centre store and said: "This is a very very bad idea." 
A number of concerns were raised regarding the design with many suggesting that it could lead to sectarian abuse.
Rangers fans have been campaigning to have the use of the word 'hun' made illegal in Scotland following online abuse of pop singer Amy Macdonald two years ago.
The move was linked to an internet petition which says the word is a term of "religious hatred, a derogatory and sectarian term for a Protestant". 
This is a protestant.
This is a hun.
There endeth the debate.
And if anyone sees this hat on sale, perhaps on line, I want one.
In fact, we should all wear one, which would certainly not offend their sensitive souls.
Many years ago, I used to have a girlfriend who called me "hun ", its a term of endearment down here. Mind you, she's probably still waiting outside the pub for me to turn up.
Hope she remembered a jacket.
Meanwhile, spare a thought for Hartlepool, the English side facing liquidation over a mere £200,000 bill.
As if things weren't bad enough for them….
They've asked them to wear their "rangers " shirts, which will make it tricky for them to blame any problems on chelsea fans. Stand out in the crowd-they'll certainly do that alright.
One diehard bluenose legal expert said
" I'm going to tell them its only the company that will die."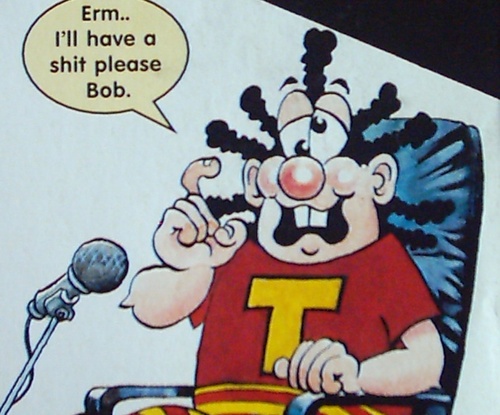 On a serious note for a minute, take some time to read this… about police brutality in the eighties..
Was anyone there ? What do you remember. Who knows ? With enough testaments maybe we can get the case looked at again..
Those of you who asked about how I got on at the hospital needn't worry. The doctor merely told me he'd heard I drink to excess, I reassured him that I would drink to anyfucking thing.
Yesterdays picture..