With just one game left before the winter break Celtic moved eleven points clear at the top of the league with a comfortable 2-0 win up at Dens Park.
Well, comfortable if you don't count the injury to Johnny Hayes, who was beginning to settle, but doesn't seem to have much luck in the hoops.
He went for a fifty fifty ball with Josh Meekins and ended up with a bruised shin that saw him leave the proceedings. It did look as though Meekins left his foot in, but after viewing the incident a couple of times there doesn;t look to have been any malice.
However, it was Josh Meekins, who made a great save in a Cup game a while back, so as far as I'm concerned he not only set out to harm Hayes, but had told everyone in the pub the night before that he was going to do it.
If that was the low point of the game, then the high point would be the emergence of Kristoffer Ajer as a centre half.
A dependable and assured centre half as well.
Since the Hearts game and the four goal drubbing, the defence has gone 270 minutes without conceding a goal. That is down in no small part to the presence of the Norwegian.
On loan to Kilmarnock last season he proved he can play in the league, and there arw signs that he can improve further. More importantly, the rest of the defence seem a little more comfortable that he's around.
Maybe Marvin Compper is here to bring hands on help with that development…
Another pleasing aspect is the resurgence of James Forrest.
The much maligned marmite winger has began to add consistency to his skill and work ethic, prompting pundit Chris Sutton to describe him as the "best player in Scotland " .
Forrest himself is a little more modest..
"We've kept going and we've picked up some good results," 
"We've been really solid. We've been defending from the front and the back four have been really solid in the last couple of games. Our performance against Dundee was really good.
"I'm buzzing with getting a goal and I want to score more goals for the team, so hopefully I just keep doing that."
"It's been a great first half to the season, 
"We've hit all our goals so far, so to finish it off on Saturday with a win would be a great way to end the year.
"We're still in Europe after Christmas so that's a big boost for us when we come back. But we've got one last big push and we'll give it our all. When we're at our best it's hard for anyone who plays us. We just need to start well and work hard and we're ready to that."
Next up on Saturday are fledgling cash stapped "rangers ", who, as usual, will think they're going tpo make a game of it. With all sorts of problems off the pitch, it could well be the last clash between the two clubs, and so it might be worth buying a programme or something to show the grandchildren.
"rangers " are the only top flight club I've never actually seen in the flesh, so I'm making an effort and attending on Saturday.
Wonder if they'll turn up ?
With the game being touted as some sort of showpiece, perhaps because of the Ibrox addiction to the idea of their club holding some sort of relevance in world football, its seen by many as the only link left between the old and the new club.
We'll get the media telling us that form goes out of the window in these games-it didn't even when t was the Old Firm-, how every player wants to play in this fixture, and even how the competitiveness of the clash puts it up there with great world derbies.
These days its a clash between the old , established name of Celtic, and the young pretender in the guise of its more famous predecessor.
There isn't a single player in the Ibrox ranks who would make even the celtic bench, and there hasn;t been for the duration of its short and controversial existence.
That makes the mainstream medias job of building up any kind of pre match tension rather difficult, so instead they've upped the sideshow of unsettling Celtic and the support with the anti Celtic stories.
It began on christmas morning with the Dembele to Brighton nonsense, a story which prompted a reaction from respective managers Chris Hughton and Brendan rodgers, who both dismissed it out of hand.
Even the Frenchmans agent was a little surprised, and went to the extreme of attending the Chelsea-Brighton game just to confirm there was actually a club called Brighton.
(From Football Insider)
Moussa Dembele's agent Mamadi Fofana jetted out to London on Boxing Day to watch Brighton play Chelsea in the Premier League as speculation swirls around the future of the Celtic star, according to a report.
The Scottish Sun claims that Fofana was in the stands at Stamford Bridge to watch the Seagulls lose 2-0 in the Premier League after it was widely reported that Brighton's £18million bid was accepted by the Hoops for Dembele.
However it is understood that the Scottish Premiership championship have rubbished any notion that a deal has been agreed to offload the 21-year-old ahead of the January transfer window.
That isn't enough, however, and the media have begun to push the idea that Dembele will be sold this winter.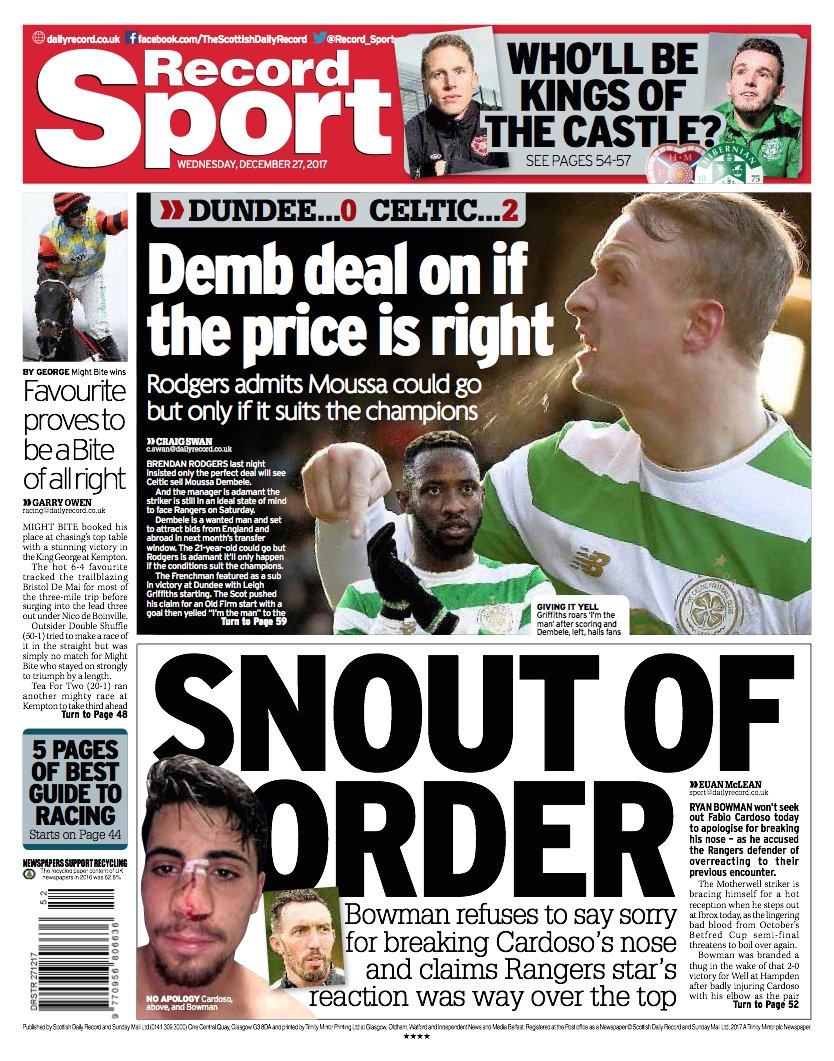 When asked, Rodgers simply told the press what he told them the last time..
"Fuck off ".
Publicly, however, he said: ( as he did last time )
There will be interest, of course, but there is nothing in it.
"We don't want to lose any players and we won't lose any players.
"However, if there is something that comes in, it goes back to that issue, morally.
"If a player can earn five times as much as what he is on now then it is very difficult to stop him, especially if you get a fee for a player.
"But there is a lot that needs to be right. We don't need to sell anyone – that is the idea. But what is always important at Celtic, especially when you are doing so well, you know there is always going to be interest and you have to prepare forward for the 'what if'.
"And if we do lose any of our players, then we hope to have some to bring in to keep the continuation." 
If he goes, he goes…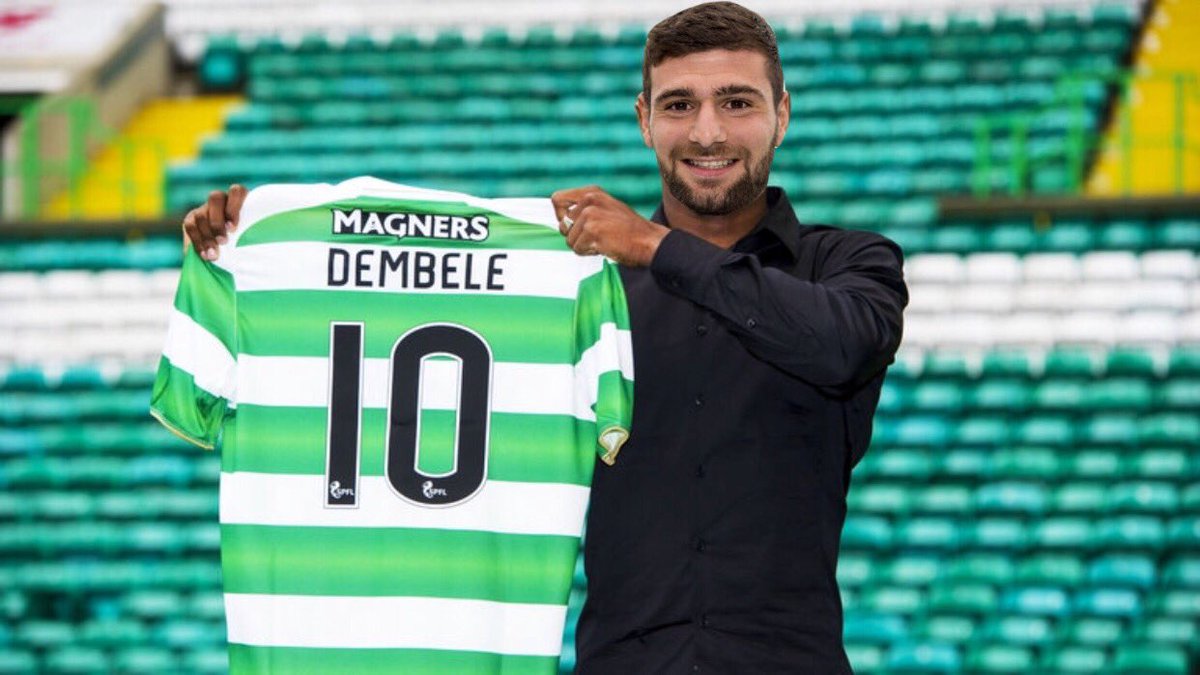 After his goal at Dens yesterday, Leigh Griffiths appeared to mouth "i'm the fucking man " to the support, prompting a few in the media to assume he's all disgruntled and wants a move. Griffiths admitted to being a little frustrated this term, but again the issue has more that a whiff of mischief making about it.
"It's been a frustrating time for me, not scoring and not playing as much as I would like," 
"I got the nod today and I managed to contribute with a goal and help the team get three points." 
There is a lot of competition for places between me, Moussa and Odsonne. We have a big game at the weekend so we will see what happens." 
I'm going for two each. Each of the strikers that is.
Have a look at this table, which lists shots on target from free kicks this season…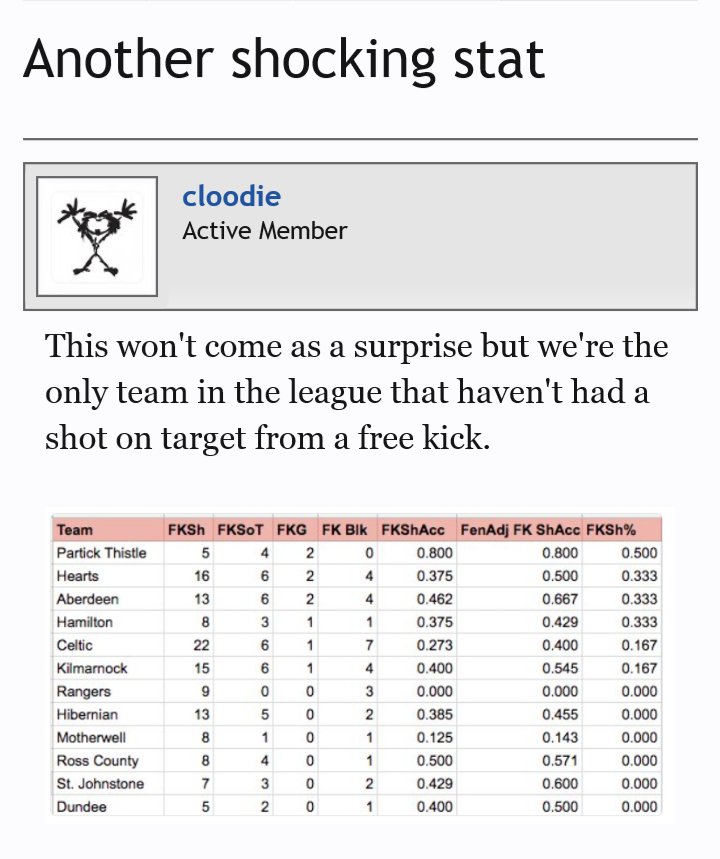 But the press campaign to level the sides up does seem to be taken notice of by some people,,er, peepil..
The next one has to be read twice, as your eyes will fall out the first time. Get ready to cathc them and pop them back in..
Its all they have left…
By the way,after the christmas festivities died away, I found this amongst the carnage in the kitchen, which is another example of the sense of entitlement some people cling on to.
Yesterday, we showed this picture, and asked for an explanation…