An awful lot of rattles being thrown out of an awful lot of prams today, but we'll come to that later.
The names are all ready to go into the hat for Mondays Europa League Round of 32 draw.
It could be worse, I suppose.
Seeded: AC Milan (ITA), Arsenal (ENG), Atalanta (ITA), Athletic Club (ESP), Atlético Madrid* (ESP), Braga (POR), CSKA Moskva* (RUS), Dynamo Kyiv (UKR), Lazio (ITA), Leipzig* (GER), Lokomotiv Moskva (RUS), Plzeň (CZE), Salzburg (AUT), Sporting CP* (POR), Villarreal (ESP), Zenit (RUS)
Unseeded: AEK Athens (GRE), Astana (KAZ), Celtic* (SCO), Crvena zvezda (SRB), Dortmund* (GER), FCSB (ROU), København (DEN), Ludogorets (BUL), Lyon (FRA), Marseille (FRA), Napoli* (ITA), Nice (FRA), Östersund (SWE), Partizan (SRB), Real Sociedad (ESP), Spartak Moskva* (RUS)
One tiny note of encouragement, which is at least as good an analysis of the European campaign as any you'll find anywhere else, is that there are five seeded teams beginning with the letter A.
Celtic have already beaten Astana and Anderlecht over two legs this season, and there are just enough teams to face beginning with that letter all the way up to and including the final.
Celtic are 80/1 to lift the trophy.
Looking down that list of seeded teams, and some might say looking down it with trepidation, ask yourself this…if we had drawn any two of them in the UCL instead of Bayern and PSG, would you have fancied our chances of progression ?
Remember, they, too, are in this competition because they are not a top side this season, and so with a little bit of tweaking, and a little bit more self belief, there's as much chance of Celtic winning it as anybody else.
The desire is there.
Craig Gordon, for instance, says he wants to become Celtics most decorated keeper.
Me and the dog are on our way.
Should be easy. Its not like he moves about a lot.
He needs two more to draw alongside Ronnie Simpson and Pat Bonner…
"It keeps you fresh and motivated to try and do these things.
"I wanted to get to 50 caps for Scotland and Alan Rough has 53 caps and I have 52, so that's the next one I want to get to and become the second-most capped Scotland goalkeeper. 
"Now I want to be the most decorated keeper in Celtic's history.
"That would be a great thing to achieve.
"It would be huge for me. It's a massive thing to aim for and it's a great motivation, not only for me, but everyone coming into training every day, to keep winning matches, game after game and session after session, putting everything in, to making it work.
"So, when you finally hang up your boots, you have achieved something that no-one else has done. That drives me every day.
"It's a special times for the club with the way we are playing and the trophies we are winning and I just want to keep doing that as long as possible." 
Another who wants to do well is Keiran Tierney, who must weep silently every time he sees that Scott Sinclair is the man in front of him on the pitch..
He missed out on the UEFA cup final as he was only five, and not only could he not play, although to be fair we were short of a decent left back in those days so he should at least have made the squad, but his dad wouldn;t take him to the game…
"I am still raging at my dad about that, because he went. Everybody knows how good a run and what a special team it was that year. 
Growing up, they were all my heroes. We cannot get ahead of ourselves, but we will be right up for the Europa League. It is progress for us. Last year we didn't get there and now we need to make the most of it.
"You need to believe. If you don't believe, there is no point being in it.
"We will be going into it positively and we want to give the fans a better night, here at Celtic Park anyway. We want to give them something to cheer about.
"There are some massive teams left in the competition, it is a hard tournament. People think it is probably going to be easier than it is, but it is really tough.
"I played in it a few seasons ago under Ronny Deila and we came up against the likes of Fenerbahce and Ajax, really good sides. There are no easy games for sure.
"That run was good for me, the wee step up. After that I was given a platform to move from Europa League to Champions League at a young age which was great. 
Speaking of that team, there was one thing they had that this generation has still to adopt, and thats personality.
It came from  being streetwise, and from most of the players having been around a bit, so any comparison is grossly unfair.
However, as these players grow and learn together, there will come a point when it all clicks and we get something to remember, in the same way as O'Neills team clicked…
Like i said, Celtic are 80/1….
In other news, "rangers " are set to appeal the decision to tell them where to stick their offer by Derek McInnes.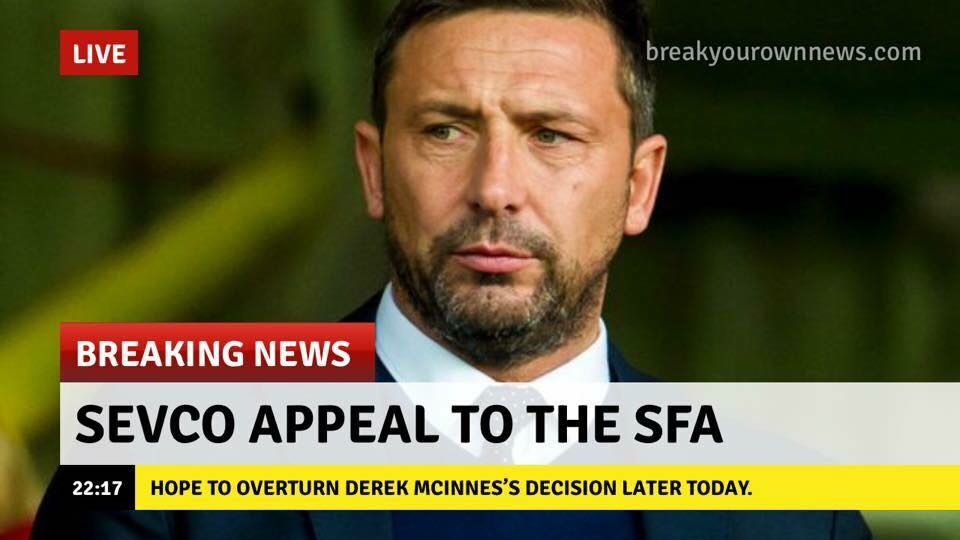 It comes after the Aberdeen manager declined the job on offer, although its unclear whether or not he actually spoke to them or just his own chairman.
Officially, Aberdeen said; ( Stewart Milne, the chairman )
"As everyone is aware, Rangers made an approach on Tuesday evening and they were refused permission to speak with Derek.
"I spoke with Derek who felt it was a major thing to be considered for the managerial position at a club such as Rangers and we agreed that he could have some time to think about the approach and talk it through with his family.
"Over the past 48 hours, I have been in constant dialogue with Derek and having weighed up the opportunity, he has taken the decision to remain as Aberdeen FC manager. Derek has also been maintaining close contact with Paul Sheerin ahead of tomorrow's game at Dundee.
"Derek appreciates all that he has at this Club and feels he wants to keep driving the Club forward. This is where he wants to be and he feels he very much has unfinished business with Aberdeen FC.
"I personally am delighted that Derek has decided to remain with the Club and everyone looks forward to putting the speculation of the past few weeks behind us and concentrating on matters on the park starting at Dens tomorrow evening." 
Over at Ibrox, they responded with a petted lip…www.rangers.co.uk
THERE has been a great deal of media speculation regarding the appointment of a new manager. We assure all supporters that they will be the first to know when we are certain we have someone with the correct qualities required by our club.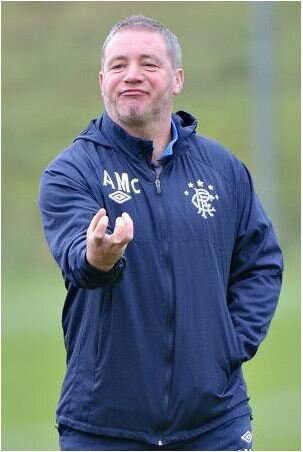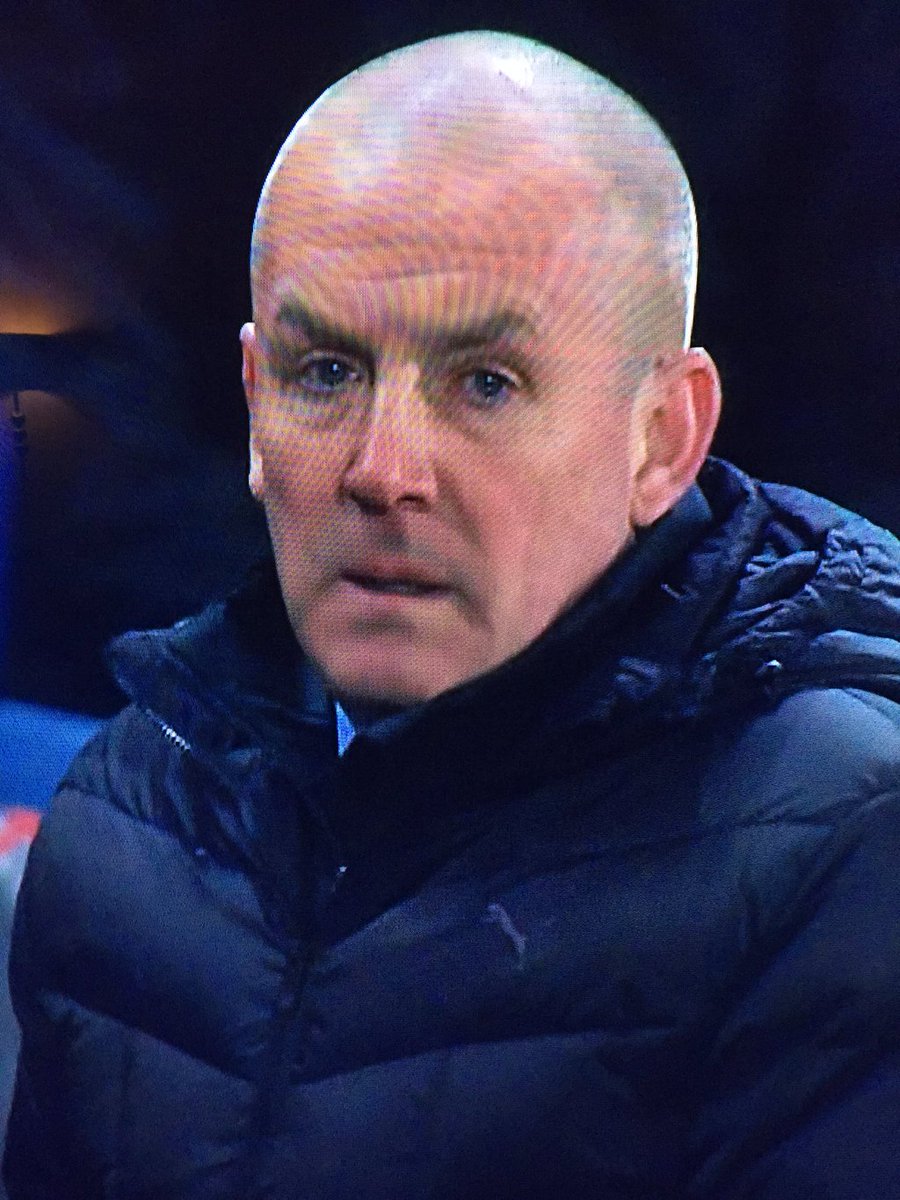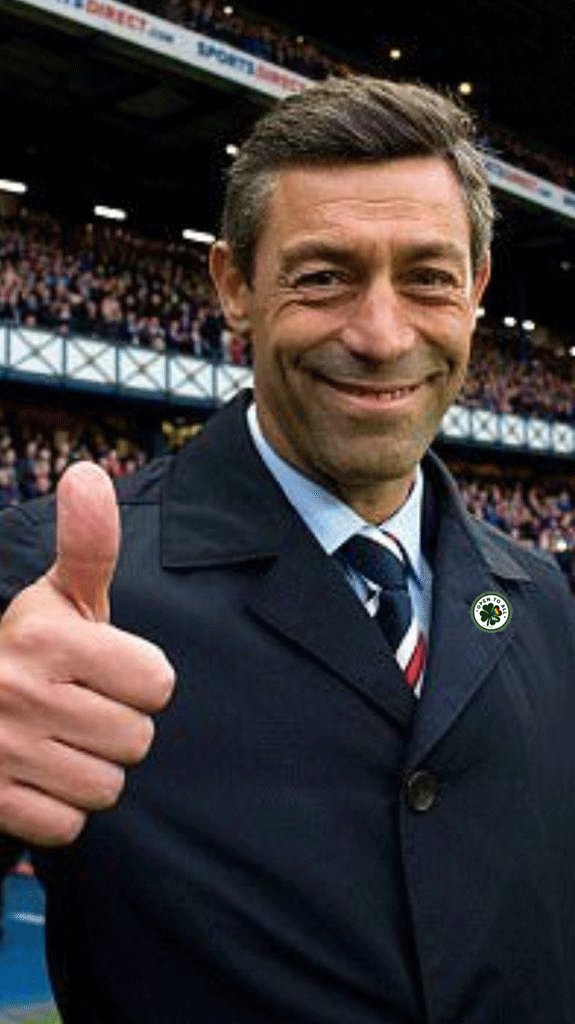 The Chairman made it clear at the AGM that the club did not consider there to be an outstanding candidate among those who had applied for the position and the club was therefore considering managers currently under contract. This requires permission from their present clubs. 
Their ? There's someone else in the frame ?
The position of Rangers manager requires an ability to win football matches and the mentality to cope with the demanding off-pitch environment that goes with being the Rangers manager. This is a critical aspect of our assessment of any candidate during the interview process. 
Er, see the pictures above…
After the two games against Aberdeen, we requested permission to engage with their manager to assess his readiness and willingness to consider the Rangers position. 
"rangers " won both games, Graeme Murty equalling the best run under Pedro Caixinha, so you can see what they are looking for in a manager.
This was declined. We were subsequently made aware by Aberdeen's statement that, at this stage in his career, it would be best for him to remain in his current post. We endorse that position because moving to a massive club like Rangers is a big step with concomitant risk.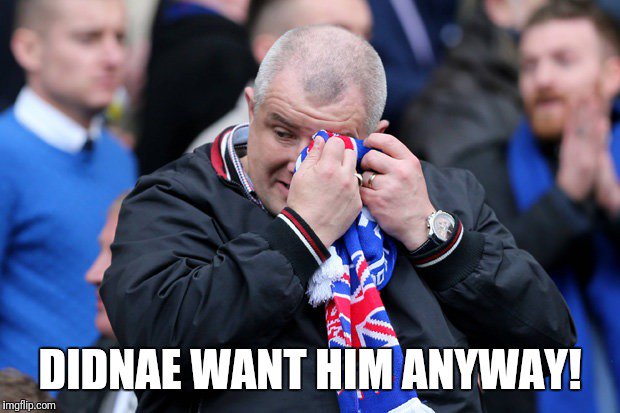 We continue to consider candidates but will only appoint someone in whom we have full confidence and who feels he is ready for the job. 
Loosely translated, they don't think he's up to the job after all and never did, but haven;t got a clue who else they can ask as no one wants to be their manager, largely because the club is sliding back into a swamp of its own making.
In the meantime, we have great confidence in Graeme Murty, who will continue as interim manager at least until the end of the year. The manner in which he has approached this task is a credit to himself and the club. 
He can do the job standing on his head.
Look.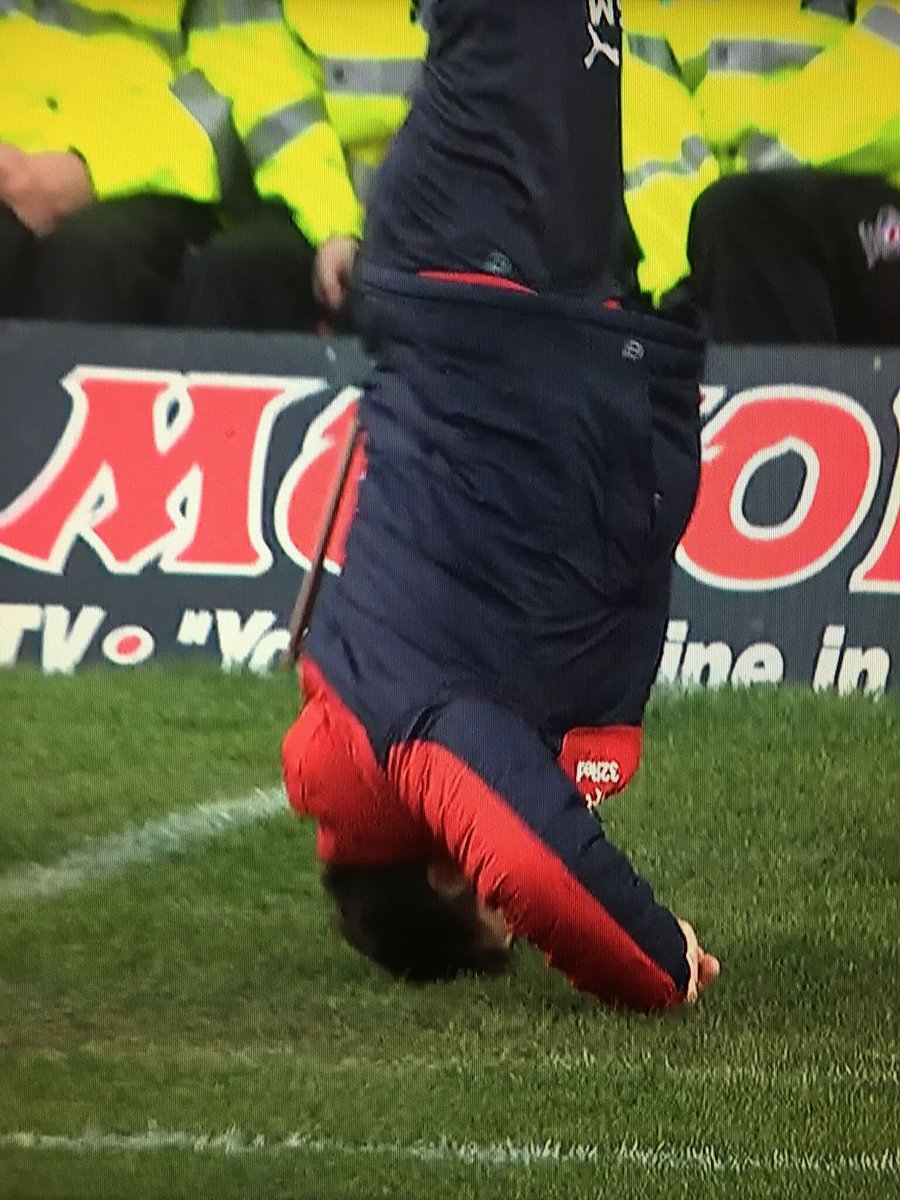 The statement itself, hurriedly put together with no one claiming credit for it, contained a word which was new to a great many of us.
Definition of 

concomitant
: accompanying especially in a subordinate or incidental way 
Concomitant was introduced into English at a time when many people were criticizing the use of Latinate forms in favor of more "native" words from Old English. As a descendant of Latin concomitari ("to accompany") and ultimately of "comes," the Latin word for companion, "concomitant" may well have been initially derided as an ostentatious inkhorn term. Indeed, two associated words, the verb concomitate, meaning "to accompany," and another adjective, concomitaneous, meaning "of a concomitant nature," didn't survive to accompany "concomitant" into the 18th century.
Ah, but you already knew that, as indeed, did the gullibillies.
Other great uses of the word throughout history include…
… Christopher Walken delivers his customary edge without any of his clichéd, 

concomitant 

weirdness. 

—Stephen Whitty

,  

Entertainment Weekly

,  

12 Feb. 1999

The Lincoln and Johnson plans for settling the problems of peace and freedom never seriously touched on the 

concomitant

 problem of equality. 

—John Hope Franklin

,  

"The Two Worlds of Race,"

 

1965

, 

in Race and History

,  

1989

But it was observed that this pill would be peculiarly bitter to the Southern States, and that some 

concomitant

 measure should be adopted to sweeten it a little to them. 

—Thomas Jefferson

 

4 Feb. 1818

, 

in Thomas Jefferson: Writings

,  

1984 
There was a time when Mr. Cuomo would celebrate his ability to broker an on-time budget for New York with a snappy slogan and concomitant keepsakes.
The result has been a huge number of complaints throughout academe and a concomitantgrowth of bureaucracy.
Cotton wealth led to a concomitant rise in the district's slave population.
We do what we can on Etims to help clarify things.
In fact, If I composed a tenacious and unbiased parody which was both frightful and distasteful, packed with insubstantial yet irrefutable impropriety,  that helped to kill off the new club in the long run, I'd only be using words that first appeared in 1607, at the same time as concomitant.
The internet wasn't around in 1607, but it was last night…
Maybe their support should read this…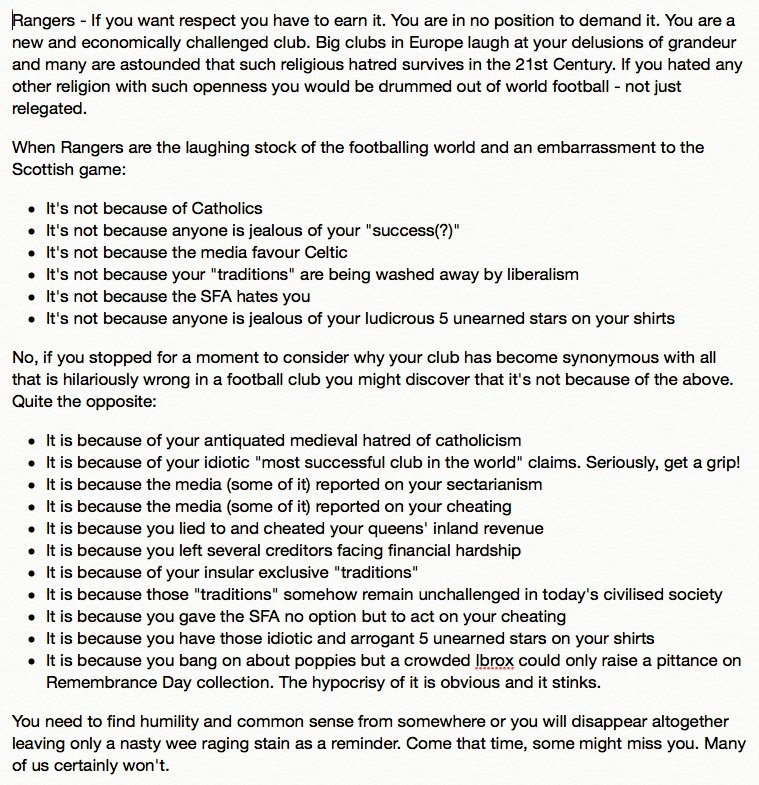 Common sense…but its not infectious… certainly not for the paid professionals within the media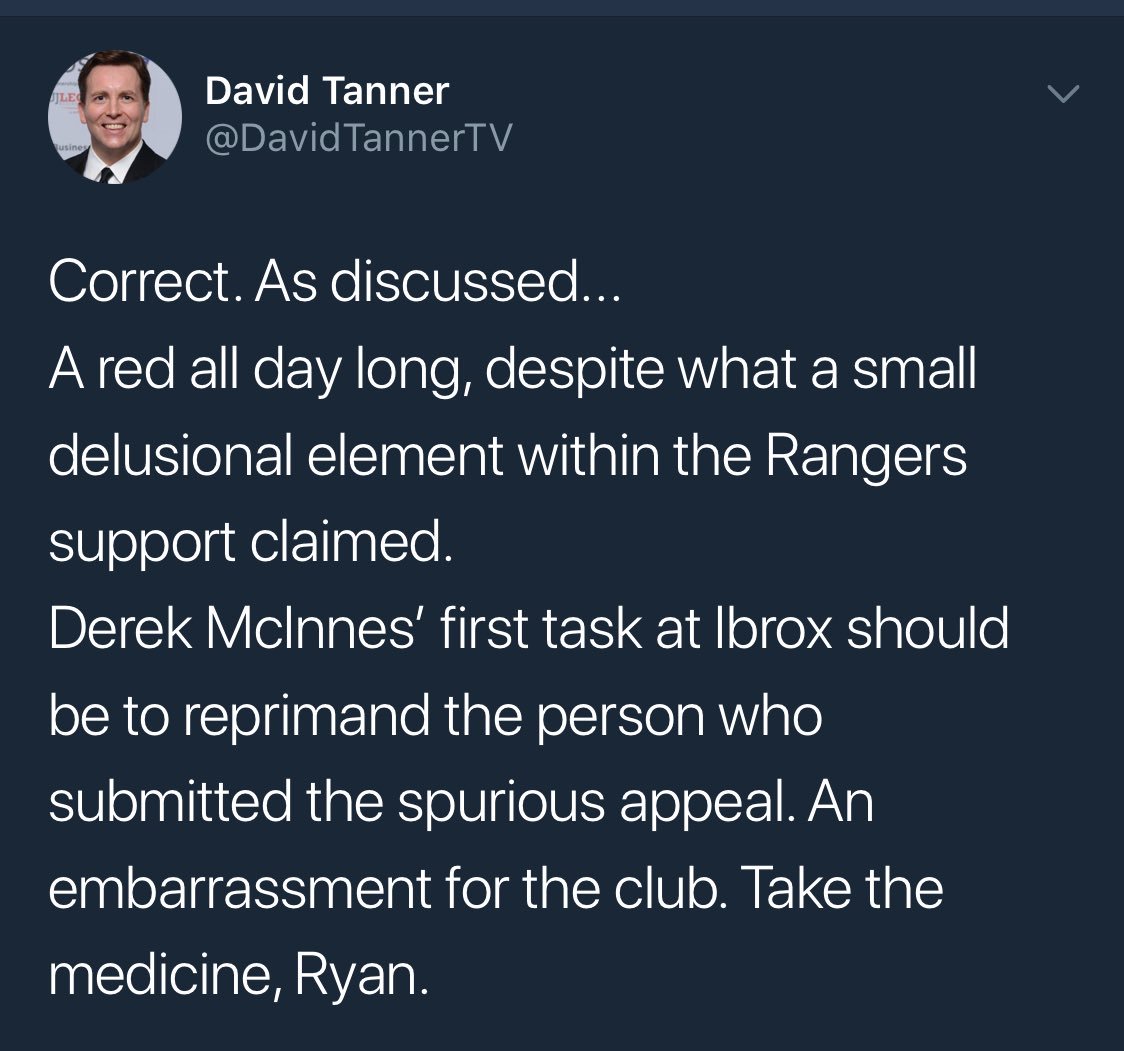 So far as I am led to believe nothing continues to happen. But I would put my house of Derek McInnes being appointed by the end of the week. The wife's packing already!
Obviously the brains of the family.
Oh, and I hear that the Radio Clyde superscoreboard has a Christmas poster giveaway tonight, for its core audience..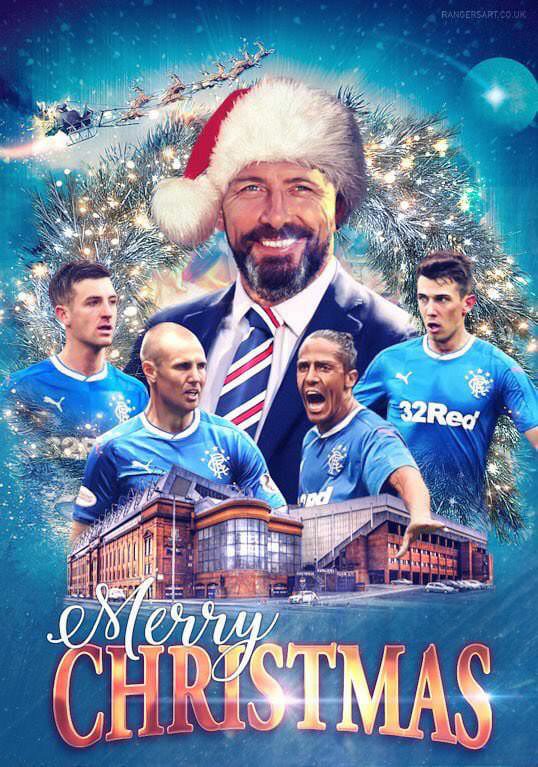 Aberdeen refusing Rangers permission to speak to Derek McInnes is all show for the fans. But…. DM wants to go. DM wants out of Aberdeen. DM wants to join Rangers. DM will get what he wants.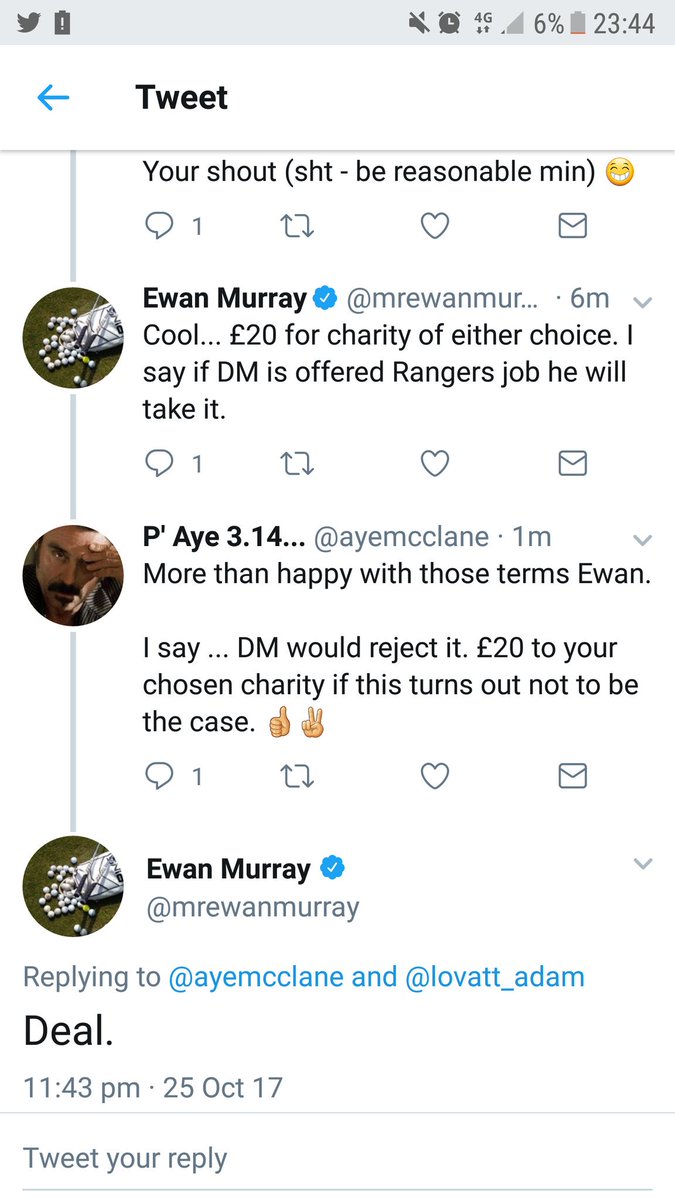 Also from Cameron..
A number of fans not liking the fact I was right about McInnes wanting to join Rangers but I did warn you on October 22nd. See tweet below. At the time…. I was laughed at Told that Gers don't have cash DM was happy at Aberdeen In the words of Frozen 'Let It Go'

Oh, its gone alright….
Then the fans, oh how they are condemned to suffer…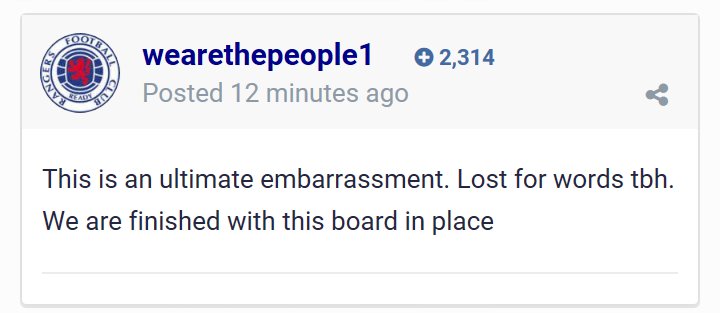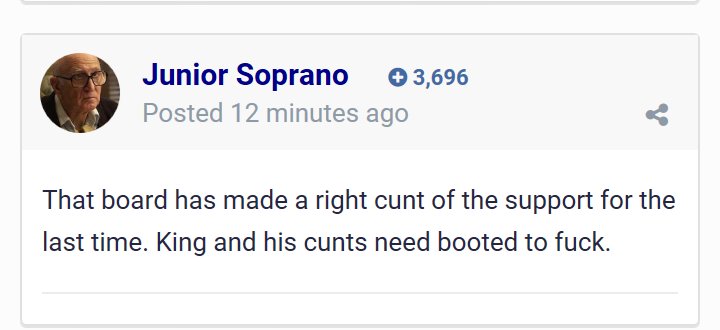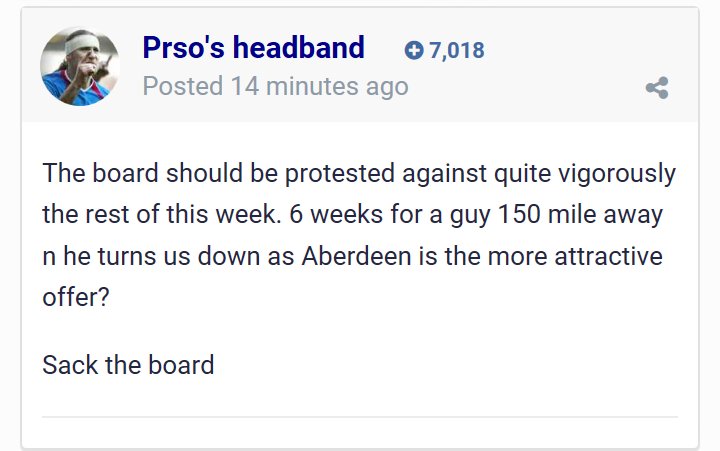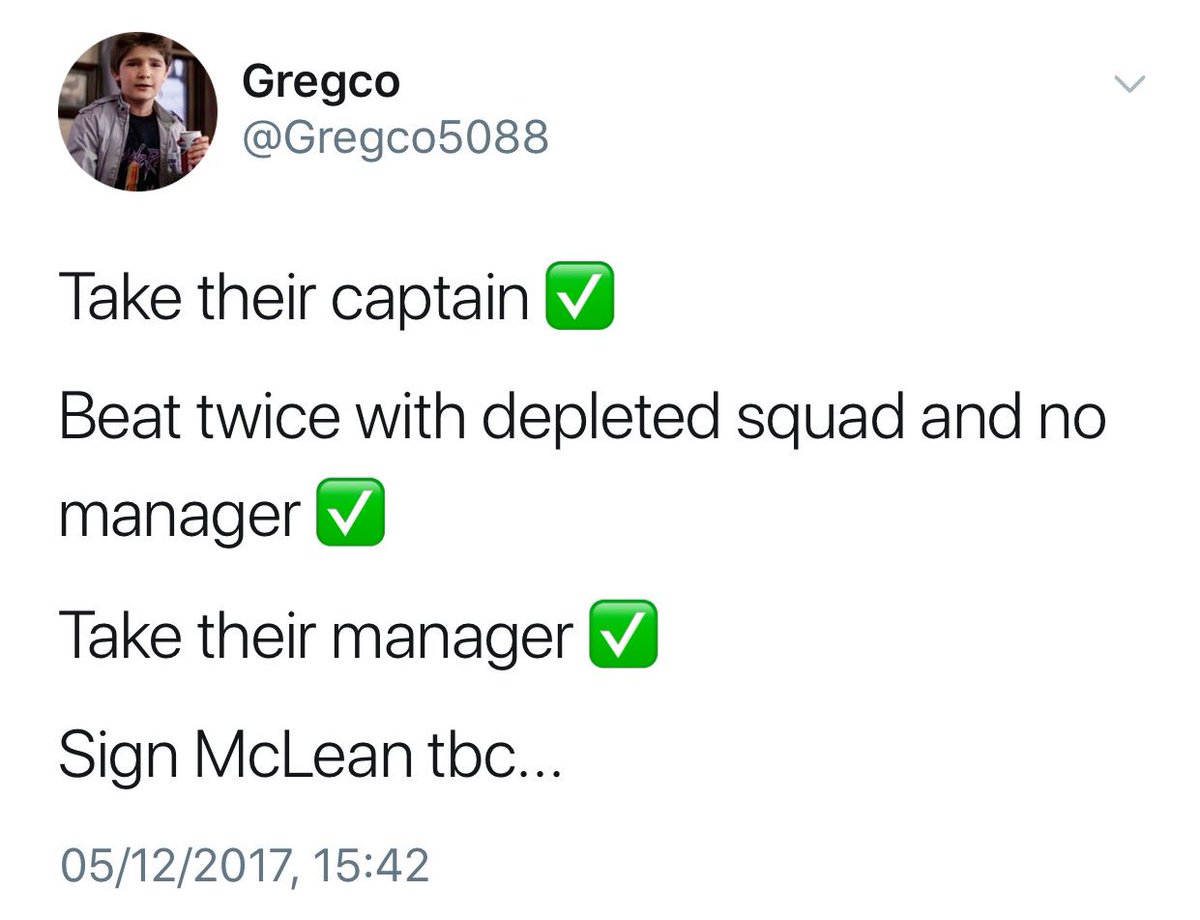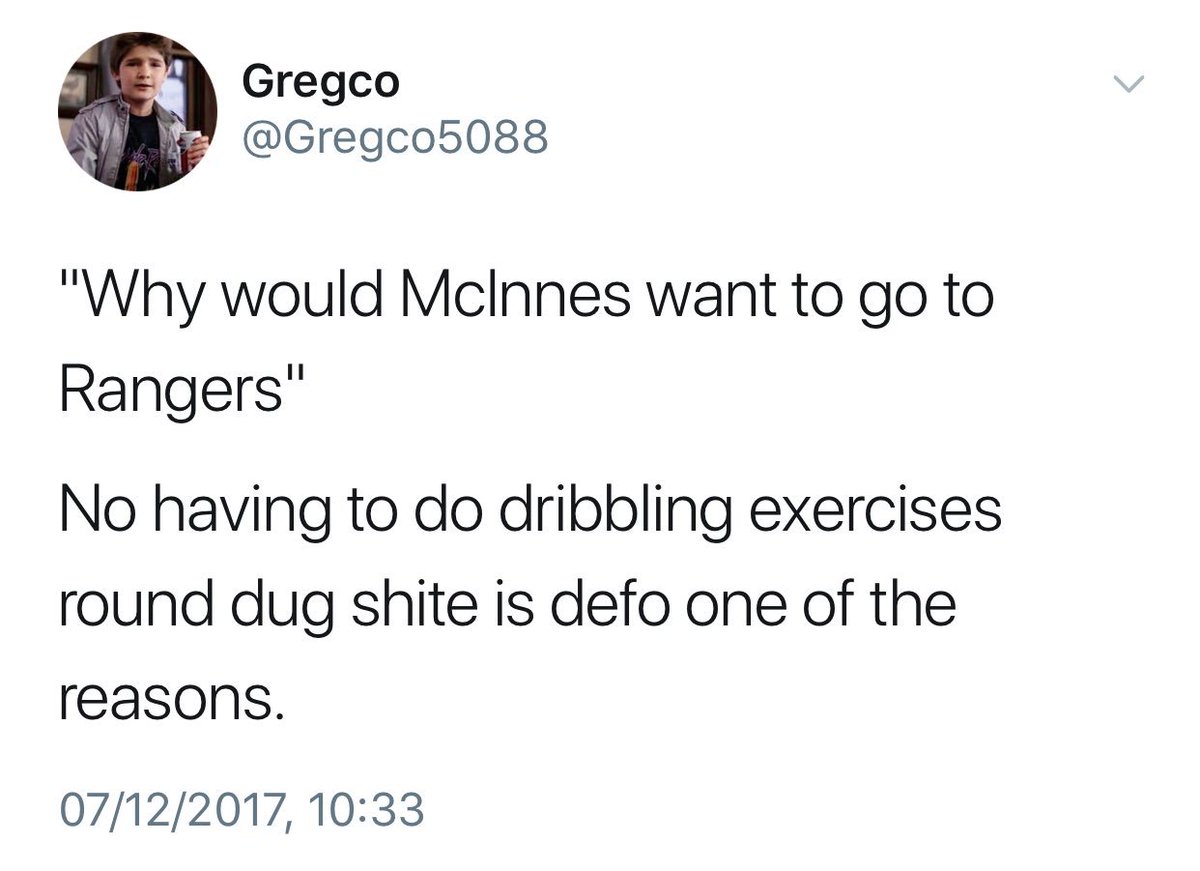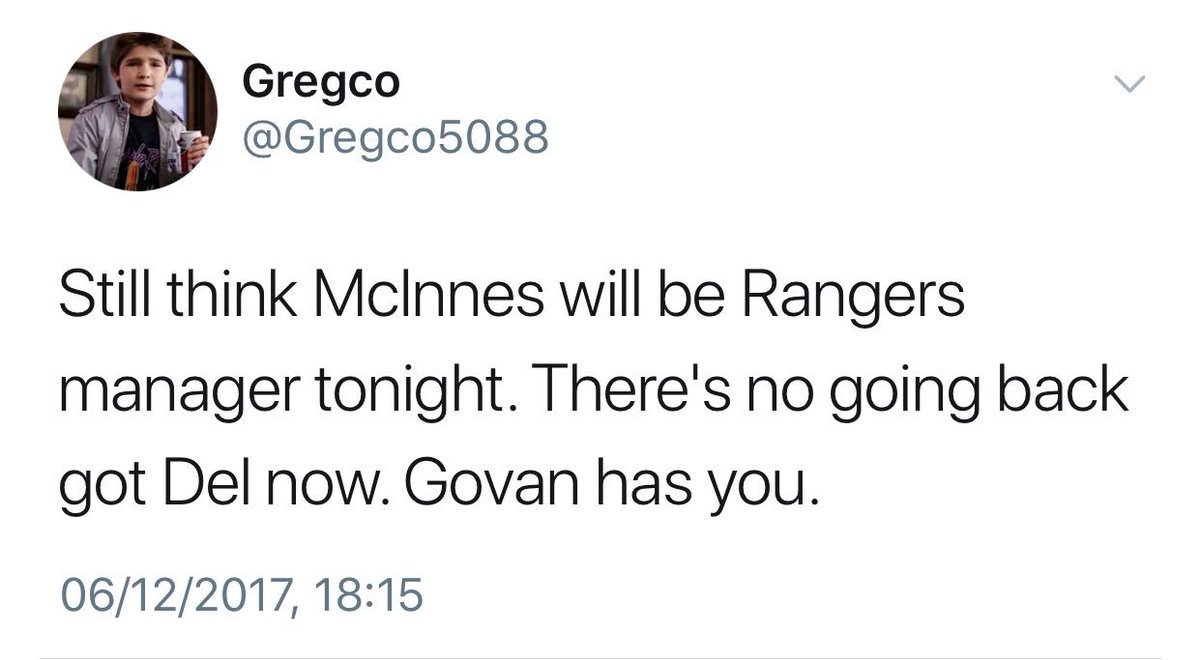 If anyone knows Gregco can they just pop round and make sure he's okay this morning…
Finally…
But in all seriousness, we need to look at the bigger picture, in the same way outsiders look at Scotland..

There's only one way to rectify this, and thats to restructure the media…as this model isn't working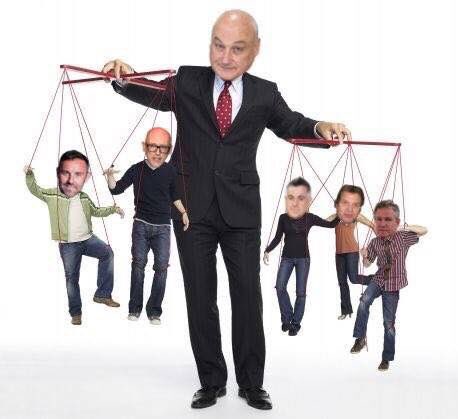 Staying with  the professionals…and for this weeks Etims
Knob of the Week
 He has been given the title in a special ceremony…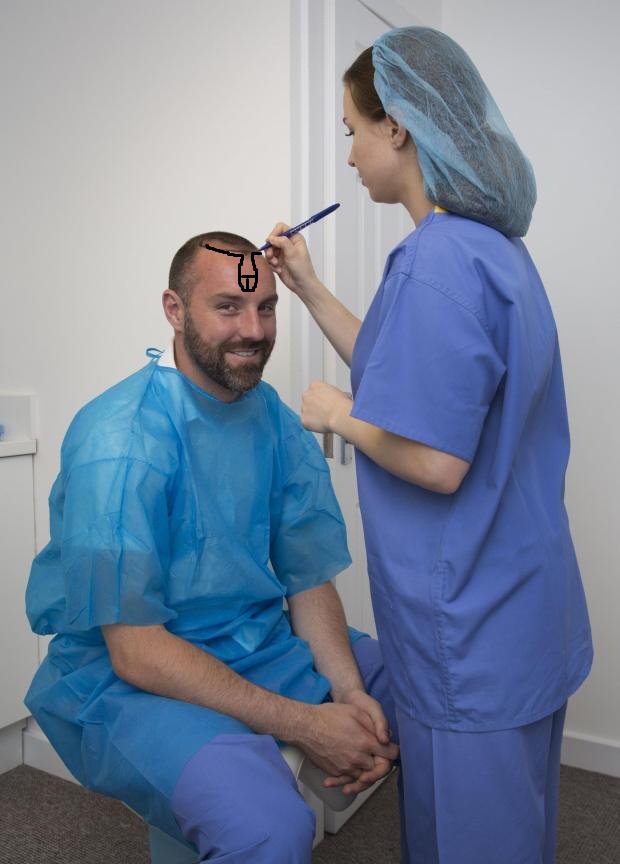 Caption from yesterday…
Today…
What could he be saying ?