Celtic Diary Monday November 27: Another Day, Another Trophy
Celtic beat Motherwell 2-0 to lift the League cup. It's the fourth consecutive trophy under Brendan Rodgers.
Celtic seemed a little bit hesistant in the first half, no doubt wary of the "robust " approach of the Lanrkshire side..
One was studs up and therefore dangerous…..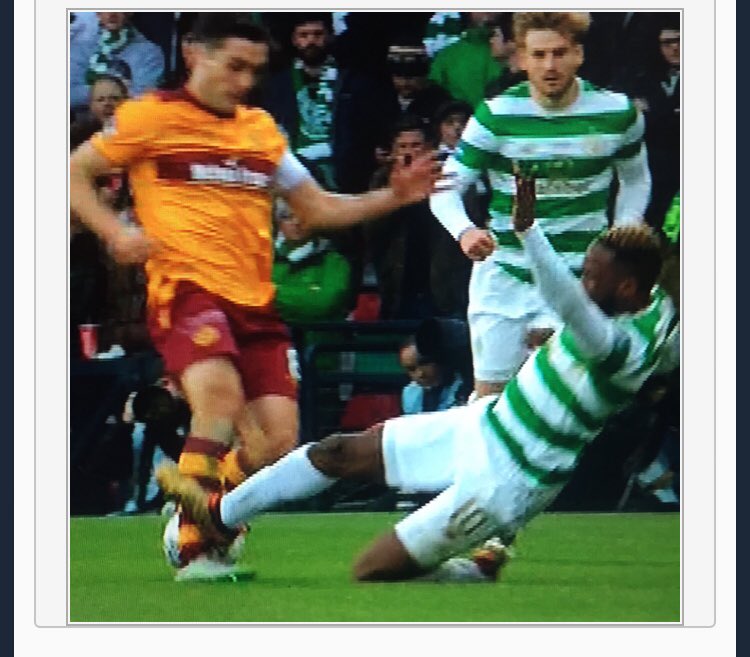 one was robust. Moussa Dembele described the tackle on him himself after the game..
Another trophy, another win. Almost lost my leg there


but we're still unbeaten

. On to the next one, thanks for your support Bhoys and Ghirls you were brilliant @celticfc



Kipre, as we know, wasn't even booked at this point, and there's little doubt that referee Craig Thomson saw the incident, but as it was a cup final, he allowed it to pass, but undoubtedly marked it down for future reference.
That came in the second half, when Scott sinclair bore down on goal only to be tugged aside by… Cedric Kipre, who was given his marching orders for persistent foul play.
In my view, at least.
The resultant penalty added to a fantastic goal from James Forrest put the game beyond the unimaginative Motherwell players, and Celtic then cruised to victory, and notably, the fouling more or less stopped..
As for Motherwell, they came, they clogged and they can't stop crying about it.
Nothing has changed down at the fir Park family club, except they've brought in slightly more, er, robust cloggers.
but, oh, the whinging from the media, both mainstream and social.
What a kerfuffle.
First, the tackle on Dembele, described, as we have seen, in the Scotsman , as robust..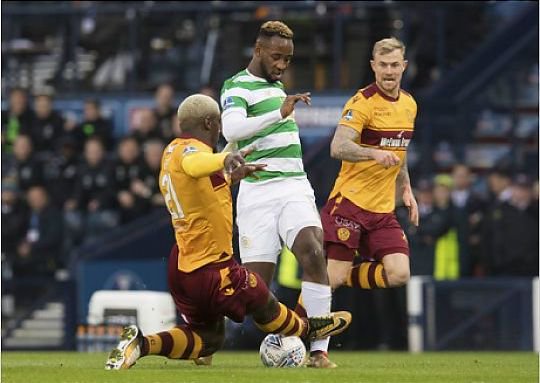 Nowhere near the ball, and a potential leg breaker. Dembele certainly felt it.. Surprisingly, this rash assault on a fellow professional didn't become the number one story this morning…
This one did.
Equally rash, but a little less painful.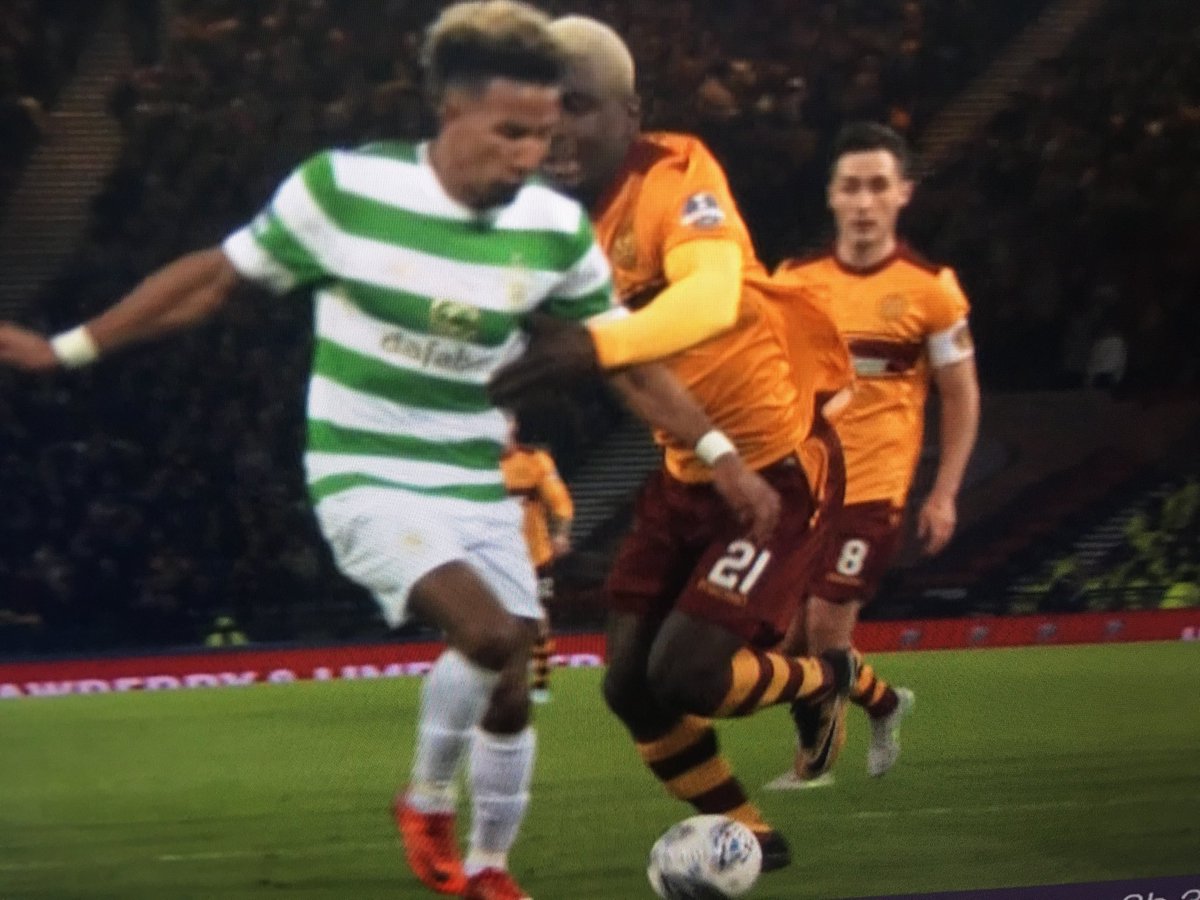 Though from another angle, you can see what all this "no contact " fuss is about..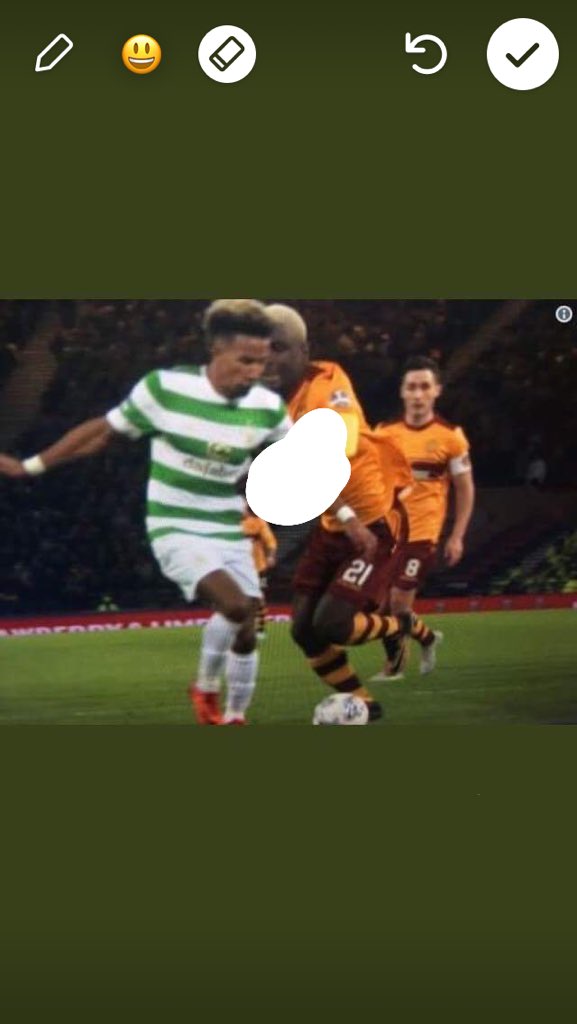 Sinclair was impeded, of that there can be no doubt. That makes it a penalty.
Dembeles weak effort, which trundled over the line, was probably a result of him looking to wither side in case Kipre, although banished to the dressing room, came racing back on to attempt to stop him getting a shot in.
If you watch it again, Dembele does look left and right, just to be sure.
But what a palaver…
 Notice the selective use of photography on todays Record front page.
You see, use of the picture above would have reduced Hartleys claims to nonsense.
Then again, the Record likes to publish nonsense..
Celtic coach Kolo Toure embroiled in bizarre Twitter spat with Piers Morgan hours before Betfred Cup Final.
Er, no he wasn't.
Celtic coach Kolo Toure has been embroiled in a bizarre social media sledging match with Piers Morgan just hours ahead of the Hoops' Betfred Cup Final against Motherwell.
The former defender jumped in to a Twitter debate between the TV personality and singer Olly Murs after the latter had Tweeted mistakenly that he had heard gunfire while trapped in Selfridges in London on Friday.
 Er, no he didn't
Morgan told Murs to be careful what he Tweeted to his millions of followers – which then prompted a response from singer James Blunt which was liked by Real Madrid star Toni Kroos. 
Former Arsenal star Toure couldn't help himself and jumped into the argument, telling Morgan – an Arsenal fan – to "shut the f*** up'. 
Er, again, no he didn't.
We'll let the Celtic coach's Twitter timeline tell the rest of the story….
Er, it's not actually his timeline, is it ? Then again, when were "facts " and the Daily Record ever comfortable bedfellows ?
Of course, the main moans didn't come from Motherwell fans, and even the media were outmoaned by the support of a club which has had very little to cheer about of late.
Apart from this, obviously..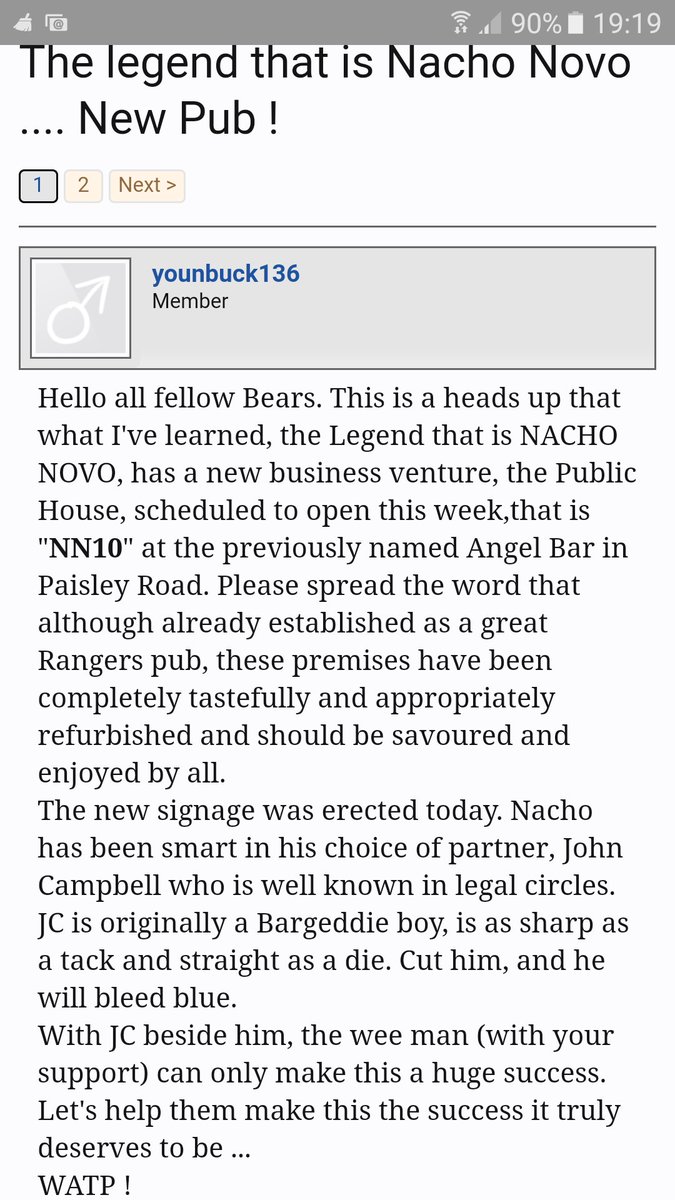 It's all turning out nice again for them… Or is it ?
They can't help themselves..
We can accept that not all of them are pleased about a Celtic win..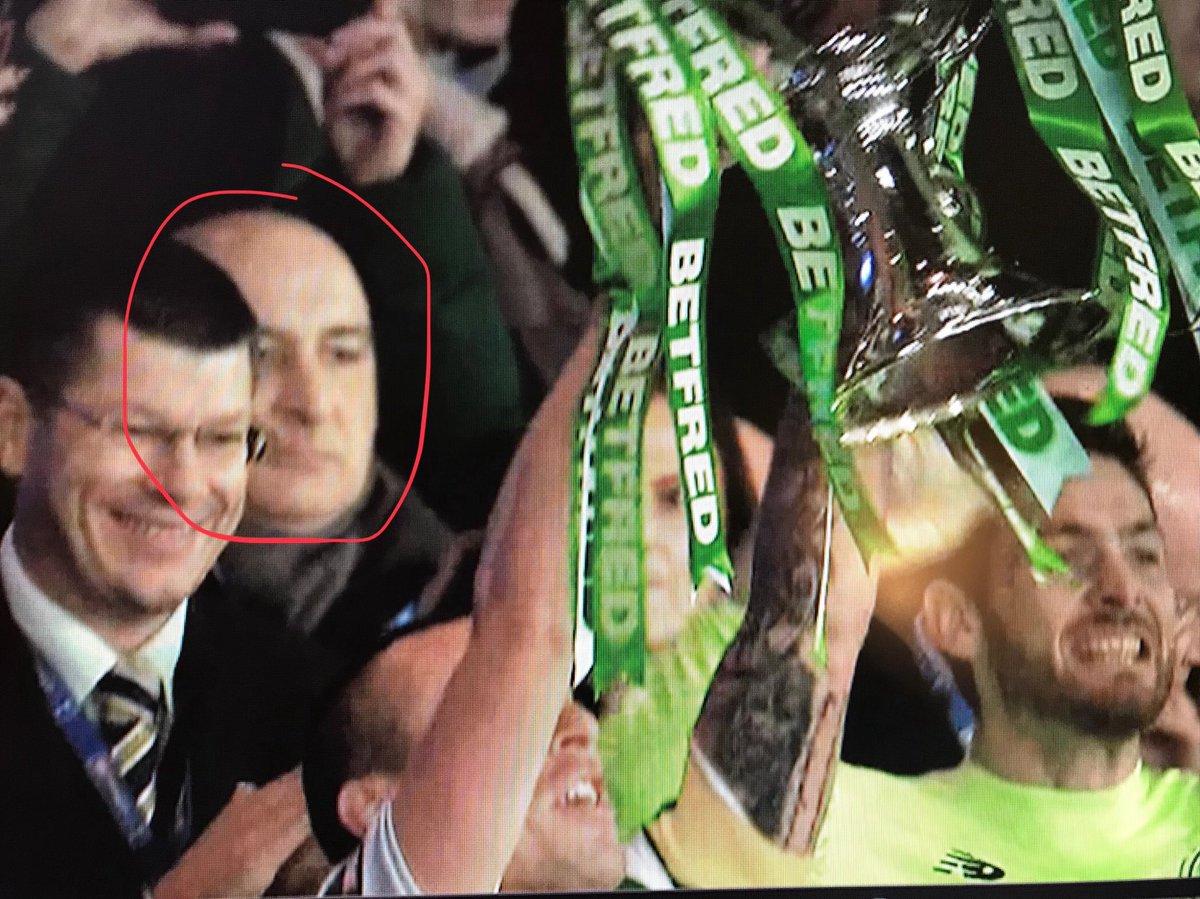 One even took to the drink…
But for one fan it was all too much…
TWO WRONGS DON'T MAKE A RIGHT
Celtic star Scott Sinclair and referee Craig Thomson are as bad as each other and both stink, says Bill Leckie
Leckie, pictured above showing how successfully surgeons removed his tongue from David murrays arse, is a noted anti Celt.
Remember his article on fans coughng the  tune of Boys of the Old Brigade during a minutes silence ?
Whereas Jackson and others sometimes give you the impression they are doing it for a laugh, with Leckie, there is an underlying bitterness that is truly disturbing.
IT'S a toss-up which is the more depressing.
The fact the country's Player of the Year feels the need to dive so he wins a penalty and gets an opponent sent off. 
Or the fact that Leckie is given a platform to burble his bitterness ?
No, apparently its ..
…the fact a referee with all the experience in the world still doesn't have the savvy to see beyond the con.
But you know what? Right now, the answer doesn't matter a monkey's to Motherwell.
Because in their red-rimmed eyes, Scott Sinclair and Craig Thomson are as bad as each other; the two men who connived to kill this cup final stone dead as a contest.
Their red rimmed eyes ? Or his ?
And it really is hard to argue with them after an afternoon when the underdogs could have handled losing 1-0 fair and square, but when 2-0 felt like they'd been stone cold cheated. 
Er, no, they know they weren't cheated.
Though it suits Leckie's narrative to try to convince himself, and like minded souls, that they were.
Sinclair, as you'd expect, emerged from a triumphant dressing room to chant the mealy-mouthed mantra about how feeling contact offers him the right to go down and blahdy blah.
Hey, it might well be that he genuinely believes Cedric Kipre did pull him back as they chased for Moussa Dembele's through ball.
But whatever he says and whatever he thinks he felt the defender do, the bottom line is there was no need — either physical or moral — for him to take a stride then fall over, because all Kipre did in truth was lay a hand on his ribs so light it wouldn't have upset a Victorian matron, never mind sent a finely-honed athlete tumbling like he'd been shot.
Sadly, though, it's how too many footballers are these days. Somewhere along the line, someone flicked the switch in their head that used to be programmed to staying on their feet, taking the crack at goal rather than drawing the foul, not wanting to show weakness. 
Still, whilst claiming to know how Sinclair was thinking is a little presumptive, but I think he can guess how I'm thinking.
Ach, we could go on all day about the media, and yet perhaps the wise words of one supporter, from over the river, sum it all up, from their point of view, much better than the professional scribblers…
So, one down, three to go.
I was all for this idea of back to back trebles, but we're not out of europe yet, so is four trophies a realistic possibility, and wouldn't it be great to read what the papers say about that ?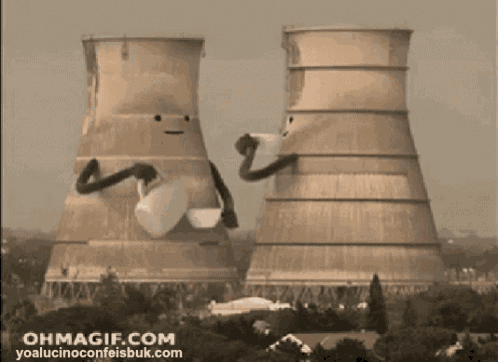 Yesterday, we had this image, taken shortly before some chaps crossed the road..