Celtic Diary Tuesday November 21: Parisienne Walkover ?
As hoops fans make their way over the channel to Paris, one hopes that the players don;t have a glance at the statistics..
In their nine home games this season, PSG have scored 32 times, conceding five.
PSG haven't lost in Parc des Princes in 39 matches since a 2-0 Monaco win in March 2016.
They haven't conceded in the Champions League since Sergi Roberto scored Barcelona's sixth and stunningly decisive goal in last season's last-16 second leg in the Camp Nou.
PSG haven't lost a home Champions League group stage match since a defeat by CSKA Moscow in December 2004.
They have made their best start to a domestic league season since 1985/86.   
However, there is one small thing that might take their minds off all that…you know, fate and karma and all that sort of guff..

@PSG_English boss Unai Emery was the @fcsm_official manager when #CelticFC recorded a first-ever away win in the #UCL Group Stage in 2012. #PSGCEL
He was in charge of Spartak Moscow when Celtic won over there, and so therefore he's vulnerable.
Not only that, but PSG face Monaco in the league at the weekend, so they'll be more interested in that rather than making sure they win the group and are seeded in the last 16.
But their defender Dani Alves provided the proof that they will just be going through the motions tomorrow, and that a spirited Celtic performance could cause an upset and give us another one off meaningless win to crow about.
Well, not meaningless, as it would mean there's a great chance of being seeded in the Europa, but you know what I mean.
Alves said;
"There is no chance that we will take it easy on Celtic if that is what they think – the job is not finished yet.
"It is important to keep up momentum but also it is important that we win the group. There is no chance that Celtic can expect an easy game just because we have already qualified. 
The scoreline in Scotland doesn't mean anything now – it doesn't mean that it's an automatic win. That would have hurt Celtic and they won't want it to happen again. 
"But we have seen where we can hurt them and whatever players the coach chooses we know we can cause them problems." 
They probably have spotted where they can hurt Celtic, as its a huge chunk of grass measuring a few hundred square yards. Difficult to miss, in fact.
For Brendan rodgers, there is a dilemma.
Does he stick with Nir Biton at the back, or try to keep the score down ?
Does he hope that Jozo Simunovic fancies a run out ahead of his move in January, and risk upsetting the team spirit before the League Cup final on sunday ?
Is Erik Sviatchenko fit ?
What about springing a major surprise and giving Dorus Des Vries a bit of game time ? Thus saving Gordon for Hampden. Or giving Gordon game time and saving Des Vries for the cup final ?
This is an awkward fixture.
A heavy defeat could knock confidence ahead of Hampden and the Anderlecht game to come.
Rodgers needs to instill into his players that it doesn't matter what happens, as long as they remember they are Celtic players and need to play with a bit of pride.
There is the danger that anderlecht could up the ante by getting a result at home to Bayern in the other group game, but as they have yet to even score a goal in this campaign, thats unlikely, but with Bayern already qualified, they might take it easy. A win for Anderlecht means they could yet pinch the  Europa spot, and nothing can be taken for granted.
Especially with Celtic's  home form.
Something that really  doesn't matter is who gets the Scotland job..despite Stewart Regan telling everyone that Malky Mackay won't get the job, he's still the likeliest candidate. Anything else is just going through the motions.
So Scott Brown didn't need to go on about any of this ahead of a European game and a cup final…
"Michael O'Neill's done a great job at Northern Ireland taking them to the Euros, so he'd be good if that's the man they are going to go for.
"But they need to get the finger out a little bit and get the man sorted out, because there's not a lot of time between now and the start of the qualifiers.
Er, there's about twelve months…
"We've only got three games, so we need to make sure we've got the right time and the manager knows who he is going to play so that we're not just going right in, and we have momentum going into the first game." 
Perhaps Brown is just paving the way for his retirement… as he criticised Regan , who said it could take eight months to get a manager in..
That's just silly to wait. It's common sense to get the man in as soon as possible.
"Here's hoping they actually go and get someone quite quickly and they can get settled in." 
As with "rangers ", the Scotland job is not a big deal any more.
It won't be a case of the SFA getting who they want, it'll be a case of finding someone who wants the job.
Which brings us back to Mackay.
And as for Brown, stick to club football.
Liam moore, the Reading defender linked with Celtic, is also linked with Stoke, West Ham and a couple of other diddy clubs in England.
West Ham.
West Ham are under the control of Karen Brady, who every Wednesday turns up on The Apprentice and criticises others for how they perform in business. She evaluates such things as their decision making.
She hired Davie Moyes.
Bear that in mind when you're watching that wee fat bloke tell someone else they're fired.
Moore isn't fazed by any of the recent speculation, which means he's already made his mind up where he's going, and we did hear that Celtic were already in talks with two players about a fortnight ago.
One of them appears to have been Louis Moult, is the other Liam Moore ?
Moore has threatened to make the step up to the big time at various times in his career, but seems to lack application, or even basic motivation.
Rodgers may well be interested in him because he feels he can get more out of him, though enhancing what has been a pretty unremarkable career so far wouldn't be too difficult.
But…if there is to be a Europa League campaign after Christmas, Moore would be eligible. It's just that the jump from Reading to European football is quite considerable, though for domestic games we could always get his nan involved.
The Scottish Cup fourth round draw saw Celtic paired with Brechin City, and unusually, its a home draw. Which denies Celtic supporters the chance to visit an iconic place in Scottish football history…
In that moment, the death of Rangers became very real indeed.
Shame, I'd have liked to have paid tribute to that hedge.
And now, an appeal..can anyone help this guy out ?
Over on the other side of the city, the christmas  pantomime is grabbing the headlines…
Remember how they were so pleased at the introduction of this character ?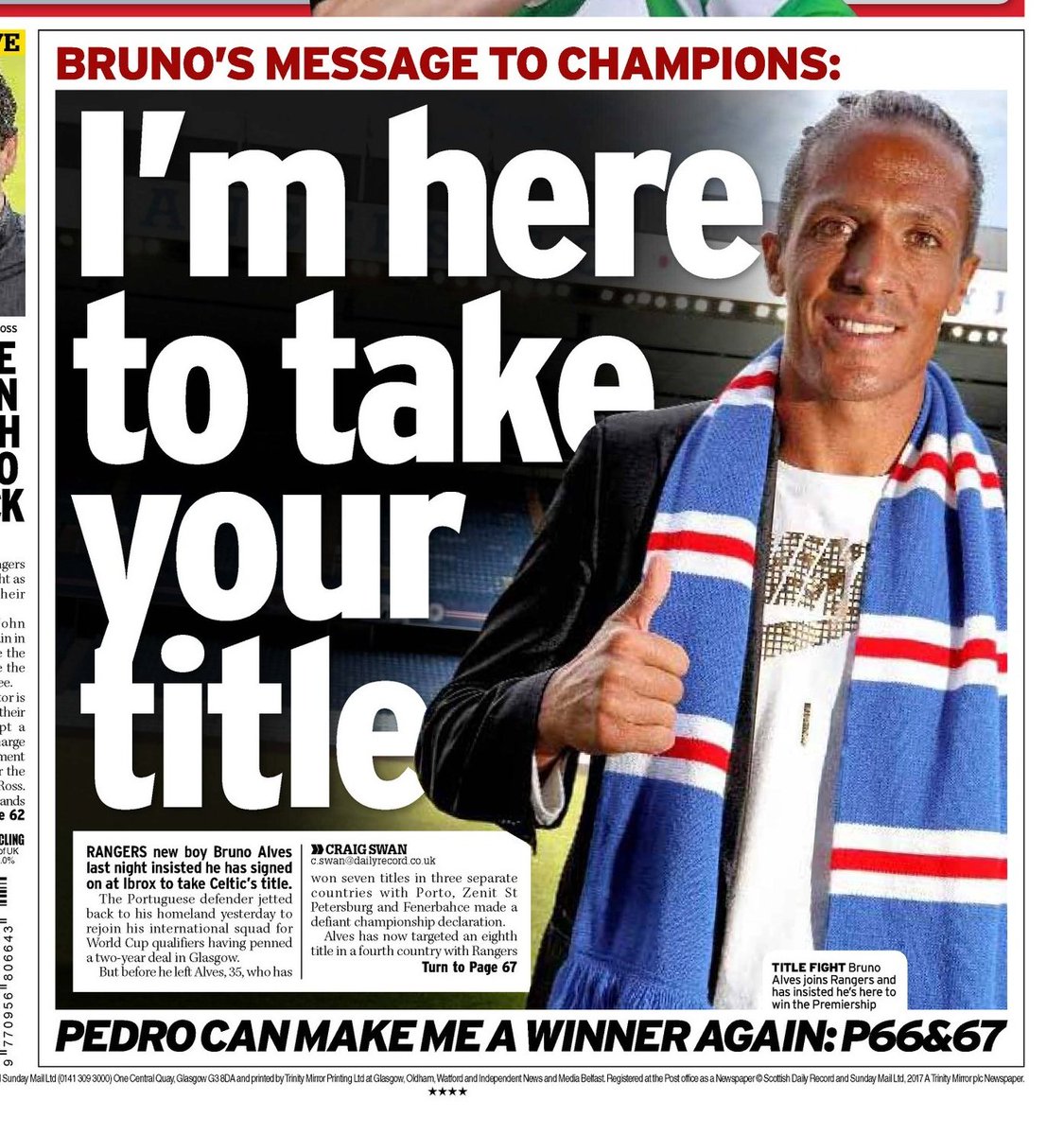 Apparently, Alves refused to be a substitute against Hamilton on Saturday last, and the fans are furious..
IF Alves refused to be on bench then he is finished at Ibrox. Cannot have players picking what games they will be available for. Club bigger than ANY player 
Maybe bigger, not older, but bigger.
With Lord Bannatynes ruling on the Takeover panel expected any day, things are heading to a dramatic finale over there.
Yesterday…
He's got the original.
Today…