Celtic Diary Monday November 6: When History Was Made
This generation of Celtic supporters could be said to be one of the luckiest in the entire history of the club.
So much has already been achieved, and there is so much that can be achieved, and thats only this season.
From the invincible treble of last year we've moved on now to becoming the club with the longest unbeaten run in any country in the world except Romania, Gibraltar and Moldova.
63 games.
And one more game puts us clear of Moldova, who have Sherriff Tiraspol on 63 as well.
Looking ahead, Lincoln Red Imps on 88 and Steaua Bucharest on 104 should give us something else to crow about in the months to come.
Brendan Rodgers has repeatedly said that we are only at the beginning of what he is trying to do at Celtic, and if thats the case, then the sun will be shining and the birds singing for a while yet.
The 4-0 win over St. Johnstone wasn't a classic, and it hardly had you on the edge of your seat, but what was a run of the mill league game at a tricky venue was indicative of why this particular Celtic team has the world at their feet.
They did what they had to do, and kept doing it until the game was over.
No sign of complacency, no hint of laziness, just a group of players who look like they have forgotten how to lose, certainly domestically, and whilst they will always have to be greater than the sum of their parts, when that confidene and attitude is taken onto the european stage, we will be going on a great adventure.
Just after Christmas, with any luck.
It's been a long road for the club, and each and every obstacle has been met and dealt with, which has culminated in the sense of optimism around the place these days, exactly 130 years from when it all started..
It was 130 years ago today, on November 6, 1887, that the meeting during which Celtic Football Club was formally constituted took place in St Mary's Church Hall in East Rose Street, Calton. 
 …..it was then that representatives from the upper echelons of the Irish community in Glasgow, most of whom who had witnessed John McFadden's speech back in February, gathered at St Mary's Hall.
Bodies such as the St Vincent de Paul Society, the Catholic Union, the Irish Foresters, the Home Government Branch of the United Irish League, the St Aloysius Association and the Irish National League as well as local Penny Savings Bank and a Total Abstinence Society were present in some manner but the main objective was the formation of a football team to raise money for the Soup Kitchens of the East End. 
The Total Abstinence Society have probably admitted defeat by now.
From that historic meeting the first ever Celtic committee was formed with the following members:
Honorary President, Dr John Conway
President, John Glass
Secretary, John O'Hara
Treasurer, Hugh Darnoch
Match Secretary, Willie Maley
Committee: Joseph Nelis, Tom Maley, Michael Cairns, Joe Shaughnessy, Pat Welsh, Daniel Molloy, David Meikleham, John McDonald, William McKillop, John McLaughlin and Joseph McGroary.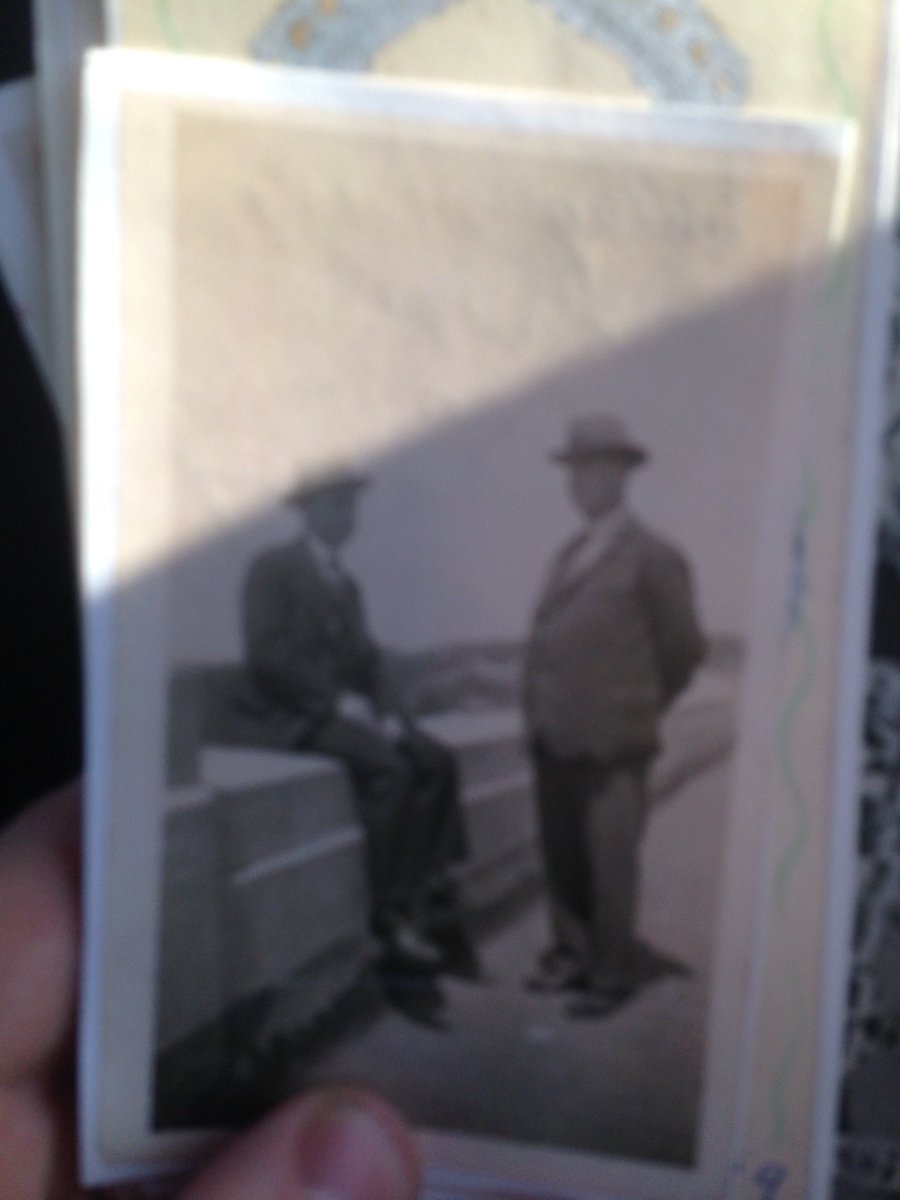 This photograph recently turned up at a Montreal CSC meeting, presented by an old fellow , and it shows Willie Maley during a tour of Canada …
History indeed.
Of course, success brings attention, and that attention can be uncomfortable, as it turns the heads of players and, in fact, managers…
Celtic boss Brendan Rodgers is good enough for a top-six club – and find out who's in my team of the week
Celtic boss Brendan Rodgers should be on the radar of Premier League chairman
The job the former Liverpool manager has done at Celtic is remarkable
He improves the value of his players, which is a key asset to any football club
Alvaro Morato taught Romelu Lukaku a lesson during Chelsea's win on Sunday
Thats not Jamie Redknapp, thats his wife, the singer Louise.
I put that in to show that Jamie is obviously a sensible chap. (Yeah, thats the reason-Ed )
Or, at least , he used to be.
If I was a Premier League chairman searching for a new manager, I would look no further than Brendan Rodgers. He could manage any of the clubs in the top six.
Rodgers has done a remarkable job at Celtic, where he is now unbeaten for a British record 63 domestic games. Only a fool would say that his achievements are merely down to the standard of the Scottish Premiership.
Brendan's greatest asset is improving players. He has helped transform Kieran Tierney into one of the best left backs in Britain.
He has galvanised his captain Scott Brown, who was so impressive against Bayern Munich in the Champions League last Tuesday. Premier League chairmen will be thinking: 'He will improve the value of my players.'
People forget what a good job he did at Liverpool.
After 79 league games Jurgen Klopp has 143 points — eight fewer points than Rodgers at the same stage of his Anfield career.
While Celtic will not want to lose him, Rodgers is a manager tailor-made for the Premier League. 
Er, actually, Rodgers is tailor made for the Celtic job.
He said so himself..
So far, and I kid you not, in the last week alone, Arsenal, Everton, West Ham and  Stoke City have all been linked with Rodgers.
You'd think they'd take the hint. Maybe they have, and its just the media who can't accept that the English League is not the place to be any more.
Although Oliver Kay of the times gets it… sort of.
"Why would Brendan Rodgers go to West Ham?"
"He's at Celtic he's doing brilliant. He's halfway through his second season and he hasn't lost.
"This is not the norm for managers in Scotland. Brendan Rodgers, if he's looking beyond Celtic, is looking at bigger clubs than West Ham." 
Compare that with the expert in depth analysis of Alan "befuddled" Brazil on Talkshite Radio…
"Celtic wouldn't pay the most money. If suddenly he was getting a few quid to come, and treble wages [he might go]." 
There's a transfer window about to open, so we need to be ready for the usual guff about our players heading for southern climes, though with only one or two exceptions, there is nothing really to worry about.
We may see the squad strengthened further, with two central defenders being mentioned by drunks in bars, and the re emergence of Charley Musonda on the radar.
The defenders, which is an area where improvement is needed, are Domagoj Vida, of Dynamo Kiev, and Martin Caceres, currently at Verona.
Vida is 28, Cacares 30, and whilst they don't fit into the usual profile of Celtic targets, being a little older, neither did Scott Sinclair.
Both are experienced internationals, and both are what we need right now. If only to take some of the pressure off Dedryck Boyata.
Daftest rumour of the day ?
John Fleck….seriously, well, its certainly a rumour.
Second daftest ?
Ally McCoist to Sunderland.
Martin Bain, the director who helped Rangers achieve liquidation is currently trying his best to take Sunderland to that level, and the word is that he wants McCoist and possibly that old guy with the cardigan to help them to get there.
Sunderlands owner has not only turned his phone off but flung it down the toilet.
Over at Ibrox, the new club stand on the verge of winning three game sin a row for the first time in nearly a year.
Then there is the usual clamour to show how much they respect the Armed Forces and anything else they can harp on about to deflect attention away from a disastrous set of accounts.
With Celtic fans winning an award for Best supporters, based on the tifo tribute to the Lisbon lions, the Iborx fans hit back with their own masterpiece at the weekend..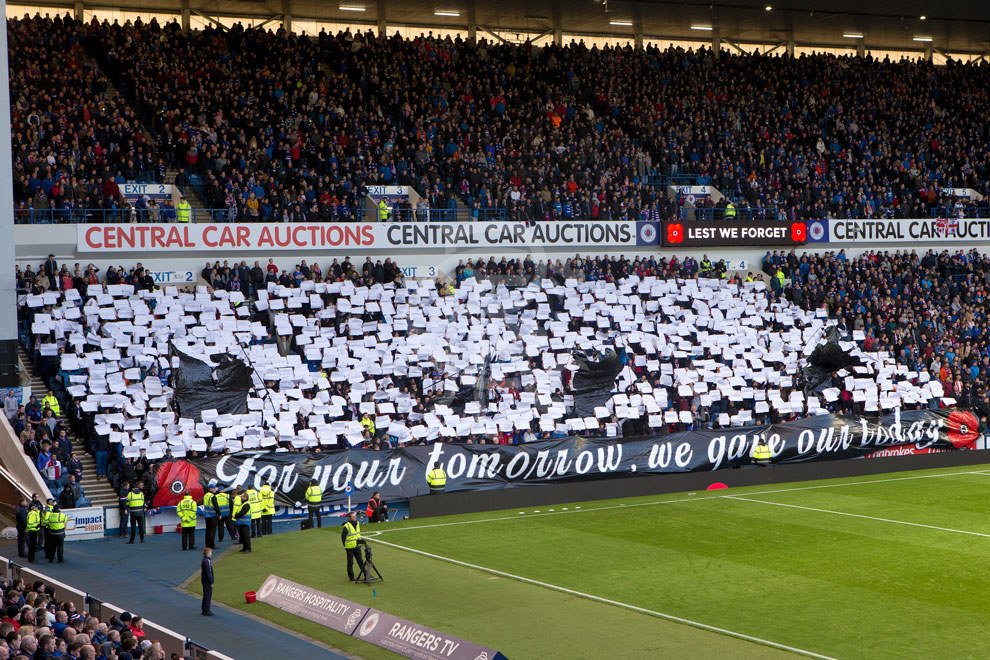 apparently, its supposed to be silhouettes of soldiers, presumably in heavy camouflage.
Or is it ?
Turns out they were all fighting among each other instead of putting the display together..
As is the norm at this time of year, there was an outcry over who was wearing a poppy and who wasn't…
Many appear to have forgotten that next Sunday is Remembrance Sunday, or Poppy Day, as it is now being called.
Don't be surprised if Poppy Day turns out to be the name of a new telethon presenter hosting an appeal for money to go to one of the multitude of charities which now support people who are in the forces, were in the forces, might join the forces or collect Action Man figures.
There has been a devaluing of what is arguably the most important day in the year. The one day when everyone in the world should stop and think about what it really means.
About what really happened in the first half of the twentieth century, as ideologies throughout the world fought each other bitterly and constantly on battlefields remote and near.
Ideologies that used guys like you and me to fight their wars.
Something that must never be forgotten, and never allowed to happen again.
Thats sort of the point of Remembrance Sunday, and as those who were involved in the total war of the period become less and less, due to aging, its important that we don't forget what they are telling us.
The day when there is no one to remind us of the true horror is not far off, and when that happens, i've a feeling that a few politicians want to send us on a refresher course.
My point is, if you want to wear a poppy, wear on, if not , don't.
But I would ask you , on Sunday, to stop and think about first fifty or so years of the last century, and pray to your god that it never happens again.
Me ?
I'm going to dig a trench in my garden , fill it with water and stay there for four years whilst guys from the local clay pigeon club use me for target practice as I walk slowly towards them every couple of days.
That should make me the best respector of all, shouldn't it ?
Thats what it seems to be all about these days….
As you know, every Friday we award the title of Knob of the Week to someone who has acquired that heady status on our eyes.
Perhaps its a sign of the times, but there seems to be a lot more knobbery around than usual, and we've been forced to introduce a special award, when someone reaches heights even greater than those needed to win the weekly award.
we've upgraded it to
Right Knob of the Week 
With the conservative Party in disarray as some of their out of work hobbies become public, you'd think that with a few of the high heid yins being forced out of office, any sensible politician would see the chance for promotion and keep their head down.
Ruth Davidson, for example, has finally shut the fuck up, but only to increase her chances of a top job.
Long may it continue. in fact, if she thinks that silence will help her career, she should go for it.
but there's always one who can;t hold in his bitterness and hate…
A bit disappointing to hear some fans at McDiarmid Park today disrepecting the minute's silence
He wasn't at McDairmid Park, and the fans did not disrespect the minutes silence.
But hey…don't let that trouble you Murdo, you just go right on out and say what you think, which is always a remarkable achievement for anyone with a great big gap between one's ears.
Murdo Fraser, you have achieved something, something that no one else has ever done.
You've secured the first ever Etims
Right Knob of the Week 
award, well done.
Caption time… from Friday