Celtic Diary Thursday November 2: On a Lighter Note…
Although the performance against Bayern Munich was great, the result wasn't, and there's been a bit of an inquest as to what went wrong.
One of the replies yesterday pretty much confirmed what a drunk fellow told me at the bar , and Dedryck Boyata is taking it pretty badly.
He says he lost the ball in the floodlights, and that split second of uncertainty caused his misjudgement.
Whereas Craig Gordon did his usual charge of the shite brigade and made a complete arse of it. Still, at least this time he left out the impression of Harold Schumacher and missed the player as well as the ball.
I thought Dedryck was going to head it",
"The punt through came from the goalkeeper, who has played the ball fairly aimlessly up the park – which is what we're looking for.
"It's just one of those things. You don't see that often here and I don't quite know how it got all the way through, but it was a strange goal to lose. I think Dedryck thought it was going to come straight through. I just had to react, so it was kind of an all-round mistake.
"Coman is pretty quick and he got in behind Dedryck. I just tried to force him wide and take his momentum off him to allow the guys to get back in behind the ball, but he still managed to score.
"It's something you don't see very often, especially in games at this level, one ball up the pitch causing such difficulty – and we were just a little bit late to react.
"I had to do something off the bouncing ball, he was coming straight through, he's quick, and he was right in the middle of the goal.
"From my point of view, I've forced him to come round me and let three of the guys get back goal-side of the ball to try and make a block.
"And we got unlucky because he's threaded the ball through a forest of legs and found the net. I also felt it might have hit his hand as the ball rolled across his body. Having looked at it again, it looks as though it did touch his hand.
"The official has looked at it and thought it hit his hip, so there's a difference of opinion there. It counted. The guy behind the goal should be looking at that.
"We've got goal-line technology, so he should be looking at the play, at least. It looked as though it hit his hand and they have got the advantage from that." 
Boyata and Gordon did well enough to recover and were fairly solid afterwards, but for both of them its time to realise whats done is done and its time to put it behind them.
On Saturday Celtic face St. Johnstone in Perth, and despite their surprisingly low position in the league, we need all eyes back on the prize .
There's been a lot of praise from our Tuetonic friends about the other night.
Am I the only one who finds it all a little condescending ?
German newspaper Bild led the way..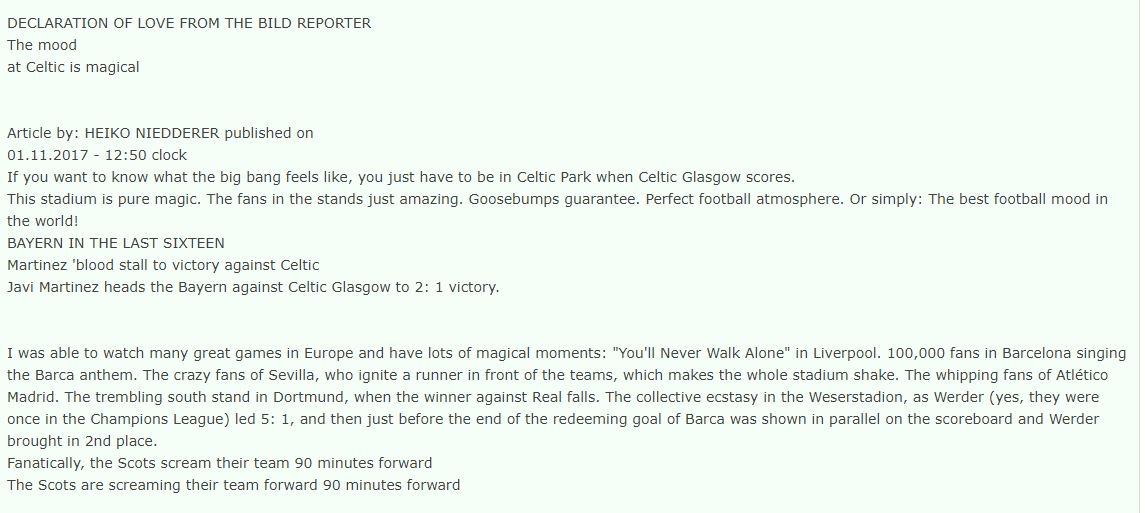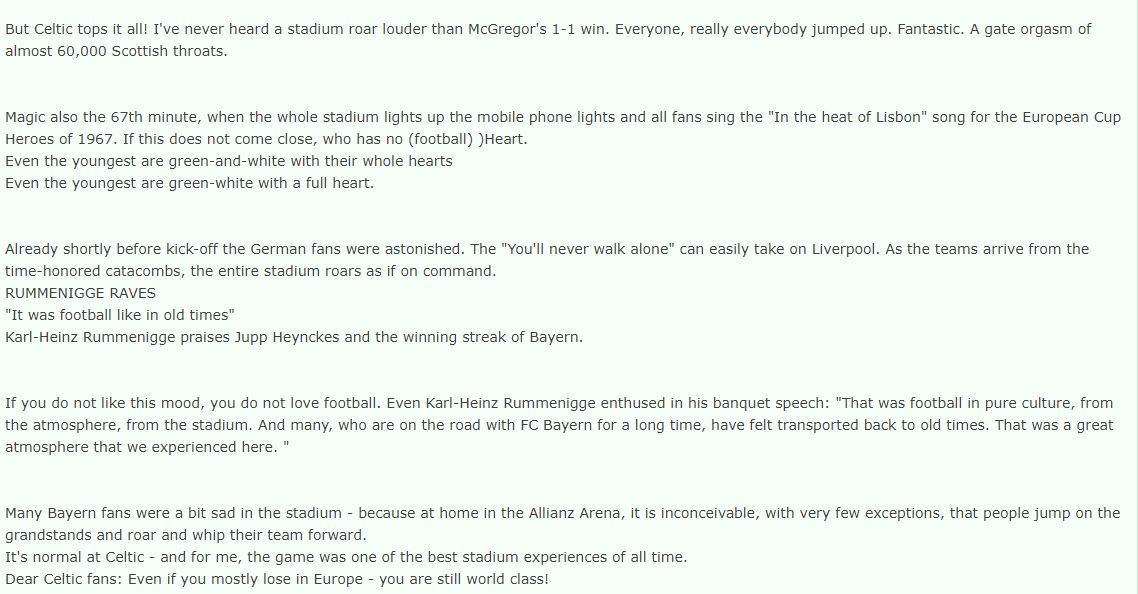 Er, yeah. We know. We won a trophy for it.
Then a couple of their players gave their thoughts…
"That was a football experience of pure culture. Throughout the night we felt goosebumps."

@ArjenRobben

@celticfc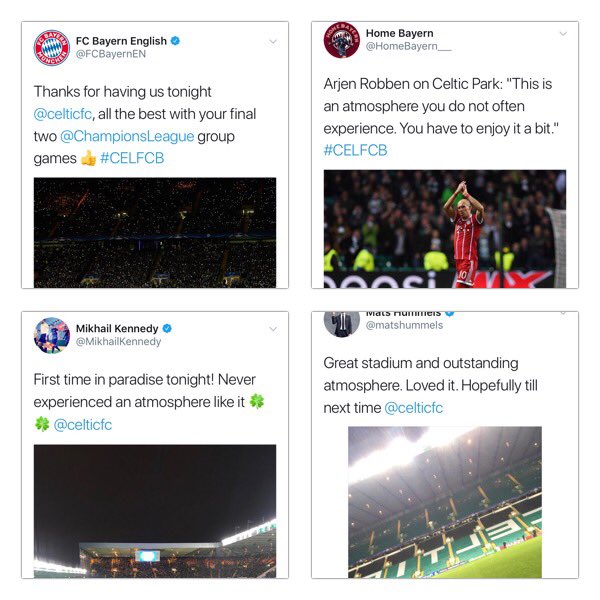 Ah , isn't that grand ?
I couldn't have been more embarrassed if the support had brought along their girlfriends and offered them up to the Bayern players as a thank you for gracing our humble abode.
The end result of the praise from opposing teams is that anyone drawn against Celtic will look forward to coming to what used to be one of the hardest places in Europe to get a result.
Can we not just all sit there with our arms folded and at least unnerve them a bit ?
One of their fans  even had the audacity to smuggle all his kids in without paying, and Celtic should demand compensation at the earliest possible opportunity.
We asked a steward how this could have happened, but he said he hadn't a clue.
Not to be outdone, city neighbours "rangers " invited Bayern over to Auchenhowie for a training session yesterday before they headed home to Munich, to give Ibrox players a chance to mix with top class footballers, presumably in order to make them work a little bit harder so they can get a move to a bigger and more established outfit.
Rangers FC have invited Bayern to have an extra training session at their ground this morning before flying back to Munich from Glasgow 
It was decent of "rangers " to do this, but I'm hoping the Bayern players didn't leave their valuables unguarded in the dressiing room. They'd have had their pockets picked, and we hear they used their own towels afterwards to avoid catching scabies.
Anyhoo, the locals went all shy, and spent most of the time arguing who should ask the Bayern players of they'd sign some autographs…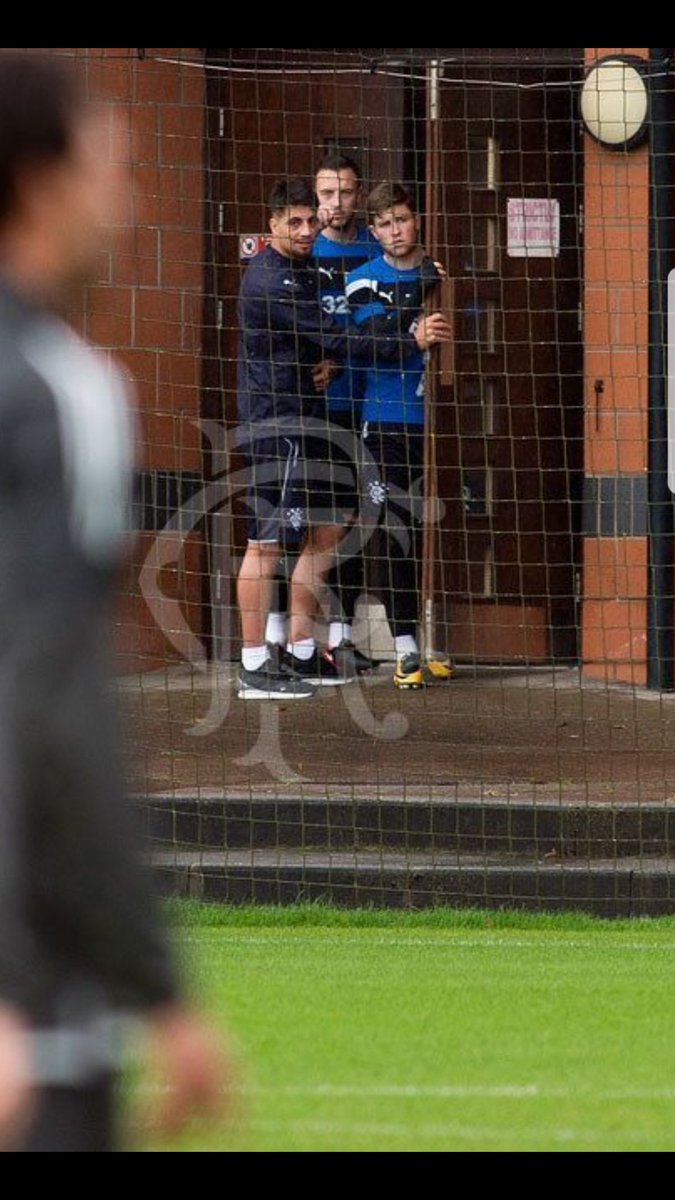 Kenny miller, the veteran malcontent, couldn't help but show his displeasure at more foreigners hanging around the place..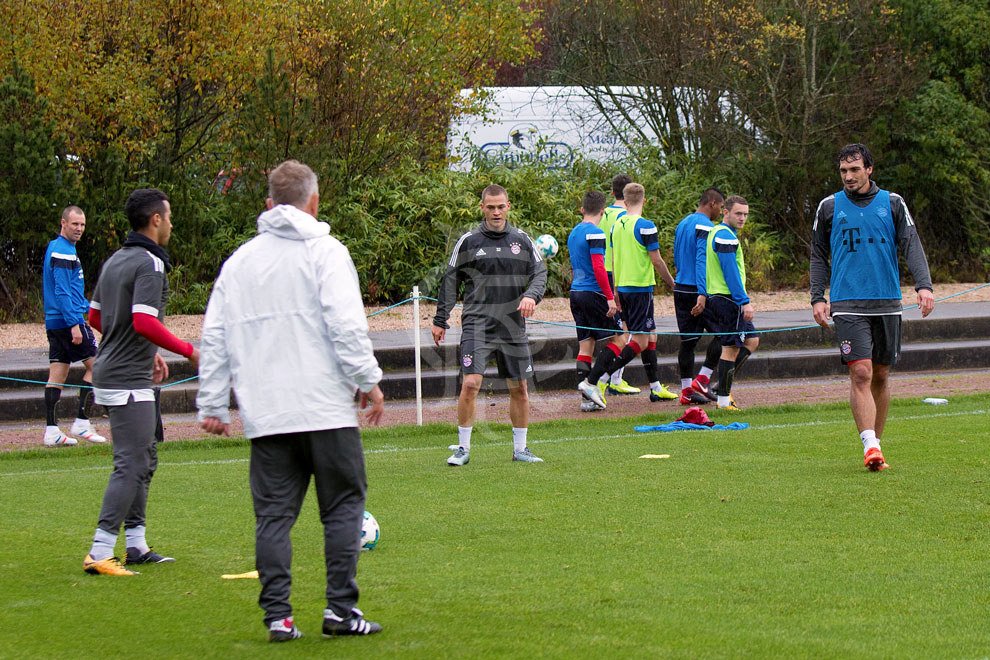 And Jimmy Bell, well, his face when he saw what the Germans drove around in…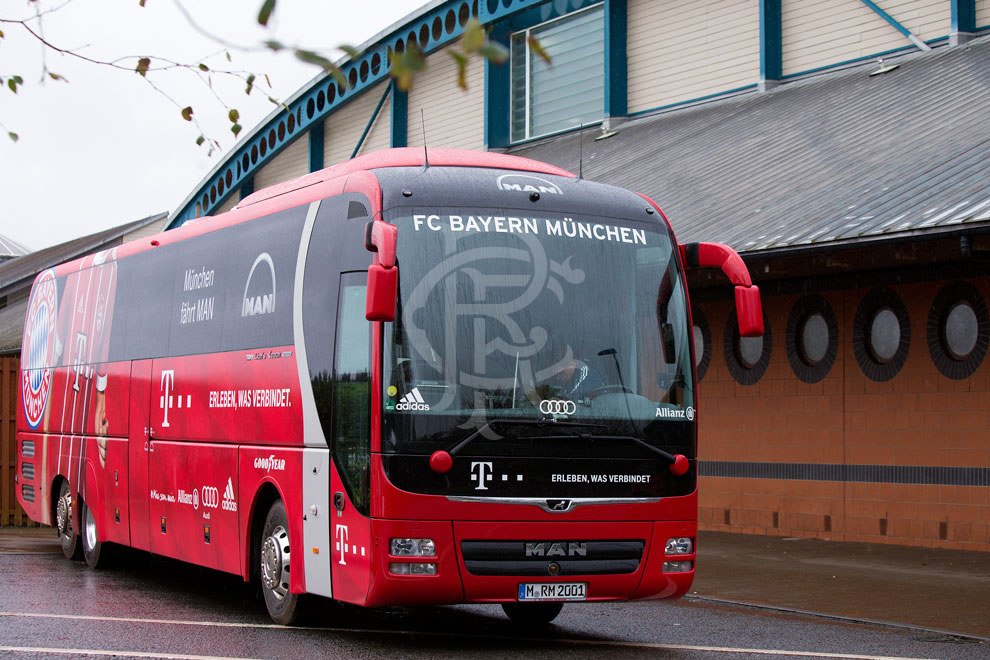 But for a new club and all the staff to see what can be achieved with hard work and determination, it was a masterstroke for morale at the cash strapped club, and could help them secure a top six place in the league.
Oh, that reminds me, we've been contacted by someone from over there who has a few stories to tell.
That's  apart from the fact that it only turns out one of my mates is a coach at the club.
For the first time in the history of the Etims site, we don't actually have to make something up. although trust me, what we're hearing is indeed stranger than fiction, and a lot fucking funnier.
Keep your eye out for this piece, we're talking to the legal people…
You can guess what we told them..
But it isn't nice to mock those who have perhaps not been blessed, if thats the right word, with a level of intelligence and awareness that the rest of us take for granted.
Scientists have developed a device, which when wired directly to the brain, that when activated, instantly increases the intelligence and awareness of the user back up to 21st century level, and is ideal for those who perhaps have not moved forward from say, the late seventeenth century.
Their refusal to join the rest of us in modern society means that they have an entirely different interpretation of even the most basic facts, and often adopt a somewhat stubborn attitude to new or relevant information.
Here's a classic example which illustrates perfectly why the new device is essential, before one of them goes out to catch a bus and tries to do it literally.
Don't get upset, you were 2 hours from being obliterated. We were never that close to going out of business. We survived and u hate it


I'm astonished. Truly astonished, and am left wondering if this fellows mother actually had any kids that lived.
anyway, if anyone knows who he is, tell him to get in touch. He really would benefit from the use of the new device.
Oh, did I mention that the switch is fitted to the back of the patients head, and has to be activated with a cricket bat ?
Mind you, we cannot criticise anyone else when its been revealed that our own captain, just a few years after this incident, when he had a day off…
has not only gone and done it again, but roped in fun loving Swede Mikael Lustig to his shameful alcohol based lifestyle..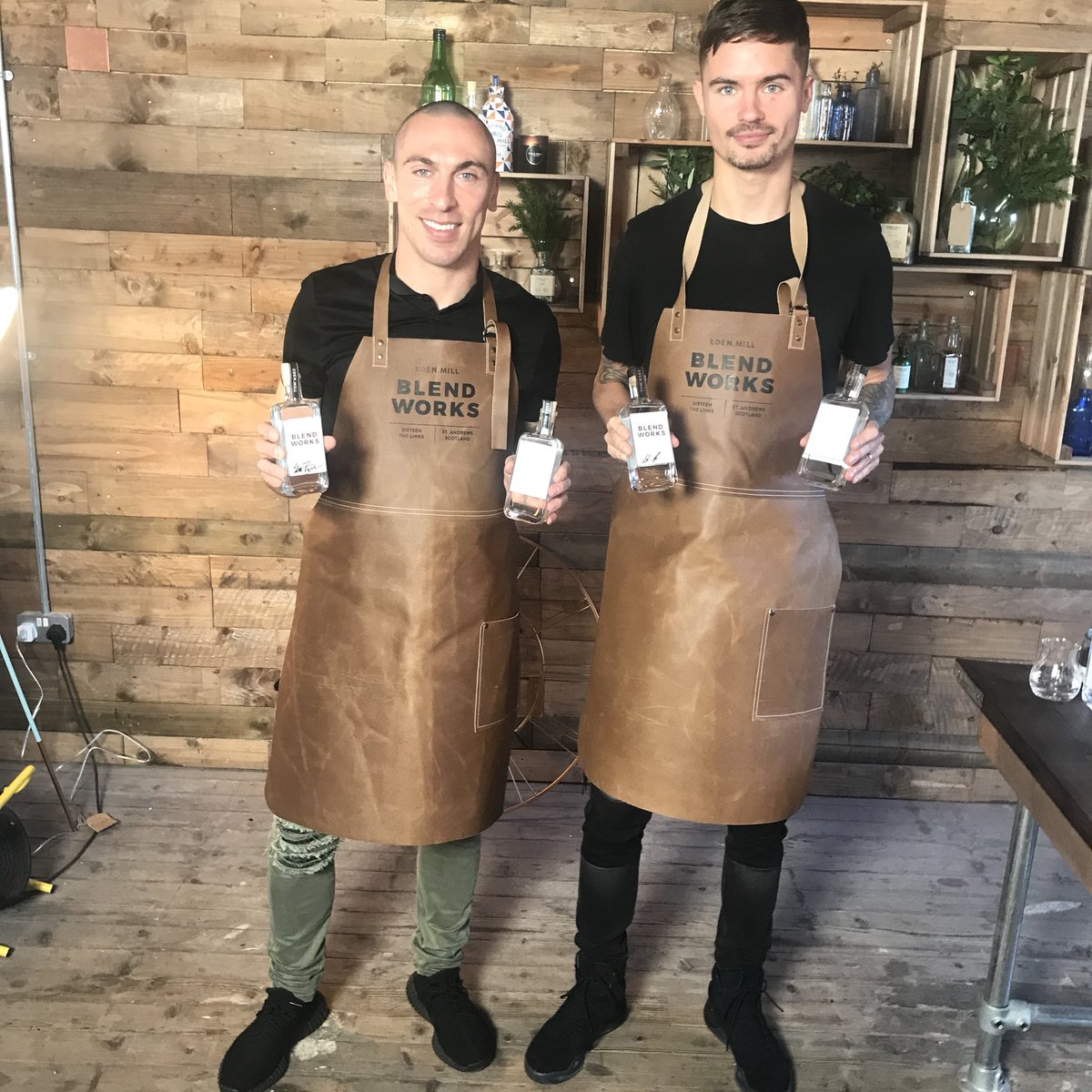 It's only a matter of time before the pair are sharing a flat above a shop and hiding from the rent man.
Does anyone ever think of the effect this has on young, impressionable kids ?
It's bad enough trying to find them suitable television these days…
And its not safe to let them play outside anymore.
A study has revealed that due to their financial circumstances, many families have been forced to release their pets into the wild, where the animals have to find their own food, with frightening results
The times they are a changing…
Sometimes, though, the more things change, the more they stay the same..
People don't think things through any more, like the guy who decorated the care home up the road from me, for their Halloween party.
Todays Daily Record has continued the theme of deflection that has surrounded events at ibrox for the last decade or so… and is another shining example of the lack of thought that goes into their articles..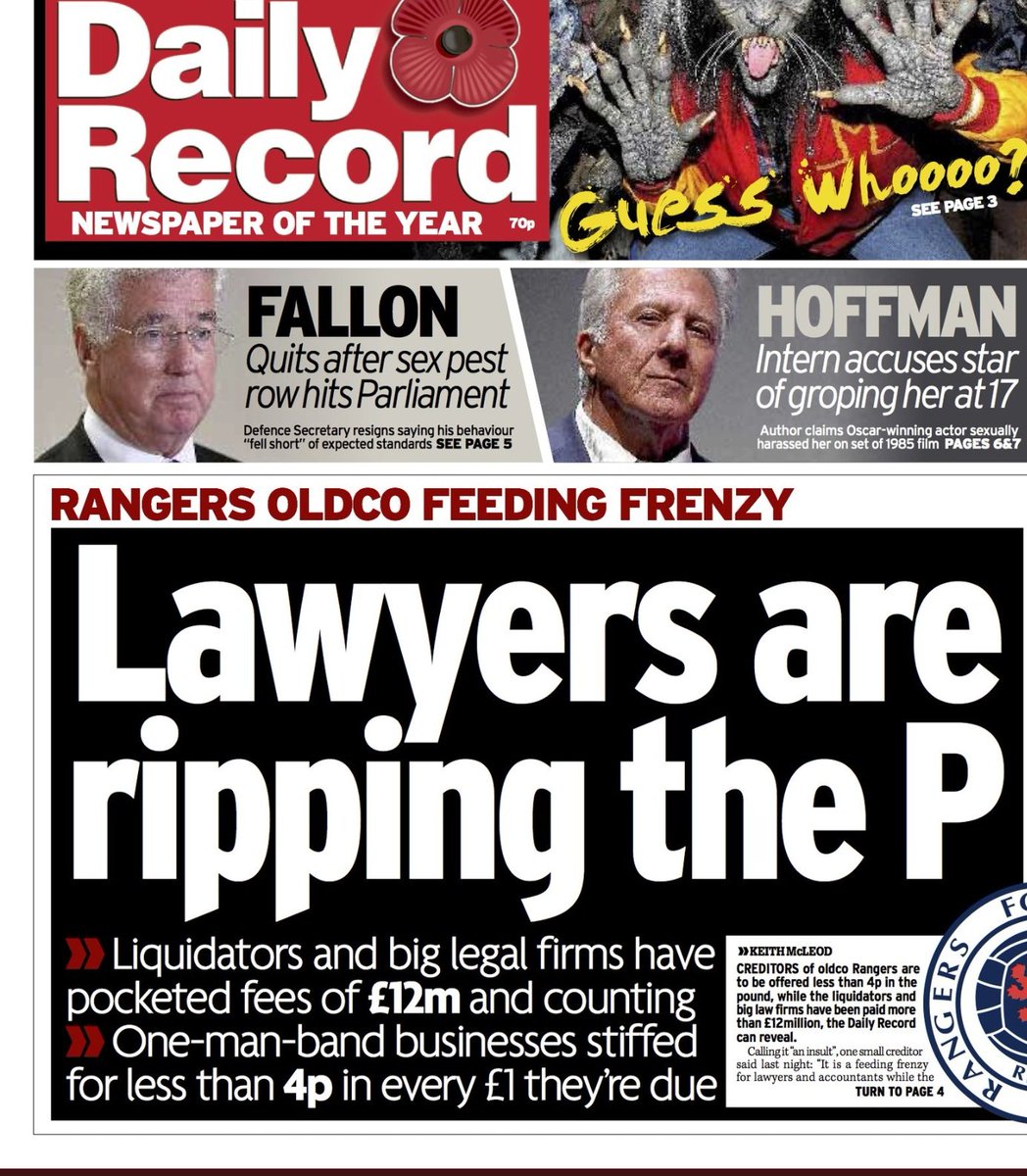 So…its the lawyers who stiffed the creditors…
And not Murray and his creative accounting ?
And not those venture capitalists who whipped away  the assets for next to nothing, and thus any chance of the creditors being paid,  and were supported by a compliant media and promoted by a corrupt governing body ?
We have to go back to Tuesday for the caption competition..
It was with great sadness that we learned of the passing of fellow Celtic supporter and internet bampot known to many as  Mince, one of the true characters and all round great guys. 
Scott was the kind of guy who was always there if you needed him. Many will acknowledge how much of his time he gave up to help others. 
A true gent. 
Our thoughts and prayers are with his family. He will be missed. 
I kind of think, if i may be so bold, from the times he and I chatted, that he'd like these words..
Rest in Peace.