Celtic Diary Wednesday November 1: We're Getting Better
The run of poor results at home in the UCL group stages continued last night, but the run of poor performances was halted.
Celtic played with a confidence and an attitude that may not have been enough to prevent sliding to a 2-1 defeat to Bayern Munich, but it was more than enough to convince those watching that good times are just around the corner.
A dreadful lapse in concentration and a possible handled knock on saw Bayern take the lead, dare I say against the run of play, in the first half, and it took until late in the second half for Celtic to find a way through when Calum MacGregor latched onto a James Forrest pass which can only be described as McStayian, to slot beyond the impressive Bayern keeper.
Was it handball ? Craig Gordon seemed to think so, but video evidence was inconclusive. I'd say that Gordons reaction makes one think that it was, but he would throw a wobbly, wouldn't he?
After the equaliser, it looked  as though the hoops could go on and win the game, but the Bavarians took only three minutes to find the winner, and although it was an excellent header under pressure, it showed they have that extra gear when needed.
Whereas Celtic simply have yet to instill the concentration required at this level.
But you feel its coming.
After conceding the defence could have folded, but it didn't, and Dedryck boyata especially deserves praise for putting it behind him. Gordon went on to make a couple of decent saves, but both of them will be angry at themselves for not dealing with the long ball, and will work on avoiding such a mix up in the future.
The two Bayern goals can be put down to a lack of concentration, the first a dreadful error as  Gordon and  Boyata failed to take responsibility to deal with a fairly harmless looking long ball. The second perhaps requiring a little more work by Mikael Lustig to prevent the cross that did the damage.
But for most of us, it was the performance that mattered, and should Celtic go on and achieve a decent run in the Europa League, last night will be remembered as the moment the players began to believe they could do it.
Celtic are now officially out of the Champions League, with PSG and Bayern Munich going forward. I don't think anyone expected anything else, but the Europa League is well within our grasp, with one point required from two games to make certain.
It's worth noting that very few pot four teams progress into the Europa, and also you may wish to consider that of the teams who came through the qualifiers through the champions route Celtic are the only team to have won a game…
Breaking into the elite from a position such as Celtics is not easy, and will take time. Maybe a couple or three years, but the signs are there that it will happen.
The manager seems to think so..
"The disappointment in the changing room shows you how well we played.
"The level of composure and quality we played with, I was very proud of the team. We caused them lots of problems. Individually, of course, they are world class and you can see that at times.
"We are disappointed with the goals. You get punished at this level, but overall we looked like a proper team who are developing at this level. 
"There there were so many positives from the game and it's a huge step for their confidence.
"Apart from the two goals we conceded, I thought defensively we were very, very good.
"We played our shape very well. We blocked spaces and pressed the game at the right moments.
"When we had the ball, we found the gaps and played very, very well, so it gives you confidence.
"As a team they showed a high level of tactical idea and technique to play.
"Right across the team, I was really, really pleased with the co-ordination and how they worked the ball and played with that composure at this level. 
"It's another step for us in terms of being a competitive side playing proper football at this level." 
He's not kidding.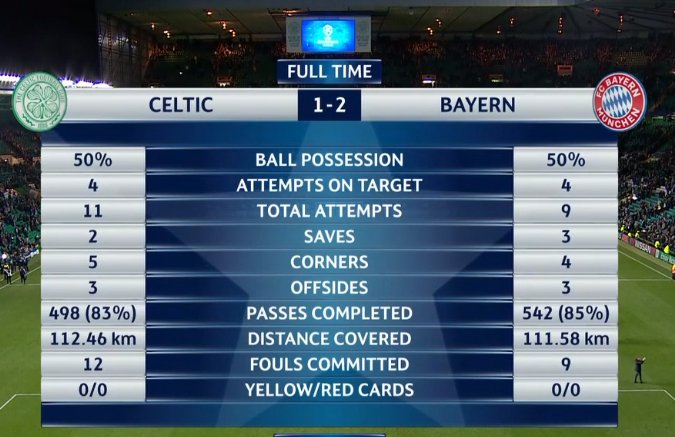 James Forrest was outstanding on the right, offering pace , drive and more often than not an intelligent end product. Calum MacGregor showed that he is an essential part of the team at this level, showing how to keep the ball and dictate the pace.
Keiran Tierney showed grit, spirit and no shortage of ability, whilst Scott Brown and Stuart Armstrong will have Bayern players looking over their shoulders for weeks, afraid that they will see the Scots  launching themselves at them and screaming "haw you, thats mine" .
The manager looked ahead…
"PSG will be a big test for us again, but we come back here for the final group game  and we want to achieve what we set out to achieve, which is to have European football after Christmas.
"If we can do that, it's a great marker and a great measure of how the players are progressing.
"The idea is to get there, first and foremost. There are still some crack teams who will be involved in that competition after Christmas.
"So for us we want to get there and get there playing a level of football that can allow us to go as far as we possibly can.
"We showed with that performance that we are improving our level at this very high standard."
A point in Paris, or even a goal against them would be something to shout about. They've not conceded a goal yet…
Apparently seventeen English clubs watched the game last night, and this week alone has seen Arsenal, Everton, Manchester united and Liverpool linked with Keiran Tierney and Moussa Dembele.
Mark Ogden of ESPN summed it up…
GLASGOW, Scotland — It can be a double-edged sword for Celtic to be playing against the likes of Bayern Munich in the Champions League.
The Scottish champions certainly need the competitive challenge — Saturday's 1-1 draw at home to Kilmarnock was a record-equaling 62nd unbeaten game in domestic football — and Celtic Park truly comes alive when European football's superpowers come to town.
But playing against the best also provides a showcase for Celtic's top players to prove they can cut it outside the less-demanding arena of the Scottish Premiership, and that, ultimately, leaves the club vulnerable to raids for Brendan Rodgers' leading lights from wealthier outfits south of the border in England.
It has been a well-worn path over the years. Historically, the likes of Kenny Dalglish, Charlie Nicholas and Brian McClair have left Celtic Park for the biggest clubs in England, even when Scottish football could compete with the best around, and the direction of travel has rarely been in a northerly direction.
But the success in recent years of the likes of Victor Wanyama, Fraser Forster and Virgil van Dijk having left Celtic for England — they all took their first steps in the Premier League with Southampton — ensures that almost every English top-flight club watches Celtic regularly in an effort to find and claim the next one to roll off the production line in the east end of Glasgow.
Some may have made the trip to Glasgow to check out the talent in Bayern's ranks, but they will all have left with the names of at least six Celtic players in their notebooks capable of performing in the Premier League. Kieran Tierney, James Forrest, Callum McGregor, Moussa Dembele, Stuart Armstrong and Dedryck Boyata all showed their capability of performing at a high level against Bayern, with Tierney and Forrest, in particular, outstanding against Jupp Heynckes' men.
It's as though Lennoxtown is merely a training ground for top EPL sides, and yet although the media may believe that, there's something different not that Rodgers is here.
He's yet to sell a player he wants to keep, and the list of players who have signed improved and longer deals at the club is unprecedented in history.
He wants to keep them, and they want to stay.
Thats why the good times are just around the corner…
Though we do need to stop being so nice to these teams..
Thanks for having us tonight @celticfc, all the best with your final two @ChampionsLeague group games 

 #CELFCB