Celtic Diary Sunday October 22: Tired But Triumphant
Celtic overcame a spirited Hibernian side yesterday at Hampden, eventually running out 4-2 winners, but there were signs that fatigue has begun to set in.
Hardly unexpected, the players didn't get from Germany until 4am on Thursday morning-told you Munich airport was a nightmare- and with that in mind, no wonder one or two of them were mentally and /or physically showing the effects.
Mikael Lustig was having a bit of trouble with Brendan Barker, the rapid Hibs outside left, but he used his experience to decide to not bother chasing him around, as it required far more effort than his plan B, which was to score two goals to help ease the pressure.
The referee, Kevin Clancy has seen far less able officials than him being awarded lucrative and enjoyable international matches, and it appears yesterday he realised just exactly what was missing from his CV.
He awarded Hibernian a penalty early in the second half when Dedryck Boyata cruelly robbed Hibernian of a scoring opportunity by kicking the ball out for a throw in, and as the forward fell forward , more in hope than anticipation, Clancy saw his chance.
He went over to the linesman for a moment, presumably to remind him that there's a World cup coming up, and he's always wanted to go to Russia, and just when you thought we'd get another Dougie Dougie moment, the officials all agreed it was a penalty.
An embarrassed Anthony Stokes pulled Hibs back into the tie, and Celtic could well have been set for a gruelling afternoon had the manager not decided it was time to spice things up a bit.
Over the piece, you could say that Celtic played with two up front, Griffiths and Dembele, although they weren't on the pitch at the same time.
Griffiths, though not on the scoresheet, did his usual harrying and hassling, and was even back helping out his defenders at times. He didn't get the usual standard of service from Sinclair and Roberts, but he had certainly done enough to work the defenders, which of course, makes them tired.
Then Moussa Dembele appears, and that would have caused a few groans in the Hibernian side, who now had a fresh strong forward to deal with who also just happens to be one of the most highly rated youngsters in Europe.
Griffiths has come under fire from a section of the support for not trying against his old club, which of course is nonsense, but its fair to say that there's just no pleasing some people.
Patrick Roberts and Scott Sinclair were tired as well, and perhaps need a wee break for a game or two.
Roberts has now been found out that even in the Scottish League, where his Nan could be top scorer, he's up against committed professionals who are up against him four or five times a season, and learn his game quicker than he might have expected.
Years ago, Henrik Larsson would consistently change his game to stay one step ahead of defenders, which is why he went on to succeed at a couple of lesser clubs in the twilight of his career, using the knowledge he had gained in Scotland.
Roberts and Sinclair will have to adapt, defenders are getting used to them. As will Tom Rogic, who simply gets turned into a blind alley more and more often of late.
James Forrest learned all this this some years ago, although it took him a while, and you'll notice he now just heads straight for the box knowing sooner or later someone will foul him.
The strength of Dembele and the pace of Forrest was too much for Hibernian, although they did score a well worked second to claw back into the game after Dembeles first, but the big Frenchman always looked likely to add another.
Which he did.
And that was that.
Celtic will be returning to Hampden for the League Cup final next month, and they will face either Motherwell or "rangers ". They play today, the SPFL giving them the extra days rest in case one of them was out late in the week.
The SPFL, of course, did Celtic a favour by forcing them to play yesterday so they could have a couple of days off before heading north to Aberdeen on Wednesday for a match with the leagues joint leaders-on points at least.
The SPFL, bearing this in mind, kept loads of seats empty in case Hibernian won, and tried to attack Celtic fans or even players. They have form for this, according to one notable and respected journalist..
Every Rangers player on pitch was attacked or spat on by Hibs fans during Hampden riot
IBROX dressing-room source reveals that all 11 Gers stars who finished the game were either kicked, punched or spat on as they tried to leave the field. 
So by leaving a great big gap in the stands, the SPFL were going out of their way to help Celtic, and for that we must be grateful.
As for all the moaning, yes, the team are tired, and yes we've suffered a couple of heavy defeats in the UCL.
And yes, Aberdeen have worked out how to be consistent against the lesser teams in the league.
But if you'd told me we'd be top of the league, in the first cup final of the season, looking good for a Europa League spot and still unbeaten domestically when the clocks are about to go back, then I'd have been happy with that.
And I still am.
Elsewhere, there were whispers that the real reason the SFA won't undertake an investigation into the events surrounding the EBT years, and indeed also why the clubs have seemingly backtracked on their positions may well be because the legal advice they received was along the lines of this, succinctly tweeted yesterday..
imagine millions of unsolicited phone calls from companies claiming they could help you claim back gate money you spent during ebt years


Well, they certainly took on the banks, and could they be about to take on the …if only I could think of a rhyme to finish off that catchy little jingle…
Munich Police explained why I couldn't find a bin to put my wrapper in after I'd finished my roll on ham..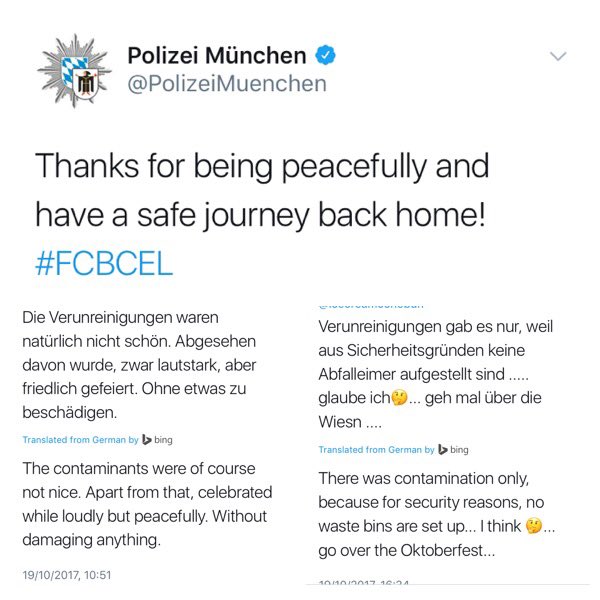 We haven't had a caption competition for a while, It's more or less been a week off for me and perhaps I could be accused of neglect, so we'll go straight to this one for today, and move on from any controversy..
Aleaxander Petrosyan takes a mean photo, this is one of his, does anyone know what's happening ?