Celtic Diary Wednesday October 4: Now They Get Injured Before Internationals
With Scott Brown and Stuart Armstrong already in the treatment room asking where Derk Boerrigter has gone, it comes as no surprise to see that Jozo Simunovic has joined them.
And Mikael Lustig has reserved a bed before it gets even busier with a couple of international games this week.
Simunovic has been sent home with, according to Reuf Karabag, his international boss, a torn ligament..
"Head coach Mehmed Bazdarevic and I talked to Jozo's doctor and from him we got access to all the documentation on the injury's condition. 
"The findings of the X-ray show a rupture and he has a hematoma which is four centimetres long."  
According to Celtic, its merely a strain, or a cough, or a bit of hay fever, but its Jozo simunovic , so he was probably just in a sulk and didn't want to play.
Mikael Lustig is on duty with Sweden, which means he'll probably hurt himself somehow. The likeable defender missed training yesterday, although its not clear of there's actually something wrong with him, or if he missed it in case he gets something wrong with him.
Craig Gordon, who it appears has a new girlfriend , who in turn had to get a new job, seems okay now that everything is out in the open.
The biggest open secret in Scottish football finally made the mainstream media when it was revealed in the tabloids he was "dating " ( The sun ) "seeing " ( The Record ) or " hanging out the back of " ( The Sunday sport ) former Celtic TV presenter Summer Harl, who had to resign suddenly amidst rumours of shennangians during a club trip.
Somehow, yet again, Celtic TV missed the story, and couldn't even get hold of any footage.
I'll be glad when the real football is back, and internationals are done with.
There is a new international league starting soon, designed to replace the system of meaningless friendlies. Quite how a meaningless league will do that hasn't been explained.
England manager Gareth Southgate has had a chat with Brendan Rodgers about Scott Sinclair-or so he says…
"I had a conversation with Brendan [Rodgers] about him at the end of last season.
"He's a good player but we have good quality in that area of the pitch and at the moment I think he is just below the level of what we have already got.
"I would be happy to have that conversation (what he needs to do to break through) with him but I don't think it's appropriate to talk about performance aspects in public."
There's a World cup coming up. Sinclair needs to do it in the latter stages of European competition, probably a final, and score at least four, before negotiating a peace treaty between Saudi Arabia and Israel and rounding off by walking across the Atlantic playing keepy uppy to get noticed.
You'll read more about this as the season progresses, with the SMSM suddenly inventing a bit of unrest and how he wants to play for England.
Like Gary Hooper did.
Remember Efrain Jaurez ?
The Mexican who came to Celtic and disappeared , apparently in womens clothing, to a party ?
He's the latest to tell us how good the Mexicans at Ibrox are..
"If you give Pena and Herrera time then I'm absolutely convinced they'll be the top men for Rangers.
"I played against Carlos when he was with Pachuca, Leon and Chivas and I was also in the Pumas academy with Eduardo. They've received criticism but you have to understand it's difficult when you arrive from a country where they play a totally different style of football.
"Rangers fans must give them time, they have a lot of quality. A team is 11 players and another seven on the bench – it's not fair to only look at Pena and Herrerra. It's funny but I settled quite quickly and did well in Scotland at the start – I played well against Arsenal and scored in Champions League and Europa League qualifiers so I didn't need time.
"Every person is different and it could be they will finish better and it'll be the opposite from my own situation. I really hope that's the case because they're Mexican and I want them to be successful even if my heart is green and white.
"They have what it takes to be successful. Carlos is a good player and a threat – he scored a lot in Mexico but he had more time on the ball than in Scotland, where they're only thinking about getting to goal as quickly as possible.
"Herrera is also a top-quality striker, a typical No.9. He's good with his head and also physical, a bit like Andy Carroll. 
"But my message to Rangers fans is to give Carlos and Eduardo time. If they show patience I promise they'll be good players who'll be greatly appreciated." 
Er, like Andy Carroll ?
Google him, by the way.
I had to.
Anything to make them feel better…like this, in the Scotsman, who confirmed the grand old staircase is to be redesignated as a grand old advertising hoarding…
Supporters were unhappy the iconic glass staircases were hidden from view when the banners first went up back in August. While many assumed this was to cover construction work, the club's supporter liaison officer revealed this was not the case, prompting many fans to question the board's motivation. Rangers have now said in a statement they are pursuing extra revenue through sponsorship and advertising, and covered the glass stairwells to "highlight the potential" for companies to possibly use in future.
If they can find one…
Can you help find one of these ?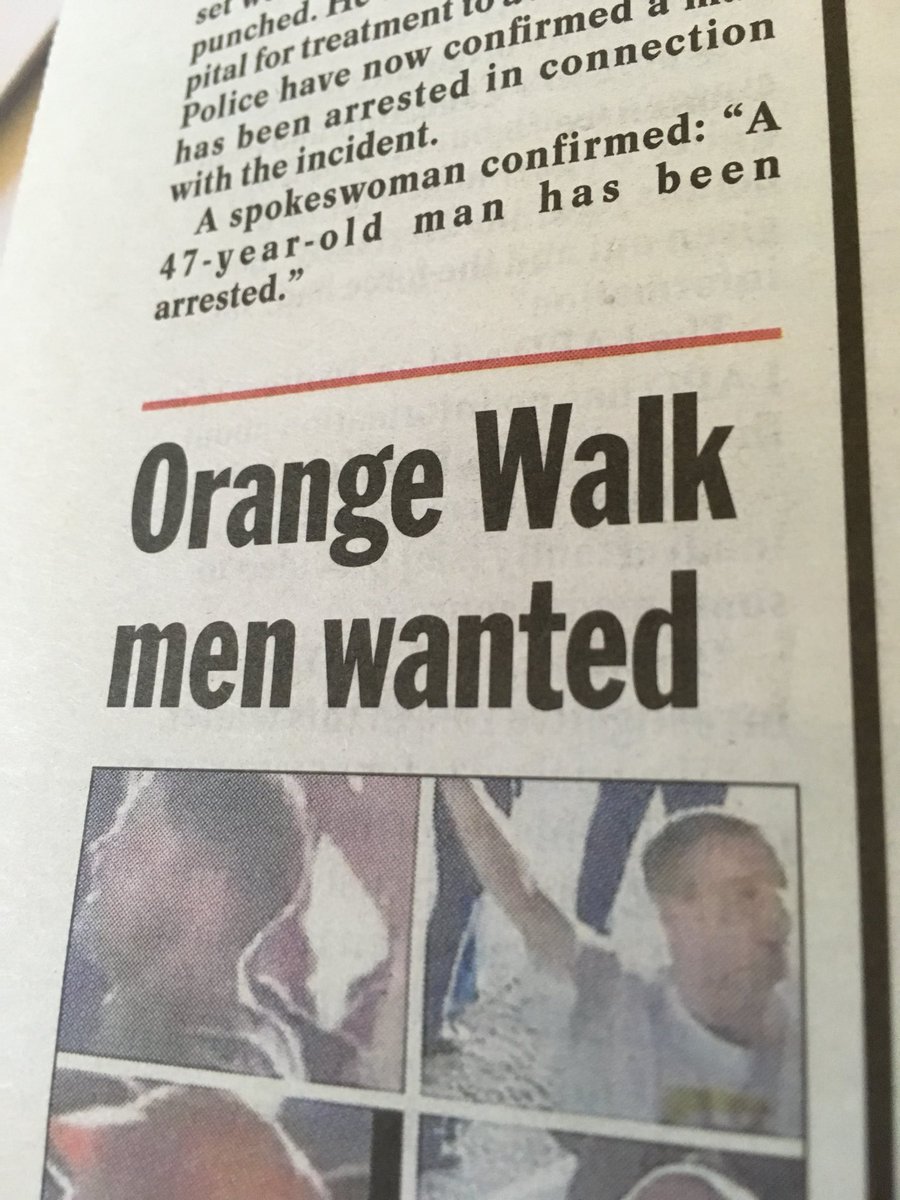 Its in connection with crime committed, and not, as previously thought, a job creation scheme.
No doubt the hordes will blame this on the legendary Unseen Fenian Hand that has crept into and now controls the Scottish establishment…
They will never learn…
Picture yesterday…
Today…
Wee bit of politics to finish on, before I head out for my forth day of trying to get a passport picture that doesn't make me look as though I'm sleeping, dead, or in black and white, and the Scottish government deserve a round of applause for the banning of fracking, the controversial extraction of shale gas from rocks.
Though there are worries it might just drive it underground.