Celtic Diary Friday September 29: We Got A Good Thing Going
Its not exactly going to be finished overnight, but the plans for more development around Celtic Park have been approved, thanks to large brown envelopes of cash being handed out at Opus Dei meetings.
Well, so some would have you believe, but they are the sort of peepil who believe in things like the Scottish media and clubs surviving liquidation.
CELTIC Football Club is pleased to confirm that planning permission in principle has been granted in relation to recent development proposals to create hotel, museum, retail and ticket office facilities. 
The application is part of Celtic's long-standing masterplan for the area, a vision which aims to deliver benefits to the club and our supporters and allow further regeneration of the East End of the city, something to which we are totally committed.
It is important to emphasise that considerable work and investment over a number of years would be required to bring this project to fruition..
Celtic aims to be a world-class football club in everything it does. We are pleased to have made significant investment in recent years to develop the stadium and public realm area for the benefit of our supporters.
Any further development of this kind would be a hugely positive step for the club, for our supporters and for the local community, but we understand there would be a number of challenges to overcome to complete a development of this scale.
A spokesperson for Celtic said: "We are very pleased that initial planning permission has been granted. Clearly, there is still considerable work to be done in bringing such an ambitious project to fruition. However, we will now engage with other relevant parties to assess this potential development." 
You'll note that there is no mention of stadium development, although there have been a few claims that there is.
Celtic, we hear, actually want to reduce the capacity of the ground, to around a few hundred, as they're becoming a bit of a nuisance with their singing and dancing, not only potentially disturbing hotel patrons, but putting the players off while they're concentrating.
Many a true word said in jest.
Away from home in europe, and Celtic have lost just one of their last six games, to Astana, a game they started 5-0 ahead, so it can be excused.
At home, the story is a little different, with Ajax being the last side to be beaten on a group game back in 2013.
Something has to be done, and with continental players dreaming about playing in that famous atmosphere, maybe making us all stay home to watch on tv might work.
Fair play to the Green Brigade. They've been trying to limit crowds for a while now, with their diligent and unappreciated efforts to get a stand or two closed.
Bayern Munich sacked their manager yesterday, which leaves the way clear for Pedro Caixinha to pitch for the job.
Carlo Ancelotti paid the price for their defeat to PSG and their poor start in the league.
Like Anderlecht though, they are just one good performance away from getting back on track, and their next European game is at home to Celtic.
They have to win.
Whereas back at the ranch, as Paul McStay would say, there's a buzz about the place..
The manager…
"The message I gave to the players when we came in to the club 15 months ago was to tell them 'lots of people will tell you what you can't do'.
"We set about trying to focus and concentrate on breaking as many records as we could and creating our own history. Of course, it is very very difficult but let's create our own history.
"This is an incredible club that has a great past but we have to really concentrate on the future and not worry so much about that. I think, over the past 12 months, you can see the improvement.
"It is a huge jump in level, going into the Champions League, but I think it is pretty clear to see how the players are developing and improving. To go away and get a 3-0 victory, play as well as we did after such a big game at the weekend against Rangers at Ibrox, really shows how the players have grown and are believing in themselves at this level.
"There have been a lot of milestones along the journey so far but each one you tick off is great. To get our first Champions League win away, the first for the club in so many years, and to keep the first clean sheet was really pleasing."
who has earned the praise of the CEO…
"It's been remarkable, the majority of the players that appear for the first team each week and appeared last night  were at Celtic with Ronny before Brendan came," 
"So he's done an incredible job, he's an outstanding manager and outstanding coach, and I'm delighted for him.
"The amount of work he puts in, the coaches put in, the way the players have developed and the way they are performing, it's been remarkable really."
Then there's Kolo Toure, now a coach at the club…
I am now with one of the best young managers in the world in Brendan Rodgers.
"We have worked together for the last few years and the relationship is really good. This is a chance to learn even more with Brendan, which is fantastic, and with one of the best clubs in Europe. It is a privilege, not just to work with Brendan but also Chris, John and Stevie, who are all great guys.
And the goalkeeper..
"We defended well against Anderlecht and a clean sheet is very pleasing so we go into our next game in Munich with a bit of confidence.
"We managed to keep the ball quite a bit in Brussels, especially in the first half, and take the sting out of their attack.
"We made them run a lot which is always going to be beneficial at the end of the game.
"It's a great result in terms of the Europa League. Anderlecht will have to come to Celtic Park and score four goals in the head to head so we have given ourselves a great chance.
"But we want to go into the next games and get more points on the board. And if we do that then the head to head won't matter.
"Second place in the group hasn't gone yet. We know we're up against two unbelievable teams to try to secure that runners-up spot but we have given ourselves a chance.
"It's a great result against Anderlecht. It gets us on the board. We have the same amount of points as we had last season but we're looking to do better than that." 
The win in Brussels will have given the players a wee bit extra belief, not just because of the result, but in the way it was achieved. They all did what they were supposed to do, and it worked.
Munich no longer seems quite as daunting.
As you can imagine , the result hasnt been appreciated everywhere.
The BBCs Chris McLaughlin was on twitter during the game…
First 30 here in Brussels prob worst I've seen #Celtic under Rodgers(I wasn't in Gibraltar) their only saving grace is Anderlecht average. 
Great pass from Ntcham who's had a poor night – clinical from Griffiths. Be interesting to see how Anderlecht can respond. #Celtic 
#Celtic 45 min from huge result. Ahead despite failing to get into their stride. Anderlecht's much discussed problems clear for all to see. 
Huge win for #Celtic tonight. European football post Christmas looks inevitable after that. Anderlecht pretty awful. #ChampionsLeague 
Then last night, the Beeb knew they'd have to discuss the strides made by Celtic, and who do they rope in ?
The state funded broadcaster didn;t even have the grace to acknowledge an outstanding performance.
Pitiful.
Of course, it may be that they were worried about hurting the hordes, though to be fair they seemed to be in enough pain way before the BBC show…
Yeah, its hardly like winning at Firhill to clinch third in our tinpot league..
Those glory days must feel like a dim and distant memory for the Ibrox support… as they watch is go out and impress our culture on others..
Pedro Caixinha might have to be very careful while he rattles his at Mass on sunday.
Moves are afoot, and he has spoken publicly..
But actions speak louder than words.
And clearer…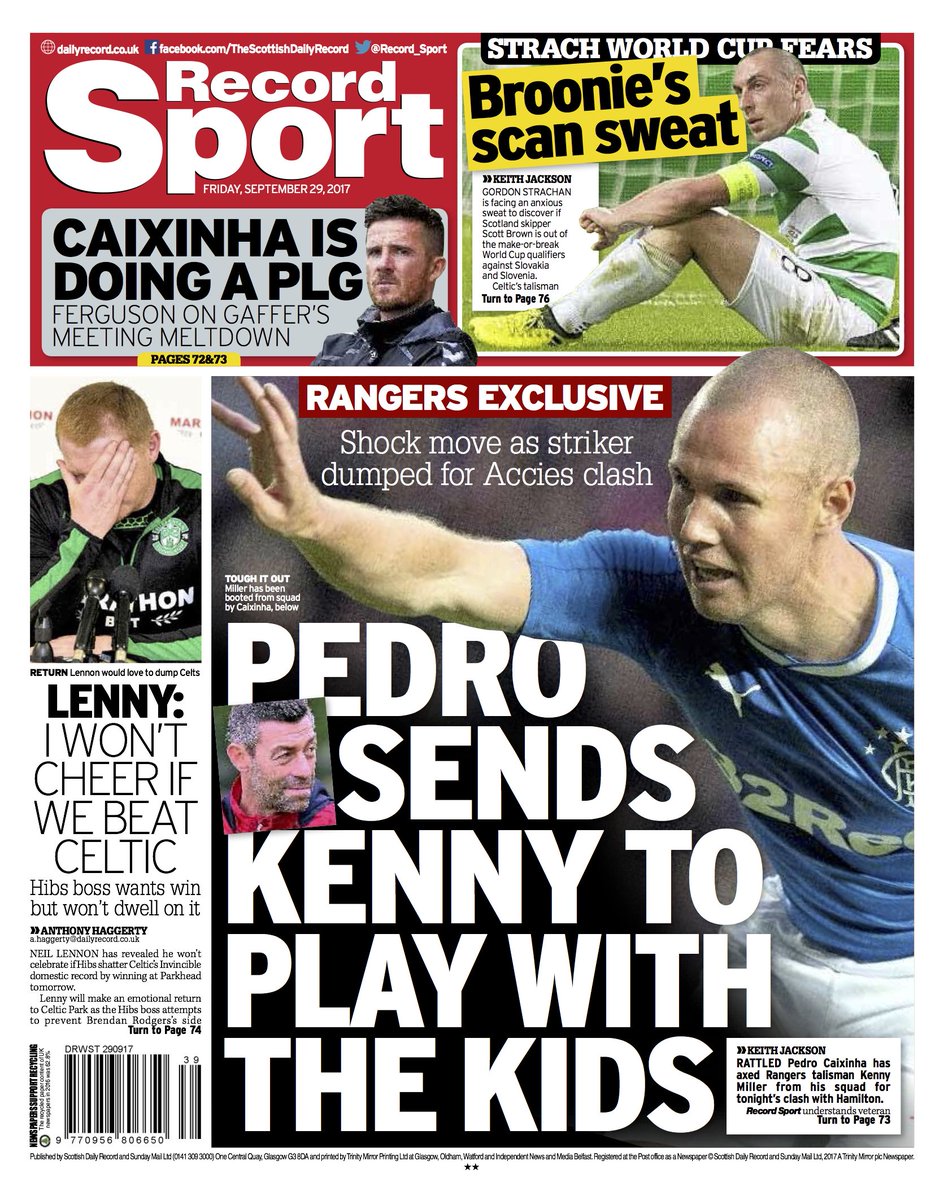 This headline is designed to get fans onside with Miller's upcoming coup..
Google just doesn't get it sometimes.
Our regular drunk claimed that Pedro would be gone by Christmas, now he thinks its looking more like an October Revolution… especially now with the press lining up alongside the rebels…
Just in time for the Christmas panto season as well.
It's Friday, and that means, as you know, its time for
Etims Knob Of The Week
And we do have a strong field this week. In fact, one of the strongest. 
Last Saturday, Andy Walker made a strong claim with his piss poor commentary on Sky TV.
But we're not going to give it to him.
Then, Rob Maclean put in a sterling effort for BT Sports..
But we're not going to give it to him.
Chris MacLaughlin, for his efforts on twitter have already been mentioned today..
But we're not going to give it to him.
Or even this guy, the ultimate gullibilly..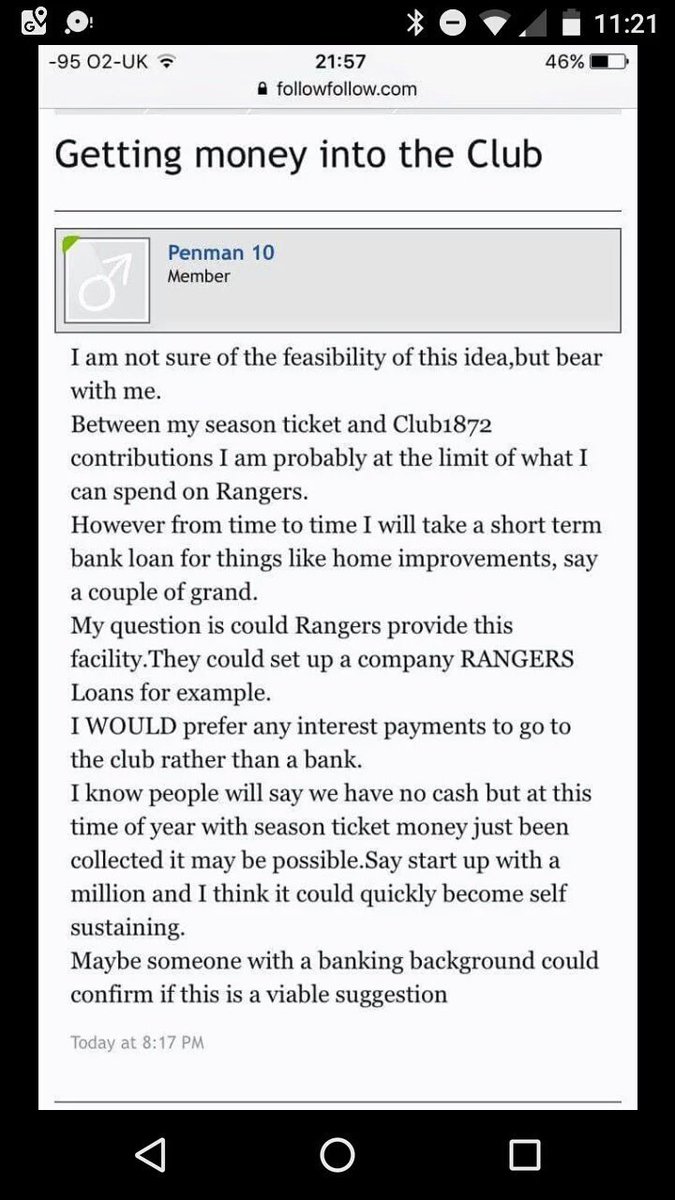 But there wouldn't be any gullibillies if nonsense like this wasn't published as though it were fact, from the Herald..
However, everyone did know how to solve the problems. The old families had to be shown the door, a new owner with money brought in, a move to Hampden so Celtic Park could be rebuilt, a share issue needed to be held, and some quality players signed.
Fergus McCann paid for all of this, along with the punters, but the grand plan was hardly his because it was the obvious thing to do. 
King is Rangers' McCann, to a degree and there are rich fans in the boardroom, the finances are okay again,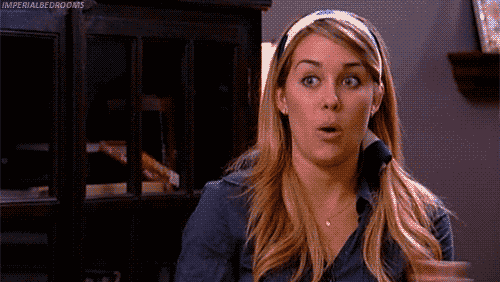 The extracts are from a piece written by Neil Cameron, and for being wrong in so many ways, he's beaten off formidable competition to be nominated this weeks
Etims Knob Of The Week 
I don't know if thats actually him, and to be fair, he doesn't seem all that sure either.
And now to yesterdays photographic image, designed to elicit humorous or poignant comment..
Roses are red, violets are blue, I've got a knife , get in the van,
National poetry day was yesterday.
And voodude and I do not go out cruising for anything.
Ever again.
The winner is, incidentally..