The best thing about last nights game wasn't the result.
Neither was it the sight of an enraged Neil McCann doing an imression of a wet drunk who had been refused admission to a nightclub-though that was funny.
It was the realisation that Celtic have got a player who will hit an opponent back who hits one of ours.
For a while now , referees have largely ignored it when hooped players are subjected to rumbustious treatment. So much so that last nights whistler,  John Beaton, didn't understand how to react when Olivier Ntcham decided that he would adapt to the physicality of the game with a few interventions of his own.
He took a couple of sore ones, and gave back a couple of sore ones.
When he took them he simply got up and got on with the game. When he gave it back, we had to wait for the other guy to get up so we could get on with the game.
This video, from videoCelts, shows the attempt to break his ankle by Jack Hendry. note where the referee is…
Not even a booking for what is arguably a straight red.
So, as you see, the no protection policy is still in place, and even just a few games ago, that would have been seen by opponents as a carte blanche to be, er, enthusiastic.
Not any more.
Oddly enough, the one Ntcham  got booked for was little more than a fifty fifty aerial challenge, whilst the one he didn't get booked for looked a little like a whack in the throat that had the Dundee player doing the dying fly in the centre of the park.
I'm not condoning that sort of challenge, because had it been one of theirs on one of ours we'd have been furious, but it wasn't so I don't care.
We've been the subject of enthusiastic and competitive tackling.
Now we're giving it back.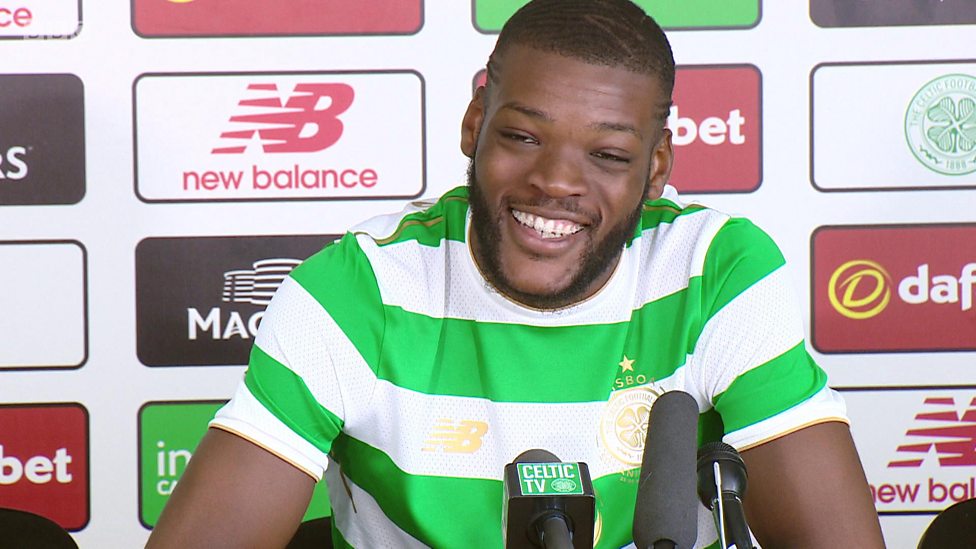 As he grows in confidence and maturity he's going to make Roy Keane look like Julian Clary.
After the game, Neil McCann, who had said his team wouldn't park the bus etc before going on to park the bus etc, said afterwards…
"On the whole I can have no complaints about the result," 
"I think it was a remarkable work rate by my players against a top-class Celtic side who didn't rest too many for the Old Firm game.
"I think that is good respect to my side and indeed I don't think it was a 4-0… 
Hang on, lets check…
WEDNESDAY 20TH SEPTEMBER
QUARTER-FINAL
Sorry bud, it was..
"I think that flatters Celtic." 
It didn't.
Dundee did have a chance in the first half, but apart from that Brendan Rodgers was seriously considering removing Craig Gordon for the last twenty minutes and bringing on another forward.
Another who shone for Celtic was James Forrest, who notched up  two goals and stuck up two fingers to those who thought the arrival of Patrick Roberts would see him relegated to a supporting role this season.
If Brendan Rodgers can turn an average player into a good one, then when he gets a good one he can turn them into a great one.
Forrest had a rough time under Deila, and maybe lost his way a little.  Under Rodgers he is beginning to fulfill that potential we saw when he burst onto the scene, and frankly he'll be the first to do that in many a year.
His manager said …
'He is really improving his numbers, that's what his job is.
'Firstly, defensively he is working very hard in his pressing and tactical idea of the game.
'He has great quality in both feet, his first goal, he comes on the inside and finishes really well and the second one he moves in off the line, Odsonne (Eduard) plays him a nice little pass early and he works his feet and gets his shot off.
'So two very good goals and a very good performance by him.
Here's something that may surprise you…
Congratulations to James Forrest who, in his next game for Celtic, will celebrate his 250th appearance for the Club. What an achievement


I went out to the barbers yesterday, and as a tribute to the winger, I told the man to give me a James Forrest type of haircut.
He picked me up and sat me on a cushion.
The 250 games stat is interesting, but this one, also from the academy is even more enlightening..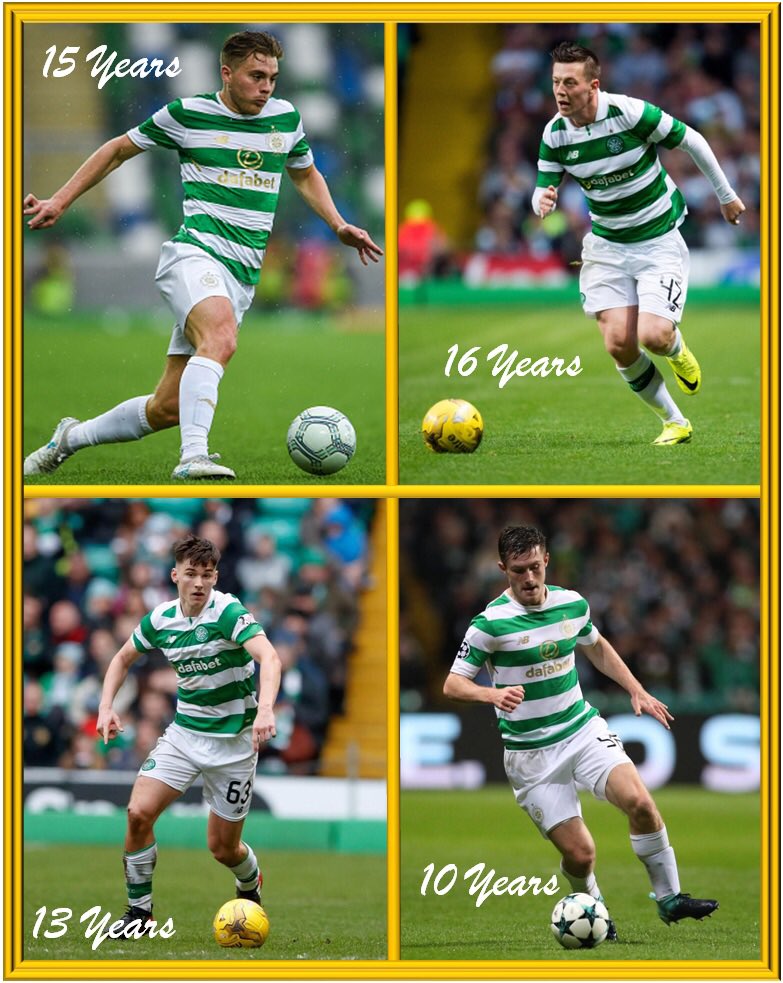 James, Callum, Kieran and Anthony have a combined Celtic service of 54 years. 4 great players, people & role models for our Academy kids.


 Three other Academy players featured for Dundee last night. They can't all play for Celtic, but they are receiving an apprenticeship that is giving them a top level career in Scotland.
All eyes are now on the next game, the lunchtime visit to Ibrox to face "rangers ".
With an important game in Brussels to follow, there is every chance Rodgers will rest a few key players, but thats probably not going to happen as the press continue to hype what is essentially a warm up into a game of some sort of significance.
Actually, its quite easy to get warmed up over this game.
Not because of the shite they out in the pitch, but because of the flies that swarm around it.
The Auchehowie Academy, once the Murray Park conveyer,  has altered one of its traditional recruitment policies. In days gone by it would have been unheard of for catholic or Celtic minded players to be learning their trade there.
However, due to the Academy having to make some money to at least pay for itself, the old tradition has been quietly ditched as it wasn't bringing in enough money to make it a viable operation.
In recent years, various players have been touted as the next multi million pound sale, but the reality is somewhat different, as the players just aren't good enough to make a name at "rangers ", and therefore only old pals down south are interested in putting money on the table.
This has led to old walls being left unguarded and the enemy working within..
So their some of their support think, at least, and after discovering some Celtic minded comments on social media platforms by some of "their own ", all hell broke loose.
They have lost their club, their history and now it appears their fucking minds as well.
They will never learn, and because of that, I would like to see a comprehensive win on Saturday.
Just because it will hopefully turn these people away from football for good, and then we can start breathing clean air again.
Then , perhaps, the decent fans can take over, and rid themselves of the cancer that is eating them up.
Mind you, if they don't, I won't be too concerned. They've had several chances and spurned them.
They still make me laugh …


Celtic FC are delighted to confirm that Wes Foderingham has extended his contract at The Rangers.
Then again, so did Dundee post match last night…
There's not enough of that kind of simple humour in the game. The tweet has been deleted now, though I genuinely can't figure out why.
Serious stuff, for a moment, I suppose..
Celtic released their latest financial statement yesterday.
Known as the "Janet and John " bit, here is the summary…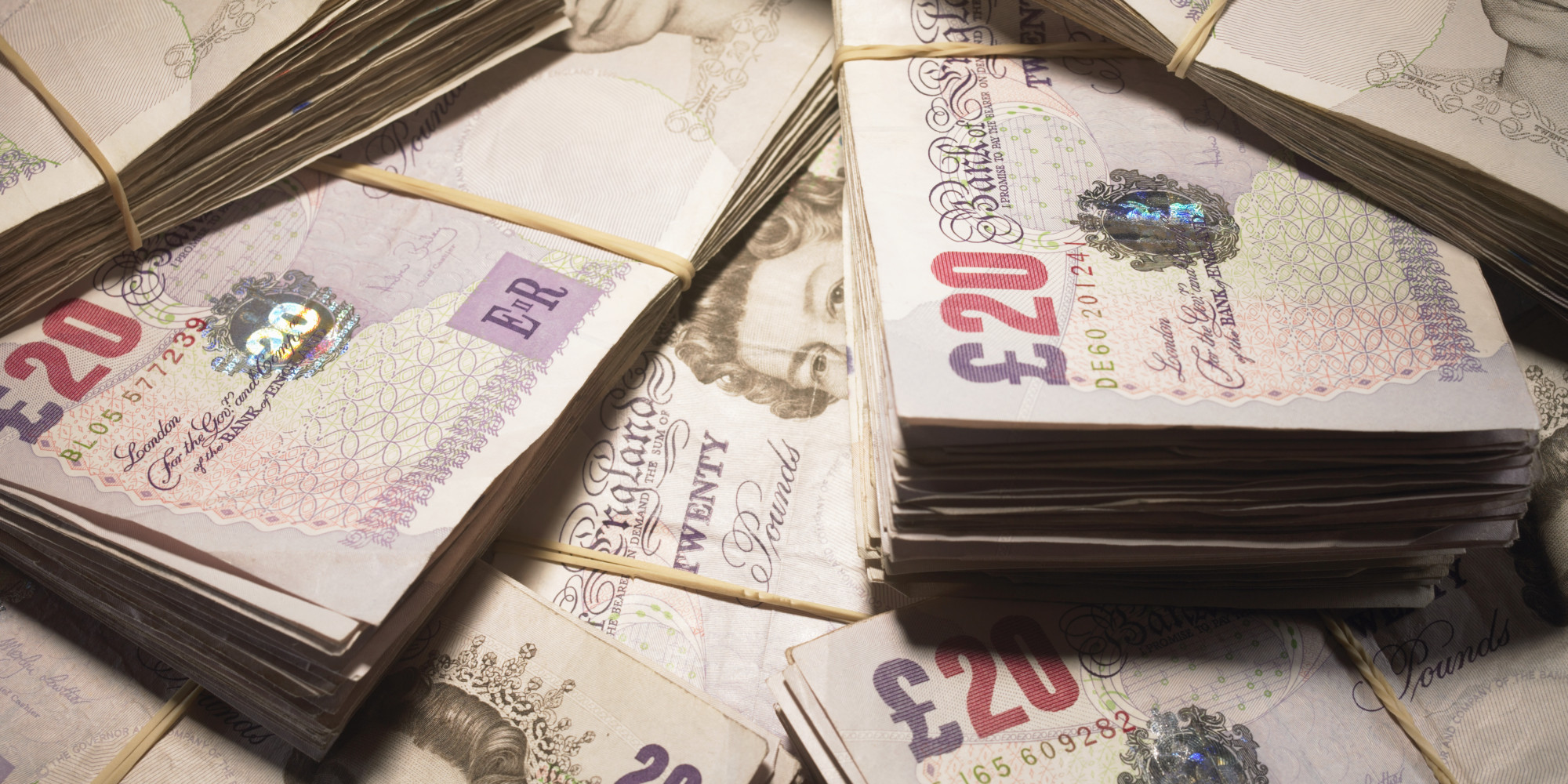 Yesterday, we were privvy to the words of the Great Pedro…
Today….