Regan Deflects Attention Away From Dickson
The latest salvo in the battle for proper governance in Scottish football was fired yesterday, when SFA chief Stewart Regan came out of hiding to address claims thats he's up to his knees in corruption.
Described as a "no holds barred " interview by the Daily Record, if you don't count the lack of a series of pertinant questions, presumably, the full text was distributed amongst the mainstream media, with radio and television getting the latest from the Hamoden propaganda machine…
Q: What do you have to hide by refusing Celtic's request, via the SPFL board and on behalf of all 42 league clubs, for an independent review?
S.R: The decision has been taken as a board and having considered all the facts on the table. Since 2011 the board have relied heavily on advice from four QCs and three law lords, supporting us on that journey. We also have two independent directors on our board. Independence has been at its heart and we feel there is enough belief around our board that the decisions have been made with the best interests of Scottish football at heart. 
My Q: Could you define exactly what you mean by the best interests of Scottish football ? Or are you confusing it with the best interests of the SFA ?
Q: So there's no appetite in the game for a full review? 
S.R: Other than one, we haven't had a single member asking for this to be undertaken. The fact we have put in place such an independent process since 2011, including independent directors on our board, has significantly moved on the decision making since before I came to Scotland when it was old fashioned committees.
We are in a very different place now. Four QC's, three law lords, significant amount of financial and legal investment, scrutiny at every step of the way. We have got to the end of the process in our mind. We have made decisions on all the key areas and the one area we feel is still in need of further consideration is from comments made in the Craig Whyte trial relating to the (UEFA) licensing decision of 2011. That has been referred to the compliance officer and is now a live case. 
My Q : Surely the request from the SPFL, who act on behalf of the clubs, points to a desire for a review from the majority of clubs ?
Q: Do you suspect we will never draw a line under this?
S.R: It would be really difficult to convince those who believe in conspiracies there isn't a conspiracy at play. My pushback to them is do we really think that four QCs, three law lords, all the club execs, all the independent panel members are all part of some huge conspiracy? We have spent too long looking through the rear view mirror and we've failed to look at the road ahead.
We have to be able to move on. We won't get closure in the eyes of some parts of Scottish football – some fans, some stakeholders, won't ever get closure.
This will be one of those topics that will be talked about for years to come. There isn't a right or a wrong answer. It's a judgment call and a group of guys around the boardroom table with independent legal scrutiny have come to the conclusion this is where we draw a line. 
My Q: You mention a conspiracy, and yet fail to understand the term. Surely you can recognise that the  desire for a review is based on testimonies to the Supreme court and statements given to the First Tier Tax Tribunal, one of which was made by Andrew dickson, who was involved centrally with the use of the EBT tax avoidance scheme ?
Dickson is still with the SFA. Are you covering for your pal ?
Q: How much has been spent on your legal fees?
S.R: Hundreds of thousands of pounds. 
My Q: Could that not have been avoided by employing staff who didn't operate in such a way as to invoke legal proceedings ?
Q: Celtic figures would have been on SFA boards at the time decisions were taken in the past?
S.R: Our senior clubs have all been on the various committees and bodies that exist in Scottish football so they have been party to those decisions. And they have also been party to the improvements made. 
My Q : Why is it that senior clubs representatives were allowed to make decisions on matters when they were aware of rule breaches ?
For instance, insurance companies were told to include EBTs along with salaries when assessing player premiums..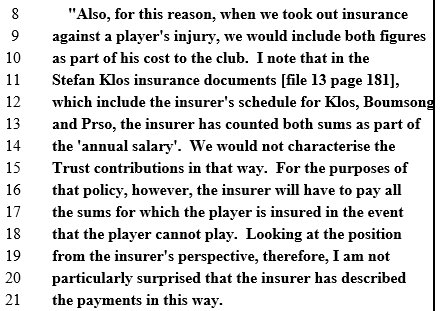 Andrew Dickson explaining that he knew of EBTs..and he further explains how they were guaranteed earnings..
Dickson was instrumental in the SFA when it came to the crux of this matter. The granting of a licence to Rangers to play in the Champions League.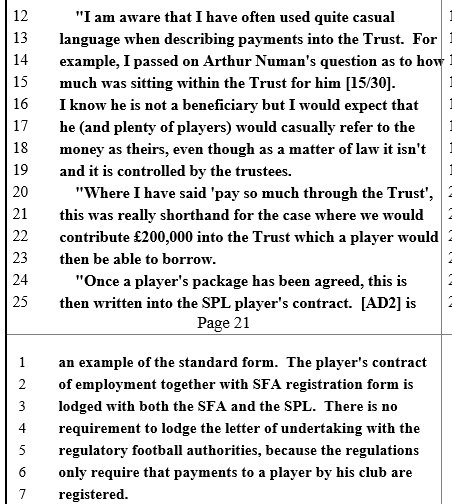 Not loans, apparently.
Even those which , as Dickson explained to the insurance company, were part of his salary.
At the FTT, HMRC asked dickson about side letters…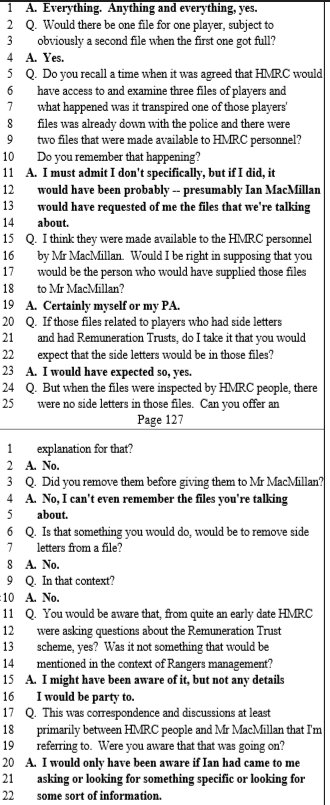 I don't suppose anyone in the media wants to ask him about this ?
Well, not if Regan is turning this into a Celtic Rangers issue, which he continues to do in this "no holds barred " interview..
Q: How many sit on the SFA board and was the decision not to grant an independent review carried by a majority vote or was it unanimous?
S.R: There are eight people on the board and seven were at the meeting. It works through collective responsibility. We don't publish every decision or score or vote, that's how boards work. 
My Q: Yet part of the remit of a review is for more transparency…why not publish ?
Q: Are there ramifications for Rangers newco if oldco found guilty of a breach with regards the UEFA license?
S.R: The range of sanctions could – I stress could – be linked with how the five-way agreement comes into play in the future. ( Record Sport understands part of the five way agreement was for Rangers newco to accept liability for issues arising under the jurisdiction of oldco as part of the transfer of SFA membership). 
My Q: This five way agreement. Why has it not been made public ?
Q: Celtic are asking why there is no review into the Big Tax Case when the SFA are willing to look at the Wee Tax Case?
S.R: We haven't had any new information raised with us by member clubs. If they have new information or evidence they feels falls into our jurisdiction then we will deal with that. 
My Q: Leaving Celtic aside, which clearly you don't want to do, why is there not a full and comprehensive investigation into the actions of the SFA surrounding the period in question, as requested by the SPFL ?
S.R: Celtic have the ability to do that through their own organisation, if they want to do so. 
My Q : The SPFL have asked for a review. Why have you not accepted this ?
Q: Celtic's statement said that if there isn't an inquiry, it would call into question the SFA's accountability, transparency and leadership. How do you react?
S.R: We have listened to everybody. That's not to diminish the points made by Celtic. I have a lot of respect for Peter (Lawwell) and I understand why he's doing what he's doing. He has a fiduciary duty to do what is the best interests of Celtic. 
My Q: Would you accept, therefore, that you, inyour role as  CEO of a private company, also have to act in the best interests of your company, which does not want its methods and motives held up to public scrutiny ?
Q: Is your relationship with him now damaged?
S.R: I have a great relationship with Peter. We actually sat at the Champions League draw while all these letters were being exchanged. He understands my position. I am acting in the best interests of the game. 
My Q: but surely the best interests of the game would be served by an independent review of all of those involved in the period in question, including their methods and motives ?
Q: Is this really all about title stripping?
S.R: I would actually say Celtic have gone to great lengths in their letters to emphasise it is not about title stripping, it is about process and learning. For some people out there, some stakeholders, groups, fans, maybe title stripping IS at the heart of it. But that matter has been discussed by the SPFL and a line has been drawn under it by the SPFL and they have moved on.
Our board's opinion is we have had independence all the way. Are we going to have an independent review of an independent review? Where do you draw the line? It has been independent from day one. 
My Q: I would suggest that we could draw the line after the methods and motives of the SFA during the period in question have been publicly examined and explained. Would you not agree that where there is doubt we must have clarity in order to move forward ?
Q: Will it ever go away?
S.R: The word that's been used, 'closure'? I don't think it is realistic, I don't think it is something people will ever be happy with. There are those who want an outcome that can't be delivered. We've gone as far as we can. 
My Q : Do you think that your reluctance to fully and openly investigate these matters is a reason why the public are concerned ? If you feel that people will never be happy with any outcome then have you not failed in your job to work for the good of the game ?
Q: Was any part of SFA's board's decision-making informed by what might happen if you granted a full review into Rangers EBTs? You can only assume they might want other historic issues addressed?
S.R: That's not how boards work. Boards deal in facts and information and advice. We treat all our members in exactly the same way. You cannot consider 'what if'? There are too many what ifs in Scottish football. You deal in the here and now. 
My Q : The here and now is that a number of clubs have a number of supporters who are not happy with the way the game is being run for a number of reasons. That's not a what if. thats the here and now. do you feel you are letting them down by refusing to hold a review, which in the light of new evidence , is not only reccommended but esntial ?
Q: Is your claim to independence compromised by the position of Campbell Ogilvie as SFA president throughout much of this time?
S.R: Campbell made a very clear point of recusing himself from every single decision and discussion relating to Rangers. He stepped outside and wasn't involved at any time. 
My Q : Could it not be argued that if he had knowledge of any rule breaches he had a duty to inform the SFA ?
Q: How much is this about Celtic, Rangers, EBTs and SFA and how much is this, in reality, a power struggle between the SFA and SPFL?
S.R: We could sit here and second guess the politics behind it. That's not for me. My job is to try to drive the game forward and focus on all the positives we are dealing with and now allow the past to drag us back. 
My Q : Would you accept that it would be an awful lot easier if we just had one body, either the SFA or the SPFL, working to the best of their ability in the interest of clubs and supporters, instead of what has been described as an old boys network working for its own ends competing with the will of the clubs over every single issue ?
Q: All this must be wearying, will you consider walking away?
S.R: No. 
My Q : As we can now point to a voice from the fans and clubs  that at best questions your ability to do the job, what will you be doing to turn the tide of public opinion ?
Regan has come out swinging, there was little doubt he would.
In order to protect his cabal, including Andrew Dickson, who must surely be made to explain what he knew, when he knew it and in whose interests he was acting, Regan has tried to turn the issue into a Celtic Rangers story.
In fact, it is another chapter in the story of an institution that serves only itself and is now flailing its arms wildly in the hop it can drag someone else down with them.
It's nearly over for him and his buddies.
Do not be distracted from the real issue, which is quite simply that the SFA is unfit to govern, and in a sense needs to show us why it should continue in its present form.
Close down the SFA, close down the SPFL.
Let them all apply for a position in a new national association.
Reading their CVs should be a laugh…
I leave you to consider this, a conversation between Rangers Tax Case, to whom i'm indebted for the clips in this piece, and Stewart Regan….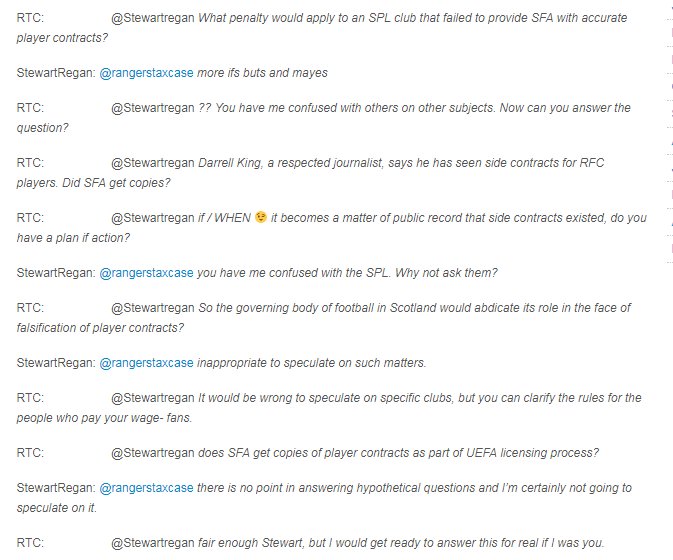 Five years ago, and he's still not answering…
And Andrew Dickson ?
I'm sure he'd love the chance to put an end to all this tittle tattle.
Well, no one is asking him anything, but thats our media for you….
And I'm quite sure a few of their  London owners have noticed this…