Celtic Diary Tuesday September 12: Step Right Up….
The rollercoaster ride begins again tonight as Celtic embark on the second stage of their champions League campaign against Paris St. Germain.
Whilst not one of the traditional giants of the game, they've had someones chequebook out to try and become one.
Last season, they joined Celtic as the only two teams to engage in seven goal thrillers in the Nou Camp, although to be fair they did score in theirs. Once.
This was after taking a 4-0 lead to the Catalan capital from the first leg.
Their last game last season was a 6-1 thrashing. Will that be on their minds tonight ?
Captain thiago Motta reckons not..
"We already forgot about Barcelona. It's now another Champions League, something different," 
 "We are ready to start it well. We all know that this competition is special. We are highly motivated to start it well.
"We want to try to play well [against Celtic] and to have control of the game. We want to get the three points but we are respecting them a lot.
"They are used to playing in the Champions League."
"Neymar and Dani will bring a lot of positivity and experience," 
"They already won the Champions League, with [Angel] Di Maria. Other players won important trophies as well like [Julian] Draxler and [Kevin] Trapp also.
"We are highly motivated. We want to start already. The preparation was great. The motivation is here in order to try to go as far as possible." 
A little more respectful than perhaps we had been led to believe ?
Sure, but do they have desire, or is it expectation ?
If they have desire, it might prove to be a long night. Our main hope is that our own effort and spirit will cancel out what most reasonable thinking individuals would call their superior technical ability.
However, having spent roughly the equivalent of a major city's housing budget on just one player, and agreeing to do so next year on another , manager Unai Emery may be feeling under pressure to win not only this game, but the champions League itself., and this might be another weakness.
 "I know it is a big objective for the club, but we are doing and feeling well, the players are doing well but I know it will be difficult.
"The important thing is to see progress, step by step.
"I know I have a lot of responsibility because I have a lot of good players at my disposal and there are some good teams in the Champions League, and Celtic is one of them. 
The players, if i'm honest, didn't look like they were bothered when they had a look around Celtic Park last night..perhaps they don't feel that weight on their shoulders.
"We will need to be careful because at home, Celtic put in a lot of intensity. "I don't know (if PSG are favourites for the Champions League), but with the players and quality we have we should get close this year."
"Preparation is everything. We have prepared well all week, but we must give Celtic the respect they deserve.
"We are aiming to go far. The atmosphere is incredible and they try to share the pressure together. It will be difficult but we are ready."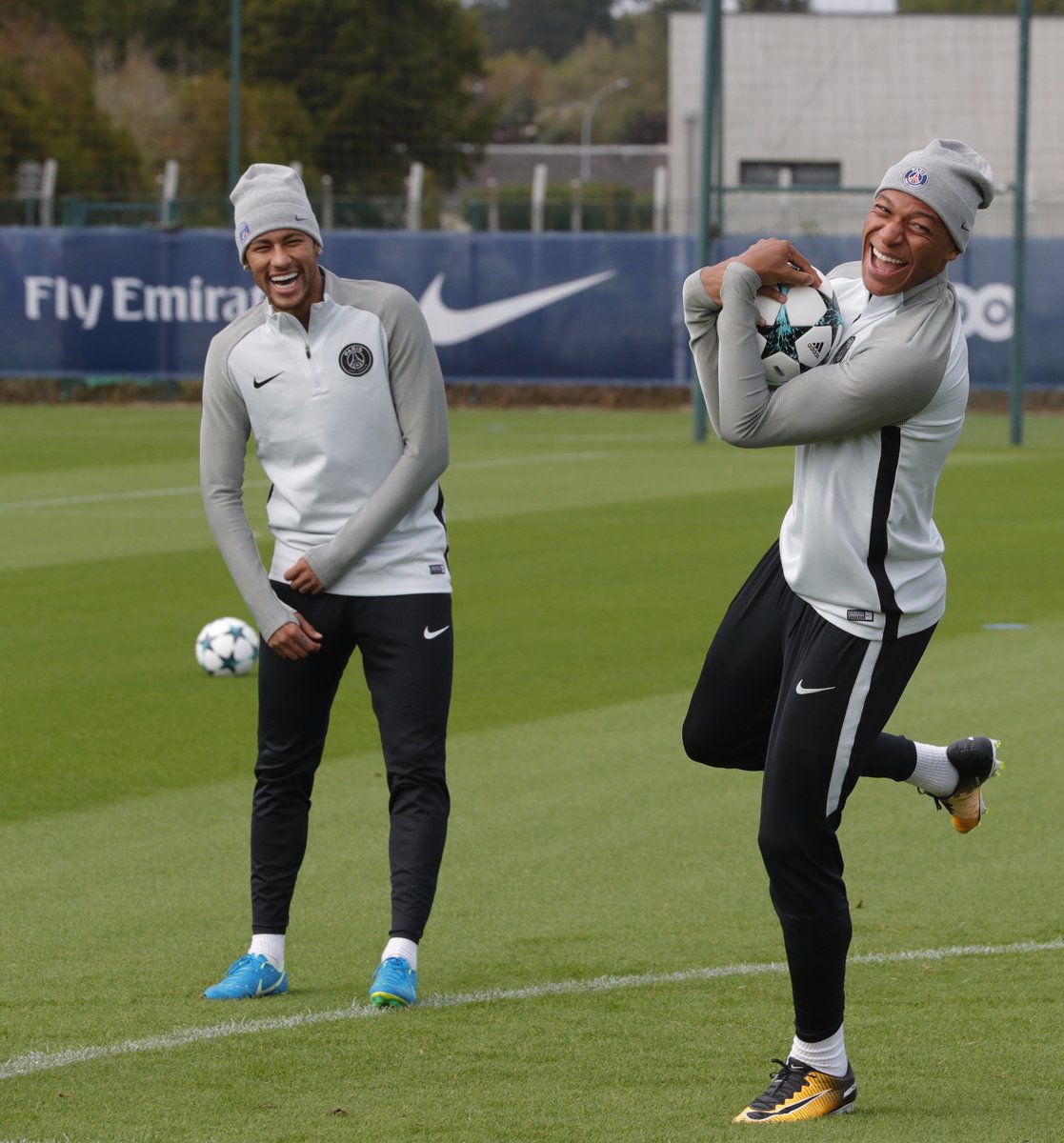 "It is a great atmosphere here. All the players love to play in this type of game, but the players are used to that level and that type of atmosphere.
"It will be difficult to overcome, but we must try."
He didn't actually say a lot, did he ?
He doesn't sound like a great motivator, and perhaps the fact that a number of his players are so well paid, and so well respected may have allowed them to think they have already won the tournament, or at least feel they have some divine right to do so.
They've done little to shake this comparison with the Harlem Globetrotters, and rather than put an opponent in awe of them, there's kind of a feeling it may make opponents go that extra mile to take them down a peg or two, something that has happened to others under the east end lights.
Regardless of the fact that PSG cost millions and millions of pounds to assemble, and lets face it, thats because they've got the , er, money to spend.
They have some great players, there's no denying it.
However, sportskeeda  reminds us that one or two of ours arent bad either, and that it would be a mistake to underestimate the hoops…
Celtic go into the Champions League aware that their chances of prolonging their adventure beyond Christmas are slim. Brendan Rodgers' side have been paired in a tough Group B along with potential winners Paris Saint-Germain and Bayern Munich, as well as Anderlecht.
Had Hoffenheim succeeded in knocking Liverpool out in the playoff round, the path for the Glasgow club would have been considerably easier for they would have graduated from a fourth seed to the third pot, making at least third spot a more attainable target.
Last term, they showed glimpses of their potential, holding Pep Guardiola's Manchester City side to a 3-3 draw at home when the Premier League club came into the game having won all of their previous 10 matches. They also drew away to the English giants and picked up a creditable point away from home against Borussia Monchengladbach. Only Barcelona succeeded in dismantling them in what was a fiendishly difficult pool.
The draw has been equally unkind to the Hoops this time around, and on Tuesday they begin their campaign with a home match against a star-studded PSG team at Celtic Park, which has established itself as one of the great European venues over the years. 
With an unprecedentedly firm grip on domestic matters – Celtic are unbeaten in Scotland since Rodgers took charge in the summer of 2016 – Europe is the stage upon which they have come to define themselves.
And Celtic have built a very fine side indeed. Over the years, they have successfully developed a policy of buying under-valued youngsters, bringing them on and selling at a profit. Premier League stars Virgil van Dijk, Victor Wanyama and Fraser Forster all have the club to thank for developing them into top-level players.
Rodgers has lifted the club to a new level, though. The man who so nearly took Liverpool to the Premier League crown has moulded an exciting squad comprising of developing talents and rejuvenated stars who had lost their way.
While Moussa Dembele's performances have seen him linked with the likes of Chelsea and Monaco over the last eight weeks, the France Under-21 international striker will not be able to displace the unfashionable Leigh Griffiths when he returns to fitness. The Scot has thrived under Rodgers' stewardship, becoming a stalwart for both club and country, as he proved when he scored two stunning free kicks against England in quick succession last June.
Scott Sinclair, meanwhile, was coaxed to Scotland by the presence of Rodgers and has enjoyed an incredible 12 months, during which he has recaptured the form that made him such a highly rated talent as a youngster at Chelsea and then a Premier League star briefly with Swansea. So well has he played, Rodgers feels that he should be considered for a first England cap.
"It wouldn't surprise me if he's called up because, having worked with some of the players at that level closely, I know he is there too," he said in April.
Elsewhere in the midfield, creativity is provided by quicksilver winger Patrick Roberts, Stuart Armstrong, a clever technician in the centre of the field, and the more physically imposing Australian Tom Rogic. In a slightly deeper role, Scott Brown embodies the battling spirit of the club, and while hopes are high that he can strike up a partnership with Olivier Ntcham, signed from Manchester City in the summer, that has yet to truly spark.
If Celtic have a weakness, however, it is in their defence, and that is why they could find themselves on the wrong end of heavy scorelines against both PSG and Bayern.
While they do possess the ultra-talented Kieran Tierney at left-back – a player who has been tipped to move to a big English side such as Manchester United or Arsenal before long – elsewhere across the back four there is not so much certainty.
Erik Sviatchenko is their most talented centre-back but is liable to miss the PSG clash due to injury, much like the other regular starter, Dedryck Boyata. It will, therefore, be a makeshift pairing in the heart of the defence for the opening game.
Those teams below the absolute top level typically have a point of frailty that can be exploited, and unfortunately for Celtic, this is theirs. This area of their side will undermine them against the very best teams in the world, yet there can be little doubt that they are rapidly moving in the correct direction under Rodgers.
What the Hoops do have, however, is their support. On Champions League evenings, Celtic Park becomes a reverberating bowl of mass hysteria that has daunted Europe's best in the past. Barcelona, Manchester United and Juventus have all lost in the Glasgow's East End in the not-so-distant past and on Tuesday Rodgers' men are hoping to take another scalp.
PSG will start as hot favourites, but this Celtic team is one that should not lightly be written off. 
Thats not the kind of report you'll read in the Scottish papers, which is why I've reproduced it.
Just to remind ourselves that outwith Scotland we have gained a lot more respect than most of us would believe.
Well, there is some good news about the centre half position.. as predicted on the Etims twitter feed..
From the Pish stained mole…Brendan looking to tie up @SimunovicJozo on new extended contract. Big man loves it here.
The Diary reported on his tantrum in Astana, so putting two and two together it looks like someone has given him a big hug and made him feel better.
He's signed a new four year deal, and Scott Brown has got his two year extension.
Which is a testament to the man management skills of the manager.
Those skills will be needed tonight…
Rodgers spoke ahead of the game , and as ever, he spoke well.
"We are clear that the world will look at the game and everyone will expect us to lose.
"But, for our players, our own cause is different.
"These are the games where you get the chance to write your story that can be heard worldwide. 
"We fought so hard to get into the competition, so we can go on and make progress. Home games can be very important for us.
"We are facing a huge opponent, but we are excited by it. We won't be overawed by it.
"It's brilliant, it will be a really exciting night. With the level of player PSG have, it leaves a big focus on some of their outstanding individuals and it's great to be involved in it. 
"Maybe not many people were watching the Hamilton game last Friday night, but certainly the eyes of the world will be on this game and it should be a great spectacle.
"In these types of games, attitude is everything. You can't look too closely at them, or think too emotionally.
"PSG are put together to win this competition, there's no doubt about that. 
"They've brought in Neymar and Kylian Mbappe, so their focus is clearly on winning it.
"But we have a courage to play and a courage physically to press and work." 
"You have to understand the size of the task. It's not just Playstation. It's top, top players we are playing. There has to be a sense of reality. 
"We talk about making a mark on the group with Paris St Germain, Bayern Munich and Anderlecht.
"You cannot get carried away and try to pretend we are something we are not.
"We are a club playing in a country where we have to fight our way through,
we have a budget where one of their players would get paid more.
"That's the reality of where we're at, so I don't think anyone would say we were insignificant if we didn't come out the group stages.
"But, of course, for our own performance level and for the nation, we are trying to gain credibility. 
"And obviously, as professionals, we want to continue in Europe after Christmas.
"For me, whoever you get, every team will be tough.
"If you don't get PSG, you get Real Madrid or another. You always learn playing against the best and that's what we aim to do.
"The group is amazing and tough, but, year on year, we are looking to get to where we want to go and that is getting out the group."
In a sense he is lowering our expectations, trying to take the pressure of the players and kind of tell them that its just about learning at this stage in his plan, but inside that dressing room, at around seven o'clock tonight, he'll make them believe they belong on that stage.
Which they do.
For the first time in many a year, the club has a wealth of talent to choose from. Alright, we're missing a couple of centre halves, but there are others who in any other game bar this one would be seen as a capable replacement.
Although this is the one that matters, there are others in the team who will help out.
If the manager chooses to go with Biton or Ajer tonight alongside Simunovic, or if he moves Lustig along to accommodate Ralston , the others will help them out.
Our strength is in our unity, and thats no matter who plays.
I've no idea how Rodgers will play this one.
If I could second guess one of Europes most tactically astute managers then I'd be in the opposition dug out.
What I can do is tell you how I would play it, which will show you why I'm in neither dug out, and merely tapping away at a laptop at seven in the morning.
Craig Gordon, Mikael Lustig,  Jozo Simunovic , Nir Biton and Keiran Tierney to form the back line. Scott Brown and Olivier Ntcham in fron of those two.
Stuart Armstrong as a free box to box man.
Scott Sinclair and James Forrest on the flanks.
Leigh Griffiths tormenting their last line.
On the bench, held in reserve for later on…Patrick Roberts, Oddsone Edouard and Tom Rogic. and a few others, obviously, but these three are impact players, and they would all get a big cheer upon entering the fray…
Psychology, you see…
Tonight, we go toe to toe with almost the polar opposite of everything that we are.
We're no billionaires plaything, we're not a showbiz eleven formed after the Beatles split up.
We are a club with a long and proud history . One created by the people for the people-we are the …ah fuck, hang on , I'll start again..
We're not a team assembled to win the ultimate prize, but a team working together to get there.
They say hard work beats talent when talent has a day off, and if you have both you've got it made.
We're not there yet, but tonight is an important step on the way there.
If the holy triangle of players, management and support all do their bit tonight, then we will have something to smile about at around ten o'clock this evening.
Predictions…
Yeah. I'll need a defibrillator by my seat.
Yesterdays picture…