Celtic Diary Wednesday September 6: SMSM In Policy Change ?
Football returns on Friday, Celtic travel to Hamilton for another game on an artificial pitch, against a side who have provided a surprise or two this season, in that they aren't firmly anchored to the bottom of the league.
With a number of Celts involved in the World Cup in various countries around the world, its unlikely that the "first " team will be on show, despite the proximity of the opening champions League game with Paris St Germain.
Tom Rogic has been in Australia, so he'll be knackered, Scott Brown looked jaded for Scotland, you can always tell when he's shattered, his passing is off, and Leigh Griffiths took a knock which leaves him doubtful.
And we've a busy month ahead..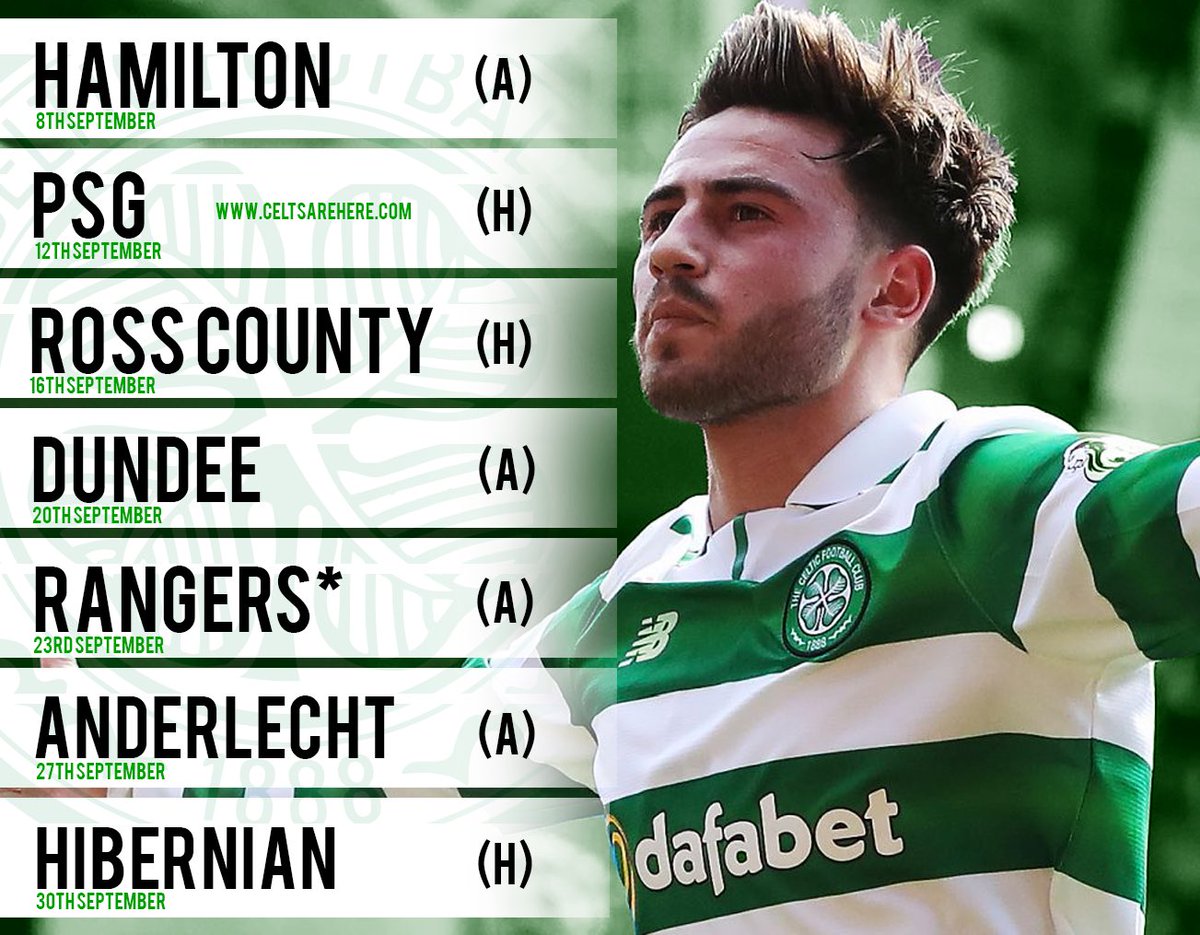 We'll have to wait and see, but the priority will be Tuesdays game, and others, such as Jozo Simunovic, who hates plastic pitches, fiddling wee games and playing for Celtic, might well have to explain that plastic pitches aren't so bad and thus give the manager at least an hour to try to get him ready for the UCL game, which is on grass.
One thing to bear in mind is that as a support we're all thinking of the UCL, imagine what the players are thinking. high levels of professionalism and concentration will be required at New Douglas Park, or we might find ourselves slipping further behind the early pacesetters of Aberdeen and St. Johnstone.
One player who must be wondering why he bothers is James Forrest.
If he's tired of getting it in the neck from Celtic fans, at least he can seek relief in international football when a whole new set of supporters can vent their fury.
Scotland, who are nothing without the compliment of Celts introduced to give the team some pattern, spirit and ability, would have been winding down another pointless campaign had manager Gordon Strachan not opted to build his side around the Parkhead based Scots, however reluctantly, and yet the support, who wander around asking "Wha's Like Us ? " and singing a frankly ridiculous song about someone coming around a mountain on a deer ( I think thats what it is ) haven't taken this into account and decided that Forrest is getting it, as they say.
Manager after manager picks Forrest, he scores important goals and never hides on the pitch.
If Scots fans , who wouldn't know a player if he sat on their knee in the ground, don't appreciate that,  they can, well, we know what they can do.
Scotland do have a chance, albeit a a slim one, of making the final stages of a tournament for the first time since the last century, no doubt they'll find a way to make an arse of it, but its down to Forrest and his Celtic chums that they are in with a shout at all.
and those fans want to be careful with their criticism. Look at what one club did to the moaners..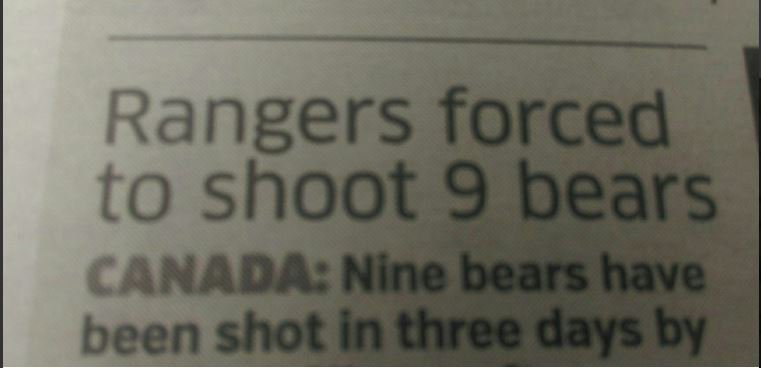 Every goal since the 1-1 draw with Lithuania early in the campaign has either been scored or set up by a Celtic player. There were no Celtic players in that game.
Hey, remember this guy ?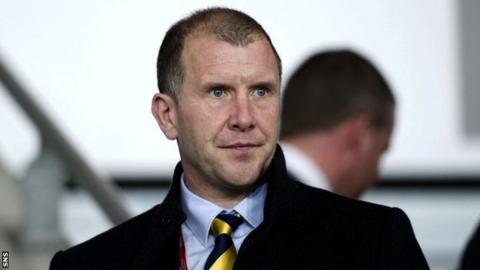 It's Stewart Regan, the Chief executive of the SFa, the organisation behind the repeated failure of the Scottish game at all levels, financial, organisational and moral.
He's made an arse of himself again, after daring to venture into public to debate an issue over ticket prices for the Scotland Malta clash.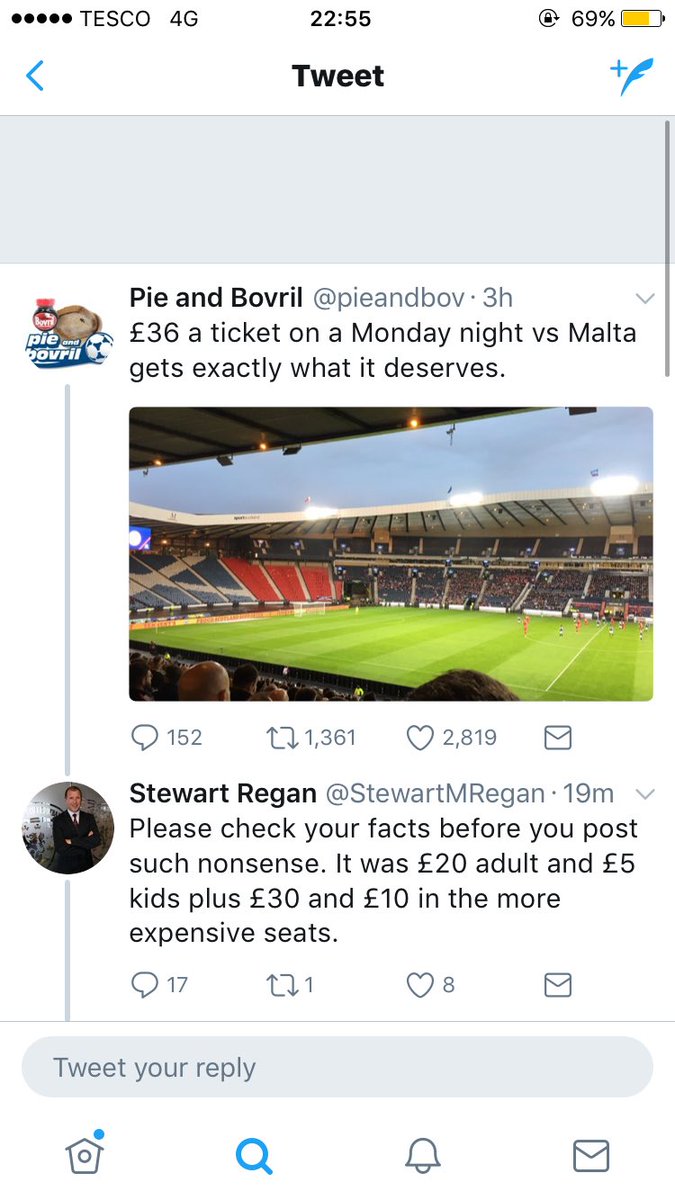 And Stewart, being in charge at the SFA, is an expert on spouting nonsense, so you'd think he'd be on solid ground here…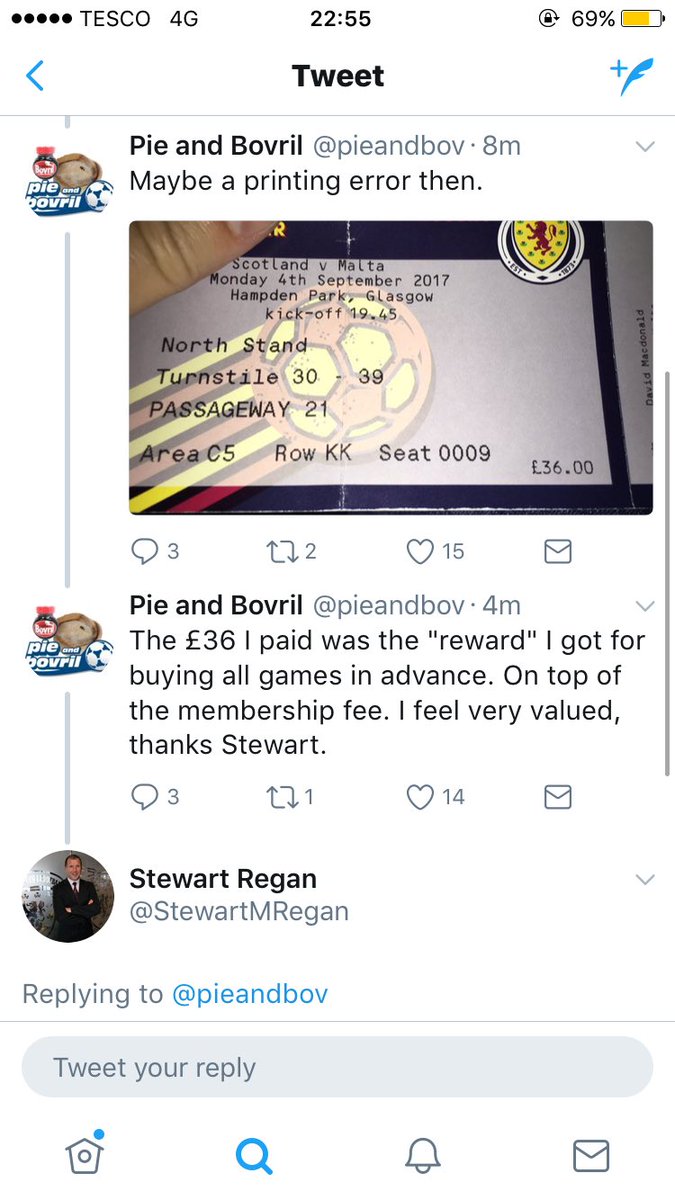 Could Regan be unaware of what goes on in his own department ? But he's in charge, and any competent CEO would at least have an idea of product pricing…
Ah, the key word is competent.
He blustered a wee bit to cover his tracks, and appear to have a clue what he's on about, but the damage had been done..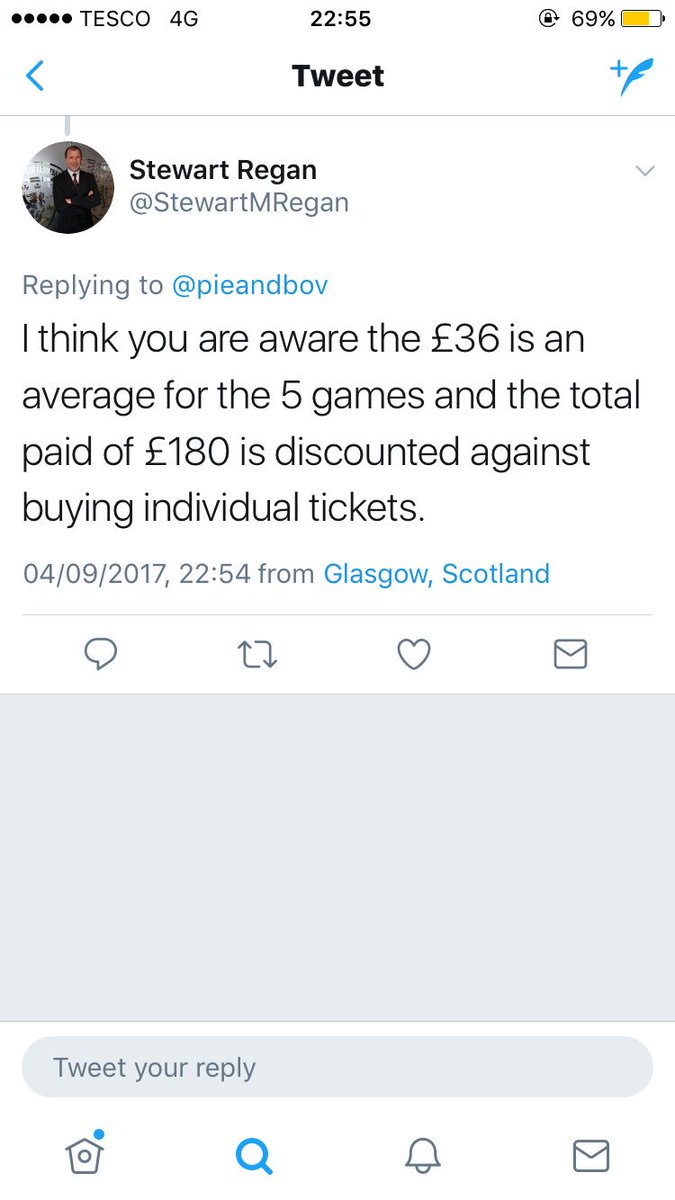 He then went on to say "rangers" were the same club, and said he'll have an answer soon as to why they aren't liable for any of the debts incurred before liquidation.
As far as I can see, there's a ticket there that cost £36 to go to the game, however Regan wants to dress it up.
Marketing isn't the SFA's strong point, neither are public relations, neither is transparency.
Or honesty, or rule adherence, or anything really.
Especially marketing, as the Daily Record picked up on today.. from , apparently, an original tweet by Timomouse on twitter.
you can see why those behind the Scottish football tv deal shouldn't be,er, behind the Scottish football tv deal..
This is a page of the marketing literature that is being peddled to potential buyers..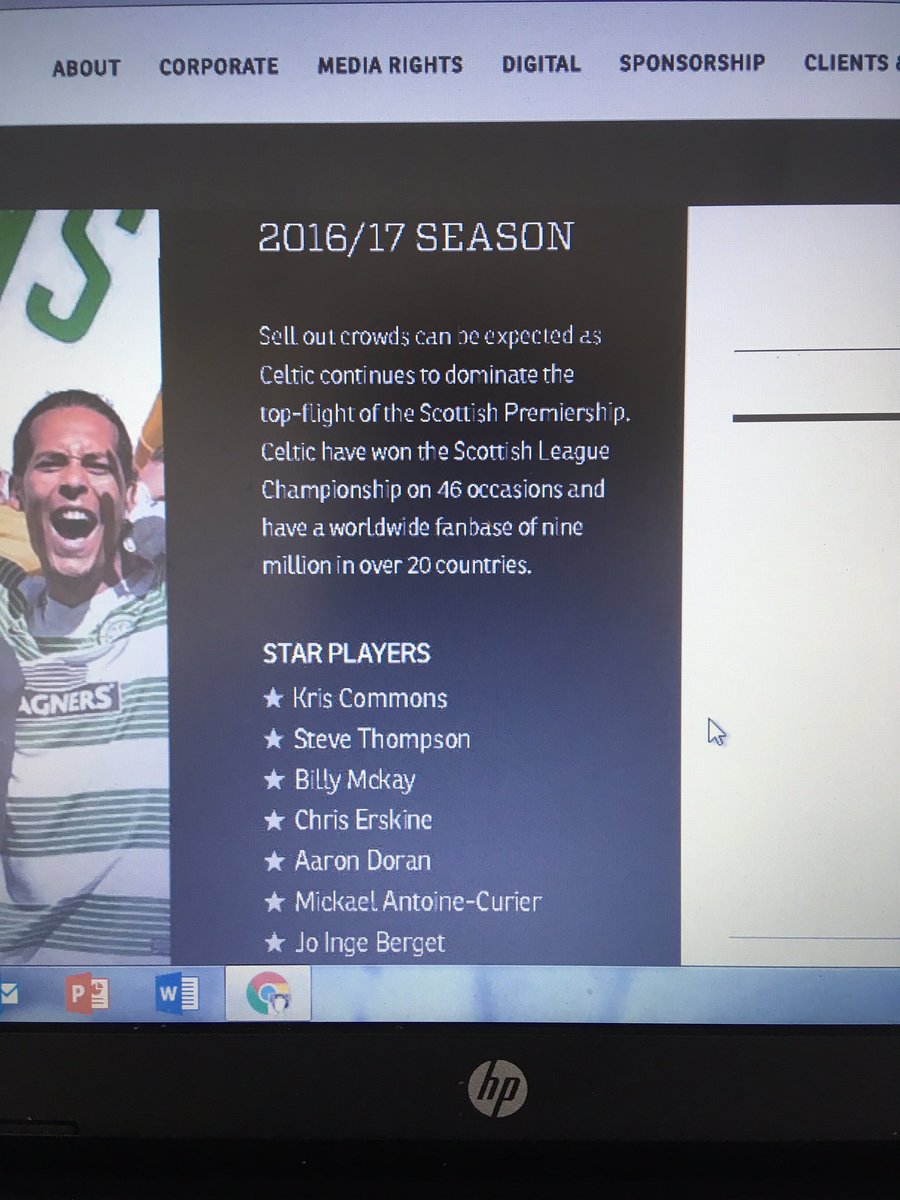 The firm who are behind this are MP and Silva, and one would be tempted to think that part of the deal, which lasts until 2023, may well be in breach of contract, as surely whoever signed it on behalf of the SFA/SPFL would have insisted on the company actively trying to sell the product.
Wouldn't they ?
Well, that's the angle in the Record story-one of several today which suggests their usual editor is on his jollies, have a look, they're having a go at everyone- its weird and kind of unsettling…
The SPFL are set for crunch talks with international media partners MP & Silva over fears the rights holders are under-selling Scottish football – by using players such as Celtic flop Jo Inge Berget as poster boys for our game.
Record Sport understands league chief executive Neil Doncaster has concerns over the marketing of the game overseas with several key countries including the USA facing television blackouts.
The SPFL flogged the international TV rights to MP & Silva in a £20million nine-year deal – which runs until 2023 and allows the global media players to punt on to nations in an individual basis.
Scottish football gets beamed around the world as part of the contract – which guarantees £2.2m per year regardless of whether matches get shown.
But part of the big sell to foreign markets includes a 2016/17 promotional brochure which has outdated info and even lists the likes of Celtic misfit Berget as one of the big names for the league.
The Norwegian flop was offloaded the year before but other names branded star men include ex-St Mirren striker Steven Thomson – who was retired at the time – and Mickael Antonie Curier, who had long left Hamilton. 
The SPFL are locked in to the deal but Doncaster will seek assurances the league is being properly pushed in key markets. 
Ah, now he thinks of seeking assurances…after timomouse pointed it out to him.
how about he does the job he's and follows up on contracts such as this ?
I'm quite sure a diligent journalist somewhere is already going through others as we speak.
Scottish football is currently shown in 150 countries around the globe – including live matches being shown in China and Australia – but there is no deal currently in place in America after broadcasters Fox pulled the plug at the end of their contract.
Record Sport also understands MP & Silva are losing money on the deal as the SPFL coverage has been punted as part of larger contracts involving other leagues such as the Belgian and Danish top divisions.
The media moguls also sell the rights to major leagues such as the EPL, Serie A and the Bundesliga, along with several other sports, as part of 10,000 hours of screen time around the globe. 
A league spokesman said: "We understand MP & Silva's negotiations with multiple partners are continuing and we remain in constant dialogue." 
What he really meant was "can someone dig me out their phone number ? "
MP & Silva were last night unavailable to comment. 
What they actually said was
"Have we got the SPFL contract ? "  
"No, Scotland "
"Yes, they have got their own league. " 
"Really ? You'd think they'd try to sell it or something. See if they want to do a deal " 
Probably.
Back at the ranch, its Hamilton on Friday, and whilst Celtic fans will be eager to get back to real football, PSG will also be keen to have a look at what faces them next Tuesday.
In the run up to the game, I'm going to try to find examples of their perspective on the game, to give us a wider view.
As an example, here's an alternative view of Celtic 2, Inter 1, from 1967..
Looking at PSG, we could face a problem with the height of attacker Neymar, who has piled on the inches since his move from Barcelona..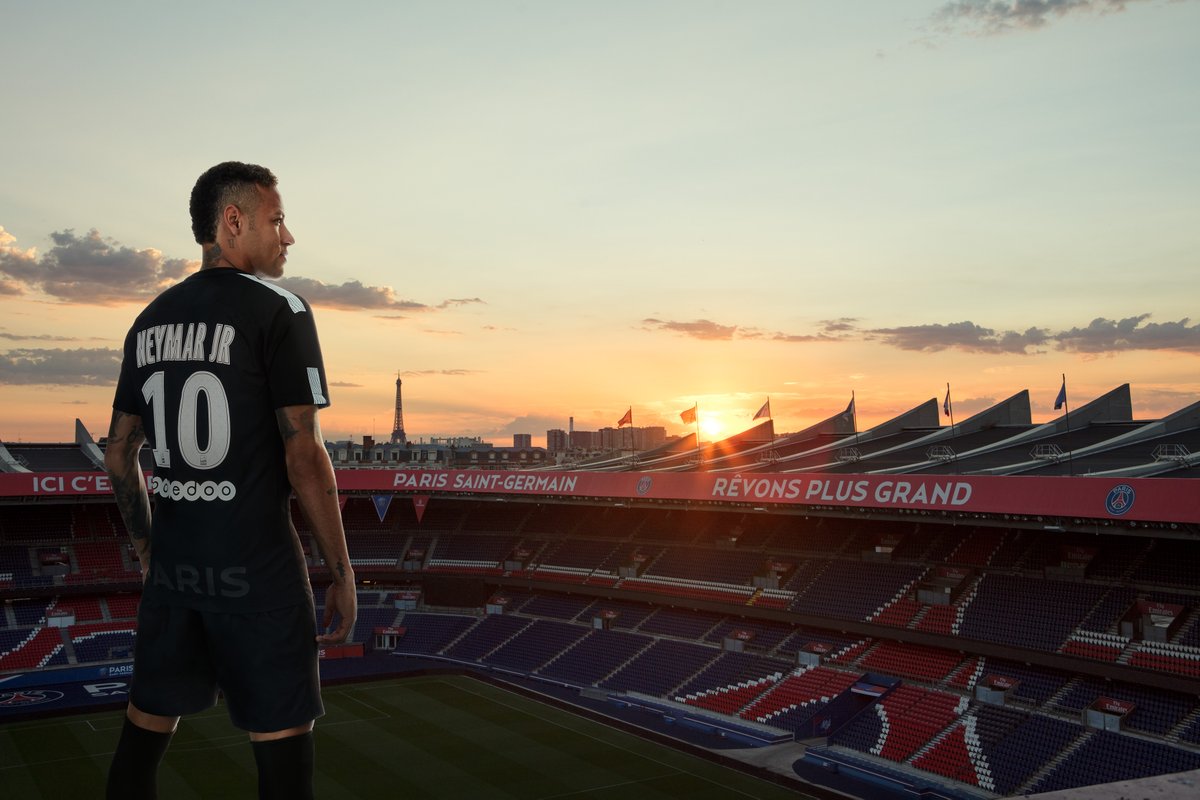 Here's what they said about us…
During the international break, PSG.FR will give you a closer look at Paris Saint-Germain's three UEFA Champions League group stage opponents. We start this European tour in Scotland, with Celtic FC, taking a look at this historic club with a legion of fervent green-clad supporters. 
A NAME, A PEDIGREE
Watch out, there's a monument of the footballing world on the horizon! In Scotland, and more specifically Glasgow, Celtic is a long-standing institution. Popular well beyong their borders, 'The Bhoys' have a trophy cabinet that would be the envy of the some of the continent's biggest clubs: 16 Scottish League Cups, 37 Scottish Cups and 48 Scottish league titles! The Celts have shared domestic honours with arch-rivals Rangers over the years, but since 2012, Celtic's domination has been complete and they are now the premier name in Scottish football. They have a Champions League title (1967) to their name – a title that made them the first British side to win it, and they have racked up 32 UEFA Champions League appearances. This coming campaign will be their tenth in Europe's top club competition, but they will doubtless be looking to improve on a record that has seen them win just one of their last 14 Champions League matches (three draws, ten defeats) – against Ajax in October 2013. 
THE STADIUM
Thiago Silva, Neymar Jr and co. are in for some goose bumps when they head to Scotland. Celtic Park, the club's home since 1982, has seen generations of supporters build their legend. Inside its hallowed walls, fans scream their devotion to the club and its colours well before – and after – the 90 minutes of each match. This arena – known by the fans as 'Paradise' – is the home of the club's beating heart and it will doubtless ring with a resounding rendition of 'You'll never walk alone' when Paris come calling… 
LUCKY CHARM?
Paris Saint-Germain have won their last two meetings with the Green side of Glasgow in European competition: in the Cup Winners' Cup round of 16 in 1995-1996. The results: 1-0 at the Parc in the first leg and then a 3-0 win in Scotland with another clean sheet. That season, Djorkaeff, Rai and co. found a way to counter Celtic's formidable fighting spirit in front of their fans before, six months later, lifting the sole European trophy in the club's well-stocked cabinet. In fact, Paris are unbeaten in six matches against Scottish opposition in Europe (three wins, three draws) – and have kept five clean sheets in the process. A fortunate draw for Paris? We'll find out soon enough…  
PLAYER TO WATCH: SCOTT SINCLAIR
Marquinhos, Dani Alves and Kimpembe can already start studying one particular Celtic name: Scott Sinclair. At 28, the man who has moved around much of the United Kingdom (passing through Manchester City notably) has finally found his dream destination. In the space of just one season, he became the biggest players in the Scottish league, his 21 goals helping him to the title of Player of the Year. A formidable and consistent striker, Sinclair proved his pedigree by scoring five goals in six matches as the Scottish side won through two qualifying rounds and the play-offs for a group-stage berth in the 2017-2018 Champions League campaign. 
Looking at this, and the image portrayed , at least on social media, of the club and their players, I can't help but be reminded of this lot..
And in that, we may have found the way to beat them….
You see, I think that lot think they've made it already. what they have in skill, we will counter with heart.
What they have in athletic ability , we will counter with passion.
And if we have to get up and go one more round, we will.
The diary hasn't appeared for a couple of days, so we go back to Sunday for this picture..
Today, did anyone catch what was said here ?