All eyes are on Monaco later today for the draw-well, arrangement-is made for the group stages of the champions League. How Celtic fare in this phase will determine where we play our European football after christmas.
As with all showbiz events-thats what the draw really is, a bit of razzmatazz-there was a rehearsal yesterday..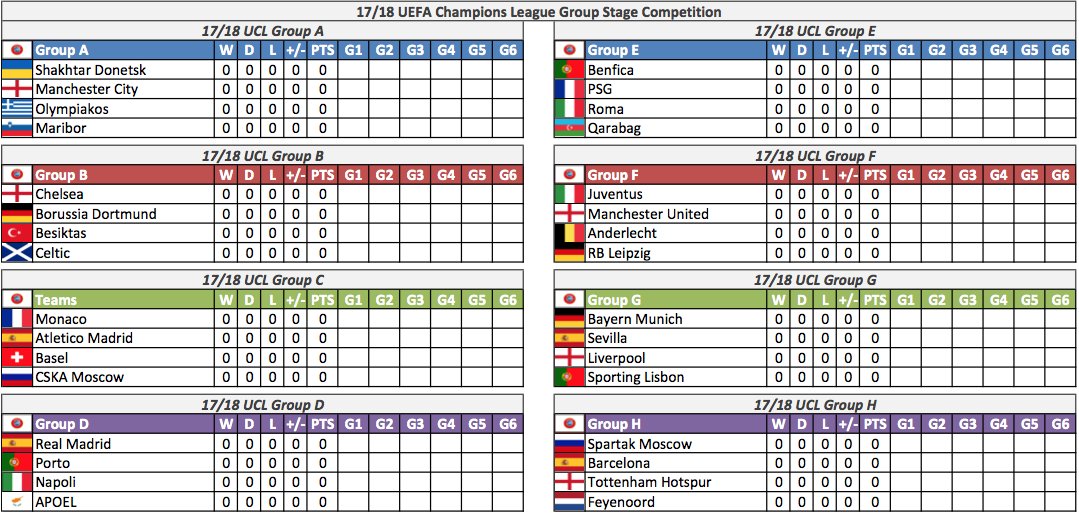 Due to the curious rules about the way its done, the biggest factor being that no group can have more than one team from each country in it, the final draw won;t look too much different from the one above.
Fact is, we are likely to have at least two "big " teams-possibly even three, and we'll just have to get on with it.
The preference for me is to avoid the glamour until after Christmas, Barcelona, Bayern ,Real and Juventus can all wait their turn. Spartak, Porto and Anderlecht would do me just fine.
However, whoever we get doesn't matter, as long as we don;t fall for all this nonsense about how much the opposition players love it at Celtic Park;
Gianluigi Buffon eyes Celtic draw for 'electric' Parkhead atmosphere
"I want to experience the electricity at Celtic Park again.
"Playing in the Champions League allows you to experience the most exciting venues in Europe. And when you are young, you take it for granted because many other experiences lie in front of you. But the older you become, you understand that there are things that you may not experience again. "I want to try myself on Bernabeu and Camp Nou again. I want to play a special match on Old Trafford.
And I want to experience the electric atmosphere at Celtic Park again."
I suppose we could use a half decent back up keeper if he fancies it.
The point here is that other teams shouldn't look forward to coming to Glasgow. We're the ones supposed to be inspired, not them.
Divert their planes to Inverness, dig the roads up around their hotel. Get their team coach caught in traffic and turn the sprinklers on when they inspect the pitch.
Make sure there's no hot water in their dressing room, and pump muzak over the speakers.
Anything to make their visit a nightmare.
As usual, the media have dug out some ex players and managers to boost our sides hopes.. (Scotsman )
Graeme Souness: Celtic are weak, and Champions League will prove this
"If you're a Celtic supporter it damages them as well.
If there is a real challenge from Rangers, do Celtic sell their best players? No they don't.
"If you're a Celtic supporter, are you seeing the same quality on the pitch as you would if Rangers were strong?
No you're not. You're team is weaker and that will be proved in Europe.
"That is the reality, they don't need to keep their best players because they can beat Rangers and everyone else without them – the likes of Victor Wanyama and Virgil van Dijk."
Worth pointing out that Celtic haven't sold any of their best players for a while now ?
Thought not.
and then there's further proof they read the Diary… (Record )
Monaco eye Celtic striker Moussa Dembele as 'Kylian Mbappe replacement'
The French champions have a 'particular interest' in the France U21 striker as they search for Mbappe's replacement. 
It gets worse, in fact , perhaps we should just withdraw…(Evening Times )
Kieran Tierney is Celtic's only top-class defender – Alan Stubbs
"The only top-class defender they've got is Tierney," 
"Domestically, [Erik] Sviatchenko, [Dedryck] Boyata, [Jozo] Simunovic are competent, but the Champions League is a whole new ball game.
"[In the Champions League], you need to allow Tierney to go forward, and that puts extra pressure on the two centre-backs and the opposite full-back. That's where the problem lies within.
"Last year when they went into the group stage, people thought they just needed to be competitive and do themselves justice – I don't think anyone thought they were going to come through that tough group.
"But the mindset's changed now, people are potentially looking for Celtic to progress, to see whether that's a measure of Brendan improving in Europe, and to do that, I don't think they're good enough [defensively], apart from Tierney. I really don't. 
Another ex player was dragged out to point out the obvious…
Today at 5pm: Champions League group stage draw. Scott McDonald says Celtic need to defend better than on Tuesday, no matter who they get.
Nowhere will you see the fact that Celtic have moved up three places in the overall UEFA rankings…
Nowhere else will you see this simple fact..
Celtic would be above Liverpool, Valencia, Monchengladbach, Bilbao & Brugge in UEFA coefficient's if the country part was not accounted for. 
which would have made a difference to todays draw…but the media won;t mention that, as it spotlights the shambles that is other Scottish sides records in Europe.
It hints at them dragging us down, whilst , of course, thats the job of the media.
As ever, it feels like the whole country wants us to fail.
We're doing this for us, not for them.
Too much has been read into the Astana return. Celtic were unlucky to lose four goals, but that kind of balanced out the two own goals at Celtic Park in the first game.
Its all water under the bridge now, and we move on.
Speaking of moving on, Harry Brady published the minutes from his meeting with Rod MacKenzie and Neil Doncaster, who are trying desparately to move on as well.
When you read them, here..Meeting minutes its important to remember that Doncaster is speaking for the clubs, nit for himself, and that MacKenzie is acting on their behalf.
The standard excuses seem to be rolled out, the deflector shields are on full power, and its going to take a massive effort to get rid of these people, and that mentality.
The first round of talks is over, and its maybe now time for a little more direct action.
Meanwhile, the lass who presents Rangers TV, which i think can be accessed on either the history channel, or Comedy Central, has been outed…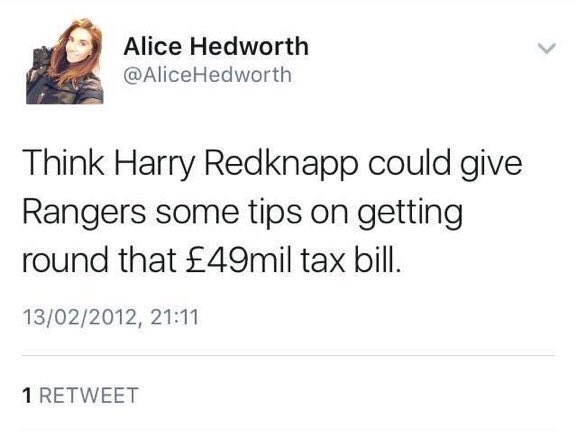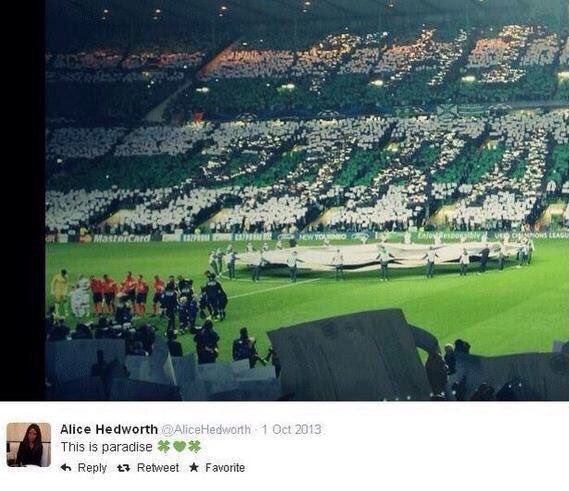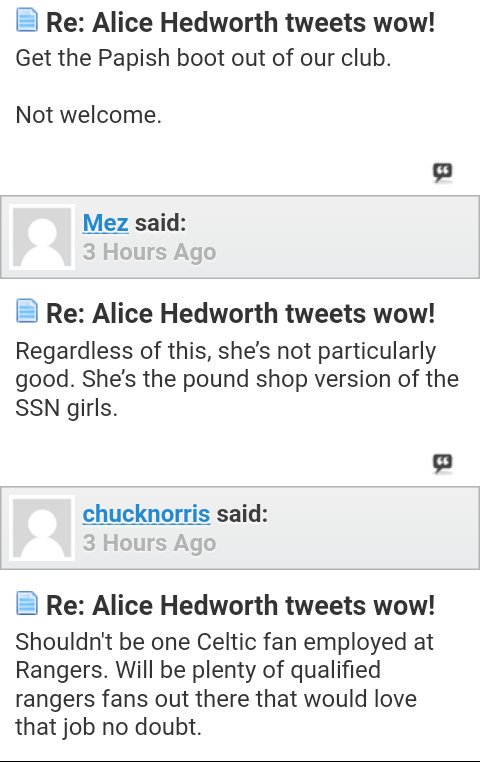 I've a couple of suggestions…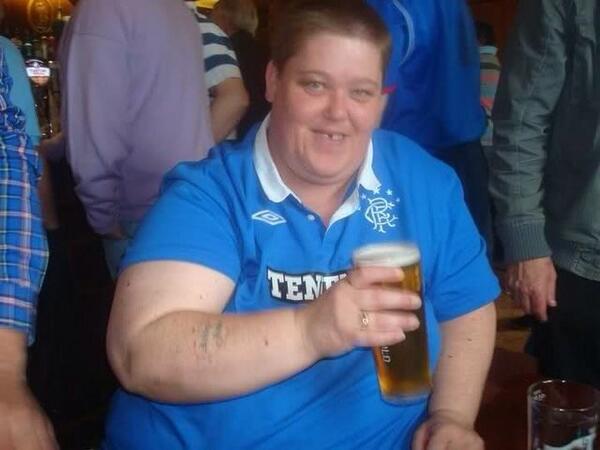 Tam Sellics son on twitter predicts there may be a surprise for anyone watching should that channel cover the draw today..
Their former player Andrei Kanchelskis lamented how they used to be the people back in the day…(Evening Times )
"In Glasgow, we used to go to a Chinese restaurant, particularly after we'd won.
"One evening some official cars drew up outside and a man, dressed in a suit, came in to ask if they had a table for Prince Charles. He was on his way back from an official function in Glasgow and wanted something to eat.
"The official was told that the restaurant was fully booked.
'But it's Prince Charles.'
'Well,' said the owner, indicating the room, 'which of these people do you want me to ask to leave?'
"Prince Charles and his entourage drove away to seek out a more pliable restaurant owner." 
Had Charles of Wales known the Rangers were in the restaurant, he'd have been straight in, demanding the money owed to his mum.
Yesterdays picture…
Today…