One of the things that I'm quite proud of, actually, pretty much the only thing, is that here at Etims we don't ask for donations, we do not rely on adverts and frankly, if you offered to buy me a beer, I'd probably say no, thanks.
Well, okay, maybe the first two.
Its why if I , for example, take a couple of days off work, and pop over to another country to try to find out whats really happening regarding something I have made a tremendous emotional and financiall investment in, I do it off my own back, and then that way, whatever I think about afterwards  is entirely up to me,
The Diary has been away for a couple or three days.
Thats because I've had a few things to think about.
But you know, I'm not all that sure I've come to any real conclusions.
See that Neil Doncaster chap ?
I couldn't find a picture of him not grinning.
Know why ?
It's because there isn't one.
Oh wait. Here he is when he found out that all the clubs in Scotland will sack him the minute he stands up for what is right.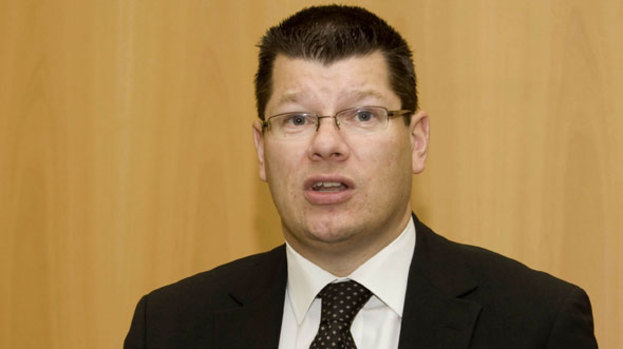 Doncaster is their leader. He must follow them.
Before you vent your anger on him, consider another picture of him, taken recently at an SPFL meeting.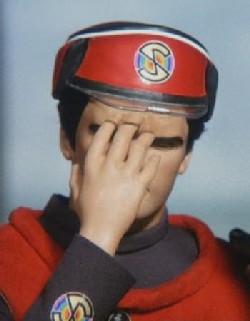 Its his job to look after the interests of Scottish football clubs.
So when he says we should move on, you know, when he's on the telly doing his interviews…consider this..
No wonder he wasn't at Celtic Park for the flag unfurling.
These days, its the only place he feels comfortable, all these other chairmen telling him to move on, or they'll say it was his idea to reintroduce sharing gate money.
It's important to remember at this stage that this is Etims.
Where we make stuff up.
Ask anyone at Celtic Park. I've assured them of that, which is why we don't need adverts, donations or anything else to improve our ratings.
Resolution 12 ?
I knew you'd ask that.
Contrary to what any other site might tell you, whatever they think even in private…
It isn't dead in the water.
The smoking gun is the wee tax case.
If I held a position of power at any of the clubs affected by this, I'd be asking who at UEFA approved what someone at the SFA sent them without checking little pernickity little details.
Like the truth.
Who knows ?
Maybe someone is.
You see, Scottish football had the biggest attendance figures for nearly twenty years on an opening weekend there, and some club chairmen don't want to rock the boat.
Here's Jessica Ennis Hill, explaining why we should all move on…
A tearful Dame Jessica Ennis-Hill declared there could have been no better place than a packed London Stadium to receive her re-allocated World Championships gold medal.
Ennis-Hill was finally presented with the 2011 heptathlon title robbed from her in Daegu by Russian drugs cheat Tatyana Chernova in the build-up to the scene of her fairytale triumph at London 2012.
This year's worlds had already witnessed several such medal ceremonies for the likes of Jo Pavey and Christine Ohuruogu but the recently-retired queen of British athletics proved the most popular recipient of all.
Almost five years to the day since she stood atop the podium at the same venue after winning Olympic gold, a visibly moved Ennis-Hill admitted it was both "really special" and "very surreal" to do so once more.
Heavily pregnant with her second child and with her son, Reggie, looking on, the 31-year-old said of her second of three world golds: "It obviously feels amazing. I would loved to have had it at the time but there couldn't have been a better place bar having it at that actual moment. 
"I've never been in a situation where I've just come to a stadium, watched, and not actually physically exerted myself and stood on the podium and received a gold medal. So, very surreal.
"I've had so many memories, great memories, here, especially obviously in London at the Olympics.
"So, to actually come back here and really just say, 'Hi', one last time and stand on the podium and soak up the atmosphere of the crowd has been a great way to end my career."
Chernova was originally disqualified from the 2011 worlds back in November but fought attempts to strip her of her gold medal, casting doubt on whether it would be returned in time for Ennis-Hill to be presented it in front of a home crowd. 
Tatyana Chernova , who was less than honest about her athletic capabilities replied..
"Fuck off Timmy, We Are The People ! " 
I'm getting mixed up again, aren't I ?
There is a battle underway to preserve the integrity of Scottish football. Its down to the supporters of all clubs to pick up the baton.
There is a reluctance among certain chairmen of certain clubs, that is, all bar ours, and believe me when I say this, if he was one of them, I'd tell you, to dig too deep. To find out the truth.
I've struggled with my conclusion, as i said at the top of the page.
Know what it is ?
Maybe it would be easier if I made that clear.
And trust me, I'd be right there on your shoulder, watching your back.
I do yoga. I can do that.
Thats not me, but you have to agree its a remarkable picture.
Speaking of pictures.
Lets look at the big picture
We know it isn't about Rangers, or whatever they call themselves this week, this is about the SFA
Only the SFA.
The media will try to make it an Old Firm thing, encouraged by the other clubs, which means that those parasitic lily livered chairman dont have to get involved.
Because if their support knew what they were thinking, then the likes of Hearts needn't bother with those seats. They won't need them,
Hearts' main stand delayed after club forgot to order seats
Aberdeen , Dundee United, ..how do you think their support  would feel if they felt they were being played by their chairmen?
Like I keep saying.
This is Etims.
We make stuff up.
But you knew that………
Meantime, we hear that there is a new sponsor lined up for next seasons Premier league
We might as well go with it, because by then, no one else will put their name to it.