Haw, Paddy Roberts!
you'd better make your mind up pretty soon, there's a new favourite in Brendans thoughts…
Abdul Majeed Waris, another from the Manchester City Academy, formed solely for the benefit of every other club who can get hold of its phone number, is looking to move. (Well, he would have been at the academy, but couldn;t get a work permit, but its more or less the same thing )
Sure, he'll cost a lot, maybe even as much as £9m , and then theres wages…
But if Celtic make it past the play off round and into the group stages of the UCL, then he's exactly what we are looking for if Patrick Roberts doesn't want to come back.
And we are exactly what the 25 year old ghanaian needs right now.
From WestLondon Sport
Fulham are among a number of clubs the Mail say are weighing up a move for Lorient forward Abdul Majeed Waris.
West Ham, Brighton and Celtic are also said to be interested in the Ghana international, who is apparently available for £9m.
The 25-year-old can play up front or on the wing and has scored 21 goals in 58 games for Lorient. 
Thats Lorient in France, not L. Orient of London
From Ghana Web
Ghana striker Abdul Majeed Waris has still not returned to Lorient training amid transfer speculation.
The 25-year-old striker was scheduled to return to the Espace Kerlir for Lorient's pre-season training on July 24 but the Ghanaian failed to turn up.
The former Hacken striker's absence fuelled speculation that he may be departing from the club as he favours a move to a top flight league.
He is the subject of reported interest from Turkish outfit Bursaspor, having scored nine Ligue 1 goals for Lorient last term but his efforts were not enough to save the club from facing the drop to Ligue 2.
The speedy poacher is not the only player keen on a move away from the club as his compatriot Alhassan Wakaso, Walid Mesloub, Cafu and Lindsay Rose no longer appear to be part of the club after missing their Saturday's Ligue 2 opener.
Le Merlus were held to a 1-1 stalemate against against Quevilly-Rouen in the Ligue 2 opener last Saturday. 
As far as i'm concerned, the fact that Celtic aren't mentioned in this report means he's already on the train to Central for a chat a Celtic Park.
Now there's a coincidence..
You may have noticed the Diary is a little earlier this morning, and thats because I don't want to miss a train, though writing this will probably send me back to sleep, like it does for the readers.
Thankfully, the highways agency has thoughtfully redirected the M6 past my front window to help keep me awake.
They didn't need to. I get by on very little sleep, like Margaret Thatcher used to, although happily she's getting much more these days.
With just a few weeks of the transfer window left, any move to strengthen must be soon, but again, most players who would improve the side will wait to see how Celtic get on in the play off.
The champions League is open only to a few at this stage, and many players will seek that arena ahead of bigger wages, so any move now will likely be after the European campaign has taken whichever direction it will take.
I'd hate to think thats what Roberts is waiting for, I really thought he liked us for what we are.
The price of £9m for Lorients Majeed Waris seems a little steep for a largely unproven talent, but this week has seen crazy money thrown around , and the knock on effect is that more crazy money will be thrown around.
There is even talk of financial fair play rules being broken, and dodgy money changing hands, but Southend united have assured the FA that they hope to make the £55,000 they have splashed out on Rob Kiernan of "rangers "back through shirt sales, but I'm suspicious.
Incidentally, the Ibrox club claimed the deal was for an "undisclosed "fee, which presumably is similar to their undisclosed side letters of years gone by, a sort of tradition of theirs.
And how will "rangers " spend their windfall ?
I dont know, but Jose Mourinho has warned that player prices will now probably spiral out of control.
They will struggle to replace Kiernan, unless they get a cat or something, but the money will come in handy, and anyway, Pedro Caixinha says he's got the best squad in Scotland, and not one person in the media has pointed out to him that he was giving last months speech, having got his papers mixed up in the office.
Back at the ranch, and with the draw today for the UCL play offs, manager Brendan Rodgers, who played it spot on against Rosenborg, looked ahead to the rest of the campaign.. and the problem of centre halves who keep hurting themselves
'We won't be getting someone in. We have (Nir) Bitton who can play there. It depends.
'If we are talking about Scottish football and the ball getting smashed up the pitch, then you can have two big guys who can head it.
'But we are not playing that way. We can cope. We have (Kristoffer) Ajer who's 6ft 5ins, but he can play. We'll have Boyata back in September, (Mikael) Lustig can play there.
'We don't need to worry about centre half.' 
'Of course Erik comes back and then has to go off and you're thinking, 'Okay, this could go in to extra time, and if you've used your subs you could be left with 10 men'.
'We had the choice. We are a team that likes to dominate – so that's why we didn't have the extra centre half on the field.
'Bitton can play there and the way we play he can slot in comfortably.
'I thought he was outstanding against Rosenborg. He had composure and at 6ft 4ins he can compete in the air.'
'He's a very, very good player,
'He's a controlling player but in that role we have Brown, and we have Kouassi, who is a big talent.
'But I like to have a midfielder who can play centre half. That allows the team to play through and get more attackers on the field.
'He's top class in his work. He's very good for our squad, he can play a number of positions and he understands how I want to work.
'He's someone the players like and showed his importance the other night.'
If we are to make an impact in Europe, players like Biton are going to be very important. With at least eight games between now and Christmas, we're going to need everybody…
Those of you interested in developments around the attempt to bring a little bit of honesty back into the Scottish game should read this, and have a think about what they want to do..from Rangers Tax Case..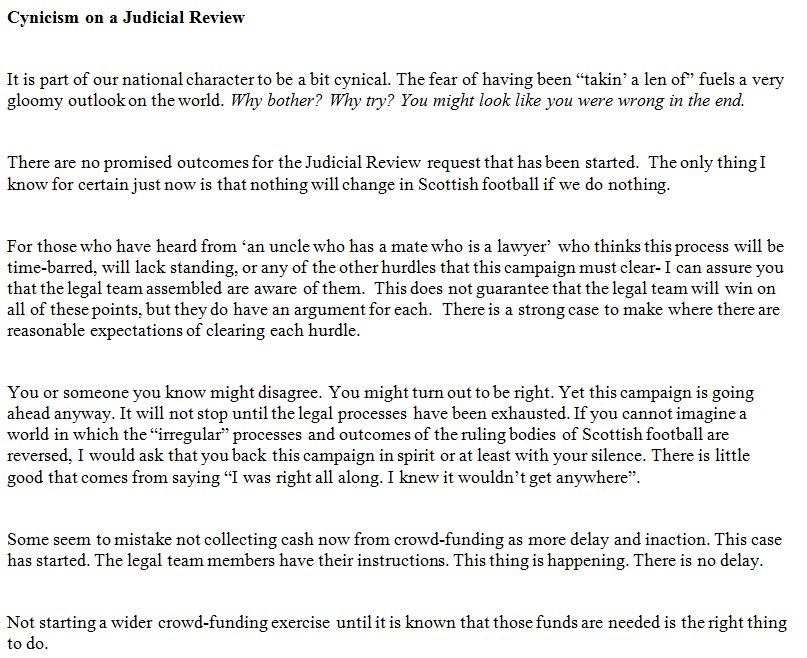 Myself, I tend to be more of the jump in and see what happens brigade, a tactic that has served me unbelievably badly in the past.
So have a read up on things, tske your time and consider all the facts.
Then jump in and see what happens.
Also, its worth noting the reply our regular reader Monti got from the SFA, when he asked about freedom if information…
Dear Mr Monti
Thank you for your email below to the Scottish Government asking that the Scottish FA and SPFL be brought under the Freedom of Information Act 2012 (FOISA).
Public authorities subject to the FOISA are listed in schedule 1 of the legislation – for example, Scottish Ministers, local authorities, health boards etc.  Schedule 1 can be updated to add new bodies (or remove defunct ones).  Bodies which are 'wholly-owned' by authorities listed in schedule 1 of FOISA are also covered. 
In addition, section 5 of FOISA allows the legislation to be extended to bodies which appear to the Scottish Ministers to exercise functions of a public nature or which provide, under a contract with a Scottish public authority, a service which is a function of that authority.  Through this order-making power FOISA has been extended to a range of organisations including certain arm's length trusts, providers of secure accommodation for children and private prison contractors. 
Similarly, justification for extending FOISA to the SPFL and/or Scottish FA would have to be on the basis that they 'exercise functions of a public nature'.  You are welcome to write to our FOI Team (foi@gov.scot) setting out reasons why you believe this to be the case.
Regards
Mark
I think we could come up with a few…and then we could all forward the results…
I'll set up a separate piece for that later today.
Something else I'd like your help with….has anyone else noticed a sleekit wee social media campaign beginning ?
Along these lines…
Keep seeing chunts say theyve been asked for donations to "the cause" at Celtic Park…going for over 35yrs and never seen it…funny that 
The jaggy spoaceman drew attention to it, and he's right. There seem to be an awful lot of people who did a Pat Nevin and quit supporting Celtic due to reasons such as "the cause" , or Republican prisoner funds, or Irish papers on sale.
Oddly enough, only Nevin quit due to the songbook, but thats because he can't carry a tune.
Or a reasonably well constructed sentence.
It's Friday so its time for
Knob of The Week 
And he's only gone and done it again….
He's been warbling on all week, but yet again he's outdone himself with his pre written piffle..
 "This is the best moment ever since I arrived. That shows the improvement and how pleased I am with the boys.
"In the last two and a half weeks we've had the best moments since I arrived as a squad as a team and as a working group.
 Out of Europe to a team from Luxembourg, and scurrying around playing friendlies.
It just doesn't get any better than that, does it ?
Enjoy it while he's here. You'll miss him when he's gone.
Pedro Caixinha , you can make this award all your own. It might even be named in your honour after you've left this wonderful city..
On now to the caption competition, and yesterday you perused this picture…
Today, for your amusement…