Celtic Diary Monday July 17: Close That Window
On Saturday Celtic faced Lyon in a friendly. Less than twenty four hours after starting the champions League campaign in Belfast with a 2-0 win over Linfield.
Nobody expected much from this game, and on paper the 4-0 reverse looks like a bit of a dampener on an otherwise promising start to the season.
But we don't want to look at it like that.
Kundai Benyu has made sure that Brendan Rodgers isn't looking at it like that. The new bhoy started the game, and made the manager sit up and take notice.
"He has surprised me to be honest,"
"He's a young player and we will just see how he develops.
"Initially the plan was to have him in, thinking he could come in and get an idea of how we work and then go on loan.
"But I have changed my mind with him over this period of time, just watching him.
"It's going to be good for him to come in and have six months with us initially to see how we work and train, and get an education in our football idea and then we will review it again in January.
"He is certainly a boy who can contribute for us and he has done very well." 
Some may have been a little surprised that Celtic have now more or less finished business with over a month of the window still left, but rather than wait for those who will see if the club makes the group stages of the champions League before committing, sign young and hungry players.
Benyu seems to fit that profile;
"I wasn't sure if I was going to go out on loan but I have come here and worked as hard as I can so I'm happy to stay and fight for my place.
"I would much rather be settled in Glasgow with the boys playing week in, week out.
"Given time and me working hard in training, listening to the gaffer's advice, I think I will be able to get in the team as much as I can."
"I think I am ready to step in now if the gaffer calls upon me but the main objective is to keep working hard in training every day." 
You can't fault his attitude.
The Lyon game saw a lot of youngsters given a run out at Celtic Park, and that can never be a bad thing. It encourages them to return to work and apply themselves correctly.
A win win situation, apart from the result, obviously.
Theres been lots of talk surrounding Stuart Armstrong, and a lot of somewhat unfair criticism.
He's taking his time to decide whether he wants to stay at Celtic and develop as a player so he can make enough money to make him secure for life when that big money contract does appear, or he can get the money now and try to progress from one of the less glamourous English sides to one of the big teams, in the way that Wanyama has and probably van Dijk will.
Its a difficult decision, not made any easier by the money on offer. Armstrong, according to some, has been offered around £20,000 a week by Celtic, the English sides are in at around £45,000.
He's currently on around the £10,000 mark, and a hike like that on offer would tempt any of us, regardless of how much we profess to be Celtic minded. And he, of course, wasn't. Its just a job, and he'd be daft to let his heart completely rule his head at this stage.
He could stay, bank the £20,000 a week and move south later. However, football is a fickle game, and there is always the chance he could be injured, especially as Kenny Miller hasn't retired yet.
(Although from what we gather Miller may well be retired from Ibrox whether he want it or not. We hear its either him or Pedro, and it would be cheaper to lose the forward… )
Whatever Armstrong decides, he should, however, go with our best wishes. He was an integral part of one of the best seasons in the clubs history, and that should be how he is remembered if he does go.
All this talk of loyalty is just that. Talk, and its easier for us to criticise someone than it is to understand his predicament.
Apart from Armstrong, the usual sources are telling us that the usual players are away.
The good news is that theres another six weeks of this nonsense.
Ahead of the return game against Linfoeld, it appears the Belfast side are a little embarrassed by their supporters, and are actually going to do something about it..( from the Belfast Telegraph…)
Thugs who hurled missiles at Celtic players during the Champions League clash will be identified using television footage and banned for life from Linfield's matches, the club's chairman has vowed.
Roy McGivern said individuals who threw a bottle at Leigh Griffiths, as well as lighters and coins, at Windsor Park on Friday will all be traced using video footage taken at the game. 
A source said the Linfield chairman wanted the guilty Blues fans weeded out before the team travel to Glasgow for their second leg Champions League match against the Hoops.
Dozens of pictures of a fan have been circulated across social media sites since Friday when a Buckfast bottle was chucked at Celtic striker Griffiths while he took a corner yards from Linfield fans.
One image shows a man with a bottle protruding from his back pocket, while other stills from videos taken by fans show the same person apparently throwing it.
Celtic's new signing Jonny Hayes was also targeted by missile-throwing Linfield supporters, while others chanted sectarian abuse at the visiting players during the game.
Mr McGivern stepped in during the match to plead with the thugs behind the trouble in the South Stand to stop targeting Celtic's players.
In an interview yesterday, he stressed that it was a "small minority" who committed the offences, and said they were not worthy of being called Linfield supporters. 
sounds alright, but then…
Mr McGivern met with the Windsor Park stadium safety team after the game, and said some Linfield fans were provoked by Celtic fans "making gestures".
Mr McGivern also said Celtic needed to "deal with other incidents" during the match, which included Griffiths tying a Celtic scarf around a goalpost, prompting a home fan to invade the pitch and head for the striker before he was hauled off by PSNI officers. 
Former DUP MLA Sammy Douglas, who was in the grandstand where some of the incidents took place, said the atmosphere at the game reminded him of Old Firm clashes between Rangers and Celtic.
He said supporters on both sides had been trying to antagonise each other during the match, and that a Starry Plough flag – associated with the INLA – had been waved at home supporters.
Mr Douglas said: "The missile-throwing louts are not welcome at Windsor Park and I hope the club are able to identify and deal with them in the appropriate manner.
"I would like to pay tribute to the Linfield chairman Roy McGivern who personally approached the Linfield support and helped to calm the situation.
"I also think it is important to keep things in context and acknowledge that there were only a very small number of misbehaving fans in a crowd of almost 10,000."
However, the threat of a heavy Uefa fine – possibly up to €30,000 – for the thugs' behaviour now looms over the Blues and could put a significant dent in the payday generated for the club by the European tie.
Linfield have issued a statement urging fans to be on their best behaviour for the return game at Celtic Park on Wednesday.
 I'm sure they'll be fine, as long as they don't get provoked , so no singing, no shouting and above all don't score any goals.
Meanwhile, the Sunday Herald drew attention to something that we all knew, but gets ignored a lot..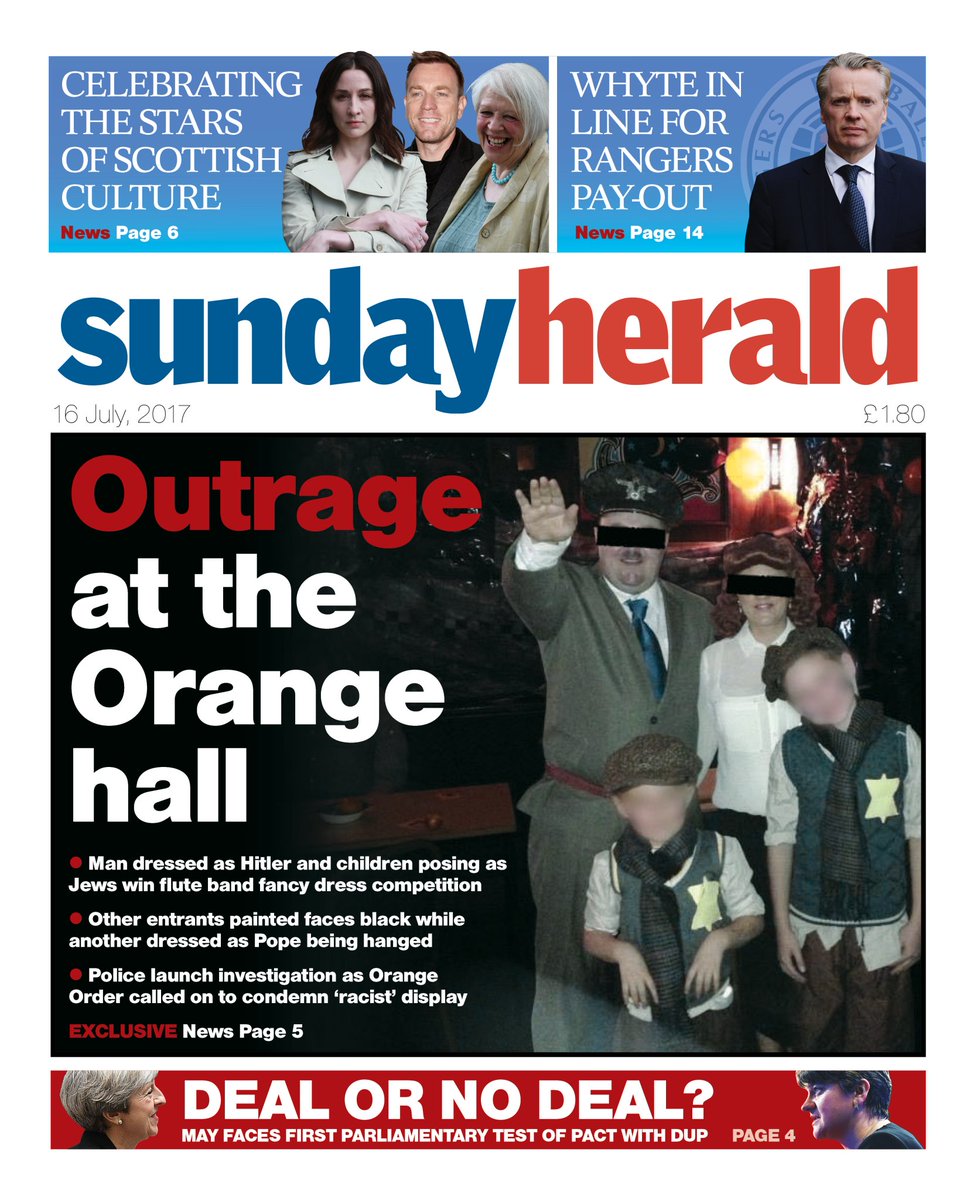 I think thats their Family fun Day, or something.
However, it did seem to upset the chaps at the Lodge, who condemned the coverage, but not the actual dressing up .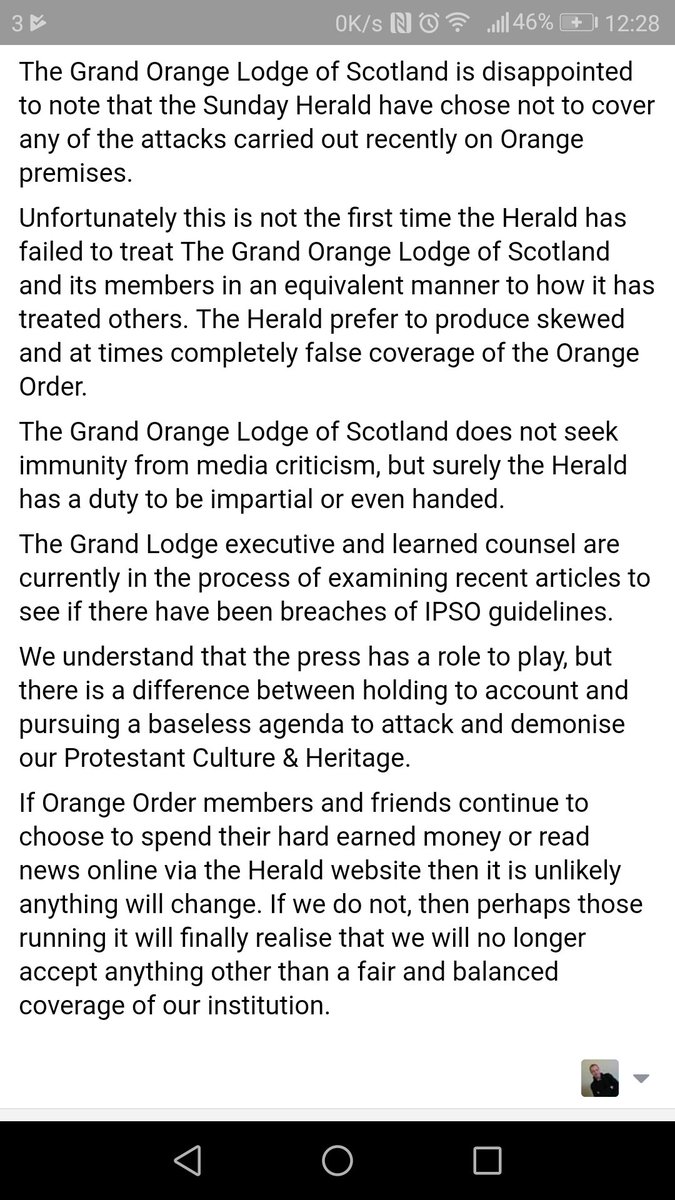 Fair and balanced in this context means "don't say anything bad about us. "
The statement was remarkably similar, especially the boycott threat in the last paragraph, to a statement released by Club 1872, who were miffed that the Record didn't give them, er , fair and balanced coverage when they put out their ramblings on the big tax case verdict…
Club 1872 is disappointed to note that the Daily Record chose not to cover our statement last week regarding the Big Tax Case (BTC) verdict. This was despite running calls for title stripping from Aberdeen, Dundee Utd and Celtic fans' groups both prior to and following our statement.
Unfortunately this is not the first time the Daily Record has failed to treat Rangers and its supporters in an equivalent manner to how it has treated others. Last year Club 1872 polled members on action following a completely fabricated story by Record journalist, Jane Hamilton about Rangers fans causing disruption at the Cup Final. This prompted an apology and IPSO judgement against the paper.
Rangers and Club 1872 have met with Daily Record Editor, Murray Foote on several occasions and attempted to resolve the ongoing issues with a number of Daily Record staff who appear unable to put their own feelings for our club to one side. Despite these efforts – and reassurances that more balance would be achieved – the situation has worsened.
The Daily Record has a number of fair and competent journalists but the senior management of the paper seem to be completely unable or unwilling to control a handful of their staff, who go out of their way to produce skewed and at times completely false coverage of our club.
There are currently three people paid by the Daily Record – one in a senior editorial role – who have made overtly sectarian comments about Rangers fans. This has been condoned and they continue to be in a position to influence the output of the newspaper on matters regarding our club.
Club 1872, and in our opinion Rangers, have now done all we can in terms of raising these issues and seeking a resolution with Murray Foote. We do not believe there is any genuine wish from his side to remedy the situation.
Unlike BBC Scotland, which has a duty to be impartial, the Daily Record is entirely free to push a one sided agenda if it so wishes. There is no duty to be impartial or even handed. There is a duty to be accurate however, and Club 1872 is currently in the process of examining several recent articles to see if there have been further breaches of IPSO guidelines.
Club 1872 understands that the press has a role to play in holding Rangers, its directors and supporters to account. They did so with regard to the previous regime at the club but there is a difference between holding to account and pursuing a baseless agenda to attack and diminish. Particularly when that agenda slavishly follows the promptings of those whose commitment to sporting integrity extends no further than using the words to attack those they dislike.
Just as we believe the Daily Record has made its choice – so too can Rangers supporters. We can choose not to buy the Daily Record. We can choose not to click links to Daily Record stories online. We can choose not to share those links and stories on our social media networks and forums.
In summary, we can treat the newspaper and the management who are running it into the ground with exactly the same level of contempt they show to Rangers and Rangers supporters on a weekly basis.
If Rangers supporters continue to choose to spend their cash or read news online via the Daily Record website then it is unlikely anything will change. If we do not, then perhaps those running it will finally realise that we will no longer accept anything other than fair and balanced coverage of our club.
It's time to change the Record. 
Astonishing. They really need to take a look at themselves.
Then there was this, what could be considered, er, mildly ironic..
Its self explanatory, but I'd put that coffee down before you read it..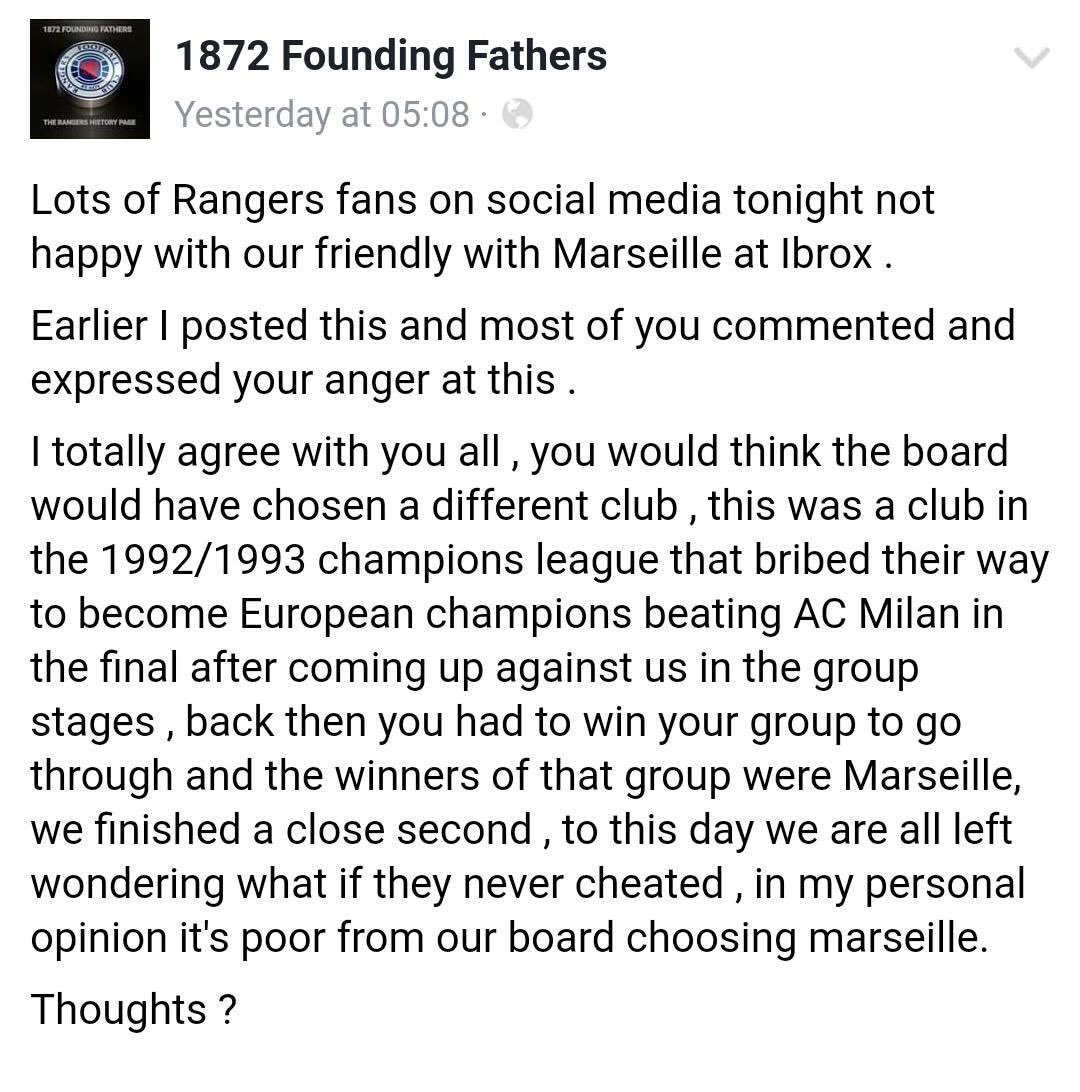 Presumably theres a Marseille fan emailing his club even as we speak with pretty much the same complaint…
Has anyone stopped to consoder that perhaps other clubs don;t want anything to do with either of them  ?
That would explain why they were able to arrange a friendly at such short notice during the pre season…
Oh, speaking of silly statements…
Ralph Topping, the outgoing SPFL chairman, shows us why we're better off without him.. title stripping ?
No way, he said…
"In these circumstances you have to rely on legal minds.
"We have not gone to a solicitor in Arbroath.
"We have gone to the finest solicitor in the land and taken his view, which we were duty bound to do.
"He has given us what we think is very sound legal advice." 
No names, but we are assured he's the best.
"We sat with him [SPFL's solicitor] on what must have been four occasions – and he was challenged from everyone.
"We wanted to make sure we were ready for any challenges subsequently. And I think we are. 
He is. He's buggering off and leaving it to the next guy to deal with.
"That won't stop people having views.
"It won't stop people talking about it for years to come.
"It's useless to say keep quiet. The fact is they won't.
"There are a lot of wealthy people who support football clubs who will fund certain activities around challenges.
"The authorities just have to accept it and be measured in their response." 
He knows the storm is coming, and that he's better off out of it.
Then he had his own entry for the "Irony Can Be Pretty Ironic Sometimes " award..
 Oh, I can assure him that a few of us are more than well aware….
There was no diary yesterday, the CSC AGM took place on Saturday afternoon and I've only just got up.
So, we go back to Saturday -pre meeting- for this picture…